Waterproof Car Trash Bin
Regular price
$0.00 USD
Sale price
$23.99 USD
Unit price
per
Sale
Sold out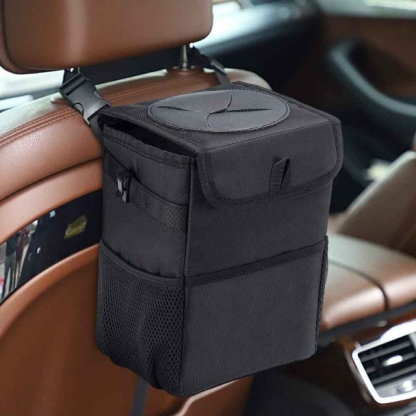 Finally, trash goes where it belongs
No more candy wrappers in the cup holder or empty water bottles littering the backseat floor. Our Waterproof Car Trash Bin is a high-performing waste-storage solution for every vehicle to maintain cleanliness (and your sanity).
Sling over your front seatback
All you have to do is attach the handle buckle over your driver- or front-passenger seat for a handy trash can for your vehicle. Trash now has its own home (and it's not on the floor or stuffed in a side pocket or cup holder!).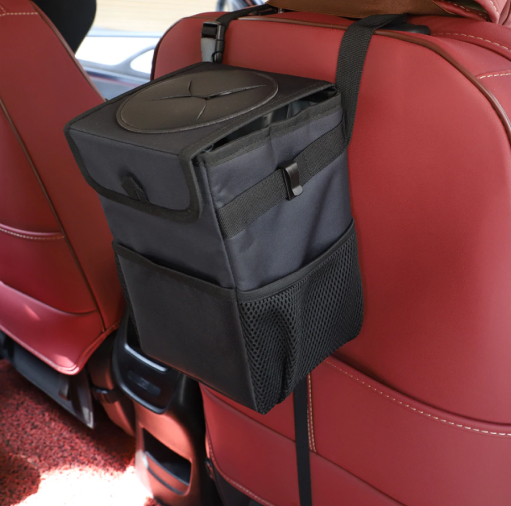 Foldable, portable (it's amazing)
When empty, our trash can flattens and folds for easy storage. You can also easily detach the trash bin and wash it with water. It's the ultimate on-the-go auto accessory for a neater and tidier (read: cleaner) interior.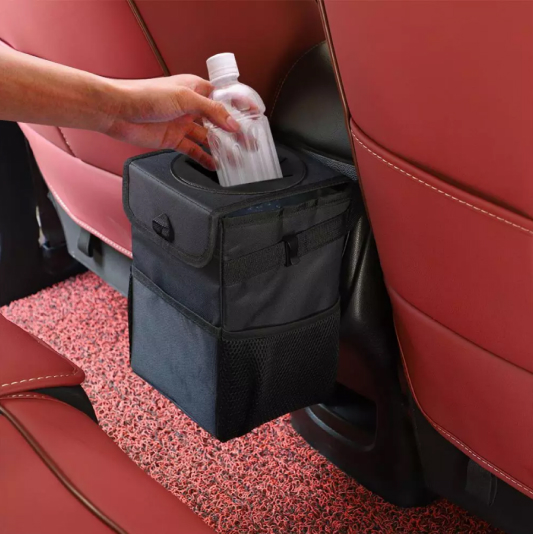 Durable + dependable
Crafted from quality waterproof oxford cloth, our auto trash can is an absolute handy accessory. Designed with two side pockets, a garbage bag hook, and a velcro closing seal, it's sturdy and performance-driven to hold up to 1.23 gallons of trash. Plus, a push-seal trash lid helps block any odors from wafting out into the vehicle interior.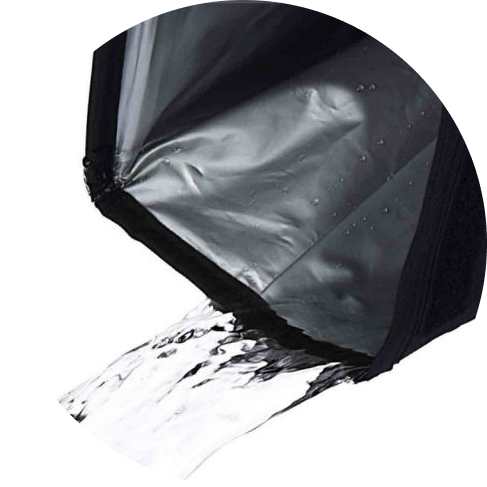 Keep spills and drinks at bay
Whether half-finished drinks or napkins from a nasty spill, you can dispose with confidence knowing that the waterproof liner won't drip or leak.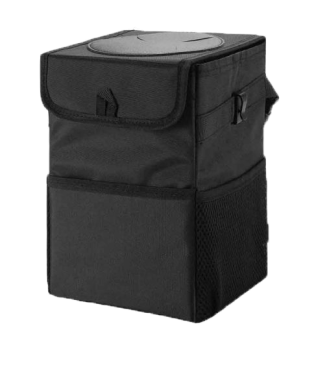 Sized to fit anywhere
Not slinging over the front seat? No problem -- our sturdy trash can also fits greatly on the car floor in the backseat or elsewhere in the trunk if you're in a van with a number of occupants. When expanded, the bag measures 9.44 x 6.1 x 5.9 in (24 x 15.5 x 15 cm).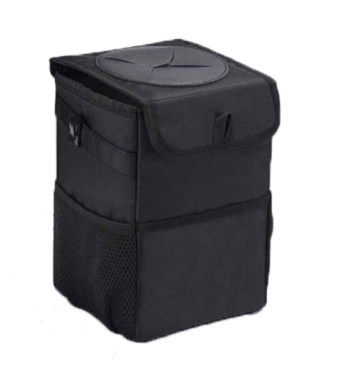 Take it out anywhere
Outside of a car, this Waterproof Car Trash Bin can work just as well. For lazy gamers who need a trash can within reach, hang this from your room's door knob. Or take this bin to the beach or park for a picnic for convenient, within-reach disposal of trash (remember: littering is never cool or kind).
This is a well constructed and sturdy trash bag. The 2 features that I like best are the multiple straps so you have a few different ways to secure it and that it has clips to secure a plastic grocery bag inside for easier clean up. The velcro top with the unique opening allows you to easily place things inside one-handed, but keeps them well contained and out of sight.

The trash bag is compact and fits nicely with supported latches. There are 2 set of latches one around the seat and the other one which can be used to tighten it below seat and ended up with a snug fit with no wobbles. I have attached it behind driver seat (got 2 kids) and the thrash thrown by kids are starting to get collected in the trash can.

My old car trash can was falling apart. This one fits perfectly and even has a lid so you don't have to see the trash. Exactly what I was looking for!

This trash can is so sturdy and durable. The quality is pretty good. It is keeping my car clean from all the trash like old receipts, food covers, beverage cans, etc. It has a waterproof lining inside the can. So that I can easily clean the leftover spilled beverages. It also has multiple pockets. We can store whatever we want in them. Highly recommended for cleanly cars.

I like the size, which is just right for our car which does not have too much room inside. The inside has a waterproof liner. It works well as a trashbin.

I really need this because, because I drive Uber and many of my customers` stuff trash under the seat. This really helps me out. It can even hold liquid. Great product!

This trashcan works well in our SUV. With three kids and a busy schedule we often eat snacks or food in the car. This is the third trashcan I've now bought for a vehicle, and this one they got it right. The size is good and holds quite a bit. The thing I like the most is the top you don't actually have to undo it or do anything to access the trash can you just push it in the top. My kids broke the last one by stepping on it too many times, and this one actually is elevated off the ground which makes less of a tripping hazard. You can also put a trash liner it so you can just take out the whole bag of trash out quickly and easily. It also had like a bungee cord on it if you didn't want to use the strap if you wanted to utilize it somewhere else. I put it around my center console so it could be utilized in the backseat.

I love this trash can. It's an excellent waterproof trash can for my new Odyssey. It fits well with my one-month-old car. I no longer have garbage in my car. Love it!

If you have a 2018 Sierra with a center console on a bench seat it fits on the floor in front of the center console. Stuffing the strap inside the lower console compartment will keep it in place! Perfectly placed for ease of use. A nice surprise was discovering that oversized mugs fit in the trash can opening!

We travel a lot, and with 4 kids our van is a disaster when we return home from a trip. From sucker sticks to french fries ... the surprises under and in between the seats never end. We recently purchased this auto trash can and it has already been a miracle for our van! The kids think it's so neat to put their trash in the can, they can't wait to find something to stick in it! The quality is excellent and so is the price. I love that it is insulated so we don't have to worry about liquids leaking. I don't know how we travelled without it!

I always kept a regular plastic trash bag on the back seat for my daughter's used napkin, snack, and drink waste, and it had always been a mess. This product came in the perfect size, enough to hold plenty of trash while not affecting the comfort level for the back seat passenger. Quality is great, and the price is comparable with similar products.

Great trash can to maintain my car without trash anywhere. You can also use it as a storage bags to keep your drinks cold, due inside is insulated. The quality is really good. I highly recommend this product!

Great garbage can for my car. It is very well made and durable. This is very small and discreet. It removes and installs quickly so it is simple to empty when needed. I am very happy with this purchase.

When I first opened the package I thought "Wow! This thing is going to be way to big!" But honestly, I love it! Super easy to hang up, easy to but plastic shopping bags into, allowing it to be easy to empty. I don't even have to un-attach it from my center council to do it because it has a velcro opening. I wasn't sure I'd like the partially closed lid but It is really nice. Holds everything inside even when I over stuff. All in all, I would buy this again.

I love it. It fits behind the center console perfectly. Very handy. Not very large so will need to be emptied frequently. I recommend. Going to get one for my husband's truck.

This is a replacement for a different car trash bin that broke, and it's definitely an upgrade. It looks like there're several ways you might attach this to your car - the strap fits neatly under the lid of my center console, but there's also a couple of clips and a long strap with a hook that I didn't need. This is a nice big capacity that still fits well in the backseat, and I like that this has a lid - our previous one didn't and my kids would accidentally dump non garbage in there, so the lid is handy!

I like it, but it's a little more flimsy then I expected

Works great! Super sturdy, leak-proof, and a good size. The hooks for a bag are strong.

Purchased for mine and friend`s new car. Looks great. Keeps car cleaner and being leak proof, very nice.

I have been searching for the right type of trash bin unit for a while. Nothing really fit what I wanted. I knew I didn't want anything hanging off the back of my headrests since I have hooks for my purse and whatever else and was searching for something like this. I wanted a unit that would include holding a box of Kleenex but they all needed to be hung off the back of the headrest. After much research and deliberation and reading reviews, I decided to give this a go. It reminds me a weirdly shaped lunch bag but it's not flimsy and it's fully lined. The pictures and descriptions are accurate. It was easy to open up and put in place. I have it hanging off the arm rest and it's a perfect fit. It doesn't need a plastic bag since the lining makes it easy to wash but I'm lazy and don't want to clean it out so I use a bag that I can remove and throw away when it gets full. So far, it's done exactly what I wanted and hasn't collapsed on me, which I was worried about. It's sturdy and well made for the price. The storage panels...I don't have any use for them but I didn't buy this product for that so it makes no difference to me. However, having that feature for future use and maybe attaching it the back of my car seat or somewhere else is a nice option to have in case I change my mind. Plus, if I have to, I can collapse it and easily stow it under my seat if I need to. This is a product that's exactly as advertised. I'm happy with it and would recommend.

When I ordered this I actually thought it was smaller. Upon arrival I was presently surprised that it is a good size, easy to clean and has the capability to keep items cold. Good for the price!

Item is as described. Material is thick and durable, more so than expected. Inside is the same material as a lunch pail, very easy to clean. A little larger than expected, but happy to see that. Fast shipping and well-packaged. Would recommend product and seller.

My daughter is so thankful for this car trash can! Great for her car! Much classier than the usual plastic bag and it has a lid so people don't see/smell the trash! Highly recommend for anyone on the go or with a work car they live out of like we do! Has a zipper pocket to keep bags, etc.!

I used this as a little trash can for my car and it's worked so well to keep my car clean! I used to just leave every little piece of trash everywhere but this makes it so much easier to be clean.

I just wish it has a way to secure it from the bottom too. I going to figure out something to put at the bottom to make it a bit more stable when empty.

I love that this keeps my car clean. We have it in the backseat between my kids` car seats and they can reach it which is really nice. Love it.

Greeeeeeat for my car. My cars way less messy, no more trash on the floor. I drive for work so this has made my life so much easier. Thanks!

Was a lot smaller than anticipated but still very good. Serves its purpose. The item is foldable so when it's empty it's flimsy.

I love this little trash can for my car it's perfect! The thing is it should have came with more extra trash bags

Great product. Hopefully holds up to my 3 kids on a road trip when we can.

Was a lot smaller than anticipated but still very good. Serves its purpose. The item is foldable so when it's empty it's flimsy.

Nice trash can for my truck. Has a strap so you can hang it somewhere. I will probably hang it from my console. It has a lid so you don`t have to see the trash sticking out and you can put a small waste-basket bag in it to keep it clean. Or you could use the plastic bags from shopping.

This has made life so much easier!! I'm always on the go and don't have the time to clean my car out every day! I'm always filling up my compartment on the door with my trash. It's so tiny and fills up fast so papers are always flying out... 😬I really don't litter on purpose.. this can is the perfect size it doesn't get in the way and keeps my car trash free!

With 3 kids (and a messy mom), this is a lifesaver in our car. All the little garbage that used to end up in cup holders or on the floor now ends up in here. Makes a big difference in keeping the car clean. So easy to clean and doesn't leak everywhere if a juice box gets thrown in there.

This was not a bad purchase. However, it is a little difficult to put in place.

Seems to do the job. Can't testify to the water resistance/leakproof yet. I like the fact you can clip on plastic grocery bag liners to help keep it clean!
Share