Universal Torque Wrench Head Set
Regular price
$0.00 USD
Sale price
$18.99 USD
Unit price
per
Sale
Sold out
Get adaptable help (without any bulk)
Forget changing multiple heads for different bolts, screws, or tools. This Universal Torque Wrench Head Set works for electric drills, screwdrivers, or manual wrenches for ultra convenience. Bring this pocket-sized must-have with you on any work job or have it stored away in a drawer in the garage for when you need it.
Work smart (and grasp just about anything)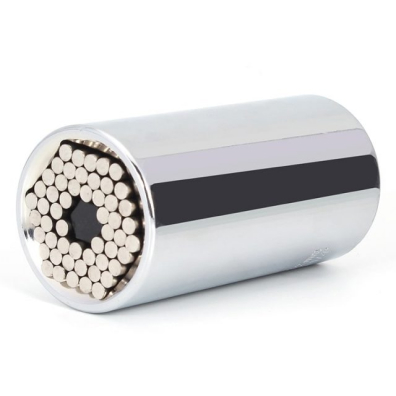 Durability at its finest
Designed from chrome-vanadium steel material, this wrench head delivers ultra-tough performance to you. Each head features 54 steel rods that are individually spring-actuated for a versatile fit. Experience a strong grip and easy agility to different nails, bolts, and fasteners, all without ever having to change sockets.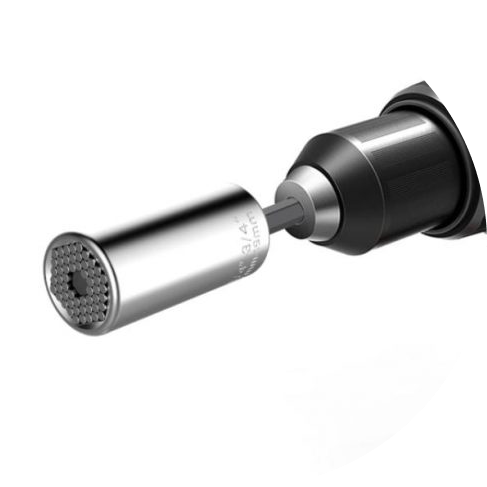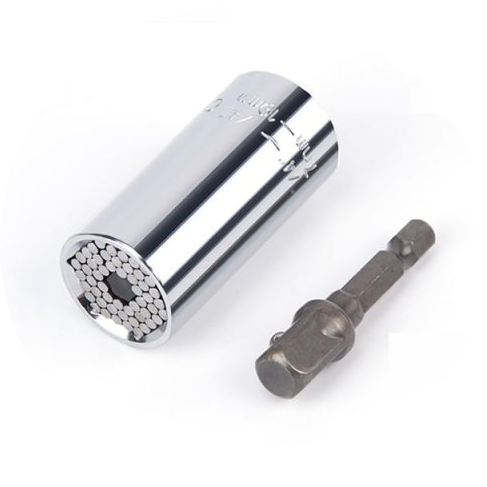 A do-it-all solution
From automobile maintenance to home upkeep, manufacturing, construction, and more, there's no accessory that works as hard as this Universal Torque Wrench Head Set.
The perfect gift for DIY-ers
Give the gift of convenience to anyone who's crafty or handy around the house. Our socket head set is perfect for Christmas, birthdays, and more.
I have been searching for this very tool. I'm tired of guessing and trying various sockets when working on the car. This won't fit every exact large bolt, but it does fit the more common ones. The packaging was perfect, it arrived on time and I expect the durability to last for years.

I've seen this product advertised on Facebook as well as on TV and wondered if it really worked or if it was a piece of junk. Well, it really does work and it's amazing. This is not a product that you have to have but it's a product that makes life a lot easier. When installing and I hook you can always use a screwdriver and twist and twist and twist to tighten it or you can pop this in your drill and have that installed in a second. Definitely helps you save time energy and effort.

I have used this socket a couple of times. I was enthusiastic because I could just carry it and my socket wrench with me when I faced a repair job. So far, it hasn't been the answer for me. I'll continue to try to get it to work. It's ingenious, but just misses the mark for me.

A versatile addition to any toolbox. It's so nice to have this; it keeps me from having to run to the garage and search for the right size socket. I bought this for my husband, but we all love this tool!

Like a lot - I work on guitars and amps and there are many nuts & bolts that periodically need tightening (but not over-tightening).. This will snug them up faster than anything else - most times I don't even use a wrench, just the socket itself by hand. It may seem trivial to figure out which diameter a nut or bolt needs, but multiply that by 20+ times a day and you will save time and trouble. Very satisfied.

This is a great tool to pack if you want to just grab a limited set of things (because you're walking around the house and don't want to lug around your entire set). With screw hooks, you have to hammer them in your create a tiny pilot hole or hammer a little hole in first with hardwood. Using this tool fresh with a screw hook will not work: it will just spin around. (I take it most of you knew that, but I didn't think of it until I tried it.) That's pretty much all I use it for is screw hooks.

This tool is perfect for those people who do not like to have a garage full of tools and want something to help in simple home repairs. It is versatile in the way that it unscrews most things and you do not have to constantly change sockets. Of course this is not a complete replacement for regular tools. The product size is limited to a specific range of sizes but for the most part it will come in handy for most things around the house. Due to the nature of how this product works, I do not recommend using it to repair anything that requires a lot of torque ( fixing a car). Overall a nice handy tool to have. I hope this review helps.

I use this with a small cordless drill for turning eyebolts. It can adapt to almost anything. Great tool.

This is one of those products that gets little use and indeed is hard for me to remember I have it when I need it. I've needed to use it only one time in year or so I've had it but it probably paid for itself in that one usage. i had stripped a caliper bolt trying to break it free and was simply stuck. I remembered this tool, tried it, and it worked! I had to keep a lot of pressure inward on the socket head to help it grip the stuck bolt while at the same time trying to use my other arm/hand to apply pressure to turn this gripper but it was surely a time and $$ saver when it worked.

It is what it says it is. It works like it said it would, and it shipped quickly. I haven't had any problems with the socket.

I am a small woman and sometimes I get fatigue quickly and sockets or bits get difficult to remove and switch out. Tho stool is the perfect answer. I wish I owned it a long time ago...

This is a miracle tool - well made, versatile works on any size, any design, and you can use it for so many things! It is the best tool in my toolbox and I am a Lady!!!

Got this for as a present for my husband. He sure does like it. He has used it multiple times. I have used it once and it worked like a charm. I would recommend it.

Just used it once but it helped screw in eyes

Crazy useful! This just saved me hours while putting patio furniture together. I recommend this to everyone who cares about saving their knuckles from pain. Lol.

This tool can be attached to my screwdriver with multiple bits. It makes skate truck lock nut adjustments easy, and can also tighten the wheels. It is light enough to haul around and attached to my screwdriver I can do just the right torque. I was shopping for a socket wrench set, but this obviates that purchase for me. It sure does grab!

I bought this for my Dad who has macular degeneration and can't see well. He just loves it because he does not get frustrated trying to line everything up. It allows him to work on things he otherwise could not! I will be buying one for us as well.

I use this only as a home tool as needed, but for that it works excellently. It hasn't rusted or been damaged or fallen apart. The bit that keeps it attached to the wrench is very tight, so it doesn't fall off. The only downside is if the bolt is very tight, or rusted in place, etc. the bolt will sort of get wedged between the individual pins while tightening/removingand be a huge pain to dislodge. I assume that's a problem with any universal key, but I haven't used others, so can't say for sure. So if you can afford a good socket key set, I would recommend that, and have this as a backup. Overall excellent product so far.

Often times you have no idea what bolt heads you're going to encounter and dragging along a full set of sockets is a pain. Now this travels with the cordless drill set for use on the impact wrench. For a general task it's just the thing. I'm sure it's size could be an issue in more detailed work like automotive or boat work. But for general needs it's very handy. I disassembled a sectional sofa last week and used it on four different bolt heads. Didn't have to bring a socket set or size up the bolts and gather sockets that might be in the ballpark. Love it. Extension has a little wobble built in by design I assume. Helps for when you don't have the head quite centered and the drill moves about. I'm guessing that anything my cordless can drive, won't break this thing. Wouldn't want to try breaking a rusted bolt with it though. If a breaker bar is out, go get a socket.

I've seen this tool advertised for years but never thought much of it like all as seen on TV type tools. I'm paralyzed and only have the use of one hand so I decided to try this one size fits all kind of tool because going up and down a ladder already is difficult enough. Lo and behold, it did exactly what I needed to do when screws and bolts that have been painted and or around it off were able to be removed. There are tricks to everything and make sure you try to center whatever you are trying to remove in the center of the socket especially if attached to your drill or impact is probably the only helpful information I can pass on. Simply put, it did exactly what I needed done.

Excellent product. Thanks!

When I'm out in the field and need to carry tools, this one replaces many and works! Is it as tight fitting as a socket of the correct size? No, but it doesn't strip anything and works! In my book that's perfect, once I get back home I can use the exact size I need to fix equipment. It replaces many tools I would say it's a homerun!

The house we buy had tons of these brass hooks in the ceiling presumably for hanging plants from. Someone in the range of 50 or 60 these things and I'm doing each when my hand was taking forever. Check this thing inside my electric drill and I was able to knock out all 60 and under 5 minutes

My dad mentioned these being cool so I ordered one for him as a gift not knowing what it does. Once it arrived he showed me and he's right, they're very cool.

In my case I needed to apply lots of force and it didn't hold up to that. Under normal use it can be extremely handy, saving you time picking up the different sockets as you work through the task at hand.

Great tool to be used on special conditions where you do not have the right tool. I do not need to have a different socket from 7mm to 19mm!!!! This will do the job

When you need to remove or install something that is odd shaped this is the wonder-tool. I wasn't convinced until I tried it. Now I'm afraid every time someone else tries it I won't get it back. Even bought one for my mom! Could live without it but I don't want to!

The single best tool I have. All you need is this socket, vice grips and a couple of screwdrivers to solve most issues. Strong and versatile. I bought a short handled wrench to use with it. Highly recommend.

I use this to tighten the hex nuts on guitar head stocks. It is FANTASTIC for this. One size, no matter for bass or guitar, and it seems well Made.

Review is based on common sense. Best tool for small house hold jobs. Not to be used as a replacement for impact sockets. If you can grab it then it can be removed or used for install. I have had this for several months and have used it quite often.

I used this to help take apart some old farm equipment that had tons of old, rusting nuts of various sizes on it. Broadly speaking, it was faster and easier to use than my vice grip pliers. At the same time, there were some nuts -- ones that were far from rusted down -- that it just couldn't get a strong grip on. In those cases, the socket was completely useless, which is not something I can say about the vice grips. That said, I'm glad have this is my tool kit, even though I doubt I'll use it very often. It's definitely not going to replace my other socket sets, but it's a good option to have for those situations where standard sockets aren't getting the job done.

I use this when installing audio equipment. Of course, I have to be very careful not to over-tighten binding posts with it, but it greatly increases the speed at which I can work while hooking speakers up to amplifiers and AV receivers. The tool seems robust and like it will last me many years.

I've looked at these universal drivers for a while and was shocked to see one so cheap, so I was skeptical about the quality. But upon arrival, it seems perfect! I've already used it a few times and it works exactly as described.

Incredibly handy to have in your car, I have one for my car and one for my house. Can be used even on the toughest heads you come across without stripping

Very useful around the house. No more searching for socket set.

Worth having but I wouldn't rely on it for every day use.

This tool is adjustable to any bolt, hook or screw. I use to remove my shutters bolts and work perfectly in the new and rusty ones. Adapts perfect to my power screwdriver.

Really liked this instead of carrying multiple sockets one works well and pretty much does what it's made to do.

Love this thing. Eliminates the need for a bunch of other tools. Fits so many different heads. I was able to minimize my tool box size just with this one tiny tool. A definite must have for everyone, handyman or not

I've looked at these universal drivers for a while and was shocked to see one so cheap, so I was skeptical about the quality. But upon arrival, it seems perfect! I've already used it a few times and it works exactly as described.

Great set for the few occasions I have to run some long lags or take out bolts or hex screws. I don't carry around a socket set so these two are all I need in my tool bag. The small pins make it easy to go over any hex head and have already used them to run some 2 1/2 inch lags through a 2x8. I was afriad that the impact driver would damage or break the socket pins but after running 10 lags I had no issues and the socket was fine. All in all its great and super handy. You never know when you're going to have to deal with some random bolt, lag, or other hex head.

Worked as advertise but I feel like it should go deeper to cover all kinds of job. It is a handy tool to keep in the tool box.

Would like it to be deeper but it works pretty well. I've used these on my lathe, drill press and band saw to make adjustments and it's worked pretty well.
Share