Starry Baby Night Light
Regular price
$0.00 USD
Sale price
$44.99 USD
Unit price
per
Sale
Sold out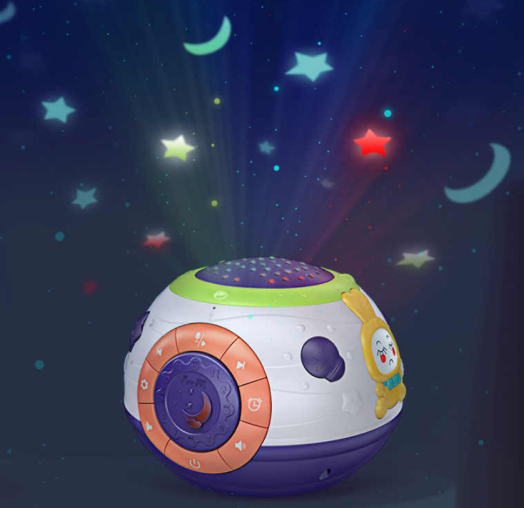 Let's dream away under the stars
Lights. Music. Naptime. Getting a fussy or restless young one to sleep can be a real challenge. Whether it's an afternoon nap or time to get some shut-eye at night, gain an extra hand to soothe a baby or young child into Zzz land with this spectacular Starry Baby Night Light. Discover a music-playing, light-displaying, voice-recording fun box that is a powerhouse for pacifying a crying child. Let's put an end to the tiring "you this time, then I'm next" switching between you and your significant other for putting the baby to rest.
It does everything you can
So let it do the work
Puts on a light show
Let you baby gaze in wonder at the stars before dozing off.
Play soothing and relaxing tunes to help your baby fall asleep.
Records your voice
Leave a message by speaking into the built-in microphone to let you little one feel you are there.
Sets a nap timer
Included is a timer function for 30 and 60 minutes so you can know when it's time to wake up your child.
A galaxy of color
With red, green, and blue light you can set the star projector lamp to shine a single color -- or a mix of all three. Plus, if you're in need of a moody light for movie night or something, you can use this baby lamp (no judgement here. Just more multifunctional use for you).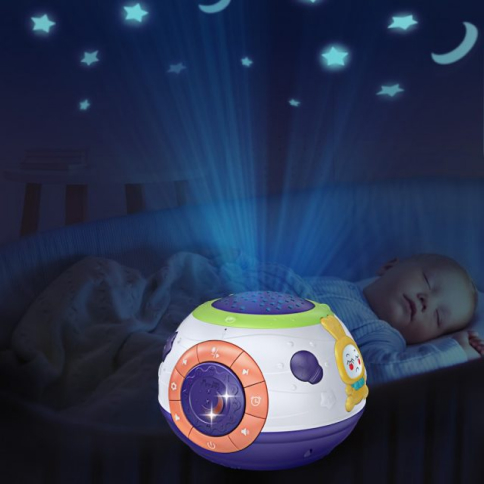 Furry faces in the night
A sweet rabbit, bear, and cow show their bedtime-ready faces on the lamp in eyes-closed looks, encouraging your baby to get some shut-eye too.Add warm, inviting color to a baby nursery or your living room for a relaxing atmosphere and vibe.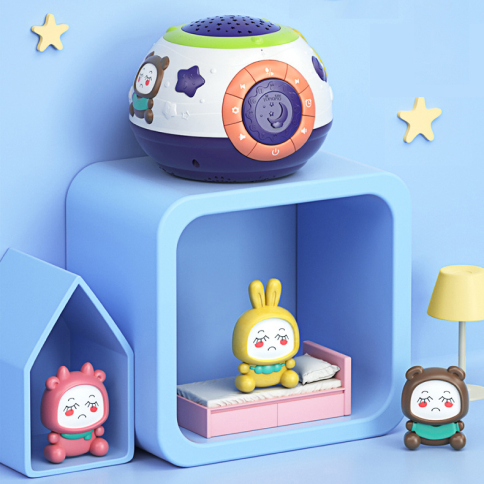 Made from love
Constructed of bump-resistant ABS plastic, our Starry Baby Night Light is crafted to absorb any hits, bumps,
or falls for greater peace of mind (and less chance of any damage of injury) when in use (or if it accidentally falls).
 The light is powered by one 1.5V AA battery that is not included with your purchase.
Great for newborns
Our lamp is a wonderful idea for babies 18 months or older.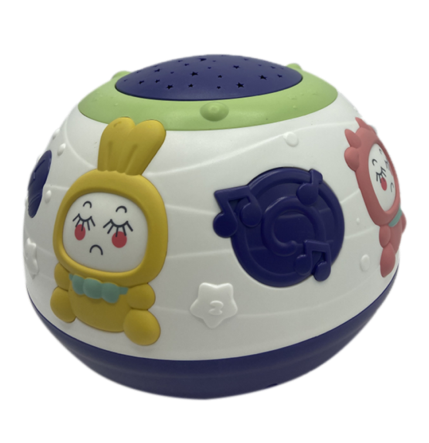 Sized for tiny tots
Measuring just 5.5in x 7.1in (140mm x 180mm), our night light won't take up much space, fitting perfectly on a dresser or cribside end table.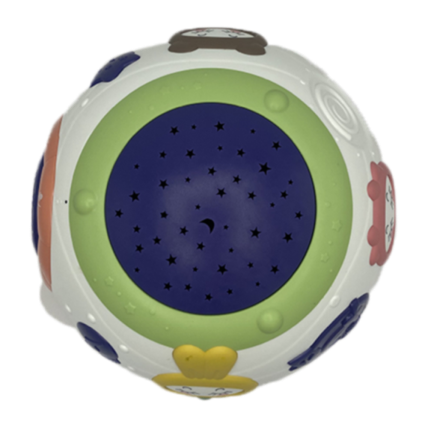 We ordered this for my teenage daughters galaxy bedroom. We are renting our home so we could not paint stars or put glow-in-the dark stars up; so this was a perfect solution. She loves it! It lights up her room well.

This is an awesome product. My wife and I have bought very expensive items similar to this one and this one is the best so far. Worth every penny our daughter loves it.

My son loves this lamp. We use it every night as a night light.

This is an uncomplicated night light projector that does as advertised. There are several options of color combinations and it's fun for toddlers to explore them. I do wish the dome had been made of a sturdier plastic as my toddler crinkled it immediately (but thankfully, it can be fixed and does return to its shape).

My baby just loves staring at the colorful twinkling stars and moon projected on to the roof. Some reviewers mentioned the quality of plastic is cheap and not strong enough - but I completely disagree. It is sturdy enough and does the job perfectly - unless you leave it in-front of the kid and ask them to break it. I'd say, its multi functional feature - night light with the cover or night light projector without the film is the best feature.

It was ok, especially for the price. I thought it would be more of a galaxy light but it's pretty blurry on the ceiling/wall no matter how close you put it. It's great if you just want colorful lights in the room for a party. I did like how you can change the colors and settings to make different shapes and rotations.

This is the 2nd time we have bought one. My son got one last Christmas, but he destroyed the thin cover that has the design on it. I got him another one this year since he is 6 and will not likely tear it up after losing it last year. He really liked the lights and designs ( as did my 9 year old daughter).

Very cute night light. My kids love it. It has multiple settings. Can be used with or without the scenary and colors change. You can have the stars and moon or just plain light if you need. My kids are so excited for bed time now because they can't wait to turn on their night light. I would recommend this. It's worked great so far over the last week.

I bought this night light for my toddlers bedroom but I now want one for my own bedroom. When I first saw the size of the light I was thinking it was too small to light up the whole room but was I wrong. The images project all across the ceiling with just the right amount of brightness. It is very relaxing to fall asleep with this light. I think this is a nice product to give as a gift.

I got something similar to this for my son and he loved it. We've had it 2 years now and it's perfect, but it does have a timer. So when my daughter was born, we bought this one for my son because it can be left on all night with no timer. Well, we've had it like 2 months maybe and the blue light is already out... it's not even the most used color. I'll try to see if seller will do anything

The stars cover the ceiling beautifully but not the wall so much, but do leave light splashes of color. They are pretty but the images are larger than I expected and are not crisp. The edges are fuzzy, but it is pretty. I'm trying to train my pre-school granddaughters to stay in bed and I am hoping this will do the trick. So glad there are products out there like these.

At first appearance this looked really cheap and I was nervous, but it was really east to use and looks great!

I absolutely love this product! I had purchased a similar product for my son when he was an infant, he has absolutely loved it. I noticed the lights on that starting to go out so I purchased this as a replacement. This product is far superior to the item we replaced it with. The lights are brighter and appear better on the walls. They even spread further. I'm extremely happy with this and love that my son can continue to admire the stars and moon.

Its a simple projector. The multiple LED lights keep my kids busy. It projects well on a shelve like I did or even on the floor to fill the ceiling. I ended up using batteries because the kids kept wanting to move around with it. Hopefully they will stop some day and I will plug it into the wall. The projector's construction is simple and box seems cheap but its a good buy to lighten up the room before bedtime.

I got this product for my daughter, as my wife and I had just completely remodeled her room; my daughter loves space, so naturally, we wanted to get her a space themed night light. My daughter loves this nightlight and the fact that it comes with a lifetime warranty, is absolutely wonderful. I would definitely recommend this product, if you or your child are into galactic themed, or if you want a soothing, bright, night light for them that's easy to operate.

As soon as I turned it on all my grandkids ran in the room it was super enjoyable to them. It has many settings anything from dancing to sleeping mode. Really didn't anticipate how much coverage I went in my open ceiling living room it lit my entire dining and living room up!!

This product is one of my favorite night lights for our daughter, in fact this is the third one we've bought. The last one we gifted to a friend and her daughter and the first one was when my daughter was little and she was rough with the top and broke it. It's been something we've had since the day we brought her home from the hospital and she will probably have it until she moved out 😛 or becomes to cool for it. The color options are great, the ease of use is always helpful and it lasts a long time. The diffuser is great too if the lights are too bright. I highly recommend this product to anyone and everyone!

My boys love this nightlight, especially the settings that include 2-3 colors. I love that it comes with a hard shell cover to keep the dome exterior protected however you do have to remove it for the shapes to be legible on the walls. Great product, reasonable price, highly recommend!

This little night light is amazing star show! There are a ton of color combinations - our favorite is the red/white/blue. The motion just makes it that much more fascinating to watch! Would recommend for any child's room or any adult who loves these types of things!

This is a really cool light but the projection isn't as defined as in the picture. I do like that there's a plug in option and there are so many different color combinations. My boys love it!

I've had this light for about a month and love it so far. I got it for our 2 month old. She loves to watch the lights move around on the ceiling and it keeps her calm and intertained. You can choose different colors and patterns for the lights.

Perfect nightlight for a kid who is finally in his own room! My 7 year old loves falling asleep with this on.

Got this for my 5yr old daughter so she can have a little light to fall asleep and to walk to the bathroom at night. She lives the colors and watches them to fall asleep. My 8yr old loves it too...no more arguing at bedtime! Came exactly as described and bright enough to offer comfort without be too bright.

it is very easy to use, very bright,The projector feature is very beautiful. I especially like how many different themes were included in the packaging. I'm very impressed with the design and construction of this light. It's easy to set up and use right away. My son loves being able to use a night light that is very grown up looking. It provides enough light to allow him to move around his room at night without being bright enough to disturb his sleep.

Purchased for my 1.5 year old to use as a nightlight. He loves it! Works great right out of the box. I love that you can change the colors or dim the brightness. I looked at many of these and so many were much more expensive that I was hesitant to purchase this one, but I'm glad I did.

I bought this for my 88 year old dad who has dementia, is bedridden and some times gets quite agitated. We were made aware that these lamps can be calming effect and can be a good distraction. It worked quite well. My dad enjoyed watching while listening to music. I am so glad I bought this, it has been a great help!

My kids LOVE this lamp! We were having a lot of trouble getting our 2 year old to stay in bed and fall asleep without having to resettle him repeatedly. The night we put this projector in his room, he stayed in bed and fell asleep faster than he has in a long time! My daughter loves hers too.

I love this so much and so does my son but I'm very disappointed less than 6 months after purchasing 2 of the led lights have stopped working! totally a bummer. Really love this over all tho!

Says baby night lite but all my kids love it (my oldest is almost 12). I like the fact you can switch the colors. The buttons make it very easy to use. It makes very little noise (mostly white noise sounding).

Great product. It has RGB light settings and looks great in the dark. It is really simple to use and you can plug it in to a USB wall plug or put in batteries. It also spins if you turn on the setting. If you change the cover over the lights it can even be used as a small lamp or a night light with your choice of color.

I bought this for my nieces (ages 1, 3, and 4) who do a lot of traveling with their family. Because the three girls are so young and have an ever changing place to sleep/stay, I thought this would be a good 'constant' in their bedtime routine. Even if they're at someone else's house or in a hotel, they can always count on seeing the star lights above their head at nighttime. It works great and I've been extremely happy with the purchase! The girls love it!

This was cute and I liked the different color light changes. Just note, there is no timer feature so you need to remember to go back and turn it off after your little one falls asleep otherwise the batteries will run out. As long as you are aware of that, it'll be great.

Bought it for our baby that loves lights for Christmas. Sets up easy and has good range. The star cover is a little bit flimsy and can be dented, but it also forms back into place pretty easily. Lots of color variation choices. Most importantly though the baby loves it.

I bought this for my daughter's birthday and she absolutely loved it! She's still fairly young, so this acts as her night light when she's sleeping. She kept telling me it was her favorite gift and it was so affordable. Super easy to use and makes bright, but not too bright, light patterns with different colors, or just white. Definitely recommend!

My daughter was struggling to sleep for a week so we decided to get her this as a little night light.

When I got this product, my expectations for this product were not very high. But I was surprised when I plugged in the light. At that moment, it felt like heaven, especially the laser was moving various colors. It feels like I see beautiful glowing stars from the blue water. You can adjust many different modes and settings. The remote control works well. I gave this to the children as a gift, and I knew they would love it!

This is really cool we moved here in this house about a year ago, in our previous house I took glow in the dark paint and painted stars on the ceiling of my son's room it looked great but took a lot of time and was difficult to get them just rit . This star projector is perfect just tuned it on and you have instant stars with the northern lights, very nice.

A great gift for my little girl. It is more than a projector or a night light. It shoots colorful stars rotating on the ceiling. It looks like a fantasy magic ball. My daughter really likes it, so we set the timer on every night to bring her sleep. The size of the whole piece is really small and can fit into many place.

Love this item. Helps my daughter fall asleep without using an annoying nightlight.
Share