Smokeless Indoor Electric BBQ Grill
Regular price
$0.00 USD
Sale price
$99.99 USD
Unit price
per
Sale
Sold out
The outdoor feast inside
Who doesn't love the scent and taste of a great BBQ? Smoky steaks and hot dog franks, grilled corn and bell peppers...mm mmm! Although great for the warmer spring and summer months, BBQ-ing can be hard to do outside in the colder months when fall and winter come around. Our Smokeless Indoor Electric BBQ Grill allows you to continue that grilling tradition -- all without the smoke.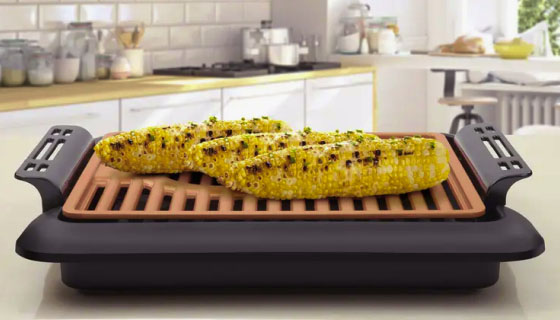 Control at your hands
The grill is at your command, thanks to a user-friendly temperature dial control with four heat/cooking settings – warm, low, medium, and high heat. The dial lets you adjust in a flash as you cook various meats and vegetables.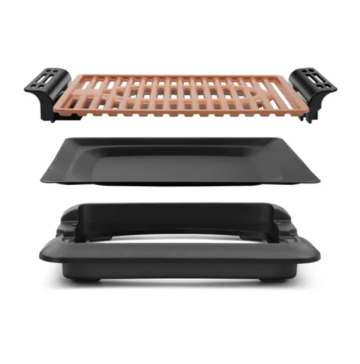 Cool-touch handles and frame
Easier to move and shift, with a heat-proof frame so you won't burn your hands.
Premium, high-performance grill
Made of Gotham™ steel and removes easily for cleaning.
Burn-proof base and pan
Collect grease and oil in the grease-catcher pan, housed on a sturdy base.
Smoke-less technology for a cleaner home
Get all the grill, with nearly zero smoke. Our grill features a built-in fan that virtually eliminates any smoke. No smoke alarms going off, no open windows required. Do note though that some fatty foods may naturally produce more smoke.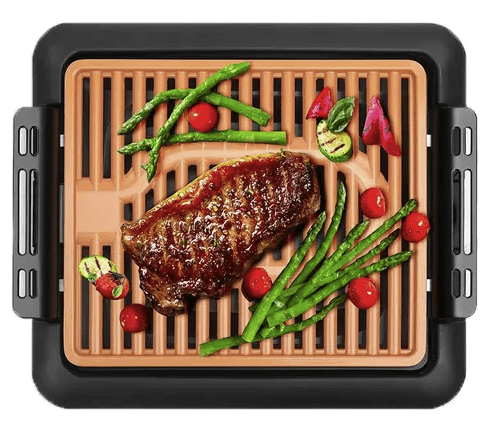 With a 12 x 10in grill plate, there's plenty of room to grill. When fully assembled, the grill measures 16.2 x 14.0in.
The grill, handles, drip tray, burn base, and temperature dial control all disassemble effortlessly for quick storage and fuss-free cleaning. Caution to not put the dial control into any water.
Delivery time delay. But the product is really good. It can be used indoors and less hassle to use. Perfect at family gatherings.

Love this grill. Great for small spaces especially apartments. Cooks fast and easy clean up. Definitely one of the best purchase. :)

Super easy to use. No need for charcoal and smear. Hope it doesn't break easily and will last longer :)

Got it! Super amazed! Less smoke and non stick! Excited to use it with my family.

Though, the delivery is a bit slow as the stock runs out but its worth the wait! It's amazing to use really :)

This little grill is pretty amazing. It's truly non-stick and smokeless!!

Thumbs up! Works and looks as described, fast delvery, thank you!

Trying Fast BBQ at my place <3 Thank you!

I am a fan of grilling and whenever the weather is right you will find me grilling. This grill is super easy to use and even easier to clean. I can grill my favorite foods such as burgers from my kitchen instead of being outside in the hot weather. It is also going to be very convenient when the winter arrives and it still can be used. The product is also steamless and creates no flames when meats are on the grill. There is a knob that allows you to also control the heat you want the grill on. Overall it is a phenomenal product!

I highly recommend this indoors grill if you want eat healthier food or you want lose weight. I tried it with all kind of meat and vegetables and every time the food come very delicious. No smoke, no fat but healthy variety of food. You can also use it with extension cord on the dining table and you have the restaurants style when you invite your friends on dinner or your family and every one enjoy grill his own food .

Great device, nice grill marks, hardly any smoke, and tasted delicious! I put it on top of my flat top stove so I could use the range hood for ventilation, but there was very little smoke to be seen! Clean up was a breeze, I just used a sponge with warm water and Dawn dish soap, in fact I could just spray off all the greasy stuff off with my faucet sprayer! Next time I will grill some burgers, this makes grilling simple and fun!!

Omg. I love this I can eat bbq in my house without any smoke. And its so easy to clean very convenient and valuable

Been wanting a indoor grill for awhile. I used this grill right when I got it on some sliced pork, mushrooms, zucchini, Bell peppers and onions/jalapeno. It got hot pretty fast but I find that the heat doesn't distribute evenly. It's not completely smokeless but pretty good. It is definitely easy to clean and easy to put together. I wrapped the waste bin in foil for even easier cleanup. Overall though, I enjoyed the grill and will be using it often.

Unlike most people I read the instructions before I used it! It works as advertised! It Cooks great! And I am satisfied with my purchase of this product! Clean up like it advertises!

Ran it through the dishwasher first and let it dry completely before turning on. Turned the dial to between medium and high and let it get hot. Seasoned my steaks and put them on. Got the instant sizzle but no smoke. Cooked about 4 minutes then turned. Got the same good sizzle and the aroma was amazing. Still no smoke - just a tiny bit of steam coming off the meat. Cooked for the same amount of time and served. I did have the grill under a window just in case but did not have to open it. Wound up being one of the best tasting, most tender steaks I've ever grilled. Cant wait to grill salmon on it!

This grill works wonderfully. My bf has cooked chicken, eggs ,pancakes,steaks & bacon, without any problems. To clean, just use a paper towel with soap. Nothing else. We had no problems of uneven heat or control issues. We don't like the grill, we love it.

I love my grill. Salmon and chicken skin gets crispy. Burgers get nice char. It beats standing outside at the BBQ. I can cook other items while the grill is cooking my protein.

Not used it yet, look very high quality, fast shipping.

Got it in mail yesterday, fixed steaks on it tonight and was outstanding!!

I rarely write reviews but I am so excited that I found this grill. I bought one for a friend as well and she thanks me on a daily basis! It's amazing, so easy to clean and it cooks perfectly. I'm grilling steak, seafood, veggies, you name it, and all to perfection!

The wife loves this product. Easy to use, easy to clean. I would give it 6 stars if possible.

Fun to use this grill indoors since I don't have an outdoor grill available. Easy cleanup although I haven't put it in the dishwasher. Very little smoke noted

Love this grill. I've had it for two years and have bought many as gifts since I bought mine. The only thing that's a kind of negative is cleaning the top of the grill. I soak it in hot sudsy water for at least an hour and use a scrub daddy sponge and it comes clean quickly. I also use a piece of foil over the bottom pan so there's no clean up there.

My husband loves it. He cooked hamburgers & tomatoes same time. I would recommend it to all. It does what they say!

It is GREAT. It does everything they claim. No smoke. Chicken, steak vegetables are are wonderful. Well worth the money

Great price and product but not smokeless.

Love it. Burgers come out great. Cooks like a gas grill and no smoke.

Grill does work well, as described, except it is not totally smoke-free. There was some smoke, but not a whole lot. Grill got hot enough. I cooked pork chops on it, and baby-back ribs. The taste and smell was wonderful! Just like if I had cooked them on an outside grill. I am very happy with this grill. And it was a great price as well!

Nice item to cook up something quick in house.

It works as advertised. I soaked some chicken in terryoky sauce. Then cooked on the grill. No sticking, and cleanup was so easy. Very little smoke if any. Love it!!!

Not completely "Smokeless", but greatly reduced. The Grill surface isn't as easy to clean as expected. But does the job.

Cooks good and fast but cleaning is not as easy. Storage is challenging but food comes off grease free.

Bought this for my dad as he moved to an apt. So no BBQ allowed even on balcony. He loves it and still makes THE BEST STEAKS!!!

Absolutelly love it! I don't have grill and afraid of gas. This is nice if you're cooking for one!!! I bought the cooking "covers" so all I have to do is wash it. The grill stays clean.

Great product. Cooks exactly as advertised. Absolutely smokeless, thanks!

Back side of the grill is not a non-stick surface, a little difficult to clean especially since you can't really soak it.

Amazing, we've been using this a lot lately, made steak and shrimp shish kebab and they turned out amazing, highly recommend!

Not completely "smokeless", but greatly reduced. The grill surface isn't as easy to clean as expected. But does the job. Recomend it!

Love this product! Can't really cook thick meats on here without taking 10 hours but thinner meats are great, especially burgers and shrimp!

This is perfect for my kitchen. It is not smokeless, but the smoke is minimal. Easy to clean.

Love the grill but doesn't clean as easily as advertised.
Share