Small Foldable Pooper Scooper
Regular price
$0.00 USD
Sale price
$23.99 USD
Unit price
per
Sale
Sold out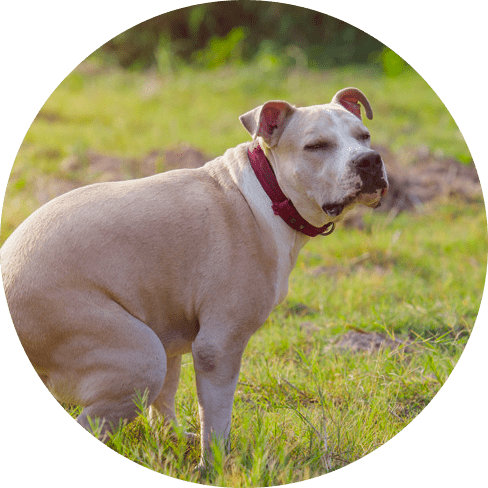 Poop (be gone)
Let's face it -- picking up your dog's poo is….well, crappy. No one likes to do it. No one wants to do it. But as a responsible dog owner, it's something you definitely should do. But with the amount of plastic bag usage that goes into cleaning up after your pet's waste, there's a lot of harm to the environment. And your hands sometimes just miss the mark..and hit the poo, right? It's happened. That's why our Foldable Pooper Scooper is a new, contactless way to clean up your pet's number-two. The scooper uses 100% biodegradable bags so you dispose responsibly of your pet waste.
The scooper is easy to use
Just clamp up and bag up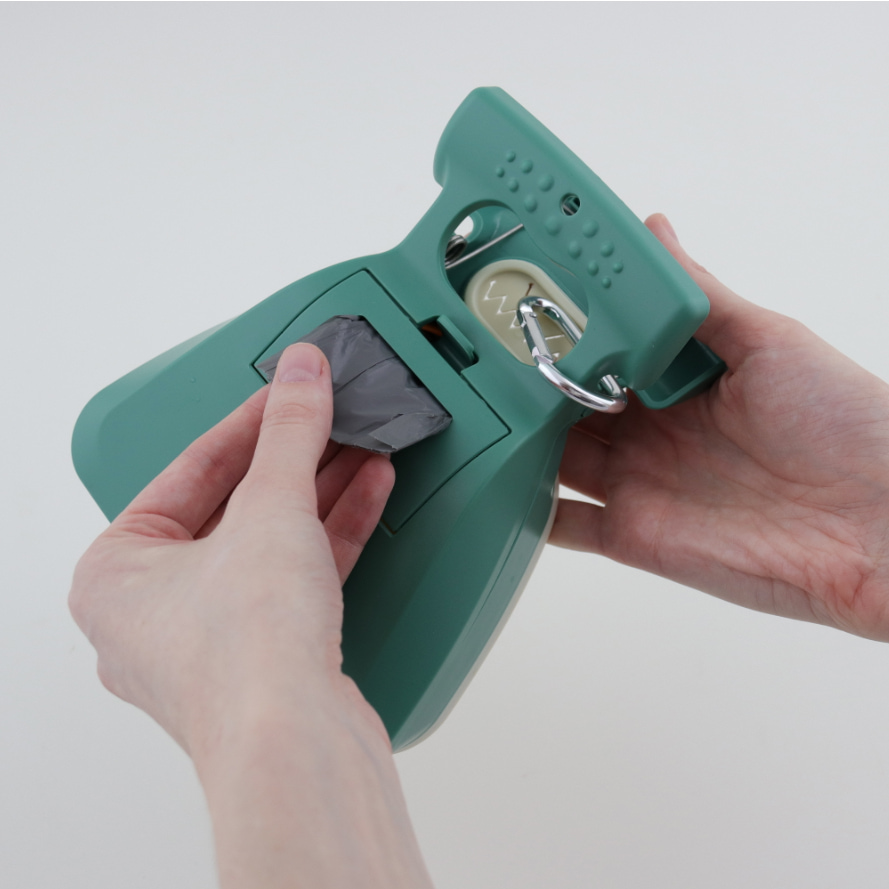 Remove bag + secure to holder
Dispense one bag from the pull out and slide the scooper into the bag, securing it onto the scooper handle.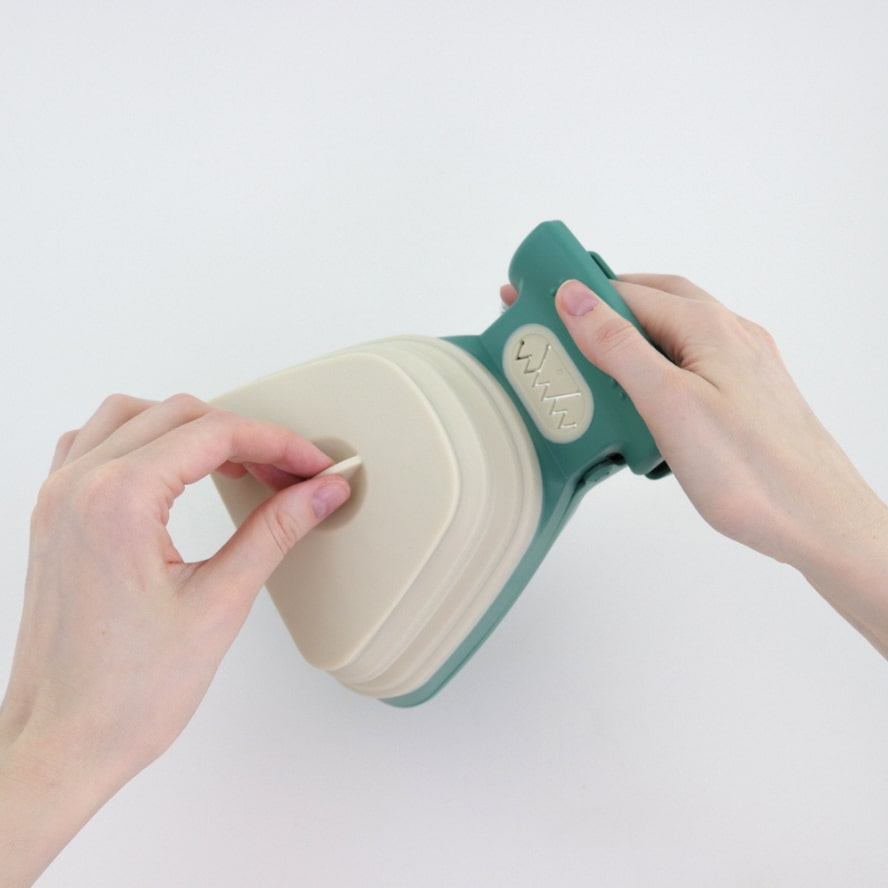 Create a pocket inside the clamp
With the bag securely around the scooper, push the bag into the clamp so you have a bag pocket. Pick up the dog poo.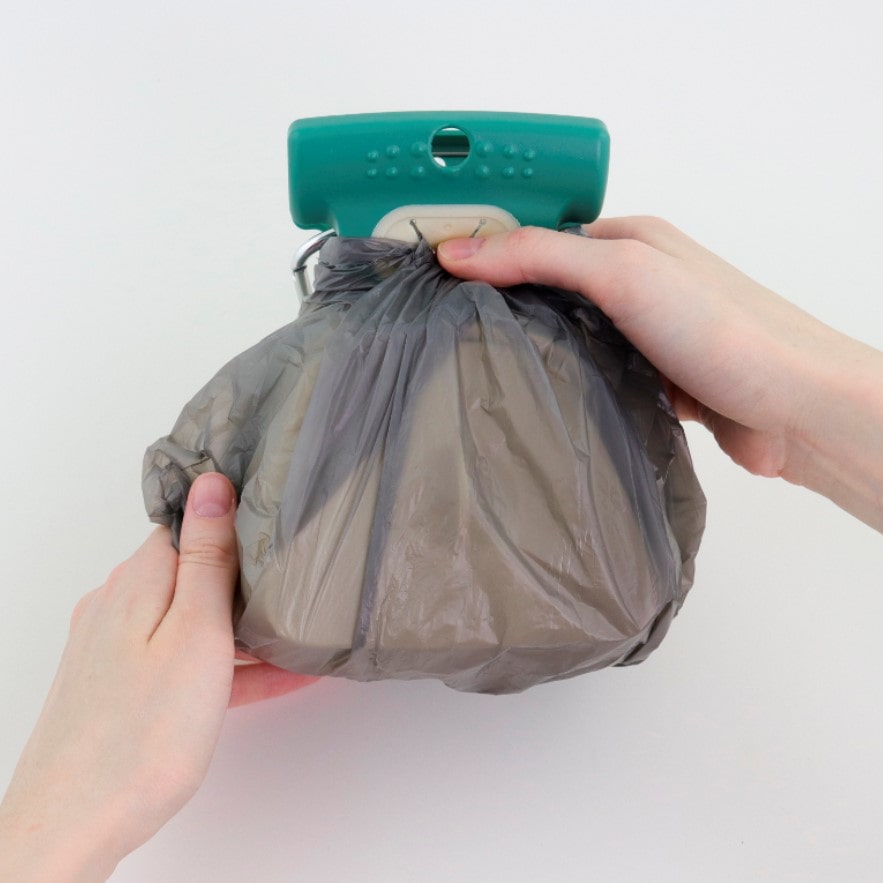 Unwrap the bag + dispose of waste
Unhook the bag ends from the scooper handle and carefully pull out the bag. Dispose of the poo into a waste basket.
Compact pop-out compartment
Our Small Pooper Scooper clamp opens to 3.74in (9.5cm) in width for good pick-up space. The scooper features an expandable rubber backside to help hold waste.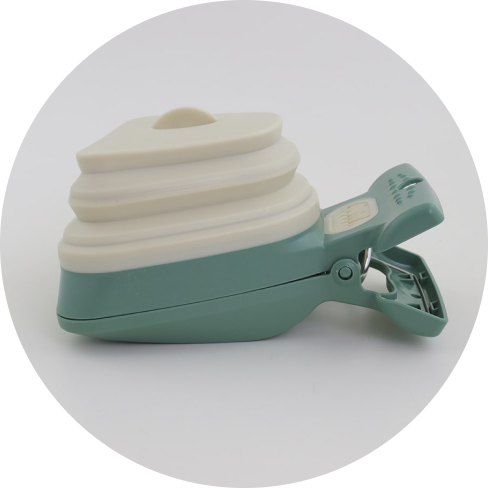 Bags + leash clip included
Each purchase comes with a pack of six rolls of eco-friendly waste bags. One leash clip is also included so you can clip the scooper to a belt loop on your jeans or your dog leash for easy carrying.
I have tried so many poop scoops and they all either break or don't really protect me from the poop. This one is definitely of higher quality, and I like that it has a waste bag dispenser and expandable side - it totally protects my hand and can hold a lot of poop. I bought a bunch of extra large waste bags to go with it and they fit perfectly were reasonably priced. I am definitely going to get more pet products from Paw & Spots. I bought their water bottle with attached pet bowl also and it is of similar high quality and slick design.

After reading reviews of several Pooper Scoopers (most with handles) this was my choice. The ones with a handle didn't seem to be that sturdy and were inclined to breakage where this one doesn't seem to have that problem. It doesn't have "teeth" but that's a GOOD thing, since it uses a thin bag. Once the bags run out, I'll be using the endless plastic bags I get from shopping. It's nice and expandable. Can pick-up a few loads before emptying (large dog), which is really nice!

High quality pooper scooper. This one lasted a lot longer than other ones I have previously purchased. It has an expandable side and its also a waste bag dispenser. Overall Im pretty happy with my purchase, and would recommend it to others

At first this did seem like a gimmick, but I really like using it since I don't have to touch the poop and it holds it until I can properly dispose of the bag.

Never thought I'd leave a review for a pooper scooper, but here I am. I've got an 85lb greyhound who leaves a lot behind (with a smell worse than your average pup) and it grosses me out, plain and simple. This makes it manageable. It's just well engineered and I'm amazed there aren't more like it on the market. Everything from the bag storage to the expandable side (which really stays in place well) was just thought out well. Nothing will help the smell, but this is a whole lot better than touching it through a bag with my hand. I hope it lasts a long time!

I really love this pooper scooper. A giant step up from a bag in hand. I attached it to my doggie bag with a rubber wrist band. It just made it easier to carry and use without detaching. I ordered the small because my little Jake is a small dog. Pick up is swift and clean most of the time. The scooper expands if you have to pick up from two spots. I tie off while closed and leave it there until I get to the waste can. I ordered another to keep in my car. Oh, after I ran out of the small bags that fit into the scooper and couldn't find more in that size, I just started using the bags I already had like the one in the picture. They don't fit into the handy dispenser on the scooper, but they can fit in your bag or pocket.

This thing seems silly to have, but it is a big help. No more warm squishy feeling when picking up after my dog. I love that it works with standard poop bags since I have so many of them. It's a huge plus that this thing stays clean too. Simply put this device into a poop bag, open it, push the bag into the "jaw" and secure it in the silicone teeth. Once you're done picking up, you can simply leave the jaw closed, pull the back back around the device, and tie it then open the jaw over the trash and boom, mess averted.

Love this pooper scooper! I was waiting for something like that for a long time! Most of the pooper scoopers are too big for my little Pomeranian. Adding a collapsible part is a pretty smart idea! I don't have to extend it, so it will work well for larger breeds too without being too big.

Changed my life! We welcomed a new golden pup to our family and I really thought I would be able to suck it up and pickup the poop no problem. But, I had absolute embarrassing reaction to picking up dog poop. I would gag violently outside and god knows what my neighbors must of thought. I would beg my wife to get it because I just couldn't handle it. But, then.... I tired this and WOW. Picking up the nastiest poop doesn't bother me in the slightest now and its super easy and clean. I also think it does a better job than using your hands because its able to scrape away any poop left on the grass/ground. I would highly recommend for anyone who has the same problem I do and I would definitely buy again.

True, the packages are very huge, did not expect. In the kit 1 roll + 6 more ordered. Extras.

Great bucket! I already have a similar one, this one liked more: compact, convenient. Fully complies with the description. Seller put extra bags, thank you! Sent and delivered quickly. I recommend unequivocally

A very nice pooper scooper with bags for your convenience! Well designed and of good quality!

So far it's been great. It scoops on grass better than with my hand in a bag, and it stays clean. It does need rather large bags to be able to open fully, so we'll see how that goes when I run out of the provided bags, happy with the purchase!

I love this thing! We got a new puppy and I had been dreading having to scoop poop. This makes the job so easy and absolutely gross-free! We use the plastic bags that our newspaper comes in and it works perfectly. I think you'd be able to use grocery bags, if needed. You never have to get your hands near the mess and carrying the offending mess in this is much more bearable than carrying just a bag with poop. Ew. It feels sturdy and well-made and the springs looks strong enough to last a while, though you're not really putting much stress on the product. There's a hole in the handle that could be used to attach this (you'll need your own carabiner clip) to a leash but I've not tried that. Overall this product was well worth the money!

It works super great, I love it! :)

It's great! I love that I can hang it from the leash.

This product does the job. I just wish it clamped a little tighter. My dog is a small dog so there is no problem with the poop size fitting in the case. The only thing is I wish it would clamp shut when I pick up the poop. I find I have to move the clamp closed.

Much better than expensive models. Works very well

This poop scooper is the best thing I ever bought and it is convenient to use, clean, and throw away. No mess to deal with at all. Great buy

For a normal-sized dog as mine is, it's too big for my taste. But the function is very good. It is hygienic when it comes to collecting the feces of animal lis.

This really helps when it is cold and you have gloves on. Can be preset with the bag so just scoop and deal with the tying when get home and take gloves off.

Amazing I hate picking up poop with my hands and this is a mess free way to clean up after ur dog. I love this thing and it's so easy to attach right to the leash so I never forget it!

This works fine but is better for the yard. I wish I had gotten one with the bag built in bag. I suggest bringing a grocery store bag with you. Test it out in the yard.

Really very practical! Am delighted with this shovel

Good quality product. Fast delivery. Thank you.

I love the product but all the bags I have already bought won't fit into the slot in the back. So you have to buy their bags to refill.

Easy to use and no mess. Satisfied with the purchase!

Ok this thing is the best thing ever and idk why I waited this long to stop touching poop through a bag. It's amazing! Get one!

Awesome product for neat clean up and very easy to use! Thanks!

Very convenient scoop, only here is a carabiner after a week of use broke, because of this I put 4 stars

I love this pooper scooper! no more picking up poop with a bag over my hand. I have not had to clean it yet. it picks up my pomeranian's poop easily. i am lucky that i have a smaller dog that has small poop so i am not sure how well this would work for a big dog with big poop. I also take it everywhere with me. i had used it on grass & pavement & it works well. as long as it is solid poop, the pooper scooper will do it's job!

Not a bad thing and there are a lot of packages in the kit, even there is one in the device itself. Plastic is a little cheaper looks, in general everything is fine.

I love this product it's absolutely everything. The only negative it the bag that they send with it dont fit the size I have. Other then that it's easy to use and a clean and sanitary way to pick up your dog poop.

Cooper is awesome for my big great dane! Free bags that came with are a bit thin.

Arrived really fast, great quality. Been using this for 2 month allready and I LOVE IT. Well engeineerd with a good space for the waste bags.
Share