Silicone Massage Scrubber
Regular price
$16.99 USD
Sale price
$19.99 USD
Unit price
per
Sale
Sold out
Relax - we've got your back
Tired of awkwardly holding a back scrub brush with one hand, but not be able to reach every inch of your back? Need to scrub dead skin cells but just don't have the right grooming tool (or the physical arm-to-back flexibility) to do it? Let our Silicone Massage Scrubber do the work for you.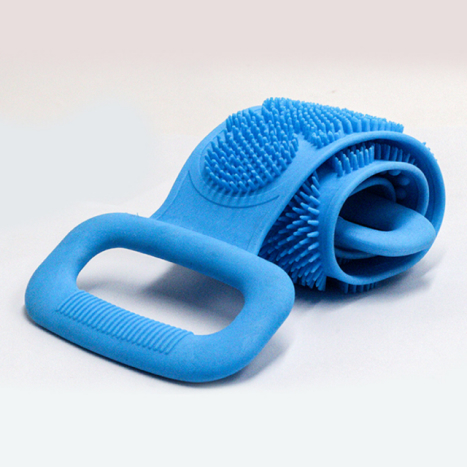 It's a spa-like experience
If you've ever had your back scrubbed deeply with a soothing scrub at a spa, you'll know just how amazing it feels. Recreate that experience all by yourself with our full-length back scrubber. Its silicone bristles exfoliate dead skin while stimulating blood flow for ultra relaxation.
Ergonomic design
Dual non-slip handles allow you to hold your scrubber from shoulder to lower back with ease. Our scrubber spans 23.6in (60cm) in length.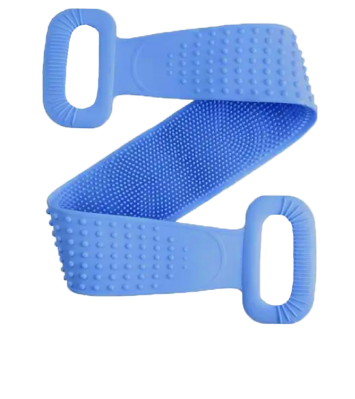 Dual-sided action
One side of our scrubber features soft, beady bristles for gentle cleaning while the other has pointier, more aggressive bristles for a deeper clean.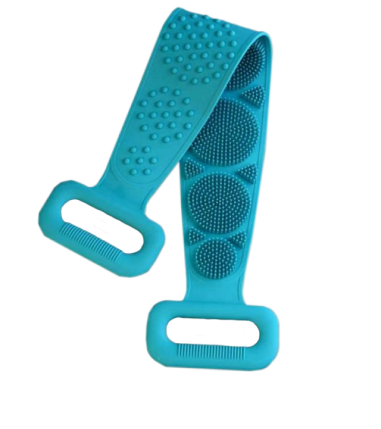 Three fun colors
Add a pop of color in your shower with our Silicone Massage Scrubber, which is available in blue, green, purple.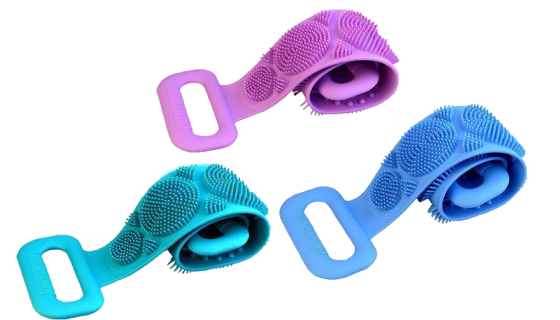 I can exfoliate my back in all directions, and the bristle surface of this silicone bath towel provides a comfortable massage on my back!

Great bath item! Love these scrubbers! Leaves me feeling very clean.

I really like this silicone brush.My back has never felt so good this is a wonderful product it's got a long handle.

This gives me a soft, easy clean. Although, the handle could be an inch longer, I love it! It also is easy to clean and store. The bristles always seem to bounce back and they don't clump together like wooden brushes. This one is a keeper!

The scrubber design is great and provides a proper spa experience. For some, I could see that the massage capability may be a bit too aggressive. My wife and I both really like the massage. As the scrubber only been in use for a few days, well have to wait to see how it holds-up (cleaning, resilience, etc.). As of today, the scrubber is nothing less than an excellent product!

We are elderly with shoulder problems and found it isn't long enough to use comfortable. If it was longer I think it would be great.

I am an exfoliating fanatic, I have dry skin. So this is just perfect for my daily shower routine!

The massage provided by this brush helps to relieve my fatigue. Bathing is also a kind of enjoyment, can compare to a spa-visit, you just need to have your shower room a bit steamy to open the pores first. Works magic if you have dry skin! It does remove all dead dry skin cells without giving that feeling of extra-dryness like after the scrub.

This shower brush cleans my back very well. It can be folded and dried easily. Great Massager. I prefer to massage my back at first without any soap, to have bit rougher massage for my back. It does give a lot of foam when you apply soap or shower gel, so it feels softer then.

Bought this massage scrubber for my sore back muscles. I am obsessed with it. Easy to use in the shower and leaves my skin feeling perfectly massaged and relaxed. Totally recommend it!

Discovered this product while visiting one of the spa in Thailand and ordered it when I got back to US. It highlights (flares up) red spots when I lightly scrub in areas I didn't realize were tight or needed attention.

This scrubber is long and feels great on the skin. It gently exfoliates and lathers up soap very nicely. It's very long and easy to use. It is very easy to keep it clean.

Definitely a back scrubber. Is as rough as a loofah one side which is great. Lightweight, easy to use. Once you try this brush, you will see the difference! Skin is super soft. It feels so good to scrub your back, it's like a proper massage! Absolutely must-have!

It works for dry brushing, not only showering! I use this on my legs every night. Brush up ward toward your heart. I'm trying to get rid of creepy skin.

I've always wanted to try one of these. I love it but just wish it created more suds when trying to wash my back.

Love it! Thick, heavy duty, comfortable to reach my back and shoulders, kind of tingly invigorating feeling on the skin. Color is better than pictured, bright.

I've always struggled to find a good back scrubber that I felt was effective and easy to keep clean. The silicone bristles have a great massage feel and I never worry about residue remaining on the scrubber. It's a bit heavy, but after a day or two I actually appreciated the weight and found it helped to have the weight and gravity assist with the scrubbing.

I really like this back scrubber. It is dual sided which is nice. The length of the bristles is perfect. They're not too long so you can actually scrub. It still cleans well and Its silicon material is mildew resistant.

I would have given it a 5 star if it was a bit longer. It might work great for a petite person but for an average person, it's too short and hard to stretch it.

I used to use a bath ball to rub my back, some of which I couldn't reach, so I just rinsed with water. Over time my back got acne. I found this silicone massage scrubber on the recommendation of some beauty bloggers. After 2 days of using it, I was addicted to back rubbing. This is so nice and comfortable, it scrubs all over my back, and the protruding silicone dots do a great job of exfoliating my back. The skin on my back is much smoother after the shower and I feel prettier, hhh!

Following the directions on the product detail page, I applied body wash to my back before rubbing it with this scrubber, which was really comfortable and a great massage. After rubbing my back, some of the spots that hadn't been cleaned all year were scrubbed. The skin is light and smooth.

I love to wash my body with this because all I have to do is rinse it with hot water and it stays clean. I don't have to worry about germs and so on. Also it fits my hand nicely so I can scrub efficiently with it.

I used to apply cotton towels, but they always stink. I did some research online and felt like I needed to get a silicone scrubber. Had a good experience with it.Comfortable back massage and exfoliate efficiently.

This product works really well but I gave it four stars because it would be a little easier to use it for maybe 2 inches or so longer. Durable and great for my sensitive skin. Thanks!

Unlike other sponges or brushes, this scrubber is soft and flexible which makes them perfect for a gentle massage, but also it is sturdy and provides good scrubbing! Very convenient handles, especially considering that you are all soapy, it provides a good grip and does not slip out of your hands.

I like the idea of this product. I want something that lasts longer than the typical poof and is also reusable. I do like that it dries fairly quickly and..fits everywhere that's necessary, it can be rolled up into small..roll?)) and easily taken if you travel.

Love this, perfect scrubbie! Dries quickly and isn't too rough, doesn't exfoliate but brushes dirt well.

Best thing I've bought in awhile. It feels very good on my skin and it gives the perfect amount of suds. I will never buy a sponge again. Also I did not have any issues with not being able to hold it. I have fairly large hands so they fit perfect in the holder!

I really like the massage option of this scrubber. It was a little prickly to start with but softens up in the shower with warm water. I love the feel but need to pay attention to it because it is easy to ignore once you get involved in washing.

It feels great on my face and it washes greatly. It's alot bigger than I was expecting so it makes it hard to get certain spots on my face cause I have facial piercings, so maybe try to find a smaller one if you have piercing. otherwise great.

A little shorter than needed but still does a good job!

The bristles are soft but not wimpy. I love how the brush feels and that it made of silicone and thus more hygienic so far as being easy to keep clean.

It's perfect - not too rough but enough of a scrub to feel it's cleaning. Feels great on the back.

I bought this to replace a wooden back brush that appeared to have some mold growing on it.I can reach my whole back with the brush.The ergonomics are just right for me.
Share