Rose Gold Portable Diffuser
Regular price
$0.00 USD
Sale price
$59.99 USD
Unit price
per
Sale
Sold out
Your portable diffuser with a travel pack
Take your essential oils wherever you go with Plant Therapy's Portable Diffuser, Travel Essential Oil Blend, and Travel Pack! This portable diffuser can go with you anywhere and diffuse for up to three hours continuously on battery power alone and enlighten your mood. The product is proudly made in the United States of America.
Enjoy the diffuser's performance
Take your favorite flavors wherever you go
4 diffusion settings
This diffuser can run continuously, but you can also choose from 3 intermittent diffusion settings specifying how long the diffusion will take.
USB charger available
With the easy USB charging and 50 ml reservoir, you can plug the diffuser into USB power, and enjoy your favorite essential oils on-the-go.
Automatic shut off
Enjoy peace of mind knowing that your Portable Diffuser will automatically shut off when the timer is complete or the water has run out.
Certified aroma therapists on staff
Brand's customers are the #1 priority of the manufacturer. In addition, a risk-free 100% satisfaction guarantee is offered!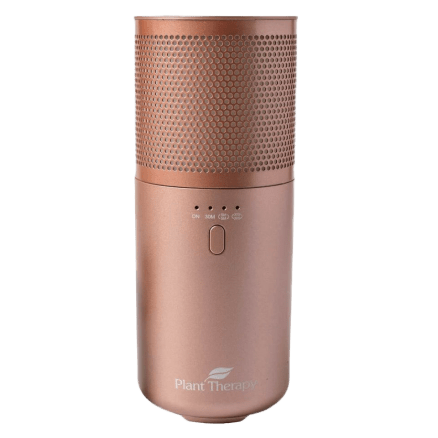 Exclusive travel essential blend
For an easy road trip roll-on, add 6 drops of Travel Essential Oil Blend to a 10 ml roll-on. Fill the rest with a carrier oil. Swipe the roll on your wrists or chest before a road trip to enjoy the benefit.
The highest quality
The manufacturer's goal is to positively impact the lives of many people by selling such a high-quality product. Be confident knowing you are purchasing quality oils and body care at direct-to-consumer prices.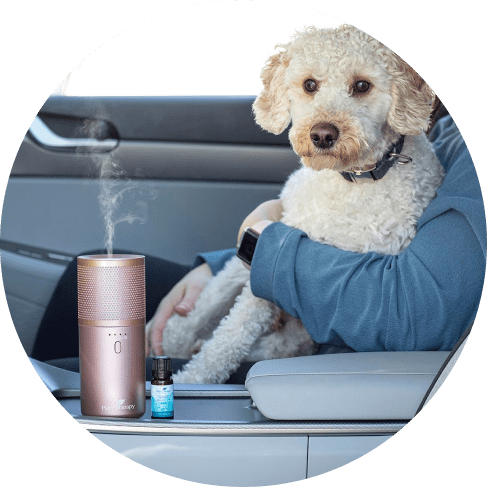 Your favorite essential oils for your adventures
The Rose Gold Portable Diffuser comes with a convenient carrying case and Plant Therapy's Travel Essential Oil Blend. The blend is KidSafe, Pup & Pony Approved, and helps promote focus and clarity while soothing the occasional upset stomach due to motion sickness.
This is the best portable diffuser ever! I use it everywhere in the house. And I love love love the interval options. And above all it is sooooo beautiful. Well done!!!

I love thus diffuser but I dont know why the water doesnt consume all of it, the diffuser doesn't last ling if used unplug, but i really love that I can bring it anywhere but need to use powerbank for extended use

Not only is this stylish but a whole lotta fun to bring along during trips! 💚

I received this as a gift and I use it almost daily. It's great for a long commute to put an oil in that relaxes you from a long day at work.

This disperses the scent more evenly and cleanly than the one I have been used. Oh oh oh This is really worth it really!

I fell in love with my Portable Diffuser in Rose Gold. Best travel buddy during a long drive.

I love everything about this diffuser. Easy to transport, excellent battery life, and fantastic output. I bought a second one for my husband to take offshore with him, and he raves about his as well.

Overall it's a great diffuser, but it's bit pricey to not consider these things.

This diffuser is amazing. Looks great and actually fits my cup holders. The case is nice and sturdy, has two spots for your favorite oils. The lid locks nicely so no rattling or spilling

I love this diffuser! I use it all the time. It is so nice knowing I can (and being able to) simply pick it up and take with me. It's great that I can use it while it is charging. Easy to travel with and easy to use. I like that it has different output options.

The design is beautiful and the amount of scent is just right. Perfect for the car or desk. If you are in the market for a portable, small space diffuser, this is it.

So, my girl (5 years old) gets car sick periodically. I thought diffusing might help. This has been excellent. The Travel oil that comes with it does seem to help. For a small diffuser, it really is quite effective and long-lasting. Thankful I finally got it!

I've had mine for a couple of weeks now. I love it. Haven't had a chance to use in my vehicle yet but I like it near my computer and work station. I love the portable size as I can take it with me and am not attached to a cord. It's a very pretty color. The Travel oil that came with it is very pleasant.

I purchased this travel diffuser for a trip. I absolutely love it. I love the carrying case with space for oils. It worked great in our car and we were able to use it in our hotel room when allergies kicked in. I now use it occasionally when someone in my home needs a little oil boost and don't want to keep a diffuser in their room.

I love this diffuser. It is top of class in both form and function and the Travel oil blend that accompanies it is one of my fast favorites. Highly recommend for anyone that is in the car a lot or works in different locations. I bounce between offices and use this whenever I'm not in my main office where my permanent diffusers are set up.

I have cats so at home I use passive diffusion or roller bottles. Now I can diffuse when I'm driving around. I occasionally use while I'm taking a bath. I really really like the portability of this diffuser. It's not going to fill up a large room with a scent but it works perfect in the car! I also like the travel blend that comes with it. It is a fresh scent and minty.

Just received this a week ago and I love the size, portability, and color of this diffuser. I've used it twice on my nightstand at night and set it on the 30 minutes continuous so that it would automatically shut off. Worked perfectly. I actually bought it to have for use in hotels and outside on our deck. Haven't had the opportunity for either of those yet but so far so good. Also really like the Travel blend that came with it.

When my husband bought this for me for Mother's Day he did so with a roll of the eye because he didn't think I really needed another diffuser. However, while driving 9 hours in the car with two kids and a golden retriever he looked over at me and said, Wow, this diffuser is really a game changer! I never would have thought we would need one in the car. We both highly recommend!!

I ordered this diffuser for a long road trip that I had planned and it worked great during the long 12-hour drive. I only wished it held more water but it lasted when I used it intermittently. Before and after my trip, I have been using the diffuser on my desk while working remotely. I like that I can change the settings and that it blinks when the water is low. An added plus is that my desk has a USB port connected, so the diffuser is plugged in all day.
Share