RideAir® Refillable Air Capsule
Regular price
$0.00 USD
Sale price
$53.99 USD
Unit price
per
Sale
Sold out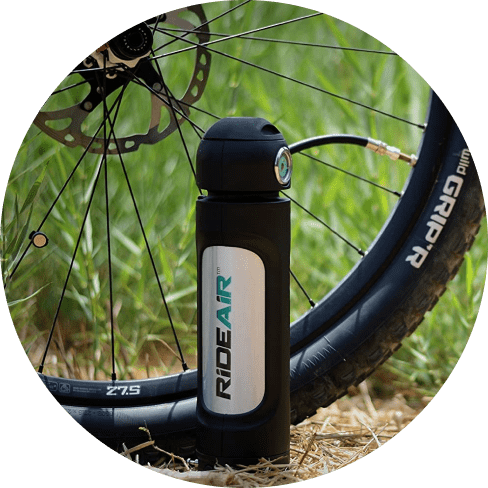 The effortless air pump
RideAir lets you inflate bicycle/wheelchair tires at a push of a button, it's that simple! Refillable multi-use portable air capsule. The perfect tubeless seating solution for bicycle tires.
About this item
Inflate, don't pump!
Carry it with you anywhere
It's generically designed to fit any bicycle bottle holder, and the integrated metal cable lock makes it completely safe to use.
Refill and stop wasting money on CO2
The RideAir capsule can be easily refilled using any air-compressor in any gas station. No need to search for a bike store anymore!
Quick and effortless
As riders, we love to bike, but hate pumping
air into our tires. Quite often, they will fail us
when least expected. Be prepared when that
time comes!
Simple functionality
To inflate a tire, you screw the hose onto the valve and press the silver button on the RideAir to release all or part of the compressed air.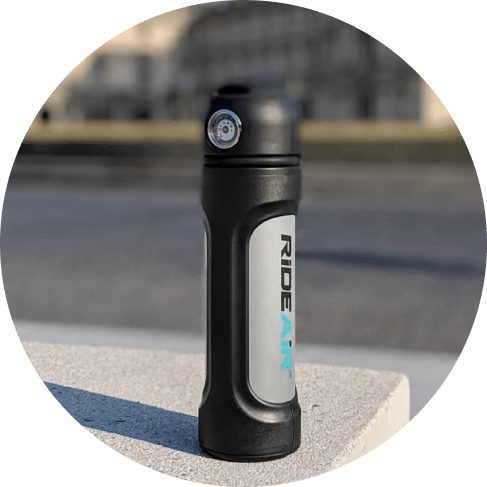 Tubeless seating made easy
The RideAir Compressed Air Capsule is perfect for seating tubeless tires, replacing CO2 cartridges, and facilitating fast inflation in pit-stop race scenarios.
The best e-bike solution
Riding your bike with a soft tire will dramatically decrease your e-bike power efficiency. RideAir can give you the extra mile you need for your e-bike!
Refillable and portable air capsule
Inflate your bike tires at the push of a button!
Once charged with a standard air compressor (in any gas station or bike shop)
or with floor pump, RideAir capsule is ready for use. RideAir is designed to easily be placed in
any water bottle holder on your bike. It also comes equipped with a gauge for the capsule pressure indication
and a combination lock to keep the RideAir where it belongs.
This product is absolutely amazing!

Works great and portable.

It works great. Just with my fat bike tires it takes 4 tanks full to get to 5 psi in the tire. To be fair, my compressor can only fill it to 155 psi, not the 200+ that it is capable of. For me it is only good for topping up or adjusting pressure.

Great product and easy to use

I purchased this product a few months back as a more economical and environmental option then cartridges. I must say after a few months I've actually used it about 6 times either for my own bike or for other rider's bikes who were on the trail with me. I love this thing and it is always with me. Totally happy with purchase!

A fantastic idea for a portable air capsule. I carry mine on my quad bike which is mainly used for hauling firewood from our woodland. It's perfect if a bike or trailer tyre goes a bit flat when loaded. It's very simple to operate.

I picked up this pump a few weeks ago and didn't have a clue just how great it would be. With so many different pumps on the market I wanted something reusable and simple that could inflate my tire quick and easy in case of a flat. Well I have sadly had to use it twice thus far and all I can say is WOW!! This thing is legit. Easy to use, lightweight, and high quality. Thanks for keeping me moving on the roads and in the dirt!

I've had this product for 4 months now and it is a permanent resident on my bike. I ride often in rough terrain and frequently I pull large spikes out of my tires which cause slow leaks even with the sealant. Having a quick and easy way to re-inflate during a long ride is really great. I use a floor pump and my body weight to get the RideAir to around 200 PSI before I go on a ride. The design is clean and the flow of high pressure air when you push the button is rewarding. Highly recommended!

RideAir is a great idea with a surprisingly clean and simple implementation. Using my bike to commute to work, I need to fill some air once every few weeks. I'm always short at time and using the pump is cumbersome and annoying. Now when I have the RideAir this becomes a non issue. Few seconds and zero effort! I really like the design, the size and the fact that it is so easy to use. I'm even planning to change the flat tire on my daughter's bike today. Now, when it is so easy, I don't have an excuse… Highly recommend this product!
Share