Retro Player Car Air Freshener
Regular price
$0.00 USD
Sale price
$30.99 USD
Unit price
per
Sale
Sold out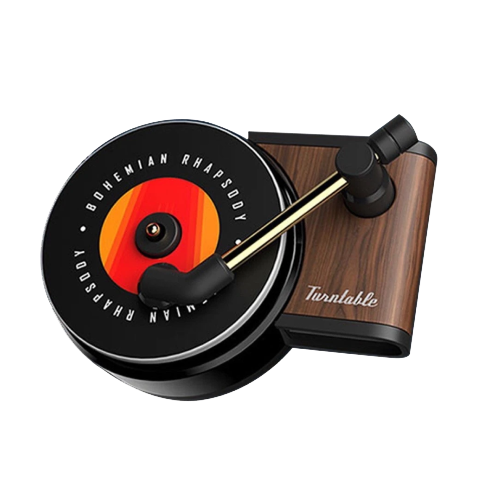 Add a touch of retro
to any car
Style meets a breath of fresh air in our Retro Player Car Air Freshener. If you want a change from the traditional cube- or circle-shaped clip-on air vent, we've got just the record-spinning solution for you. Keep fresh scents circulating throughout your car with the air conditioning turned on.
Exquisite attention to detail
With a retro wood design, gold magnetic head, textured base, and vinyl record detail, this car accessory can take you back to an era of record players and oldie classics. The freshener is made of real wood, metal, and aluminum for a premium feel and look. Whether you have an old-school whip or modern sports coupe, a touch of 60s and 70s retro will have you driving with a classic style.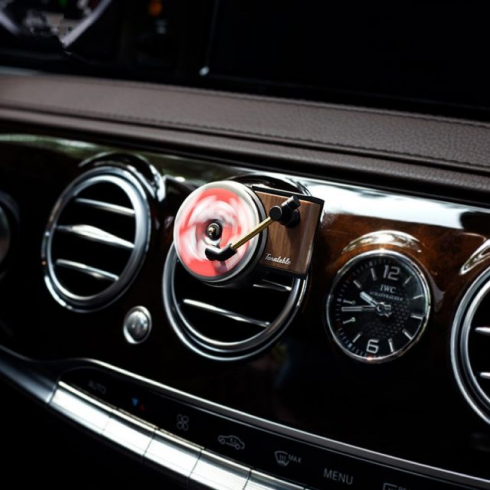 Three scents. One unique car accessory.
Each order comes with three fragrance disks, all made of aromatherapeutic scents. Allow our one-of-a-kind scents to alleviate headaches or car fatigue throughout the cabin. From road trips to daily office commutes, you'll be feeling fresh whenever you go.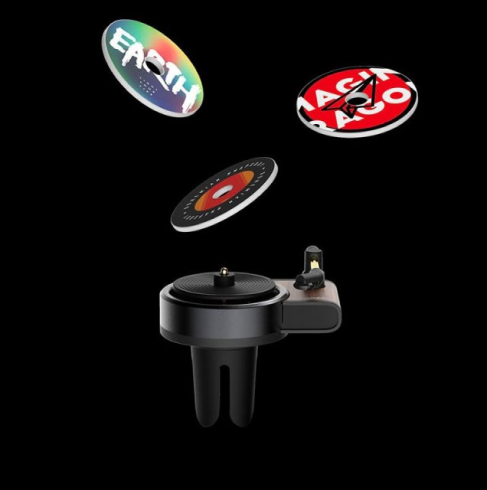 A classic anyone will love
Gift great scents in a truly unique throwback novelty item to dads, grandpas, brothers, and cousins who are car enthusiasts or vinyl collectors and old-school jam lovers. One Retro Player Car Air Freshener fits one air vent, and is enough to uplift any car interior.
Great product. The scent is very long-lasting. I have had these hung in my wardrobe for months and they still give off a lovely fresh scent.

Long lasting beautiful smell for my car, where the previous owner smoked, nothing else has worked except this. Highly recommended!

This was amazing. Loved the product and quick shipping. Thanks to the seller!

I hang these in my closet where my coats hang, smells lovely now instead of getting that musty smell when I open the door.

This thing is the cutest. I can't wait to gift it to my dad for Christmas!!

Product smells great, long lasting fragrance, came earlier than expected, packaged really well. Highly recommend this product.

Love the smell of these freshener. Good value for money for only a quid! Car smells fresh and clean. Would definitely recommend.

A little gift for as friend from her wishlist to surprise her with a small gift during lockdown. She was pleased as it's her favourite car fragrance.

Ordered with a nice discount, can't be happier!

The car smells gorgeous every time I get in it and if you follow the instructions and don't 'bare' the entire freshener at once, it will last a long time and not be too strong or overwhelming.

The best thing about this item is its undeniably high quality

Bought these for my car and they smell amazing and smell is brand new every time I open the car door, I bought 2 items, thanks!:)

Smells like fresh flowers. Nice, but not what I fancy in my car. It smells exactly what you would assume it would smell like. Lovely bright colours though.

Love this smell, I have ordered a few now and don't only use in car, they are in cupboards and wardrobes

When I placed my order, discount was significant. It saved me lots of money!

Such a cute design for vinyl lovers like me!

Love this! A really nice fruity scent that keeps your vehicle smelling nice for several weeks.

great little air freshener, not over powering, but enough to make my old car smell nice, cheap too

These are very nice and the best part is that they are strong and long lasting. I would probably refrain from getting these if you are sensitive to strong smells, this will likely give you headaches. Perfect for the car and home too.

I guess it's the cheapest that is offered online. Great!

Bought this as a gift for a music lover. It arrived in good packaging. It's cute.

Absolutely beautiful, love it an so does my beautiful pebbles ( pebbles is my car name 😘) lol I rate it million percent love it loves it loves it xxx

To buy online on such a reasonable price is more of a miracle :-) thanks to the seller!

New available in such a convenient webstore is a true catch!

Very persistent and "bright" smell , lasts a long time and does not irritate.

Bought this as a gift for a friend and he absolutely loves it! He said scent is was vague on the passenger side so he moved it over to the driver side & can smell the smells better!

Smells amazing for probably about a week then dies off. Currently changing these every two weeks and working my way through a lot of the new scents and old classics too. Still think new car scent is one of the best.

Matches the description. No drawbacks. Thanks!

Very cool product. 10 out of 10!!

Never thought buying online can be such fun. Thanks to the seller, my expectations are more than met!

Not much to say, does exactly what you need it for and that's to provide a decent aromatic freshness to your car.

Looks cute. But the sent is a bit weak.

Given that this is a really low cost , i'm truly astonished with the purchase. The store is great!

I got this as a little gift for my boyfriend. He loves it! It works well and worth the price. I honestly dont think the scents last long, but its definitely a really cool car addition.

Such a cute design for vinyl lovers like me!

I saw it on TikTok and had to buy it. The scents are not super strong but it looks really cool when the vents are on.

I love it! I am so happy with it! It did take a bit of time to arrive but it was so worth the wait! I would definitely recommend! :)

Bought this for the boyfriend but loved it so much that I got one myself! Comes with multiple discs or fresheners that make it feel like an actual record player. It makes the car look so much cuter and they all smell so good! Also! it the disc spins when the air is on which makes it soooo cool! Totally in love with this and would recommend it!
Share