Portable Table Tennis Net
Regular price
$0.00 USD
Sale price
$28.99 USD
Unit price
per
Sale
Sold out
It's game time anywhere
Jump in on some spontaneous fun when boredom strikes with our Portable Table Tennis Net. Designed to clip to the edges of any table surface, our net stands firm on any kitchen counter or dining table for an on-the-spot challenge with family and friends.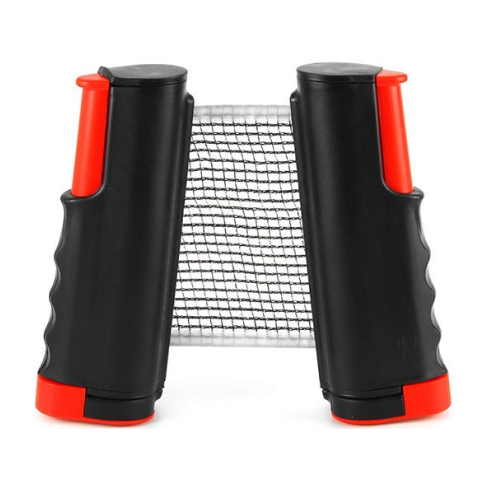 Sized for hours of fun
When fully extended, our net measures 5.57ft / 17m long, making it a great fit for a standard tennis or ping pong table (or makeshift surface like a park bench or surfboard even). The spring-clamp on the net poles clip onto surfaces 1.75 inches in thickness. When fully closed, our net measures 7.5 x 5.4in / 19 x 13.8cm when folded.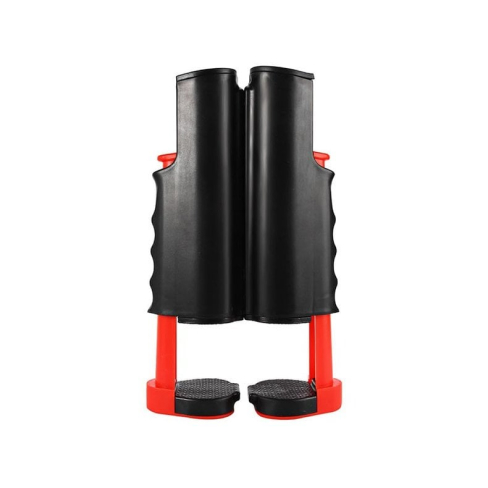 Sturdy build
Our net poles are made of durable plastic and feature one-click buttons for the spring clamp release. They're also designed with protective rubber padding on top and bottom to prevent scratching and scuffs on your surfaces.
Ever bring a full-sized net to the beach or park? It's a lot of work! And on top of the physical burden, it's also a pain dealing with nets that get tangled and jumbled. Our retractable-net design makes opening and closing of this ping pong net a cinch -- no tangles here! The net and handles in total weigh roughly one pound for easy transporting.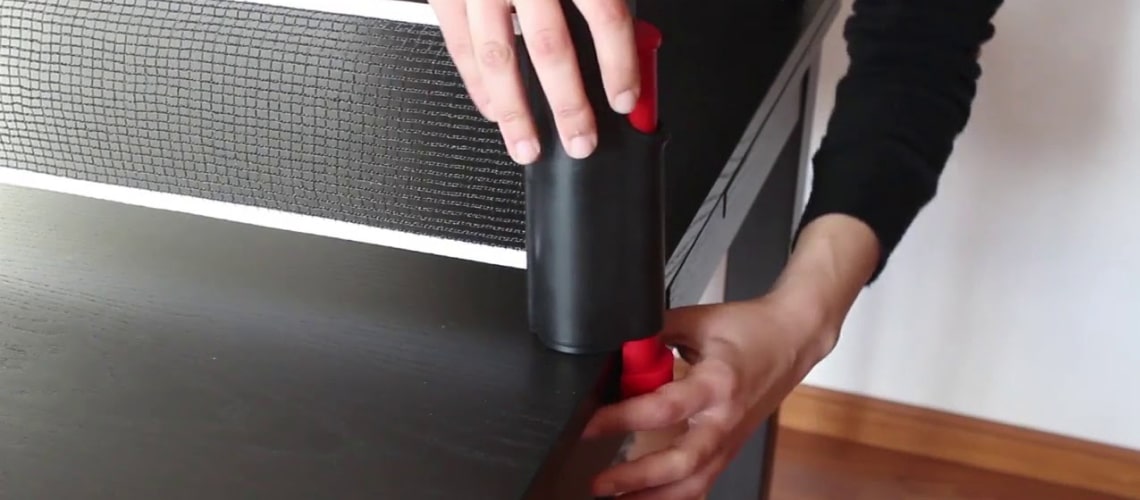 This is a clever product, easy to use and put away, and replaces a broken table tennis net arrangement that always had a problem keeping constant tension on the net. This works great.

Love this net. Easy to use and very convenient. You can attach to almost any table.

Turn dining table into ping pong table during quarantine. My son loves playing ping pong and has been asking for ping pong table. This turns our barely used formal dining table/room into a fun and usable place. My son has been playing ping pong every day with my husband and my Dad. The whole family enjoys playing while in quarantine. This is the best money I have ever spent!

Used this at my daughter's with grandchildren on small table and had a great time. Bought it for my other grandson.. age 11 to use in basement with table there. Works great on various size tables. Great quality

This is awesome since we don't have room in house for a ping pong table you can take this anywhere and it will attach to most flat surfaces! Kids have really enjoyed it!! High quality and love how easy it is to operate. Years of fun.

Bought this for my daughter's birthday during quarantine. It has been the best money I have spent in 2 months. I would absolutely recommend it.

Net is sturdy enough to play on any table with strong grip. Paddles are worth the price of this alone. good grip, plenty of spin for the price. The balls are rated as 3 * but they are like dollar store beer pong balls. Don't misunderstand, I am happy with purchase, just need better balls. (story of my life)

Excellent product, practical of good size and although plastic looks durable

This is perfect when sheltered in place for Coronavirus. It's been so much fun and all of us have been playing with it daily. We highly recommend. It was so easy to set up, playing in under 60 seconds!! Thank you!

Amazing fits on all kind of tables even used it on chairs to play different games!!

The net is great, easy to set up. The sticky layer of one of the paddles came off as we removed the plastic for the first time and they have a really strong chemical/plastic smell.

Perfect replacement of the original. Suggest removing it after using it outdoors away from the sun or it will deteriorate faster over time.

I purchased this item as a "family" Christmas gift. It came quickly, was exactly as shown, good value and quality. The family has enjoyed using it several times already.

Ping pong! In a small apartment, your dining room table can do many things, even play ping pong. Better than video games!

Great product, convenient storage although as of today we've only had for a week and one of the paddle skins is already peeling off!?

Very sturdy and easy to set up. Worth the price.

The retractable net is well built and fits nicely on our kitchen table. We live in a condo so we don't have a lot of space for big game tables so this is a great compromise. Can also Put it on a picnic table at the park and had the best time with my 10 year old! We are excited to try other table surfaces. Easy set up, easy breakdown and all goes right back in its carrying case!

I love this , they can set it up anywhere/time,It is also stupidly easy to set up and take down, The length of the table tennis net can also be adjusted, which is very convenient,I like that the net can fit tables of different sizes.

I like how you can carry it around and how easy is to set up. The clamp fits any size thickness of table and the retractable net stretches 6 feet across the table. No regrets.

We have a soft pine table and it clips on without denting or causing any damage. I am highly satisfied with this purchase.

We all love this table tennis net, it was more expensive than some I have seen, but well worth the extra money. The net is of a good quality and all packs neatly away. I think we will have many years playing with this set as it really is well made. Children and adults had a brilliant time, we used a large pasting table as we played in the garden.

Quick, easy set up with the net. Fun and versatile and allows you to play just about anywhere. It's the next best thing to actually owning a ping pong table.

This was exactly what we needed for our outdoor ping pong table. The sun does a number on these nets, and this is a good quality replacement.

This is simple, sturdy and works brilliantly. Super easy to set up

This is PERFECT. Totally adjusts to our dining room table, net is solid. Doesn't look shabby, but also not top of the line. Paddles had plastic on;peeled off & surface is permanently sticky, so don't touch it much. I think the paddles may have peel off layers? Kids love it. Excellent way to transform indoor table into fun.

This net is easy to put on and get back to playing. We have our table outdoors (but under a roof) and the netting material should last a good while. It's easy to tighten and I find the black (the color we got) works well with the orange table tennis balls.

I had to purchase a new net as my kids lost the plastic tighteners of the original net. The cost of this net is much lower so I decided purchase it, instead of reordering the original table tennis net. It was very easy to install (literally few seconds) and was %100 compatible with the table we had.

This is an amazing game if you have a large dining table. The net has a padded clamp so cannot scratch the table. Great fun for any age!

Been using this on our picnic table during nice weather and on kitchen tables. Perfect during these times where you are locked inside more.

Love this for teenagers, they can set it up anywhere/time and have a blast and be silly and then put it all away and out of site.

Really happy with this set. Had lots of fun already and the high quality equipment looks like it will last a long time. 5* 👍

Everything about this set was solid and well made. It was set up on our dining room table right after dinner. Lots of fun.

This net is great! Hours of fun with the Grandchildren. Very good quality. I would recommend it for family fun. Great for all ages.

Easy to set up, great to have all pieces in one zippered bag, the grandchildren love it. The rubber padding on all four of the paddles has come loose at the edges after jus a few day a of use. Hoping the super glue I applied holds.

The rubbers are thick and good quality, but the back rubber started to peel off on the edge after 3 days for both rackets we started using. They didn't continue to peel off more, so it doesn't affect usage. I am not sure if that's normal - but wish it was more sturdy.
Share