Portable Nail Drill Machine
Regular price
$0.00 USD
Sale price
$24.99 USD
Unit price
per
Sale
Sold out
Perfect nails with zero effort
Why waste your money on nail salons if you could achieve the same result on your own, at your place and only for a fraction of the cost? Try this amazing nail drill machine! Perfect for shaping your nails, cleaning up cuticles or removing gel residue or nail ridges. Having manicured and tidy hands made easy and affordable with our Portable Nail Drill Machine!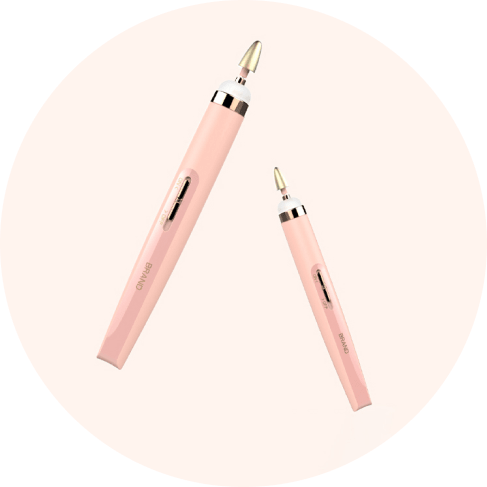 Portable Nail Drill Machine details
100% safe
Optimized for safe use. No risk of electric shock or burning if used properly. Ergonomic non-slip handle for strong grip and unmatched control.
Easy to clean and carry around
Clean after every use. The detachable heads are washable. Comes with a paper case for convenient storage.
Safety guidelines
Keep away from the water. Use gently and don't push hard on the nails. Apply hand cream after use to nourish your skin and nail.
Versatile tool
Lightweight and multi-functional tool for easily grinding, carving, cutting, polishing, removing gel polish and cuticles for both acrylic nails and natural nails.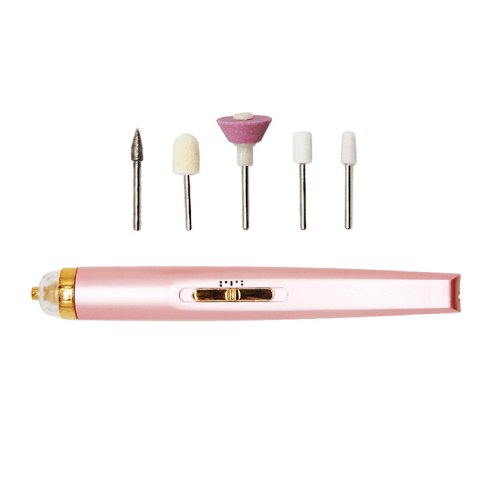 A great gift
Any girl would LOVE to have a piece like this in her house! Gifting such a thoughtful present to your lady-friend shows that you know how much effort it takes to look after nails. Make your friend's life easier now, by giving this fantastic portable drill machine.
Very nice compact nail drill. Very sleek and easy to hold. Comes with five drill tips for filing, smoothing and sanding both natural and artificial nails. Includes a carrying pouch which makes this ideal for traveling - everything fits into this compact drawstring pouch. For its size, this drill holds a tremendous amount of power. It definitely can do any task that I need quickly and with no straining. Anyone who does in-home manicures should own this drill.

This is a great little tool. The fit and finish is excellent, with a tight, precise fit for the removable pieces. It was fully-charged within 30 minutes and this thing is fast and powerful. It's lowest speed is faster than the highest speed on other similar devices (I returned two others I bought prior to this one). No news yet on it's reliability but design and performance are outstanding, especially at this price point.

Received today, and used on my fingernails (I'm male with thick nails). It worked great! It's going to take a little time to learn how to best use it, but the power and battery life are excellent. I think it's actually meant as a small workshop pen, and I think on soft wood or soft products it would work perfectly, but I don't think it would hold up to serious grinding on hard wood because of heat build up.

I, like many others, are doing our own gel nails. I bought this to assist me in that process. I would have given it more stars if there were better instructions. It holds a charge nicely, is quiet and you can change the speeds with one hand as it is on the device. So far I like it and I am NOT a nail professional or even a person who did her nails pre-COVID. Like I said, good value for the price.

Is my first time using this kind of tool, I really have problems with my cuticle and I have heard about the Russian manicure, so I'll try. The tool looks very friendly and easy to use, perfect for beginners. I love the idea that it is cordless. The only thing is that there are no instructions about how to change the bits. I guess it's easy, I'll use a YouTube video to see how to do it.

I've been meaning to do my nails at home because of quarantine and everything and now I finally got the chance! This drill is lightweight and so easy to use! The package also includes five drill bits so you could definitely use this for practice. The led light at the end really helps give a clear view of what you're doing. overall, 10/10 would recommend.

Decided to buy this for home pedicures and we love it. My grandson (who is five) even loves this thing. He likes it much better than clipping his nails. I like that it has three speeds and is rechargeable. Comes with a handy little carrying case. And it's compact. Bonus, no wires!!

I love this drill because it's super easy to use but I wish it lasted longer. When removing acrylic I like to drill as much as possible to reduce my soak time but I had to recharge in between hand use. I wish the battery life on this strong little tool was a bit more effective.

I just recently got into doing my own poly gel nails at home and was in need of a handheld electric nail file. I was hesitant at first due to the size of the nail file, but it has not let me down. It packs a good deal of power for its size and force capability. 😚

Sleek and easy to hold. I love that it doesn't take up any space in my nail kit. I alternate between multiple styles of drills so that I don't have to switch my bits out as often. I use this one for nail prep but it is definitely strong enough for removal as well.

I bought this drill because it was wireless. The battery does run out after one hand, but it charges pretty quickly. I leave it charging as I work on my other hand. The bits provided are perfect. I love that the kit only comes with the absolute essentials

Was very pleasantly surprised. It's lightweight, easier to control. It's not loud. Has the power of my corded nail drill. I haven't used it that much, but as for now I'm extremely happy.

This nail drill isn't very powerful and the larger bits don't stay in the drill, but the smaller bits do. And this is perfect for my granddaughter to practice with.

This is a lot of value for such a cheap price! The drill is lightweight, easy to use and quiet. My favorite part about it is the built-in flashlight.

I was even able to use the cuticle remover on my kids nails without any discomfort. High quality for the price, I definitely recommend it!

Good quality! Lightweight, cordless, easy to use, even in a dim environment. Recommended.

Surprised at how easy it is to use. Charger cable and accessories make it portable.

These product seems to work very well and so far really love this for my nails

It works great. The only downside is that the battery life isn't too long.
Share