Pocket Fishing Rod
Regular price
$28.99 USD
Sale price
$28.99 USD
Unit price
per
Sale
Sold out
Struggling with fishing rods?
Say goodbye to lugging and hauling your gear or needing to borrow a truck to carry your rods down to the lake. Introducing a smaller-than-life solution: our Pocket Fishing Rod. Yes, your eyes aren't deceiving you. It's a fully-sized, fully-functional fishing rod that collapses into one compact pen.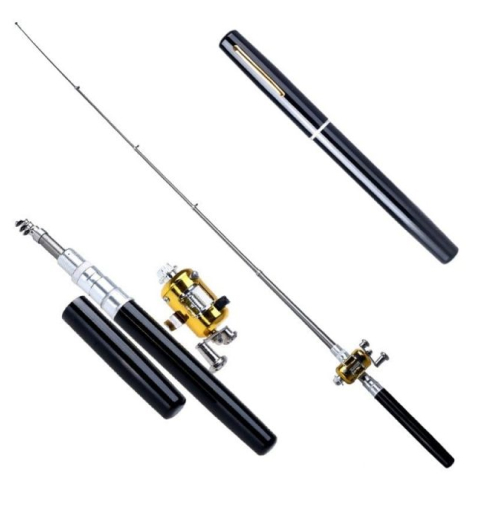 Get ready for your catch
Set up in three steps:
Step 1
Open your pocket fishing rod by taking off the cap and positioning the rod upwards.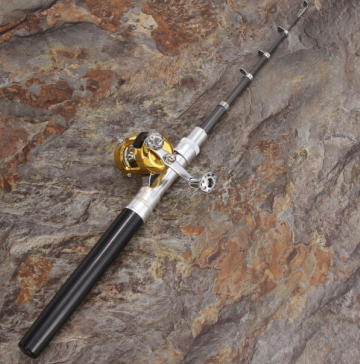 Step 2
Insert the reel between the two grooves on the pocket rod (you'll see a moving piece which slides up and down, which is where you insert the reel).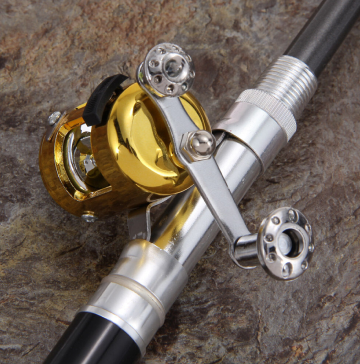 Step 3
Twist the screw down to tighten the reel onto the rod. You're now ready to make your catch.
Built for performance
Hit the lake, river, or ocean with confidence. Because pocket-sized doesn't compromise on performance.
High-quality aluminum alloy and fiberglass components
Forward-and-reverse ratchet with stop-and-drag control
Compact pen-size storage and lightweight (weight just 70 grams)
Stretches up to 38" when extended; collapses to 8" when closed
Comparable, space-saving substitute for traditional fishing rods
Premium-build rod
Crafted from 55 grams of carbon fiber and aluminum alloy. Measures 20.5 cm / 8.07" when closed and 93 cm / 36.6" when extended.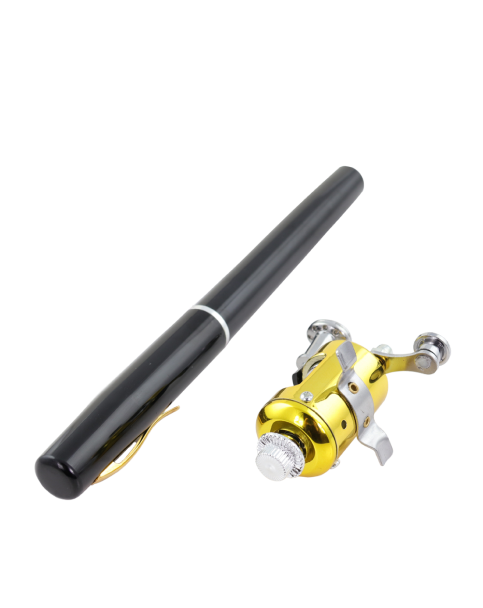 Mini bait-casting reel
Built from 70 grams of aluminum alloy brass for a sturdy, durable reel. Measures 7 cm x 3 cm / 2.7″ x 1.2″.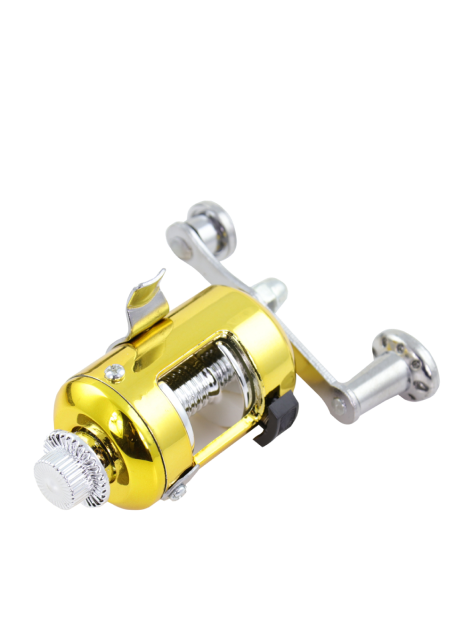 A reelin' good gift idea
Choose a great gift for your dad, brother, or a fishing fanatic. It's the gift of a great essential tool for a well-loved activity, all in a convenient, carry-anywhere size.
The pen rod is probably not used for big fish, but for a pond fishing is great

Compact and comfortable to carry. Able to get desent cast out of this for its size.

Yeah. It's very good stuff. It's very convenient. Cheap, but it is a very good fishing rod

Now some will say it is cheap, well it is, but for the money it is great. Designed to be small and portable, toss it in your emergency 3 day go bag. Tested it out by casting and reeling in some test items, only a few pounds on the line but am pleased with it.

The fishing rod is very handy and you can take it very easily. Perfect to take with you when hiking.

My husband wanted a fishing rod he could pack in his backpack when we are hiking and this is perfect! So compact and so far it seems very sturdy. Great price for a decent little rod.

I love the black fishing rod, it looks like a pen and extends into an actual sized fishing rod.. Great product for the money!

a neat little light weight fishing rod. not and never intended for hauling in a monster 30 pound bass but for small fish you might encounter on the lake up near the bank of near a foot bridge. i can see where some might have an issue with casting as the guides on the rod are pretty tiny but if you use a lightweight string (as is recommended) and are not too aggressive in setting the hook you should be able to cast a short distance or more likely cast the line out by hand and then let it drift out further with the current…for the price i'm very happy with this and plan to acquire a few others mini rods and reel variations as a sort of collection

It is better than expected. Fits perfectly in my tackle bag. Besides the size, you wouldn't know there was anything different when compared to a regular pole and reel.

Dad likes this birthday present very much. The quality of the fishing rod is very good, the workmanship is very fine, the resilience is full, and the handle is very good. That is great!

I got the 3 rods and 3 reels in good condition and they didn't take long. Very good communication with the seller. I recommend the product and seller, thank you very much.

looks exactly like the pic, no worries!

Got it as a gift for my boyfriend and he loved it.

small and practical, suitable for vacation, of course, it is very simple

I love the way it looks. The reel is better than the rod. The rod looks like super fragile, I won't be surprised if it'll break after one season.

It's the best mini rod I've ever bought online

A little short for adult, but the size is really pocket-style, so it's cool.

This is a micro size rod and reel combo easy to carry. I installed new 6lb braided line and modified the drag knob to keep the line from winding on it. Other than that it works amazinly well. I caught fish with spinner bait no problem. The rod is very sturdy and the reel works well, just keep tension on the line while reeling. I go mtb riding on trails that run by a creek and this allows me to stop at remote area and fish for a while. Now the funny part one day I cast a small hook with bait on it over the side of a pier, I laid the rod down with just the tip hanging over the edge. I walked away from it for a while next thing I know a fish took my rod and reel! So I ordered another one!

Extremely small, and it works, my kids caught 3 sun fishs on the first time using it, just need to make sure not get too tight on the fishing line and let the fish run then slowly reel in the fish. This rod is very small, and I will get another one to just leave it in the car. A lot of fun for me and my kids.

For the price, I was able to have some fun with the fishing rod and land some fish. Nice compact part that fits great in the backpack. Definitely recommendable.

Better quality than expected, Shipping was quite fast!

Fulfil the purpose I had in mind - having the portable rod in the car just in case. Perfect for that matter.

The store was quick with communication. The rod is too short for my liking.

Very Compact and inexpensive for on the spur of the moment fishing, but not for the professional use

My father likes it very much. I hope he can catch big fish and go home. Hahahaha!

Super! THANK YOU VERY MUCH! It is perfect!

Love the potable design. Full of fun for kids.

The reel that came with this pen is the best quality I've seen out of all the pen fishing poles I've owned. Very smooth casting. As with all compact poles, be gentle when collapsing the rod.

This is a gift I bought for my father. He likes fishing. His old fishing rod is old. I just bought him a new one. My father likes it very much. I hope he can catch big fish and go home. Hahahaha!

Was out fishing with my wife and brothers. My wife's sister decided to join us later in day and didn't have a pole. So I gave her my good one and busted out the baby pole. To my surprise this thing worked flawlessly catching 10 or so decent sized fish with not a single problem.

It was a gift for my fishing-loving friend. The fishing rod is small and comfortable, quite strong, it is compact and took up very little space. My friend was very happy with the gift. It is a very good gift for fishing lovers. thank you.
Share