Peek-a-Boo Bear Toy
Regular price
$0.00 USD
Sale price
$38.99 USD
Unit price
per
Sale
Sold out
A cuddly bear comes to play…
Add the perfect playtime companion to your baby's collection of toys. Our super-soft Peek-a-Boo Bear Toy is ready to play peek-a-boo with his own warm, satin-detailed blanket. Keep your child entertained with a new furry friend that talks and moves.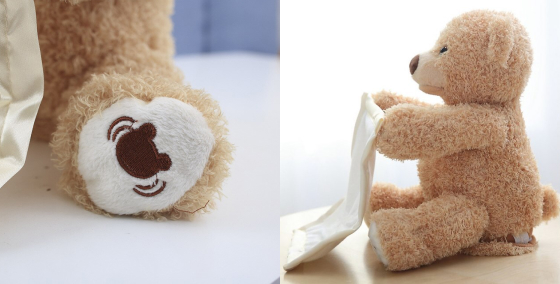 Watch it come to life
Our plush bear recites six phrases while moving his arms up and down to play with your little one. Measuring 11.8in (30cm) in height with a moveable mouth and soft-to-the-touch polyester, your little boy or girl will have a cute-sized, huggable, interactive toy to accompany him or her through the days and nights. It's like a best friend at home! Just pop in three AAA batteries to power up (batteries not included).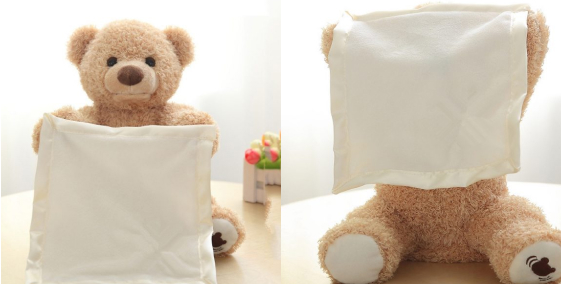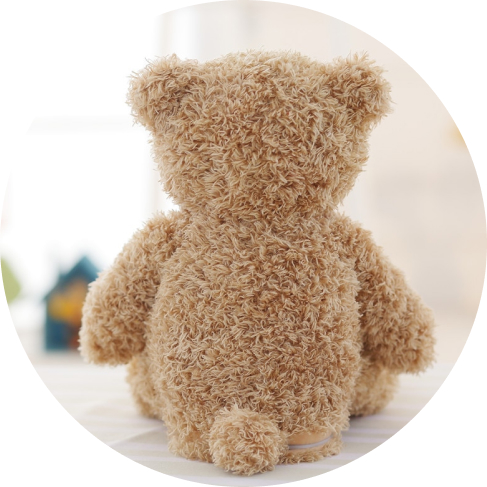 Wash and clean easily
Like any animal, the Peek-a-Boo Bear Toy will need his bath time too. To clean, simply surface wash with water and soap. Do not machine-wash or -dry and be mindful of the battery chest inside the toy. Air dry after washing.
A buddy for every child
This plush makes a great gift for birthdays, Christmas, baby showers, and more. Give the gift of wonder and companionship to a greatly-loved boy or girl today!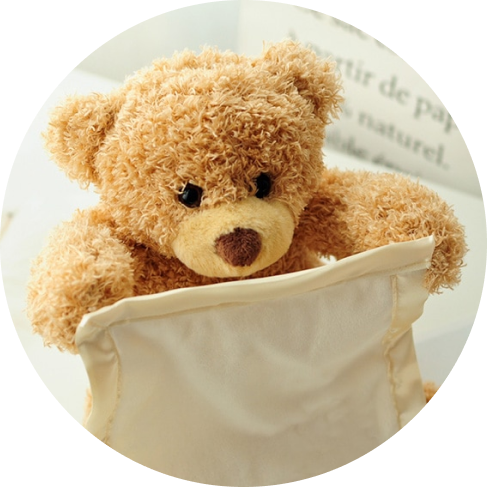 What a precious gift to give at a baby shower!! My husband and I have watched and listened to this little guy several times because he's so cute. We can't wait to see our new grandson enjoy it.

Cutest first teddy bear I have ever seen. I want one for myself!!!!!!

Brought for my daughters 1st birthday she's not sure about it but loves how soft it is

A good gift if your child loves the game peek a boo

Our granddaughter loves it

This item is brilliant for any little one!!

Peek A Boo is every babies favourite and this great little kept our one year old granddaughter laughing for hours. Bit heavy on batteries as they don't seem to last long.

Bought this for my granddaughter, it's funny and cute.

This bear is just too cute for words. I bought it for my 95 year old mother who has dementia and aphasia. She laughs and smiles every time we turn it on. It really has a relatively large vocabulary, It is just so nice to find something that gives her joy and makes her smile and laugh.

The peek a boo bear was an adorable addition to my 6 month old's collection of stuffed animals. The game of peek a boo is one of her favorites but, she is quite the aggressor LOL. She no longer wished to play the game with the bear and decided she wanted his blanket. Mr. Bear went to cover his eyes and my 6 month snatched his blanket from detaching it from one of his cute unsuspecting paws. It's an easy fix. The voice over is so precious. It would be awesome if there was an option to order the bear with your child's name in place of "baby." I'd definitely order this product for future babies in my family. It's a keeper. Thank you for producing an adorable keepsake!!

I bought the Peekaboo teddy bear as a gift for my soon to be 1 year old niece. It arrived on time and was packaged well. But the batteries weren't included for some reason, so I had to insert them myself.

I purchased this for my Great-Granddaughter and it was PERFECT!!!! Not only did she love this Bear, everyone in the family got a real kick out of it and it had all of us laughing for hours! I recommend this product for everyone with a small child in their life.....the mouth movement with the talking and that adorable giggle is absolutely the most precious I have ever seen.

This is the most CUTEST THING EVER!!! I wanted to get this for myself but decided to give it to my niece. This is so adorable, it makes anyone want to go "AWW" it's so plushy, the voice is so playful and cute.

It is the good size, the fur is super soft.

The bear is adorable. Its soft and does not shed. Because of the movement of the arms I did not let my 9 month old great grandson play with it unassisted. The bear is not fragile but would not hold up to a 9 month olds play. We did have so much fun with it playing together. The voice and sayings are so so cute. It made my grandson giggle and giggle.

I got it to give at a baby shower. Baby can't play with this bear. I kept mine on a shelf easily seen by the baby once learning peekaboo. The bear has a sweet kiddie voice, says a few things while lifting the blanket in front of his face. A friend let his toddler play with HIS bear but he wanted to lift the arms himself and that throws off the timing of the talk and peekaboo action. The whole point is for the bear to get the child to try to peekaboo with him.

There's nothing to not like about this teddy bear is so sweet and cuddle he looking so soft and very fun to play with it was for my grandson for Christmas last year he absolutely loves it I love it so much I was ready to buy me one LOL I think maybe one day I will

It took a while, but now my baby LOVES this bear.

This bear was purchased as a gift for my year-old great grandchild. I must say he didn't react like the commercials of the belly-laughing babies, but he liked it and is hopefully enjoying it more now that all of the craziness is over. It's an adorable bear...very soft and cute! I would recommend it!

My 8 month old grandson loves this Peekaboo Teddy. The voice is cute and fun, not scary. The arms are in complete sync with playing the peekaboo game. I love listening to my grandson laugh. My daughter said this is his favourite gift! I am so happy with how cute this bear is and the quality of this toy!

OMG My grandson, who is 10 months old now, can't get enough of this little bear. All he wants if for us to let him play until the batteries give up. But thats ok. The sound of his giggles and that over powering smile is well worth the price of the constant " Hello Baby, lets play peek a boo.".

The soft fur on this bear is indescribable. Bought for my 15 month old granddaughter. She was so intrigued with it, and giggled when the bear giggled. My daughter in law said she carried it off to watch it alone. She said she could hear the bear giggle and my granddaughter giggle. Well worth the money!

We bought this for our infant son and then bought another one five years later to give as a gift. It's cute and has a sweet voice.

This bear is the most adorable of all the plush toys that we have. This catches attention of my 1 year old each time when it plays. Not only babies, my Dad and Mom are amazed by the lip movement and cute peek-a-boo action of the bear!!

Such a cute bear. My granddaughter loves it! The only problem is she wants to reach for the arms and I'm afraid the mechanism will break so she can only watch. Hard to stay away from such a cute lovable bear, I guess.

This is such an adorable bear. The peek a boo movement with the blanket is super cute. I wish this had a video to show how the bear plays peek a boo. Had I seen the video, I definitely would've ordered two or three all at once.

I am a professionals childrens photographer for private preschools. Found this toy and absolutely love it. Children who came in crying stopped immediately once the Peekaboo. This toy does calm .. it is sturdy .. has a smoothing voice. Would recommend.

I bought this for my granddaughter's baby shower. HE WAS THE HIT OF THE PARTY!!! EVERYONE WANTED TO SEE HIM, SO HE GOT PASSED AROUND. You press his foot and he raises his arms and says PEEK-A-BOO. This is definitely a great quality product

So cute! If you are looking for the perfect gift for a baby shower or first birthday or first Christmas definitely go with this Teddy! He will amuse you upon arrival even before amusing the baby!

We bought this for a baby gift. We love it and the parents loved it!! It does exactly as described. Very soft. Bear actually raises the blanket to do the peek a boo!. Would highly recommend.
Share