Neon Glow Cable
Regular price
$26.99 USD
Sale price
$26.99 USD
Unit price
per
Sale
Sold out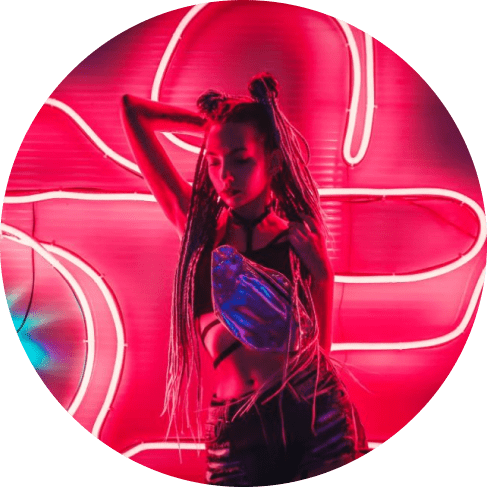 There's nothing you can't do.
Creativity knows no bounds: all you need to do is to show it the light. Our Neon Glow Cable spurs decoration magic and light-up possibilities in endless shapes, ways, and forms. From gaming room lighting to cosplay costume decorations to DIY auto projects, illuminate any idea of yours and bring it to life with this super-handy, easy-to-use light cable.
Bend it. Shape it. Cut it.
There's so much you can do. Our Neon Glow Cable is flexible for any project or vision you have in mind. Create custom light-up signs. Decorate a child's Halloween costume. Add an illuminating glow to your desktop space.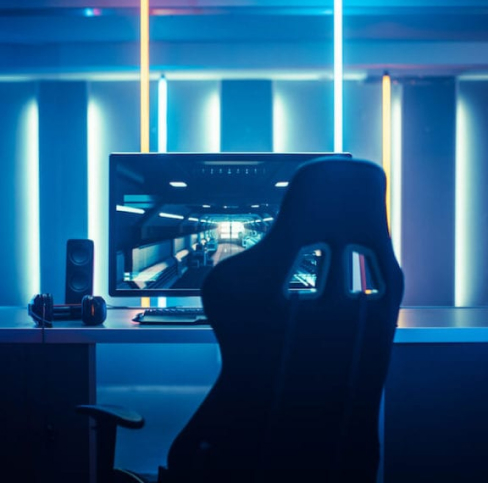 It's almost like neon
Get the illuminating glow of neon, without the fragility and work around required to customize shapes. Our lights use electroluminescent light, which is physically flexible and less expensive than neon (but shines just as bright).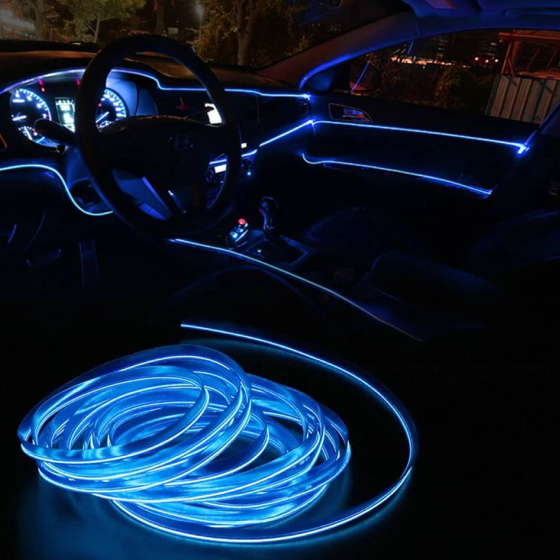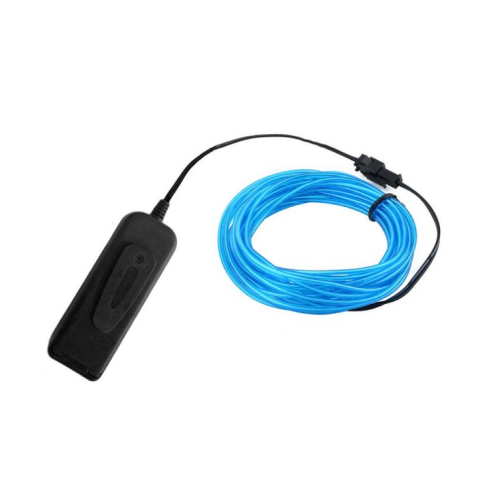 Strobe or blink
Each cable comes with a power controller that features an interface connector. Connect to your cable and choose from three light modes: steady light, strobing light, or blinking light. Use the effects to fascinate passerby with your creation, whether it's a school project or Coachella outfit.
Four shine-bright colors. Three amazing lengths.
Choose from red, blue, green, and yellow. Each order comes with three cable lengths of (1m / 39.4in), (3m / 118in), and (5m / 196.9in).
A bright gift idea
Our Neon Glow Cable will be great for any creative mind: from budding minds of young engineers to artistic teenagers and high-flying creative directors for commercials -- there's always someone who can bring their imagination to life with these amazing lights.
Everything is super good! Thank you! I'll order more in the future!!!

I used this for a Halloween costume and it worked well and was plenty flexible for what I needed it for.

I used a glue gun to attach these to my costume- it looked amazing and the wire held up without problem. Was able to remove the glue when I was done easily, and wire still looked good. Very bright. Only complaint was a few wires were noisy but in the noise of the party I never heard it.

It is pretty flexible and nice colors for fun projects with your kids. Now my kids are making art work on their own.

So much fun to use. We use them for flag football at night, we have made fun outfits with these. No complaints.

I bought two (one for each bee wing) which made my wings the focal point and took my entire costume to a higher level. The fast blink setting was really fun on the dance floor. The battery boxes make a little buzzing sound but holds battery well and, overall, held up great! I would definitely buy this again for future projects!

Not tested yet, but looks great, thanks!

Fast shipping and good quality. Advise this and this store~

Super bright! Easy to bend, really great purchase for price! Shipped very quickly too. Thank you!

These worked perfectly! My daughter wanted a light up costume for Halloween. We attached one strand (blue) to a black hoodie and another (yellow) to black pants. I stitched them on with black thread, her friend used a strand and just used shipping tape to attach- both ways worked great. Each strand has a small battery pack- we stuck them in pockets of hoodie. There is a low humming sound when each battery pack is turned on but if there is any noise around you at all you won't notice- it would have to be a completely silent room to hear it. The brightness was perfect. Her costume was a hit. Kids have now used strands to decorate their rooms. Definitely recommend!

Buying from this store was a good choice. Price is pretty low yet the quality is amazing

Works perfectly. Color (blue) is fantastic - vibrant, not a faint light. The battery pack does emit a high-pitched whine. So, if you plan to have it near your head (like on a hat) it'll likely be annoying. We are using it inside a plastic steampunk gun and on a costume, so whine won't be an issue.

Great for creating portable faux neon designs (signage, costumes, sculpture). Good color range.

I bought this light strip to make a concrete & acrylic LED light up planter as a gift for my boyfriend and it worked extremely well! It was incredibly durable even in dealing with concrete and resign. I used a blue aluminum can behind the resign which augmented the LED blue color and the project turned out well! I really liked the control's ability to adjust the light string to a static light, or simple flashing or quick flashing modes. Will definitely buy it again!

Nice little bright neon light. My son wanted this for his grandpa who likes to make different types of crafts. The lights uses 2AA batteries.

Super nice item! My roommate is delighted with my new cable

Perfect for lighting up my Onewheel on night rides. Used 3M VHB tape to hold it on. Makes for a real head turner!

Excellent product! No problems with delivery. Color is exactly that I needed. thank you 🙂

These are great! I used them to make faux neon signs for my friends for Christmas. I bent a piece of wire into their names, and then I hot glued the EL wire to that. They're true to color, bright and and easy to work with. They do make the buzzing sound that I've seen other people mention in their ratings, but it is really only noticeable if you're right by the item when it's turned on.

Just what I needed for my son's Godzilla costume. It was easy to glue with silicone and it didn't affect the brightness of it. It didn't come with any instructions so I didn't know that it had three different modes. It is very bright and looks amazing in the dark. Saving for whatever he decides to be next year.

This is doubtless one of the best, if not the first-class items of thiskind I have ever had the joy to use. I have the impression it is a good purchase. It got in the post above what was it was predicted and saved me a lot of hassle, since I needed it in short order. I was incredibly thankful to the customer service. Highly recommended!

It was easy to use. I made neon signs for my boyfriend's bar and they came out great. They seem durable and look awesome.

Excellent quality of product! Advise this store :)

I bought these specifically so I could make a glow in the dark stickman costume like the ones you see online. The wire comes rolled up so it's difficult to get it to lay flat/straight. I used safety pins to "fix" the wires to my clothing. It worked well enough for me. The wires are bright, much brighter than buying the glow sticks from the dollar store and taping them together to make a stick man. I got several compliments about my costume!

I got this for a cosplay, as I am gathering up materials to make it. In the meantime, it has been used for mood lighting, been stitched to a jacket temporarily, and used to test the visibility in a papercut lightbox! It's fun to play with. I may have to get more of these.

I used this to add lighting to a hat. There is a slight electrical whine that emmits from the battery pack. The battery pack was somewhat near my ear since it was built into a hat, but it was easily drowned out on the convention floor where I wore it the most. You can definitely hear this when it's quiet though, so if you feel it may bother you, you may want to make sure it's hidden away from your head, and instead elsewhere in your project if it's a wearable.

My family's Christmas party theme this year is Ug-lee Christmas Sweater. I bought this because I'm planning to sew it on my ug-lee sweater. I love the blue glowing light. It has 3 modes: slow blinking, fast blinking and steady. It makes use of 2 AA batteries so you don't have to plug it into a power outlet. The strand is thin and easy to bend. Perfect for costumes. I hope this is safe to wear and won't overheat after long hours of use. I'm so excited on how it looks like on my ug-lee sweater. I haven't heard of any buzzing sound when it's on so far. I have no complains. I'll give this 5 glowing stars!

These lights are super bright and very flexible. I taped them to my sons clothing so he could be a glow stick man for Halloween. He is 12 and you know how much energy a 12 year old boy has..... he ran around and played and the lights didn't stop him. They make a little buzz sound from the battery box but he had it in his pocket so they didn't bother him a lot.

Arrived safe. Looks great. Thanks to the store!

Better quality than expected, Shipping was quite fast!

Bought a couple of these for photography. I'm so happy with the quality of the lights. They even have two different blinking options. Love how it takes 2AA batteries, so convenient! Definitely buying more colors in the future!

I had a lot of question about quality and delivery and store was really helpful. Thank you so much!

I use it on my dogs leash when I walk him at night. My daughter wants to decorate her room and make gifts for her friends with it. My wife is a photographer and she already has many plans for using it.

Very fun and easy Halloween Costume (just Velcro, rubber bands, and safety pins to make a quick and easy stick-person.) Wrapped lights around dog leash for night walks. I will order these again.

Very bright, even in the daylight. Much better than expected and so cheap. Definitely recommend.

These are awesome and make a great glow effect! However one of the cable emit noise when on.

Easy to use and wrap around your body for costumes. Used it while at a music festival and got lots of compliments and never got lost in the darkness. Battery powered and lasted for long hours.

Works just as described, good price and good product.

Product makes a slight sound when on. Otherwise great.
Share