Multifunctional Hair Styler Brush
Regular price
$0.00 USD
Sale price
$19.99 USD
Unit price
per
Sale
Sold out
The ultimate hair- and beard-crafting tool
Gentlemen have to look good too (it's not only for the ladies). Discover a must-have tool to half couf your sleek combover or tame those ruly sideburns. And if you're sporting a beard, give those hairs a quick brush, too. It's all possible with our men's must-have style tool: the Multifunctional Hair Styler Brush.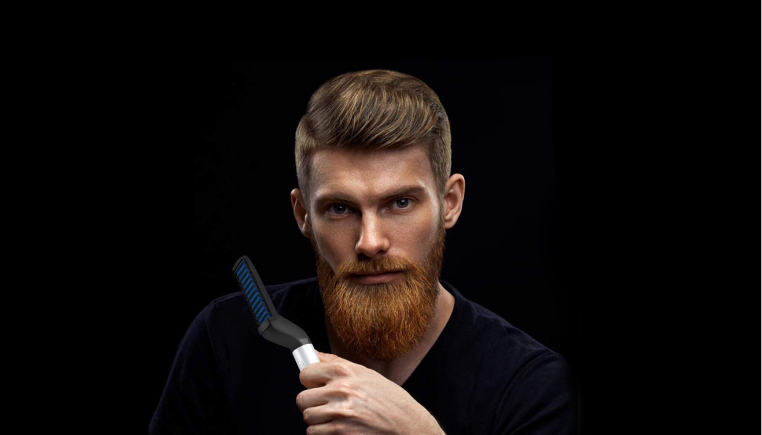 Designed for suaveness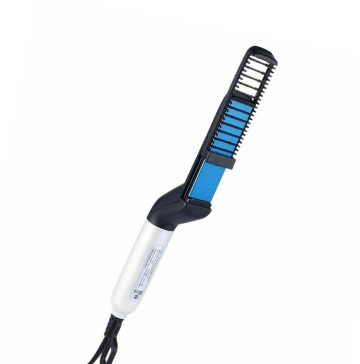 Turn it up
This brush can heat up to 120°C (248°F) for optimal styling conditions.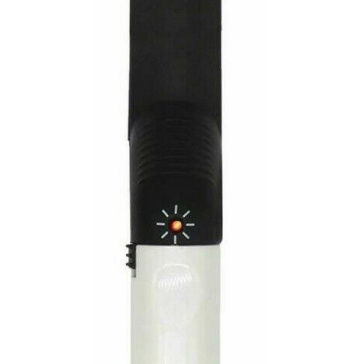 Light-up indicators
An illuminated power indicator lets you know when your brush is on or off (red is on; no light is off).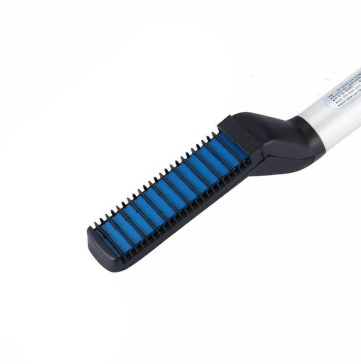 Burn protection
A heat plate on the comb prevents unwanted burns.
Go from workday to date-night
For all your grooming needs
Can be used to add volume to hair, straighten hair, or flatten side hair.
Fix messy or boring hair and create a charming style or look that lasts all day.
Hold firmly with its ergonomic handle and lightweight build
Get ready in a flash with a 15-second heat-up function.
Constructed of ABS plastic and metal for a sturdy, quality styling tool that you can use over and over again.
Style and clean up when you need to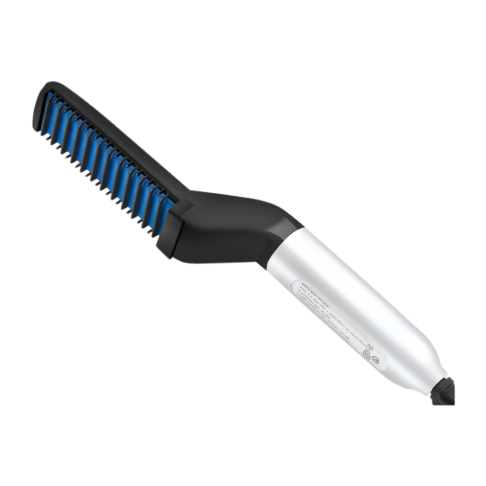 Great for touch-ups and restyling
Give your beard a cleanup or fix some fly-aways with this Multifunctional Hair Styler Brush. Just plug in the tool, wait for it to heat up, and work your magic.
Let our tech do the work
Utilizing negative ion technology, our styling tool disperses heat evenly, avoiding any "hot spot" so that you don't burn any of your hair. Comb and style per usual with ease.
Super helpful store, answered my questions right away, even shared some tips on styling. Highly recommend!!

It's light, it heats up quickly and it has made my beard neat

It's a great straightener for wavy hair like mine

Get's the job done! Easy to use on my daughter's longer than shoulder length hair. The handle is rather big but it still manageable.

Great Beard straightener, it does a good job and heats up fairly quick, the low setting is more than enough heat to do the job..

super cool ! just arrived

I absolutely love this. I really wanted the original but it was sold out every where and I waited a few weeks for more to come instock but I started to get impatient so ordered this one from here. Glad I did as it was cheaper and works brilliant. I have had it a month now and only use my straighteners for my really short bits that snapped when my little girl was pulling on my hair. It takes 10 minutes to dry and straighten my hair, my hair goes inline with my armpit. And my teenagers hair much longer but still only took 15 minutes to do her hair.

Got this comb and beard straightening brush for me. No time to care for the beard and sometimes looks messy. This beard straightener takes a while to heat up quickly. Very good product, easy to use and nice design. Lightweight makes this very useful and it works very well with the curly beard and hair makes it look neater and soft. Suitable for ones who want to look perfect on any occasion.

Like it a lot. Quality is excellent. Packed well. Recommend.

It's totally worth buying, I'm using it for the 2nd week already

I strongly believe that the best online is available in this very shop. I seriously tried looking it up elsewhere, but failed

Nice product. It's very convenience for me. When I use this, I don't need to use the comb anymore. Also, It's 3 in 1 product. Love it.

Soooo much easier then a traditional blow dryer/brush. Dries my hair really quickly and I definitely get a lot more volume.

It's easy to use and light weight. I have really curly hair and it straightens my hair.

This product drys my hair wonderfully. Not too hot that it doesn't ruin the style. Drying and styling hair made easier! I would highly recommend to those who have trouble setting up hair

It's my first beard styler, so I've nothing to compare. But I like this one.

If you're thinking about getting this, just do it. It's amazing. It normally takes me about an hour to dry and flat iron my hair into submission. I was able to get my hair straight, frizz-free and shiny within 20 minutes. Amazing

just received, no flaws found

I bought this product for myself. I have very thick and curly hair. It normally takes me 3 hrs to finish my hair and with this dryer it was achieved under 1hrs. Highly recommended.

Highly recommend buying if you're tired of curly, hard to comb hair. Doesn't hurt when combing through hair that is like a thorn bush. Great for wet or dry hair. Dose exactly as advertised. Definitely would buy again if I needed to. 10/10 would recommend.

good quality :) well-made comb

Earlier I had bought a beard and hair straightener but it was only meant for beard really. So I bought this and it completely overpowered and destroyed the earlier one. It is very powerful, works like a charm, perfect for combing as well as giving nice shape to your hair. I would say its a bit big though, and we soon get tired of holding it too much :p But these are just little things. I would recommend anyone to purchase this if they want a hairdryer brush.

looks solid and durable. nice!

My friend recommended me to get this hair straightening comb. My hair is naturally curly and look terrible. This is the first time that I use this comb. After the first use, the effect was really singificant. It made my hair looks shiny. There are two temperatures that you can adjust. My husband also can use this to straighten his beard. So good product.

I love this hair dryer!! It has negative ions and results in a sleek frizz free blowout! I also have thicknwavy hair and this cuts drying and styling my hair in half!

Life changer! I don't use it for my beard I use it for my hair & works amazing. Definitely recommend!

I have very thick hair and that's not an exaggeration. It is also naturally wavy. This cuts the time that it takes to do my hair in half. Now I can dry and straighten my hair in less than an hour and it leaves in straight and shiny. People always compliment my hair but in the case when I first used this they all noticed the shine.

Love this!! I was a bit sceptical at first when I ordered it because it seemed a bit too good to be true but I'm blown away by how good it is. It gives amazing root lift and makes hair soft and bouncy just like a salon blow dry.

It takes a little longer to dry but that means the heat won't be too aggressive with out making your hair frizzy... love it but you probably need to either air dry your hair or use the blow drier for a little bit to get the excess water out of your hair. I hope it makes sense. I kept it and love it.

Great to style your hair before going out. It would make a fun ift for the holidays.

Delivery really fast!!! thanks!!!

Great for grooming your beard. Especially if you have beard like mine :) I can grow my beard more now. I'm so happy.

Absolutely love this hot air brush! I have curly, fine, thick hair and not once did my hair get tangled! It straightened my hair as if I had used a straightener. With it drying my hair and straightening it cut my getting ready time in half! I loved it so much I have other family buying it!!!

This beard straightener for men is really good to use, better than the other products I used before. I've been using it for several days, and the effect is very great. My beard is curly and look messy. After I use this product, my beard become smooth. The beard straightener comb is lightweight and portable. All in all, I was satisfied with this product. Highly recommend!

This hot air brush is excellent for medium length hair. There are three heat settings: high, middle, low. I just love this hot air brush. This is the change in my hair from just using this hair brush. I have medium and thick hair which is also very curly and quite dry! Very delighted with this hair dryer brush.

Heats quickly does a decent job of defrizzing thick beards. Also works well on messy hair instead of styling with gel.

Works great except for two things. The comb has a funky smell while heating up and the placement of the on/off switch is horrible. It's really easy to turn the comb off while using it.

It works it really does, but takes too long to heat up

Does the work for styling short hair. Haven't used it on my beard yet but I'm sure it will work just as good.
Share