Multifunctional Car Seat Organizer Set (Left & Right)
Regular price
$49.99 USD
Sale price
$49.99 USD
Unit price
per
Sale
Sold out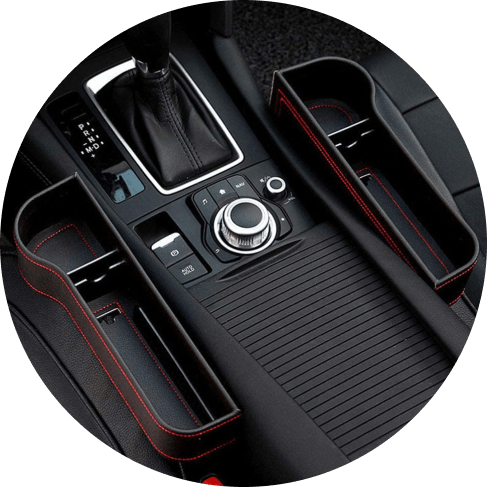 There's great convenience right here
A notepad astray. Coins littered about. And a pen that is always playing the vanishing act. Tired of not being able to find anything while you're behind the wheel or stopped to jot down notes from a call? Then it's time to get organized.
Organize + store
Keep essentials within reach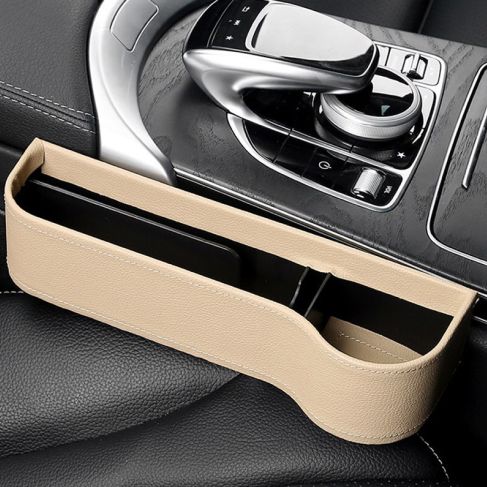 Stop the madness
Get your space (and sanity) back
Clean up your behind-the-wheel mess with our Multifunctional Car Seat Organizer. Our organizer measures 10.24 x 6.5 x 3 in and weights 9.5 oz, for roomy accommodations for all your must-haves. Pens, tumblers, note pads, smartphones, snack bags, charging cords -- everything goes into one solid storage solution. Discover a cleaner car interior today. Free up clutter from your cup holders, center console, and car-door pockets today.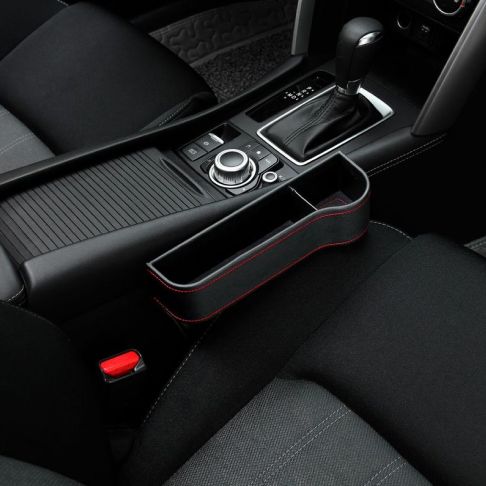 Driver help
Declutter the front seat today
Now, handy storage and sealing of the cracks of doom between your front seats and center console is here. You get two of our Multifunctional Car Seat Organizer -- driver- and passenger-side oriented organizers -- to install for easy convenience for driver and front-seat passenger. It's a simple and seamless way to integrate storage space into your car while tidying it up.
Quality build + features
Our Multifunctional Car Seat Organizer fits into the space between your car seat and center console for an out-of-the-way storage accessory that also is conveniently within reach. Our Multifunctional Car Seat Organizer features a coin holder, curved spot to hold a tumbler or drink, and even built-in ports to facilitate flow of charger cables for devices. Plus, a luxe black, expert-crafted PU leather design (with visible red stitching detail) adds a stylish touch that blends into just about any car interior. Above all, our organizer is easy to install: just insert into the space between your seat and center console -- no drills or attachment clips required. It's a high-crafted solution to help tidy up your ride.
Double up on help
Hey, the front-seat passenger needs some love too. That's why our set gives you both left- and right-side-oriented models of our top-selling Multifunctional Car Seat Organizer to help seal those cracks where small, everyday items get lost and never found again.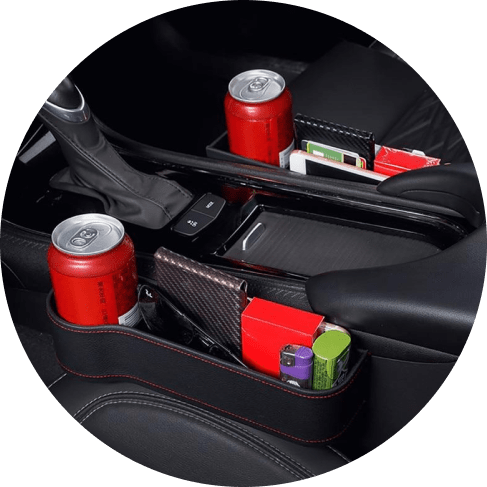 Very well made, sturdy, passenger side organizer! My husband uses it in his truck and he has had it for about a week now. He loves it. It is very well made, and he loves that his change and other things can go in there as opposed to between the seat and the center console (making it impossible to retrieve later). It is an excellent buy—a bargain considering how well this product is made! The red stitching is beautiful. This would make for a very nice gift for that hard to buy person!

I have a smaller SUV and when we travel, it seems like we are always out of space for extra beverages and a place for phones. This has solved both of these issues. It's so nice to have a specific place for my phone. It's a great place for pens, notes, etc. Love that you can remove it if necessary or even move it from vehicle to vehicle. Definitely recommend.

I personally don't like the charger hole, because it means I couldn't even put my earrings in it without the earrings falling out.

This product is a wonderful addition to my car. In my back seat there are no organizational pockets or cup holders. So this is a great addition for my kid to use while they are in the vehicle. The structure of the product itself is solid it has already been tested and upholds its integrity against the onslaught of children. Has just enough space to help organize and contain masses that could otherwise spread across the back seat

Omg what a great product. Looks great. Quality materials. Don't get offended, but if ur a little wide this will be in ur way. Oh did I say Thank You for those hooks. Best things ever.

This is a well thought out solution to a problem we all have where the phone and other objects slide in between the center console and the seat taking things to hard to reach places. This solves that issue and creates additional useful space. We also use it to hold our handsanitizers now that we are in the covid situation. Highly recommend it.

The product is excellent. Fits perfectly. Now I have everything at my fingertips. Ordered the second one for the passenger side. Very comfortable stuff. Totally recommend!

Im an Uber driver so i need space to keep my stuff in my car and this product worked wonderfully for me, it fits my vape(big one), juice and wallet even has space left for hand sanitizer. The quality is good its made of some kind of leather. What i love most about it though is the inside that u put between the seats has a soft rubber on it so it basically wont mess your seats up. I was worried about that before ordering because i live in a very hot climate but they thought about it and made an excellent product

This is a great solution if you ever find yourself not having enough space to place items. However, make sure you look at your front seats and make sure your emergency brake isn't on the side you would want the car gap to fit. If you have an emergency brake right next to your seat it won't fit correctly. Overall, it's a great product especially the bag hooks I use it to hang my umbrella and my purse.

This cup holder extension is perfect for that extra space you need. I was afraid it would push up hard on my leg and distract me... but it doesn't! Works great! Fits my coffee mug and bottled waters. Holds my pens AND the extra clips work great over the headrest post to hold my COVID-19 masks ! Great product.

This organizer is great! It looks very high end in my new car as the leather is of good quality. It also provides just the right amount of extra space to be worth the price... buy one!

I got it for both sides because it`s more convenient for me. And it works beautifully, I love the USB hole, it keeps the cords together and not scattered around in the car. I need a variety of different phone chargers and this keeps them organized. I don't plan to use the cup holder for actually holding drinks, I might use it for coins so that isn't a problem for me with the size. I love it, it's a nice quality.

These were exactly what I was looking for! They're just thick enough to be super useful and small enough to not be in the way. The quality makes them fit perfectly into the Mustang, and the red detail just added to it. The cupholders look small, but they fit water and soda bottles perfectly.

This gap filler is quite sturdy and rather attractive. It fit the space in my Subaru just right and certainly does its job of 'filling the gap'. The bottle holder is a bit small.

These are just as pictured. I would like the narrow slot for a phone to be wider to accommodate one with a case. Also can't imagine ever putting a drink in the rounded area in the front as the weight would cause it to tip. But sturdy and very nice looking.

This is excellent. It fits perfectly. It does not slip or slide around. I like the divided section. It holds the phone, notepad or coupons in their own separate section.

This is so useful! I been wanting to buy this after seeing a YouTube video about it and finally did. This fit my One Plus 7 pro perfectly I used it to store phone keys and coins for tow etc. I like how it comes with 2 pieces of the hook for the back.

I love this gap filler, a nice addition to my car. Great fit. Not too big, not too small, and matches my leather seats. you can fit a can of soda, water bottle, cellphone, and miscellaneous items. Great quality product

The product is very fashionable and good quality. Doesn't stop the seat from adjusting.

Excellent product and innovative idea. It is sturdy and fits between car seats. Accommodating wallet, keys, phone, small water bottle and any other small item. Good quality and premium looking product.

I bought this with the intent of extra storage. My vehicle doesn't offer a lot in between the front two seats. This totally did the trick. I'll be buying another one for the passenger side.

The seat gap organizer works great for what it's meant for! It has a nice little cup holder space as well as space for anything else you might want to put there like a phone, keys etc! While this space is meant to catch anything that might fall out of your pockets, it can also just be more space to put things there while on a road trip or a long journey! Personally, I always run out of cup holder space whenever I'm going somewhere with other people, so having two more cup holder spaces helps a lot.

It arrived on time, it is the right size, does not get in the way and plugs the black hole between the seat and console!! Very happy with this purchase!!

Well made with soft material. Please do note that the circular extrusion can rub against your outside thighs if your seats are generally smaller.

Very good for the car especially the extra cup holder. It got some taking used to but it's actually really helpful for preventing stuff from getting lost! Might get another one just in case I need it for the other seats in my car

The leather is great quality, fits perfectly in my 09 suburban, and i really like that i can switch it between the driver seat and passenger seat. Cup holder holds standard cans and bottles.

Well, the product is actually quality, there are no questions to the pockets. So there are no complaints about the product, everything is fine, delivery is fast, recommend it for all car owners.

It gives an extra storage for wallet and keys to my side at the car. Recommend for everyone who has a car.

Love my new pockets! No more lost keys and dropped phone! My daughter already wants a set for her car!

The cup holder is too small

All qualitatively but on my car I will not think how to attach and so everything is perfect

If you have limited space in your vehicle this will give you that little extra. The thing is - it has a slot for your phone but it's tight and only for the slim case, my iPhone XR in 3D decorated case is too big for the space.

I am a real estate broker and have people in and out of my car constantly - even during COVID-19. This has prevented either me or my passenger from dropping our phones, pens, keys, paper clips and other items between the seats. It's sturdy, doesn't affect the ease of seatbelt use or the power seats that automatically retreat for east of entry/exit the vehicle. The black with red stitching gets great complements given the match to my Porsche interior - also black with red stitching. Extra places to put business cards, facemasks, sunglasses - especially for passengers who might spend the day with you looking at property and they bring a lot of stuff with them. Great product.

I really like it! I didn't have enough room in my car for storage so I wanted something I could put coins and cables etc. It fit PERFECTLY in my Toyota 4door Yaris. The cellphone compartment is big enough, and the cupholder surprisingly fits my mug very well!

Material is cheaper than I thought but it's not much of a concern for that price

This is a great organizing tray depending on your car. I have a 2017 RAV4 and it does not really fit on the side of my seat as the sides bulges up, sort of like racer seats. I tried it on my mom's Corolla and it fits perfectly.

Doesn't fit the open space tightly. But does prevent items from falling in between the seat and holds my mobile at an angle that gives me better service.

Overall, it is a decent and functional car seat organizer that covers the gap between the seat and console. It fit our car's seat, but not our truck's seat.

I really like the idea of this, and the price....So close to perfect.

This is a wonderful simple idea for storage space need when driving. It can go on either side, drivers or passengers. It holds my phone, my drink & It even has a slit to hold Credit cards. So Worth it.

Very convenient & so much easier than the stuffed space fillers. Also the price in unbeatable!
Share