Mom's Survival Kit
Regular price
$0.00 USD
Sale price
$40.99 USD
Unit price
per
Sale
Sold out
Mom's Survival Kit
Sit back, relax, and release all of your stress with this legendary set!
Shout out to all those new moms out there who haven't slept in a few months. We're here to help you set aside an hour to just relax. This revitalizing kit was made for all moms, whether they're brand new or have been around the baby block a few times. Six all-natural products will help soothe busy moms who haven't taken "me" time in a while.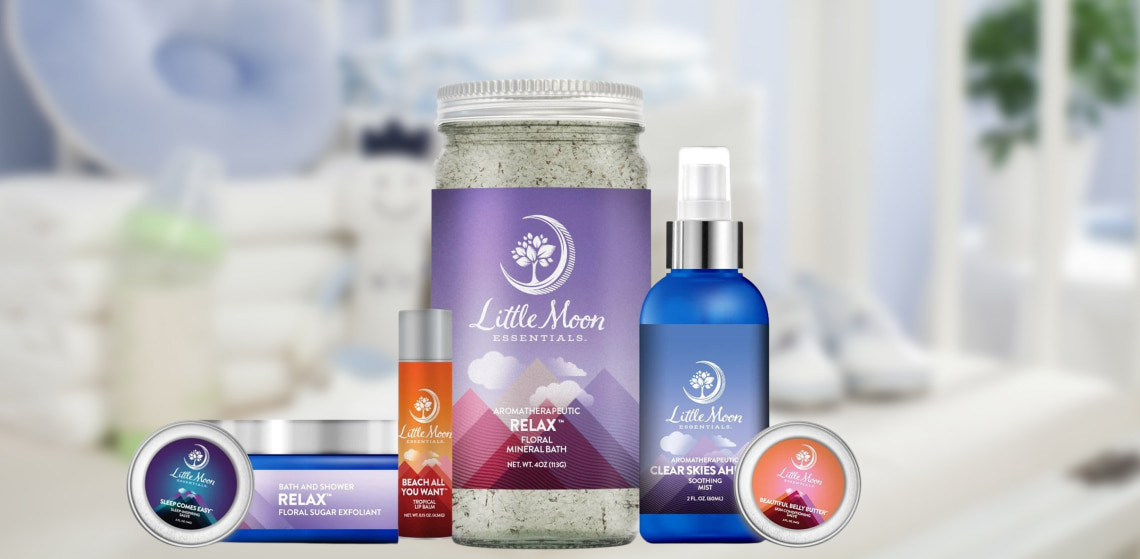 Mom, it's time to take a day off!
How to use Mom's Survival Kit
Shake Clear Skies Ahead Mist well and spray liberally on your face, clothing or a tissue and inhale deeply. Apply Belly Butter liberally on your skin during and after pregnancy. Rub Sleep Salve on your head, neck and bottom of your feet before bed and inhale deeply. Apply Lip Balm liberally as often as necessary. Polish your skin with Relax Sugar Scrub in the shower with water. Add a generous handful of Mineral Bath Salt after entering a warm bath and leave your body feeling soft and your mind worry-free.
Clear Skies Ahead™ Mist - 2oz
This floral blend of essential oils clears tension, so you can flow through your day with peace. Ingredients: distilled water, lavender oil, geranium oil, ylang ylang oil, Moroccan chamomile oil.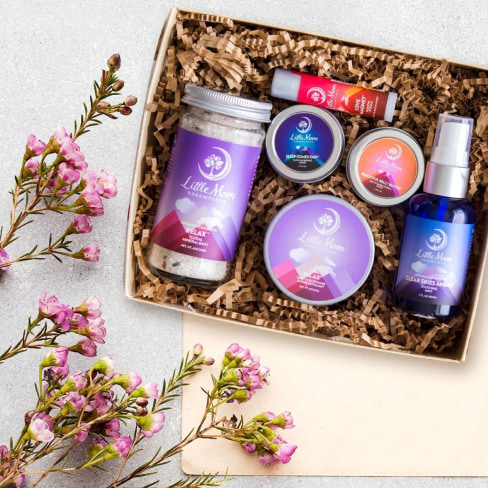 Beautiful Belly Butter™ - 0.5oz
Ingredients: organic sesame oil, organic olive oil, beeswax, avocado oil, shea butter, cocoa butter, tangerine oil, ylang ylang oil, lavender oil.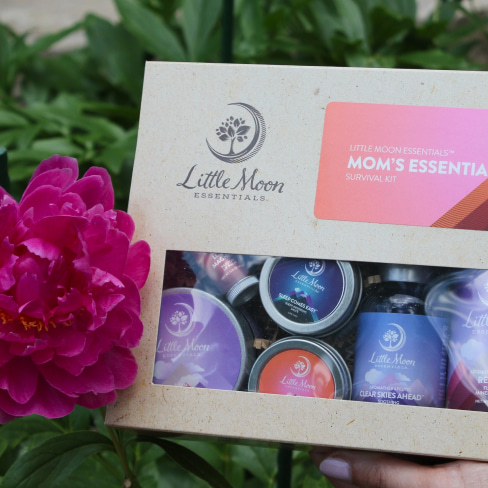 100% natural ingredients
Personal care enhanced by nature
0.5oz Sleep Comes Easy™
Organic sesame oil, organic olive oil, organic ginger powder, organic castor oil, beeswax, lavender oil, frankincense oil, bergamot oil, palmarosa oil, vetiver oil, clove bud oil, coriander oil, Roman chamomile oil, lemon oil.
2oz Relax™ sugar scrub
Organic unrefined cane sugar, shea butter, organic coconut oil, organic olive oil, apricot oil, avocado oil, lavender oil, geranium oil, bergamot oil, Moroccan chamomile oil.
Beach All You Want™ lip balm
Organic sesame oil, beeswax, cocoa butter, shea butter, organic castor oil, jojoba oil, avocado oil, vanilla flavoring, organic coconut extract, tangerine oil, sandalwood oil.
4oz Relax™ mineral bath salt jar
Epsom salt, American mineral salt and sea salt, rose petals and buds, chamomile flowers, lavender buds, lavender oil, geranium oil, Moroccan chamomile oil, bergamot oil.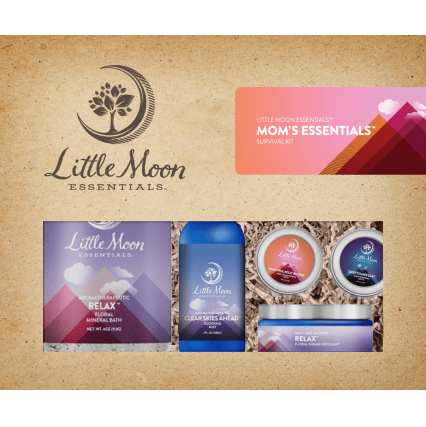 An ideal gift for moms
Help that special someone in your life cherish every relaxing moment they can get. This Mom's Survival Kit is an especially great gift for an expectant mom in her final weeks of pregnancy or first months of motherhood.
About Little Moon Essentials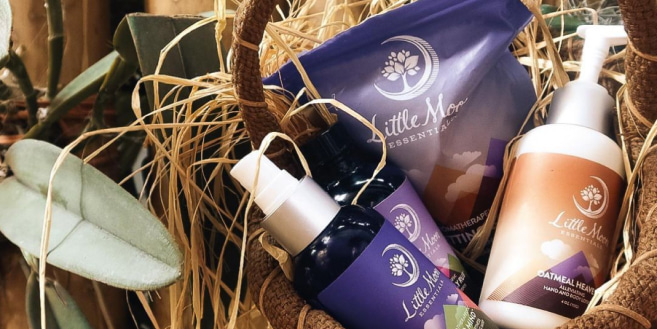 Little Moon Essentials is a bath and body care brand that is devoted to providing high-quality, natural remedies for the body, mind, and soul through aromatherapy. We pride ourselves in our handcrafted process creating formulas with carefully sourced ingredients while using earth-friendly practices. All Little Moon Essentials products are cruelty-free, planet-friendly, and hand made by our team in the USA. Our mission is to provide natural remedies that will improve your physical and emotional well-being, so you can feel your best every day.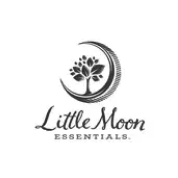 Designed In
Dania Beach, Florida
Love using the bath salt in my bath and soaking made my skin feel very nice will definitely be buying more

These products are awesome! It smells amazing and has definitely helped me relax a little more before I go to bed. I would recommend it especially if you are a fan or aromatherapy.

Love this product SO much, especially sleep-inspiring salve! I struggle with sleep and this has helped a lot. Sleep meds leave you feeling sluggish, while this ointment "lulls" you to sleep. Wonderful discovery!

I love using the salve in the evening before bedtime on my feet. I sleep so much better when I moisturize and rub my feet before crawling into bed. This stuff is wonderful! It feels so good and smells wonderful too. It has a wonderful citrus and lavender scent - from natural essential oils. The oils soak into my skin without feeling greasy. This little jar is so nice for travel - such a treat in a small package - you only need a little - a little goes along way! Love this!

I like all the products, but the conditioning salve is my favourite. This is a very small amount. It reminds me of the size of lip balms in a small tin. A little bit seems to go a far way. Appearance: This looks like a lip balm. That kind of texture. It is not like a lotion or cream. How I used it: First, I read it was a skin conditioning salve. I didn't catch the belly butter until I received the tin and saw it on there. Then, I scratched my head and wondered I was trying. What it is: This is something that I can definitely use on my skin. The ingredient list is simple. It contains things that I use when I make my own lotions and such. I try to stay away from the long list of ingredients that I really don't want to put in my body. Reading the description, it can be used on any dry part of the body like elbows, knees, cuticles. It can be used for cradle cap and stretch marks. For me, using it more as a salve for the dry parts of my body. I tried this about 3 evenings in a row between my fingers where my skin can be dry. Also on my cuticles and elbows. It worked very well. A little seems to go a far way. I feel it worked very well. Moisturizing but not leaving me greasy. The fragrance is extremely faint. This is a good thing for me.
Share