Mini Air Purifier for Car
Regular price
$24.99 USD
Sale price
$24.99 USD
Unit price
per
Sale
Sold out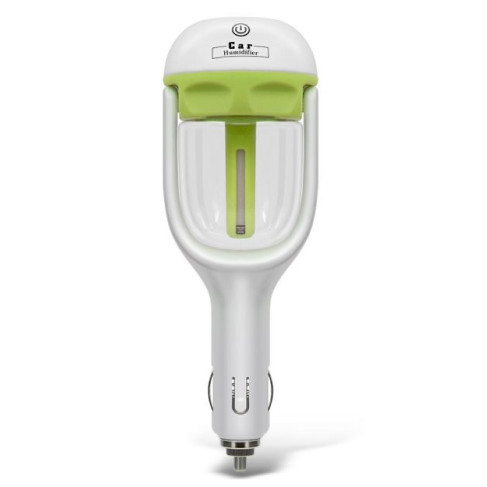 Say goodbye to funky musk and stuffiness
Like a stream of fresh air (without needing to roll down your car window), our Mini Air Purifier for Car injects a gust of "oooh, ahhh" into your vehicle.
Just add H2O and go
All you need to do is open up the purifier and add fresh, clean water into the water tank. Touch the power button and the mister will start to mist from a vaporizer hole.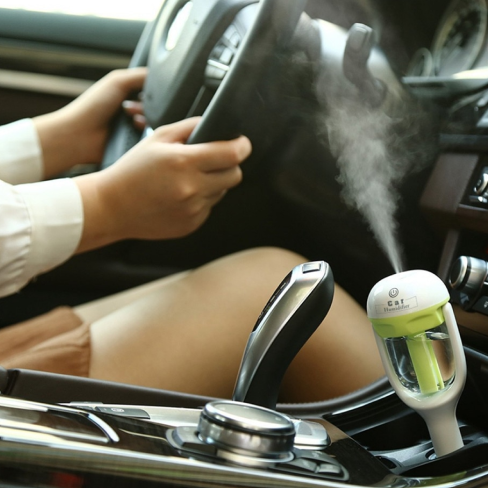 180 degrees of freshness
Unlike traditional misters that just sit upright and spray upwards, the main body of ours actually swivels 180 degrees for refreshment all over. The main body sits on the car port plug like a swing.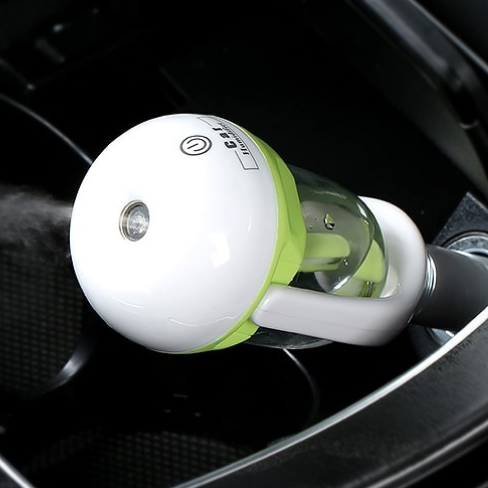 Built to last + perform
Constructed from ABS plastic and polypropylene thermoplastic, our Mini Air Purifier for Car is a long-lasting item that is leak-free and sized to fit right into your car charger port without bulk or blockage of your maneuvering behind the wheel.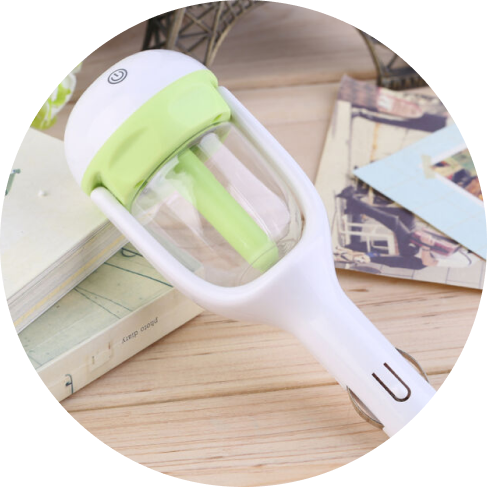 Freshen up your interior
Works wonders
Add essential oils
With just one to two drops, you can invigorate your car with an uplifting, fragrant mist. Do not go beyond two drops, though, as an excess can clog the vaporizer hole.
Detoxify funky smells and odors
If you're not a roll-your-windows down kind of person, our mister can help you neutralize out musty scents, lingering smells of take-out, questionable perfumes, and so much more.
One spare wick included
Over time, you'll eventually need to change out the interior wick of our mister for a fresher, newer one. Your order comes with an extra wick for your convenience.
Auto-shut off to help save power
After two hours of functioning, the Mini Air Purifier for Car will turn off on its own.
Everything very well made and very well designed. recommend!

It has a touch sensor with three different settings "continuous," "intervals," and "off." We were able to use it for about 3 hours before it emptied. It works so. well. and reaches the entire car.

If you are anything like I am, between transporting kids, trips to the grocery store, mall, and work, that "new car smell" hasn't lasted in your family vehicle. For those of us who enjoy a relaxing drive home after a stressful day, or even a morning pick-me-up, this car Aromatherapy diffuser does the trick!

This product is amazing. It works perfectly. Easy to setup and fill. My only dislike is: it blows through the water so you need to refill often.

I really liked this little defuser. Depending on how much oil you put in and the scent it's pleasant to smell. I used too much oil to start. But I've got it down now. Goes through water fast and I live in a very cold city so it did freeze. But I really like it.

I love it, even when I wasn't feeling good I put in Eucalyptus oil to breath better and it did the trick, however, watch out for some oils with strong odor that might be over powerful inside the car/SUV. With no oils and I want that humidity in the air it does the trick. Glad I bought 2 of them one for me and one for a gift. And they told me they love it too. Better quality than expected, Shipping was quite fast!

5 stars to the store! I am extremely satisfied with my purchase! This is super easy to use, fit in my car perfectly, and seems to be made of quality materials. It lasts for a long time if you fill it...probably 8 hours total. I love having calming essential oils diffusing in my car.

I love my aromatherapy air humidifier! It makes my car smell great and right now during the winter season we're not constantly shocking ourselves due to static electricity! Lol I use it every time we' in the car and we drive an hour one way every Sunday to visit family and it lasts the whole way there. I fill it back up with distilled water and oils and drive all the way home.

carefully packaged, looks fine

The best thing about this item is its undeniably high quality! Im very very happy with this diffuser! I use it in my car daily and it is one powerful humidifier/diffuser! I can smell my essential oils throughout my entire car shoetly after powering it on. Its easy to use, easy to assemble and easy to clean and store. I would definitely recommend this brand of diffuser!

I liked how it's flexible for various plug positions. It was easy to fill and use. The container is small though. I almost missed the cute little power button on the top. Worked great. I was surprised by how much steam was coming out of it! The scent wasn't super strong, not sure if that's because of the filter or maybe I needed more essential oil. They include an extra filter, but I wasn't sure how to replace it.

Bought on sale, never regretted the purchase! Just received and love it! I drive alot and I'm really going to enjoy a diffuser in my car. I like that it's adjustable (the water/diffuser portion swivels) so hopefully it would fit in any vehicle.

I love this! I put a few drops of my favorite essential oil blend on the wick, and it distributes through my car so strongly! I love that you can choose between constant or intermittent mode, and I have to refill about twice a week from using it during my work commute. Just a PSA, don't use sleep support oils in this diffuser, lol!

This product is great for the car but you need to buy the oils to diffuse separately. The humidifing portion is great.

thanks a bunch! It's just a great, solid, dependable product. Everyone who rides in my car loves it and wants one. I Lyft in DC and constantly get compliments about the smell of the essential oil from the diffuser and how cool it looks.

Very beautiful! Arrived well packed and protected. Thanks! Easy to use, can tilt the steam in several directions so it's super versatile for different cars. I spend a lot of time in my car for work. Definitely a must during these cold winter months to keep my skin and eyes from drying out.

There's not much to say. This has worked for me so far exactly as advertised. As for some people saying 'no scent' that hasn't been my experience. Maybe try using a different oil. I don't know. My only "issue" is that the on/off button, it's not clear from the lights when the unit is on/off, and really only know if I see vapor. Not the end of the world, especially for twelve bucks. I'm hoping it continues to work as I've seen a number of reviews here that says it just stops working at any given point. But as of now, after about a dozen uses, it's all good.

My car ride to work today was extra lovely with this diffuser going! I added about 5 drops of essential oil and it plugs right in to my cigarette lighter . You can add any oil you want and it lets out a good amount of mist. Very happy with the quality and price and how simple it is to use.

The store is the most awesome place where can I buy air purifier and have no doubts over its quality or condition

I am in LOVE with this! If you are looking for an oil defuser for your car - just stop and order this one. It arrived so quickly, is bigger than i expected (this is a good thing), suuuuper easy to set up and use, and works perfectly! I love the two settings - I use the second one that sprays intermittent for aroma therapy. The stream is strong, on both settings, and with 49ml of water and half an ml of fragrance oil, the smell is perfect.

This is great Mini Air Purifier for Car! Beyond expectations! Quality is excellent! THANK YOU VERY MUCH!

Such a low priced mini air purifier is truly a bargain. Thanks to the seller!

It comes with a wick stick that you place in the middle of the diffuser. I see this lasting a while but will eventually need changed — they have one replacement, but I don't see anywhere that you could buy another to replace. I've only had it for one day, so I will update in a few weeks.

arrived in time and there are no defects. Goods meet the expectations.

Very fast shipping, as described. I recommend this shop. Thank you very much :)))

Just wish it diffused intermittently

looks beautiful, the condition is perfect! Not all things last forever. I use my car diffuser every day so I expected it to not last forever. The first one I purchased lasted almost 1 year, but I couldnt live without it so I stocked up and bought 2 more!

I absolutely love this item!!! It allows me to have the scent of my oils in my car while I'm driving!!!! It has 2 settings and put out the perfect amount of humidity. Love love love it

I loved this diffuser but because it sits directly under my radio in my car I can't use it. The mist affects my touchscreen...😩

My car does not have a dashboard cigarette holder. My holders were in the glover compartment and under the arm rest between the two front sets. Unfortunately, when place in the holder under my armrest, I could not close the armrest. The features of mist and aroma worked fine. My rating would have been higher if the product could be better used in my car.

This little air diffuser is great to have in your car. It beats having a regular car air freshener. I add scents that go with the season and it diffuses great. I keep a water bottle in my car so that when it has no water I can refill. There are reviews that says the diffuser stops working or there is a red light but the light is just saying that it's off. Press the button once it turns green which means continuous . Twice it turns purple which means intermediate so every 8 seconds it will spray for a few seconds then turn off and three times it turns red which means off.

Absolutely amazing, 100% recommend for everyone!
Share