Magnetic Car Sunglasses Case
Regular price
$18.99 USD
Sale price
$18.99 USD
Unit price
per
Sale
Sold out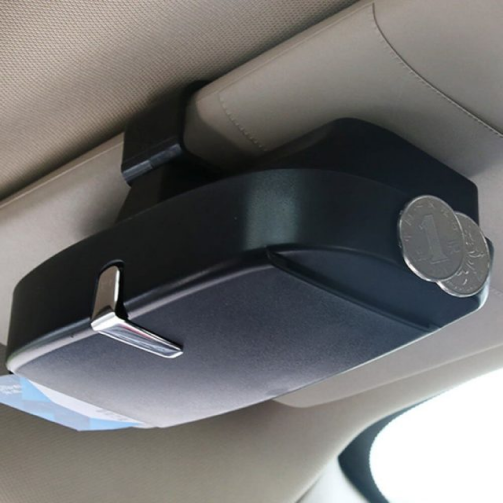 No sunglasses case?
No problem.
Keep your shades scratch-free and dust-free with our simple (yet super convenient-to-have) clip-on solution. Designed to hold sunglasses by clipping 'em to the sun visor of your car, have your favorite shades right within reach.
Aside from must-have stunna shades, our clip-on box also features a card slot for ID, parking stubs, and credit cards all in front of you.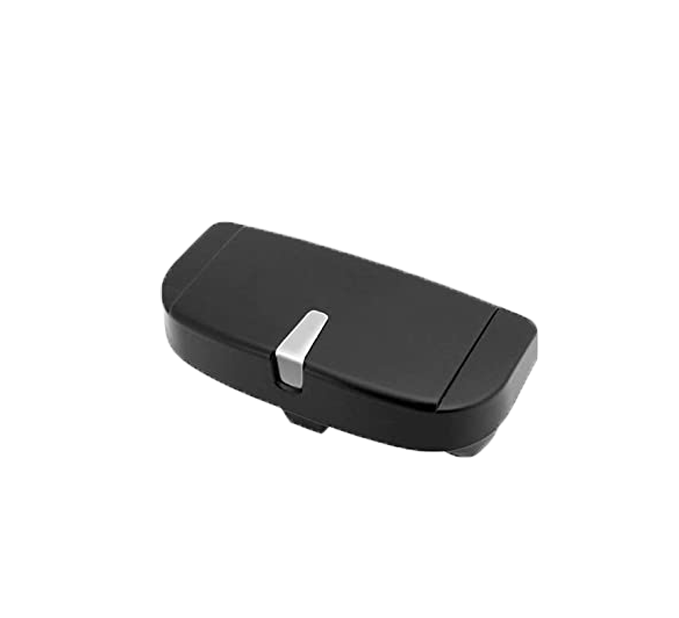 Lightweight and compact
Our case weights just 5.2oz / 148g and measures approximately 6.69 x 2.75 x 2.16in / 170 x 70 x 55mm for a non-obstructive storage accessory.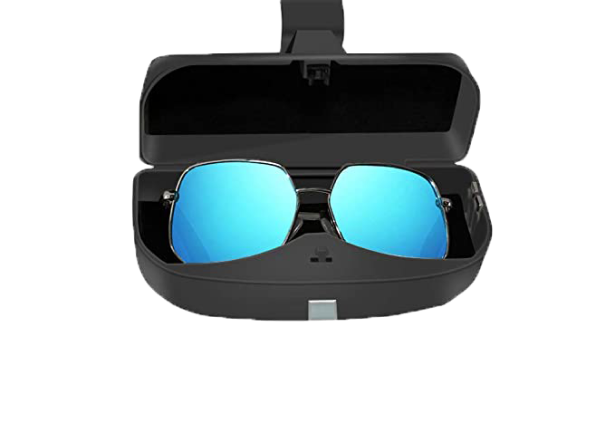 Designed for durability
No slipping and sliding (and cracking) here. Your favorite pair of sunglasses are safe and sound with this vibration-proof, heat-proof ABS plastic case that also features:
Shockproof sponge lining to prevent scratches
An automatic-retraction spring for easy opening and closing of the case
A buckle and elastic clip for easy installation
Magnetic inserts to hold coins
I bought this case for my Acura SUV. The single clip was easy to attach to the case and seems very secure. The case fits onto the padded visor of my vehicle and is quite secure. Was glad to see that it does not interfere with the flip-down mirror that's part of the visor. My wireframe, aviator-style, prescription glasses fit into the case and are held in place very well. It is extremely easy to flip open the case and retrieve the glasses while driving. The magnetic closure is terrific. I unhesitatingly recommend this product and am only sorry that I didn't have it years ago.

Lightweight and each to install. On mine, the magnet used for securing the case closed came out soon after receiving and setting up in the car. Solved with glue, of course. Well see if that solution "sticks". Overall, if the magnet issue hadn't occurred....decent product, but I agree with comments made by others about overside glasses.

I got a new car that does not have a sunglass holder built in, this is the perfect solution. My Ray-Ban Wayfarer sunnies fit perfectly inside. The holder is a little big and a bit awkward to get used to seeing in your peripheral so I keep mine on the passenger side visor.

Sunglasses Magnetic Case seems to be a good product and works well.

Very handy. Works great and my glasses fit nicely. Fits on my car visor.

My husband is always forgetting his reading glasses when we go out, so after buying the glasses carrier, he keeps a spare set in this.

Product is made well, doesn't seem loose or that it can easily fall out. The magnet is tight and locks good, overall great product for the price.

Love the fact that you get two ways to store fosses/sunglasses with this purchase. The large case is large enough for oversized sunglasses and the clip is big enough for thicker visors. Priced right and fast delivery!

This visor glasses case fits perfectly on the visor and stays secure. It holds and protects the glasses with a padded interior and stays closed once shut. I'm glad I made this purchase! Amazing quality for the price, I will buying more for my friends too. I feel like it's reliable as all their products have been. Indeed I have banged it a bit and it holds up well.

My wife's Kia has only one glasses "cubby" storage area and my Dodge Ram truck has none, and I wanted a place to store my glasses and sunglasses. I was concerned about the size of this case and how we might bump our heads on it if it was attached to our sun-visors. Then I realized I could slide the clip in between the upholstery and frame of our skylights and "voilla" the perfect place. The cases work well, however in many cases they won't just drop open with one push. I have to push it for opening and then gently pull it open right afterwards. This is not a problem, and actually gives me a positive open only when I need it. It doesn't just drop open if you accidentally bump it. We're quite pleased with them.

For many cars that doesn't come with glasses holders, this is a good solution. Not only this provides the storage, but also keeps the glasses cool. One suggestion to make this product better - add some fabric on the surface of clip to increase frictions when it's clipped onto the visors.

No instructions on my box but it was easy to figure out. The silver accent on the front you have to put it yourself and I chose not too. The case itself is very good quality, the little silver thing looks cheap. It is a big case, great for all sizes of glasses. I ordered a second pair for my husband since it fit his work prescription goggle looking glasses. It fits a couple cards. Also I got the grey but it matches perfectly my tan interior. The opening part is the most convenient for me, specially if you are driving. Simply push and Tada!

I have not had any problems with the case I ordered. There is light assembly required--really just attaching the clip and a shiny decorative piece--but the case seems to be durable and serves it purpose. I had no trouble clipping the case to my vehicle's thick visors. The clip can also be attached in either direction to the case if I wanted to clip it elsewhere. I have stored several different pairs of ladies sunglasses of different sizes, and all fit without issue. The soft lining of the case seems to prevent scratches. Other reviewers have mentioned that their cases have some difficulty opening, but my case opens easily with a gentle press. If anything, mine swings open quicker than expected at times if the vehicle is moving, but it isn't really an issue. I ordered the gray case, and it perfectly matches the interior of my Mazda. If it weren't a clip-on accessory, it would almost look like factory issue.

I am a sunglasses freak so this comes in handy. I think the magnet could be a tiny bit stronger but other wise good

Best place for my sunglasses in the car. Easy to reach yet out of the way.

Easy to use but somewhat bulky.

Had an annoying little rattle when driving. Resolved this by laying a lens cleaning cloth inside to prevent the rattle

Good quality! Looks exactly as on pictures!

Perfect for my use but it's a little bulkier than I expected.

It works exactly as advertised. Uses a little latch that you click into place to close the holder. Can fit sunglasses of basically any size. There are a few really cool things that this comes with, like card holder slots in the front and a tiny magnetic area on the right. Handy!

My car doesn't come with a glasses case. No big deal, I'll just buy one of those cheap sunglass holders online. This one seemed like a good option - cheap, pictures look ok. Good news is it works, got a few nifty features. With good things come some... compromises.

Just what I was looking for!

it is not flat and gets in my line of sight so It is now on the pasengers side

Priced right and fast delivery!

Like it a lot. Quality is excellent. Packed well. Recommend.

It's a bit big for the driver side, so I put it on the passenger side. Bonus, now I can take them out without blocking my view of the road. If you put them in the slot correctly, they don't move around.

It looks amazing! Thanks :-)

Low priced sunglasses holder for car is what i was looking for, great store!

These are great, a little bulkier than I thought they'd be, but they serve their purpose.

Received this sunglasses holder in a reasonable amount of time. Happy with the purchase!

so cute really helpful nice place to leave my sunglass !!

Quality is cool!!! Will buy more accessories for car from this shop.

I did my best - research for best glasses holder in car didn't go in vain. Quite happy with the purchase

Very beautiful! Arrived well packed and protected. Thanks!
Share