Magnetic Car Phone Holder
Regular price
$26.99 USD
Sale price
$26.99 USD
Unit price
per
Sale
Sold out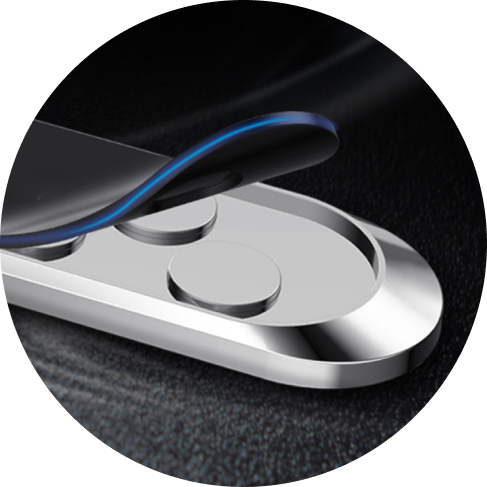 A strong hold for every bump and turn
When you turn on the road, does your phone turn with you? Are you tired of your phone sliding, or worse -- falling -- off your phone holder? Time to harness the power of magnetic force with our Magnetic Car Phone Holder.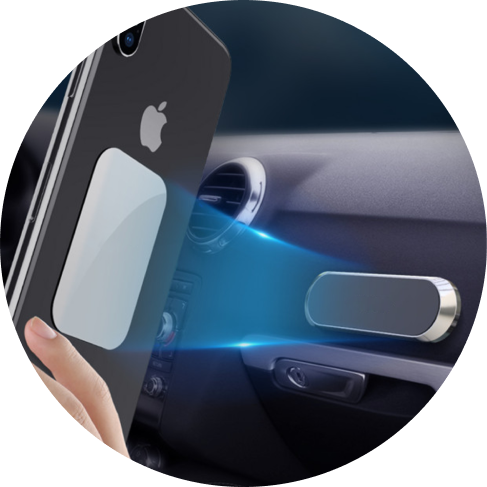 Play two ways
Each order comes with a rectangular- and circle-shaped adhesive magnet plate which you place onto the back of your phone. This magnet helps your phone stick to the magnetic holder strip.
Not just for the car
No need for a holder in the car? Don't sweat it -- our magnetic strip works perfectly anywhere else where you have constant phone use (or need to be hands-free). From kitchen to home gym to even the bathroom mirror, your phone can hold up anywhere.
Signal uninterrupted
With a closed magnetic field between your phone and the holder, there are no signal or reception issues for your phone. The magnetic force will also have no adverse effect on your phone's body, thanks to a 0.4mm-thick silica gel layer between the actual interior magnet and whatever you attach it to.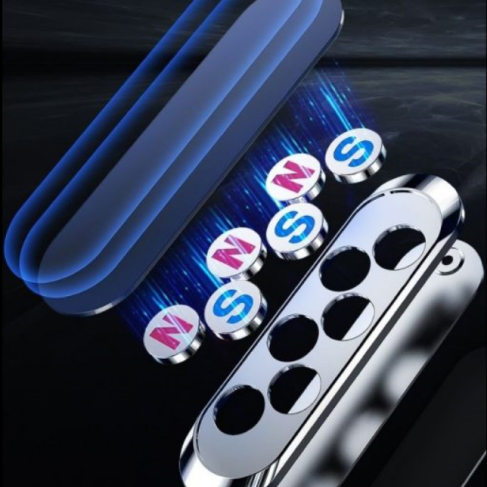 Place it anywhere
You know how some phone holders for the car are limited to the air vent? Not us. Our stick-and-hold design allows you to create a magnetic holding place for your phone anywhere -- from dashboard to elsewhere in the front compartment. With its ultra-slim build and size, our Magnetic Car Phone Holder also won't obstruct any driver's view when in use like traditional suction-cup holders on the windshield do.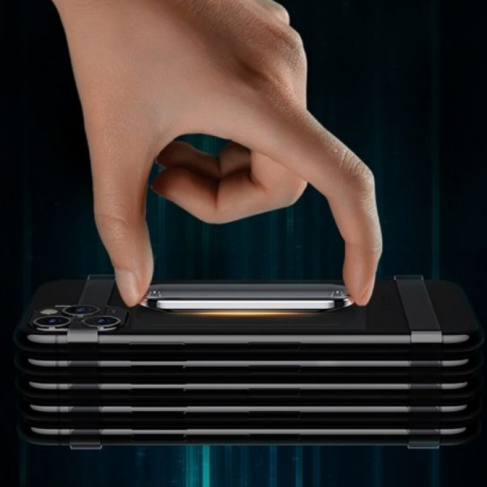 A strong hold
Our strong magnetic hold means that every bump, jump, and unexpected jerk on the road won't knock your device to the ground. Drive with peace of mind knowing your phone can be held securely and safely.
Holds any device
Whether you are Apple or Samsung or Google, our phone holder plays equal with any phone make and model. And while our adhesive magnet plates should work fine with phone cases, those with a thicker phone cover or case may have to remove it in order for the magnet in the holder strip to make sufficient contact with your device (you have to test it out yourself). Our holder is designed to hold up to 33oz (930g) weight.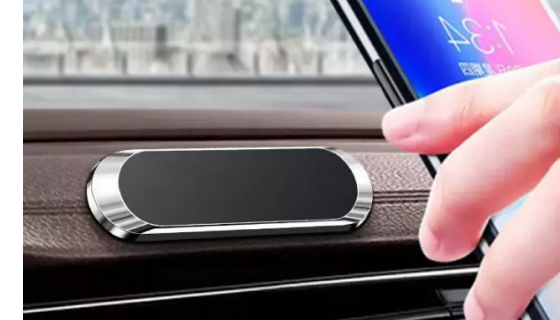 I'm absolutely in love! Thank you! Love this product. It's so simple - stays on the dash nicely. The metal plate on your phone is thin. The fact that the magnet isn't on the phone itself I feel is better for the phone. If you have a phone cover - you don't even have to stick it to the phone. Rather just insert it between your phone and cover. The magnet is very strong and should hold.

The only issue I have with this mount is the design

These things are amazing! My job consists of driving a fuel truck and also a van when I'm doing servicE (both of which are bumpy rides) and these hold my phone no matter what. I ordered extra for my other trucks.

High quality product. Holder is great and arrived in time!

bought by a friend's reccommendation, it's just like i expected!

I searched for a cost effective good product and received just that. The holder has powerful magnets holding my phone using a thick cell phone case. I was amazed how well it holds my phone. I am purchasing more as gifts. I know my family and friends will enjoy and use it.

quick delivery, excellent quality, best seller I worked with!

Bought on sale, never regretted the purchase

I was not sure how well these were going to work, but they turned out to be amazing. I placed one on the dash of my 2020 Silverado, right underneath the climate control knob and it looks as if it was part of the dash and not an add-on. It hold my iPhone 11 Pro and my wife's iPhone 8+ without any issues and the best part is that the phones look as if they are also part of the dash. The phones simply blend into the car and since the car has Car Play, I don't ever need to hold or look at my phone at all during my drives. I ordered one more set for my parents. Very happy with my purchase.

Even if it's not the cheapest Magnetic Car Phone Holder online, I recommend buying anyway. The quality is astonishing!

this store asks the lowest price for magnetic car phone holder in the universe. had a fun time talking to the seller

Works really good no problems

Great product. I like that the base is slim which gives you more flexibility of where to put it on your dash as it needs a flat surface. I wished they would make the metal plate that adheres to your phone in silver instead of black.

I like it because it's a great product

The magnetic force is super strong, and the mobile phone is very stable in the car. Wearing a Bluetooth headset, you no longer have to worry about the instability of driving and calling the mobile phone. Put it on my Accord car. It is beautiful, practical, easy to operate, cheap and reasonable. It has a wide range of uses, ready to buy again, put another on the toilet wall, awesome

Very sleek looking and the magnet is strong. I'd recommend this to anyone. I placed one in my car and haven't had an issues with it sliding or moving . I'd recommend this to anyone.

The magnet could have been a little stronger.

The first car holder was bought by my husband. I hate that it takes too much space. It doesn't look bad when it's not used. This product is much better, simple and beautiful. It doesn't take up space. It looks like a small decoration. Magnetic adsorption is great.

Strong magnets, holds my phone nicely. I like being able to have my phone on the dash in hands reach so I can follow the gps.

I really liked the Magnetic Holder, very nice quality and fast delivery

These have been great for a number of projects in addition to having it hold my phone. I use a case on my phone and wireless charging. I used the Qi plate and, while I can get my phone to stay on it, I wouldn't say it would hold on the road though. If you are using a case and Qi like mine, you many not want to use it in your car. It works great if it's not being moved. Excellent 3M adhesive on the back of the magnets is greatly appreciated as cheap adhesive makes these things worthless. The stickiness of the metal plates is good enough to hold up a 7" Raspberry Pi touchscreen. Will buy more of these for more fun uses like that.

Because these are long and narrow, they work awesome to stick to the side of your computer monitor. Now I can mount my phone for zoom calls while working at my computer. I put both mounts so that I could easily adjust the height of my phone. So far adhesive seems to hold up well.

Magnet is strong and love the concept but didn't stick as well as I would have liked. Ended up using super glue and now it works great

Thank you soo much!! Quality really good! I'll give this store 5 stars.

Car Phone Holder arrived in time, recommend. It holds my iPhone 6s+ great ... the magnet looks stylish and neat.

I love how small and almost unnoticable this mount is. It has strong magnets. The mount does move in all directions, making it possible for me to place it on my center dash while still being able to rotate it slightly toward me for a great view of the screen. The adhesive seems to be great. I live in a very hot place and it hasn't melted off so that's cool!

Adhesive isn't the strongest I've seen, but fairly strong. Solid metal construction is top notch though. Way better than any of the plastic ones that always break eventually.

no problems in use, just like i wanted

matches the picture in full. i'm pleased. This magnet is awesome! I stuck one to the back of my 15.6" touch screen display and now I can suspend it at head level to look up information while I'm working next to a whiteboard.

I really love this magnetic phone mount. I bought 1 pack for my husband and I to use on each of our cars (1 pack comes with 2 of the larger magnets that would stay in your car on the air vent and 4 of the slim magnets that would stick to your phone). I have been looking for a phone holder that does not stick to the dash and is not a huge bulky holder that is an eye sore and gets in the way when you install it. My husband and I both have Galaxy Note 8's and we haven't had any problems with the magnet strength. The phone stays in place when its placed vertically or horizontally. We really love the ease of just touching the phone to the magnet when we want the phone held and the ease of grabbing it off the magnet when I need to. As for the magnet piece that can stick on your phone, we just placed the magnet between the back of our phone and our phone case, we did not stick it to the phone, our phone case is tight enough that the magnet stays put and doesn't move at all. Works perfectly.

looks damn cool!! LOVE IT! thanks to store! I have this stuck on top of my dash and use it to hold my radar detector whenever I need it...hold it firm, strong magnetic hold... adhesive for the magnet is strong... but the adhesive for the plate to use behind items isnt that good... looks good

Thanks! Because these are long and narrow, they work awesome to stick to the side of your computer monitor. Now I can mount my phone for zoom calls while working at my computer.

Sticks any where you want good products

So cool! Allows you to strategically place you phone in the car as other vital equipment is located.

This mount holds my iPhone XS max up on my dash no problem, no sliding down when I drive, and it's small, it won't interfere with my vision, and it's very safe to use during driving.
Share