LED Dog Leash
Regular price
$49.99 USD
Sale price
$23.99 USD
Unit price
per
Sale
Sold out
A night walk like never before
Increase night visibility while adding a glow to your beloved pooch with our LED Dog Leash. Through fog to rain, know where your little loved one is for safer walks in less-than-pleasant weather conditions or during the night.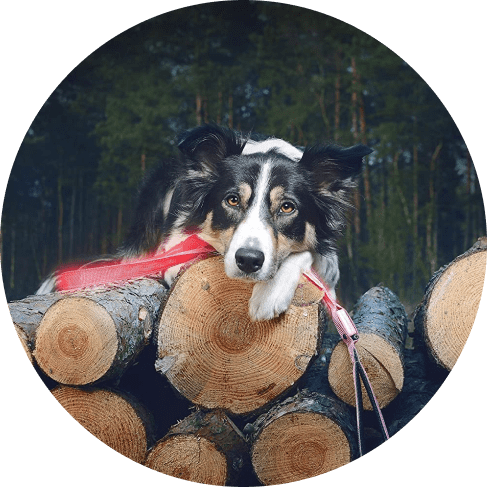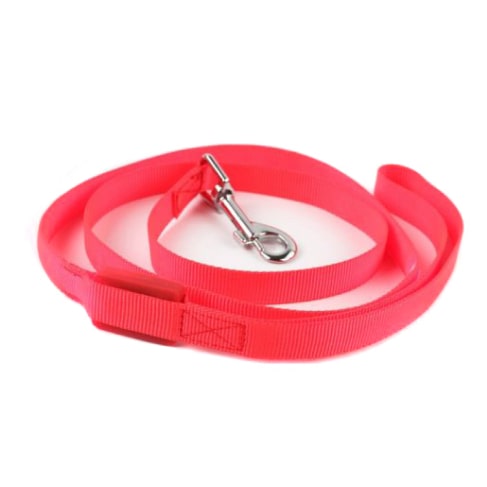 The center of attention (for all the right reasons)
Whether at a crowded park or along a canyon roadside, our LED-powered leash ensures all drivers and people can see your dog. Attract attention from other pet owners -- and ensure on-the-road travelers see your dog in dark conditions.
Fun light effects
A push button on our leash takes your light game from a solid light to an eye-catching flashing light with just one click.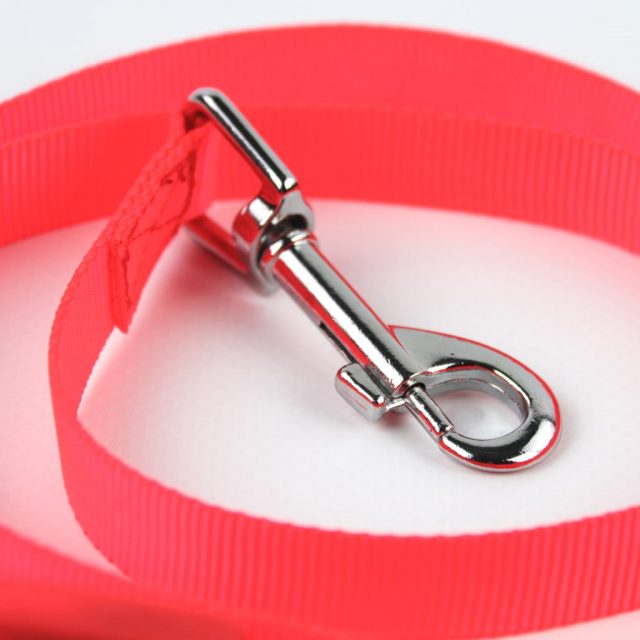 Hours of brightness for hours of use
Two CR2016 batteries are included for functionality, estimated to bring 60 – 80 hours of light. Take your dog on endless walks with this alluring leash for peace of mind.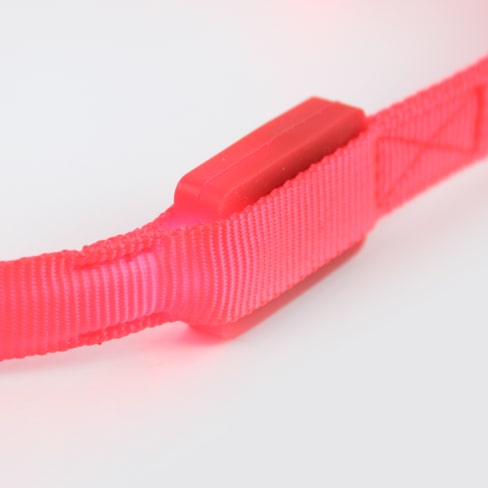 I bought two of these leashes; one for each of my dogs in neon orange and yellow. Both leashes look bright and vibrant during the day even when they're not turned on which I love. During the night, both colors (yellow and orange) are clearly visible - the yellow shines more of a green when turned on but i'm fine with that. I got many compliments on the leashes! It has a soft padding for your wrist and grip of the leash as well.

I love this leash! It's was a perfect solution to our evening walks around the neighborhood. It was also really easy to charge. But the leash will flip occasionally when our pup starts sniffing around in bushes

these leashes are great nice and bright so you can been seen at night .. , i walk the dog every night for over a hour and then some and they last through the walks very easy to charge just plug the one end into the battery plug the other into your computers usb and they dont take that long to charge.. we got the 6" leash vs the 4 purely our preferance to have the longer leash, since we have gotten these i would say we have been stopped at least a dozen times with people asking about the collar and leash saying comments like they are great nice and bright to been seen at night. definatly would recommend to anyone who walks at night like we do my only thing i wish they had usb rechargible harnesses as well that would be great for us

It is really gorgeous !! The quality is great :) This is a very well constructed leash. I love the padding around the handle. It's also nice to be able to recharge the leash and the different light settings. The power box/light settings is in a nice area that doesn't interfere with your grip on the leash.

JUST PERFECT!!! Thanks!! This works really well! It gets dark so early in the PNW and I worry about my dog not being seen. This made me feel a lot more comfortable. My only complaint is that the light stops about a foot away from the dog, which I didn't really notice in the picture. I wish it were bright closer to him as I'm concerned about him being seen, not the end where I'm holding it!

Perfect. I will buy another LED Leash for my cat now!

I love the three settings for the lights. In my area there aren't a lot of street lights and this leash is extremely bright Definitely can't miss my dog now. It's a bit shorter than i would normally get but my dog doesn't seem to mind. The handle is cushioned so even when he did pull a tad the handle doesn't hurt my hand. i would definitely buy this again.

This leash is great! I like that I can recharge it a lot. I didn't like the idea of wasting batteries, or the whole least with those other light-up leashes out there. It makes me feel better when walking my dog at night. I hold the leash across my mid-section too as I walk, so drivers know where I am as well :)

I am so very disappointed. I loved this leash and the concept and safety it provided.

Absolutely satisfied with the LED Glowing Leash. Thanks a lot!

There are really friendly customer service. I had a lot of questions and it all was answered. I recommend buying here! Definitely!

Leash is incredible! Came already mostly charged. Hooked up to USB on my computer for 1/2 hour, good to go. Took my dog out last night--amazing brightness. Glad to pay this price for something that could/will save my dog's life. And mine.

works great--very visible. It's a little stiff so it's not as discreet from the dog's perspective as a nice thin leather leash. The stiffness occasionally causes it to pop up in front of my dog, making her want to chew it. Glad I have it for those wintertime evening walks. I've used it many times over the last few weeks and have not had to charge it yet.

Got the green and it is truly beautiful. Came perfectly packaged. Quality of leash is outstanding, and it truly does have a comfortable handle. One of the best products I've bought in a long time.

My husband and I often do not have a chance to get a run in until after dark, and our black dog can be hard to see in areas that aren't so well lighted. This solved the problem!

I adore these lighted leashes. We often have drivers slowing to yell "Love the leash!". The eighty pound black dog and my winter coat aren't by their very nature very visible in the dark Virginia mornings. No sidewalks further compound the potential dangers. Lots of fur doesn't work well just with lighted collars. These leashes are great except that wet weather doesn't sit well with them. I'm on my third leash--they have a fantastic lifetime warranty and since the first I've carefully kept them from getting wet. After four to 6 months, the lights simply give out. One band or the other won't work and so I take pics, contact their service center and voila, in a day or two we are safely lit again. I do wish the lights were on both sides. I did try another leash and like it as well, except it is shorter than my dog is long and he isn't too keen on being that close when we walk!

This is a great leash for safety purposes while walking your dog at night. The leash is fairly wide and has a strong, weighty feel. While we bought a pair of these for our 10 pound toy poodles and they work fine, they are probably best suited, and would feel best for medium to larger dogs. We are more accustomed to using slightly thinner leashes for our poodles. The leash has two switches, so you can turn on/off the upper and lower halves of the leash independently. The leash comes with a USB charging cable, so all you need extra is a USB wall outlet charger to plug in, and then you are set to charge.

We have the green one and it is so excellent! Our labradoodle is the coolest dog at the dog park and all the owners constantly comment on the least and collar of the same color! Just charge up on the USB and press the button to indicate which level of "flash" you want and voila!

This is an awesome leash for walking in the dark, while a bit heavy and thick for a dog under 10 lbs, it is tolerable.

I've just had this for a few days but I love it so far. I think whoever first came up with this idea was brilliant. I had seen a neighbor with something similar, so I searched on internet and chose this leash based on other reviews and the price. I normally walk my dog early in the morning and at about 10pm. We have no sidewalks so we always have to watch out for cars; this leash shows up much better than simply carrying a flashlight. I was worried that the length would be a problem since her other leash is longer and this one is only about 4 feet long, but it has not been an issue. We have taken four short (about 15 minute) walks with it and I have not had to re-charge it yet.

Superb. This works great and for the price you can't go wrong. I live in a dark area and when i walk my dog at night i always get nervous people won't see us. This solves all those problems one charge lasts us a few nights of walks. We got the green leash i have to use a harness on my yorkie so we don't have the color but the leash is just perfect and enough brightness in my opinion. It looks like a large glow stick when walking. It is worth the deal if your looking for some reflective walking gear for your pup.

This is the third of this kind of leash that I have purchased. They all serve the purpose, however the other two stopped working almost immediately. I have high hopes for this one because of the extra swivels and fabric at the handle and at the end. The extra piece at the handle permits me to wrap the leash around my hand without slowly breaking down the wire that supports the lights.

I have a 6 month old 5lb Yorkie and I ordered the purple color with XS collar and the 4 ft. leash. The collar is slightly adjustable but not by much. It fits her little neck with room to fit my fingers underneath. The leash is NOT heavy by any means and i find that the length is perfect for her little size.

Thanks to the store for offering LED Glowing Leash on sale

As the nights start to get darker, this leash is invaluable when taking our dogs for a walk along the dark sidewalks. It lights up well and the charge lasts a reasonable amount of time.

People tend to drive double the speed limit and drive through stop signs in my dark neighborhood, so cue the illumiseen. I switch between a normal leash during the day and use this exclusively at night. The batter lasts a while, ive had it for 2 months and still havent needed to charge the lights. It's durable and holds my 50lb puppy fron charging at deer, although i wish the wrist grip was a little softer.

We bought this for our son after welcoming their first puppy into their home. He lives in a busy neighborhood with a decent amount of traffic. He's had countless people stop to admire his leash( and Lab puppy of course) and inquiring as to where he got it.

i'm satisfied with the purchase

I walk my dog every night and my old lite leash died. All I can say is the leash charges quickly, and works as advertised. If you are looking for a bright, well made dog leash - look no further.

I bought this for my dog, who walks my husband 10 miles each night. It is RIDICULOUSLY bright, and I love it. Talk about safety, my husband says he gets people driving by pulling over asking him where he got it.

This leash is extremely bright and visible. I love the fact that it's non-tangle. It also holds a charge for a long time. The dogs don't even seem to notice the lights. When I was using it recently, a man who saw it from about 50 feet away said, "Boy, if you can't see that . . . ."

I love how bright they are and that the LED lights are rechargeable. I use them every night for at least an hour (slow flashing mode) and the leashes, collars, and belts only require charging about once a week for an hour or so. Bicyclists, joggers, pedestrians, and car drivers have stopped to comment on how far away they could see me and my dog, how easily they could tell I was a pedestrian walking a dog from a distance (easier for them to plan their course of action as they approached), and asked for information on where they could purchase the items. Some of my neighbors have already purchased their own after seeing mine in use. I have used them in the rain and they work fine. Highly recommended!

I bough this leash as a Christmas gift for my husband who walks our dog at night. It works great. The light is very bright and should alert traffic that there is a human walking a dog on our dark street. One overnight charge has lasted since Christmas. We've followed the other reviews and have not used it in the rain. It feels strong and sturdy, like any other well made leash.
Share