Leakage-Proof Cat Litter Mat
Regular price
$28.99 USD
Sale price
$28.99 USD
Unit price
per
Sale
Sold out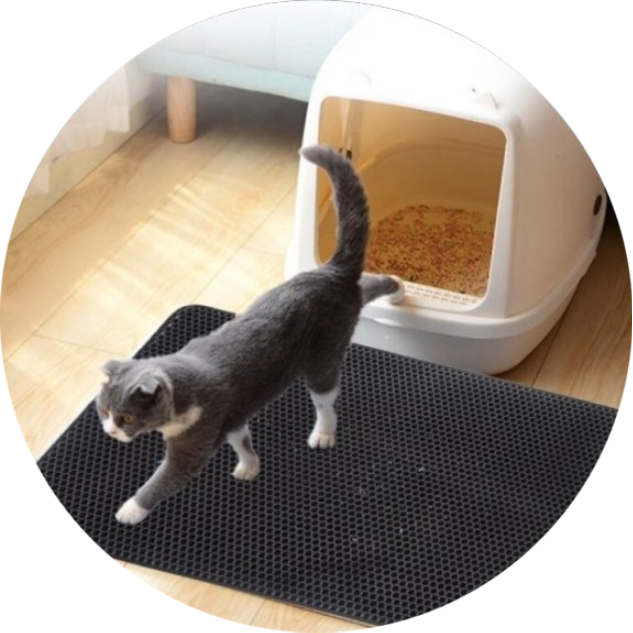 Fuss-free. Mess-free. The way kitty cleanup should be.
No stains or spills here. Cleaning up after animal waste is never a fun thing, but there are ways to make the task more bearable. Our Leakage-Proof Cat Litter Mat ensures no kitty is a bad kitty, with a mat design that traps waste and urine in an odor-resistant pocket for a fresher living space for you and your cat.
Scratch-resistant. Comfortable usage.
Your cat will relieve itself in peace with our soft polyurethane-rubber construction (no hard plastics or scratchy fibers or fur). Waterproof and scratch-resistant, your pet can answer the call of nature without making a mess or spreading waste around by accident.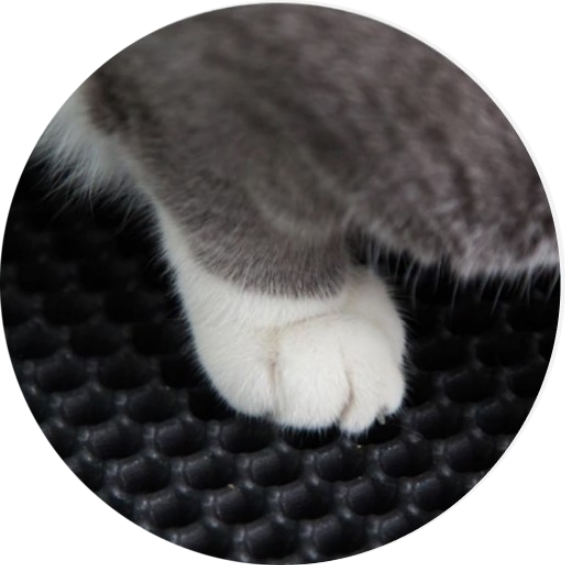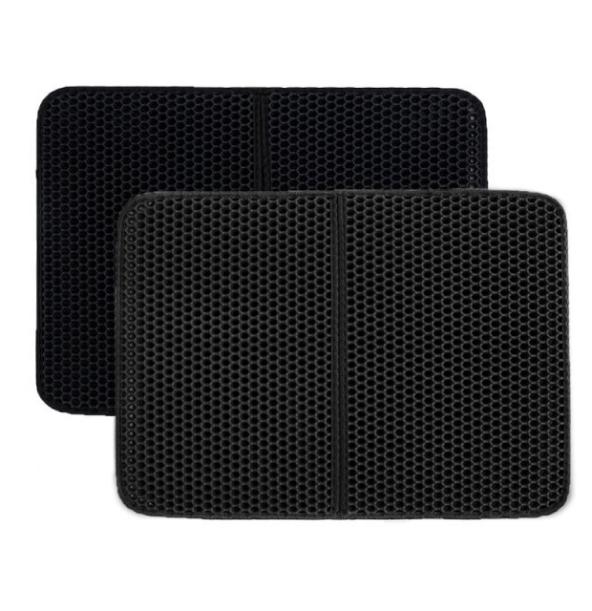 A waste layer built inside
Our Leakage-Proof Cat Litter Mat features a bottom layer that can hold waste and urine without leakage or emitting odors. All you need to do is fill it with kitty litter. Mesh holes on the mat's top layer allow for the flow of waste right into the bottom pocket, whose contents you can easily dump out. The mat (top and bottom layers) are also washable with water and cleaning soap for routine sanitization.
We were looking for a solution to our cats spreading the cat litter around the house. This mat fulfills its purpose. The litter stays in the holes of the mat as the cats walk across it. You can easily open the mat on one side and empty the cat litter.

Like most of you I was fed up with litter being dragged all across my wooden floors, having to hoover 2-3 times a day in an attempt to keep on top of it. With this mat it's now much better. The holes are big and all the litter which comes out of the box drops onto the mat below so there is no litter left on the surface and therefore less for my cat to spread as he walks away. There is still a few bits of litter which escape onto the floor and cling to my cat's paws but I'd say at least an 85% reduction compared to before. Haven't cleaned yet but it's study and a rinse and wash under the shower should be fine. And emptying caught litter just 'paws' straight back into the box. My cat isn't put off by the mat either, he jumped straight on it to investigate and seems happy to walk on it to and from the loo.

Big, could be more choosing in size. Love how small bits fall trough and then can be put back. Only one consern wupld be not easy tonclean if cat piss on it. But ita sturdyband I guess can be washed with hose.

Decided on this item as had the same features as the slightly more expensive versions and the cheeper ones didnt look like they would work for me. The cats are happy with it and the honeycomb structure catches the wood pellets as I was hoping. The top layer is made from an eva type material so it's quite soft and spongy Really easy to clean I spray with bathroom cleaner and shower it all off in the bath when needed. My bathroom floor stays so much cleaner now the wood dust and pellets stay mostly contained in the mat. I think that if I was using fine grained clay or corn litter it would be even more efficient (I knew that the pellets.wpuld be a bit big for the design but it makes a big difference) I would reccomend this without hesitation :)

Great product. A must for anyone with laminate or wood floors. This does a brilliant job of catching 90% of the litter my 3 cats drag out of their trays. Very easy to empty and clean and when it's on the floor, it isn't as much of an eyesore as I'd initially expect.

After being fed up with litter being strewn all over the room we bought this and were delighted it does the job perfectly. It is lovely and wide so it covers the entrance to our oversized litter box and the deep holes seem to catch all the litter. The best thing is to empty it you simply open it up and then can tip the litter back into the box. The room Is now much cleaner and no more uncomfortable sensation of walking on cat litter!

This mat works. It traps almost all the litter the cat scrabbles out (unless she really goes wild) and it collects what she brings out on her paws. No more litter crunching underfoot or being tracked onto the carpets and it protects the floor if the cat misses the tray - sometimes the bum end hangs over the side. It arrived folded but a couple of nights under the mattress flattened the creases. It's easy to wash and it dries really quickly - water just runs off it. I'd definitely recommend this to anyone who has a litter tray.

Genius mat. Absolutely, totally, incredibly and most certainly recommended! ;) Manufactured to a very high quality.

This is a good mat for catching litter such as Catsan. Litter does not get dragged around the house. It is also very easy to clean. I just lift it up and shake it out. I would give it five stars if it was perhaps a little bigger or wider.

This mat certainly catches a lot of the litter that would have been dragged around the house, however, it doesn't catch most of the larger wood pellets. Thankfully though it is very easy to tip these back into the litter tray. It may not be perfect but it has saved us a lot of clean up.

Great idea Saves on the cleaning up from the mess my cat loves to make

Being the owner of probably the World's fussiest cat, (who seems to prefer to remove the top layer of litter every time he wants to use his tray) I was used to treading on litter whenever I passed. But no more !!!! Where has this mat been all my life? Now I can walk past safely and just empty out his "work" every day or two... Fantastic.

I don't know how I managed to live without this mat for so many years! One of the best purchases ever. I admit, I don't always leave reviews. I do only when I have a terrible experience and I want to warn other customers, or then an item goes far beyond and above my expectations, and this is the case for this article. It's washable, doesn't leak if there are "accidental leakages" when my cats aim poorly and it catches the litter. Super item!

Definitely a very good choice. We have a carpet and having to do daily clean of leftovers was a nightmare. Since we bought this the sand goes straight the wholes on the matt which is then emptied easily without making a mess and the cat loves it!

So far, so good. It's hard to expect much from litter trappers especially when you have a cat who is number one skill seems to be tracking litter. I do like but it's not a flimsy mat, but we'll see how it holds up over time. Frankly, I think these are all overpriced, but it's better than nothing.

This is great for trying to keep litter in the tray and not on the floor. I could do with it being a bit bigger, but good value so will order another one

Does the job much better than most litter catchers on the market. My cat doesn't seem deterred about stepping on it and tracks less litter around the house. Not yet sure how durable it is.

Had my doubts that this would be able to capture wood pellet litter (as opposed to Catsan's smaller pieces) but it's great, then just hoover as you go along. Significantly reduces litter being spread beyond the litter tray.

Harder plastic but that's fine with sharp cat claws. Putting a puppy pad is hard since I wanted folded edges for no runoff's. But doable I recommend a small pad not larger. So far so good 🤔👍🏻 Wish it was wider but that's ok A free a week or so I am finding my cats use box less but pee on this . Strange

Holds the litter well and reduces tracking on the carpet. Would recommend to cat owners.

Excellent.... no more stepping on stones in the bathroom 👍

Placed this cat litter mat in front of the kitty litter and I can't believe how much litter it's catching. It's stopped it being spread over the floor and cleaning it up is very quick. The mat is made from good quality materials and it's soft enough for the kittens to not mind walking on.

The mat does what it should, and seems to be good quality, but it took a few days to flatten as it arrives folded. Myu cat actually enjoyed sleeping on it when I had it on the floor waiting for it to be flat. Maybe it should be rolled for transport.

Exactly what I needed to stop my cats turning my bathroom in to a giant litter tray. This mat is brilliant.

Exactly what my apartment needed! These work great and my lazy ass can go long between cleaning them because of how deep they are without my entire apartment getting full of sand.

Being honest, we had four litter mats, all of which have this easy clean slide out tray function—this one made the fifth. We have 3 messy cats and use a Litter Robot. They usually jump out of it and get out of the room ASAP instead of hanging around near the mats to get the litter off their paws. This is the first of these mats we've had that is clear plastic instead of a more pliable, rubbery/foam material. It's very slick, so don't accidentally go stepping on it! I think it works just as well as the other mats for litter trapping but the surface area is much smaller than those. If I only had to have one type of product, I would definitely choose one of the larger and more pliable mat versions of this product. But the one advantage I can see from this one is that when I go to pick it up to empty it out, it's easier to pour into the trash bag. The other mats lose their shape when you pick them up and can be more difficult to empty into a small area (such as a small trash bag or small trash can opening).

This arrived promptly - it took a while to get it to lay flat but we followed the instructions included & it's fine. Seems to be doing the job it was intended for.

Placed the mat next to the cat litter box. It catches the cat litter easily off the cats paws. Super easy to clean although I just hover it when I empty cat litter. Pretty decent for that money.

This tray traps some of the litter from my 2 cats paws as they pass over it, but the rest ends up on the floor as soon as they step off the tray. The attached picture is after being in use for just a few hours! The tray design actually seems to work pretty well, it's just too small to be effective. The tray is much easier to clean than typical rubber litter mats, which is a plus. On the other hand, because it's made from a hard plastic it easily slips and slides if you don't wedge it into place. I'm already putting this away and going back to the rubber mat I previously used.

I have tried so many systems and mats for litter. In a new phase of trying out new products because I'm spending way too much time handling litter mess with an aging cat. The highlight of this item is ease of cleaning. Clumped litter that clogs the holes is easily rinsed off. The two parts separate really easily. The reason for four stars is it takes a few tries for me when I slide the 2 pieces back in place and the odd shape, it would be nice to have a tapered end that goes under the litter box.

Excellent product! I'm very impressed with this concept. I have 3 cats right now, and one idiot will pee outside the box if I put too much litter in. In the past it would make a mess. And cat urine is horrible. I was worried when I first saw the urine on this Matt, but carefully moved it outside, rinsed with a house threw some dawn and bleach on it, let it sit for 20 min, and rinsed it again. I then left the Matt outside over night hanging upright to drip dry and it was perfectly clean the next morning. Seriously can't beat how easy it is to clean up. It empties easily with dry litter, and collects it with ease. I have way less tracking out of my laundry room with litter. I'm actually disappointed I haven't had this product longer. Because my life would have been a lot easier. From here on out, I will always own one of these. Hands down, best pet product I have ever owned.

It's definitely a durable litter mat. However sometimes my cat would pee on it making it a pain to have to take outside and hose off, which isn't an option in the winter months. If that wasn't an issue then yes this would be a fine mat. But I ended up replacing this with a machine washable mat to make life easier.

I would give it 10 stars if I could! Moxie and a new kitten just walk over it like it's not there and it collects all litter.

This is my first tracking mat so I tried to pick one that was good and also affordable. I like that I no longer step on litter or have to constantly sweep litter. It falls in between the holes and I just empty every few days back into the litter box.

I love this mat! It did come folded but a quick heating with the hair dryer along the folds and it lays flat.
Share