Pet Carrier - Burgundy
Regular price
$99.99 USD
Sale price
$75.99 USD
Unit price
per
Sale
Sold out
Take life's journey together
A versatile yet detail-oriented pet carrier
There for pet parents who want to go anywhere, Prefer Pets is dedicated to creating a comfortable, safe, and smart travel experience for small animals. They take on challenges with an open mind and strive to use the knowledge they learn every day to constantly evolve and improve their products for pets and their happy owners.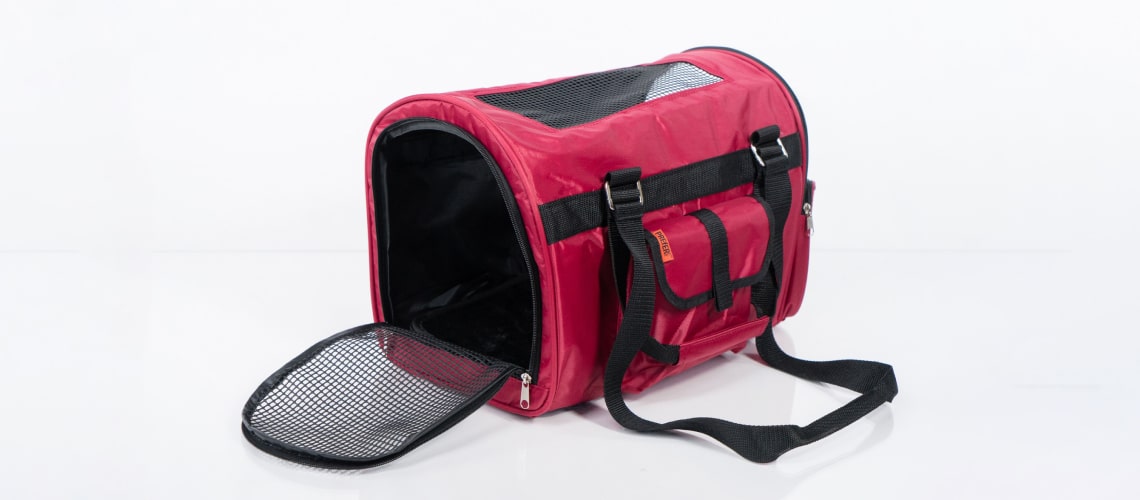 Safe, comfortable, discreet!
Give your pet the best traveling experience ever
This pet carrier is compact and covers the basic needs for pets such as good ventilation and feeding windows with included interior detachable harness hook for the rowdy ones and a large secured pocket for extra goodies. This lightweight and comfortable carrier can be carried by hand or slung over a shoulder.
Travel as comfortably as your pet
Be as comfortable as your pet by carrying this bag by hand or slinging it over your shoulder. Never have to worry about flying, as it comes with a pet ID card and luggage tags.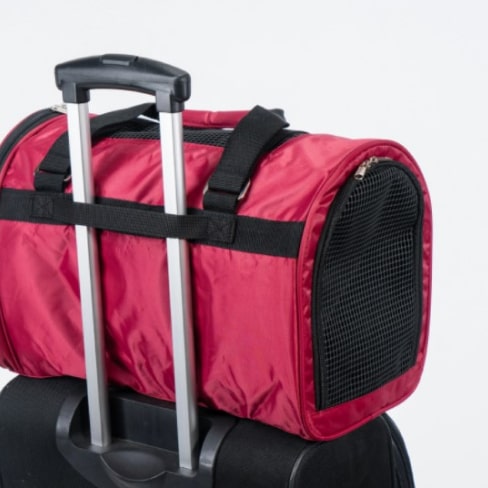 For your pet's next adventure
It allows your pet to nestle in for premium comfort long travels! In the car, on the train, on the plane, or out and casual you can use the convenient bag handles or elongated straps.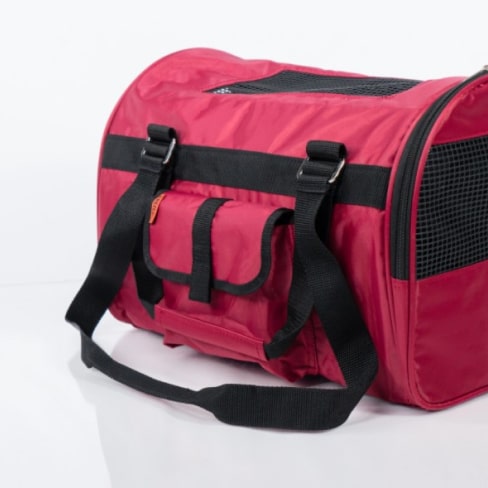 A perfect home for on-the-go
For your travel mate
Travel everywhere with your pet
Travel everywhere in premium convenience for your small dog or cat with this amazing pet carrier by Prefer Pets Travel Gear. Airline approved, compliant with in-cabin carry on regulations of most airlines.
Comfortably spacious
With dimensions of 17"L x 11"H x 10"W, this pet carrier is recommended for a maximum weight of 16 lbs. Please measure your pet's length (neck to base of tail) and height (floor to top of shoulder) before purchase.
Discreet travel
With two zipper entries supported by durable mesh which offer excellent ventilation and allow for greater visibility, this pet travel carrier is a discreet way to carry your pet.
Machine washable
Wash the air-dry poly fleece base liner safely and effortlessly in the washing machine. The coated polyester woven fabric exterior can be easily cleaned with soapy water and air dry.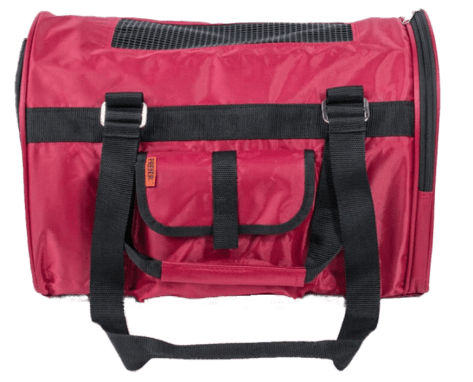 Check the measurements
As pet's shapes and sizes can vary depending on their length, shape, and height, please make sure to consult the measurements before you make a purchase. As a general rule, your pet should be able to stand up and turn around comfortably when fully zipped into the bag.
About Prefer Pets
My husband and I started Prefer Pets in 2006 on an afternoon drive to Victory Park in Pasadena CA, to spend a lovely Saturday with our 2 pekes, Button and ShoSho. On our way there, our boy Button escaped from the carrier that we had bought at a pet box store and proceed to play with us by running around on the floor of the car, ducking under the car seats, and finally wedging himself behind the brake pedal (Button being a tiny 3 months old at the time). Luckily, we were able to stop the car without any injury.This is when we knew we need to have a better carrier to travel safely with our 2 fur-kids. From our first carriers, original duffel and original backpack, created with features and functions that we wished we had on that day, we have persistently evolve the designs of our bags based on feedbacks and pressure points from real customers and from our own journeys with Button and ShoSho as they grew older. Every Prefer Pets product that we make, it is with the thought of what we would want ourselves in term of mindful designs, quality material & construction, and customer service when we were buying pet products for Button and ShoSho. Today, we proudly remain a family business and are still based in Southern California, and while our little boy and little girl are no longer with us, we are committed to continue making quality travel carriers for pets and the people who loves them, for enjoying life's journey with their own Buttons and ShoShos.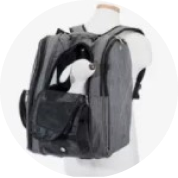 Designed In
Rancho Cucamonga, California
I really love this carrier. The only reason why I did not give it five stars is because I think it's a little big for my 4 months old chihuahua

It is nice and sturdy very lightweight but I thought it would be a little bigger since it was for medium dogs and I have a kitty and it doesn't give him much room to stand up to stretch out not turn around.

I love the color! It's a little wider than I expected but I don't mind it's spacious for my cockapoo pup, she can comfortably turn and lay in it. I do wish that the handles were shorter but it's not a huge deal. The sides and bottom are also very sturdy, this was well worth the price. I hope it isn't too big for flying.

very good product perfect fit for my cat

Such an improvement over the bulky, heavy plastic style!

We like this carrier and our cat loves it. She sleeps in it everyday and hope she still likes it when she goes to the ver in it.

Perfect size for my 4.5 lb chihuahua. I use it when we go bye-bye. My pup likes to sit on my lap when I drive, but that is way too dangerous! She did not like the basic puppy car seat, so I needed a plan B. This carrier sits securely on my passenger seat. She would rather be on my lap looking out the window, so it has taken some "getting used to". All in all, it is a great back-up to a car seat.

Absolutely love this for my Chi. I added her dog bed because the one that came with it is very thin and not very plush. Other than that I love that it unzips just about in every part. It's worked well for us.

This is great for a kitten and cat carrier. My cats love being able to see more instead of all closed in. My kitten even likes to sleep in it

Very sturdy and durable. Great quality and price. Pretty burgundy color. My Maltese loves it. We will be traveling soin so I put it down so she could get in and out. I catch her in in alot. I think it is going to work great. Love it

It is a perfect pet carrier, exactly as advertised and well made.

This is a great carrier at a great price. It's roomy enough for a small dog or a large cat, has a carpeted insert that serves as the floor. It has screen on one side at the top and can be opened from the end or the top. It's very well made and the color burgundy is my favorite color. Very happy with this product. 5 stars

I was worried she wouldn't like it. We are going on an airplane in a few weeks. I thought she would be resistant to going inside, but I set it down for her to get use to it. She's a fan! She goes inside without commands.

I love this carrier. It is light weight and so easy to collapse and set back up. It has pockets to store things and more than one way to carry it. It seemed a little smaller than I had hoped..but, honestly that was my fault because I really didn't take the time to measure. I think big cats would fit in it. My guy just barely fit....no real room to move but I think it is still more comfortable for him than the cold hard plastic ones.

I love this, it comes super easy to fold down and put up, great bed lining that keeps a dog warm/cool for whichever weather you're driving in, my cavalier is 10 lbs and she fit very comfortably in it.

Perfect fit for my Shih Tzu and it keeps my little companion safe in the car going to and from vet appointments,etc. I think it will come in handy when I need to fly as well. It's a good quality product.

I purchased 4 various pet carriers for our 2 doggies' first flight. I returned 2 of them. I kept this carrier and I was very pleased that my dog who is 8 pounds fit perfectly. Another bonus was that this carrier fit nicely underneath the seat of a Southwest Airline plane. It is easy to see your pet with all the mesh on the bag from every angle. Good purchase and great value. Nice packaging.

I bought this pet carrier for my two bunnies. I have one bunny who is difficult loading up for a vet visit, but this case offers a few different ways to get the animal loaded safely. I love how much of it is see-through mesh so they are not totally closed in and can't see. It is soft and comfy and very spacious for 2 small-medium pets. It's perfect for me. I bought the purple color which is pretty. My favorite is how it will collapse flat for super easy storage when not in use. It was so great, my friend who has difficulty loading her cats for vet visits, asked me to get her one. This was my second purchase!

I have a cat and have had difficulty finding a carrier he fits, and likes. This one nailed it 110%! I set it out for him to get use to it, and he slept in it for about an hour right then. He was more calm and comfortable (and quiet in the car) than any other carrier I've ever had. His view isn't obstructed, and he still felt safe and has protection for winds or rain. The handles and strap are very comfortable for me and feel very secure. Easy to maneuver and secure in the car. The frame work is sturdy - padding is obviously comfy for this prince of a kitty to curl up and sleep in it at first sight. The multiple entrances are an added plus at the veterinary office - they just opened the full side to give him his booster shot without having to take him out. There was zero stress, which for me is huge. I don't recommend products often, but this one I will, and do. It's (dare I say) purrrrr-fect!
Share