Intelligent Neck Massager
Regular price
$69.99 USD
Sale price
$69.99 USD
Unit price
per
Sale
Sold out
Feeling tense in the neck? You need to relax
Experience much-needed relief -- now anytime you want -- without needing a significant other or a professional to help. Say hello to comforting kneading and rolling on-demand with the Intelligent Neck Massager. Designed for anyone who needs to loosen up stiff neck muscles from the toll of demanding gardening work, hours of heads-down phone usage, or hours of grueling typing on a computer.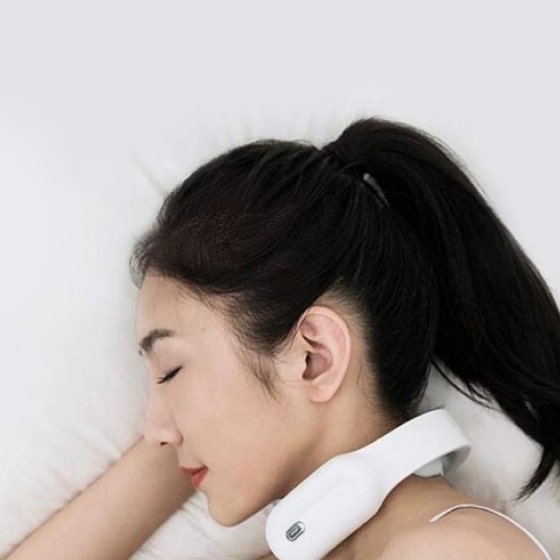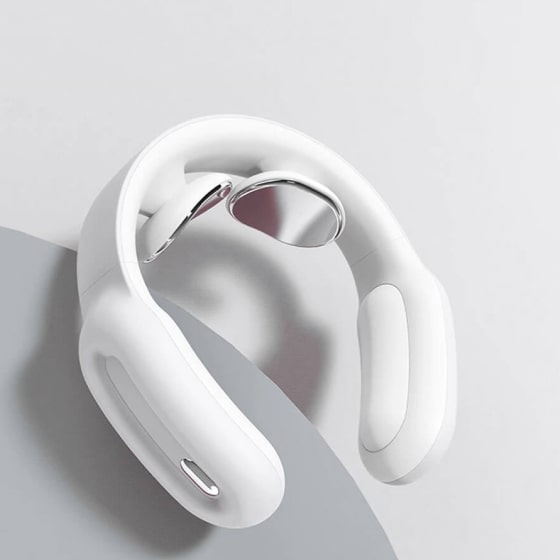 Stress-bust your way
Three modes. 15 strength settings.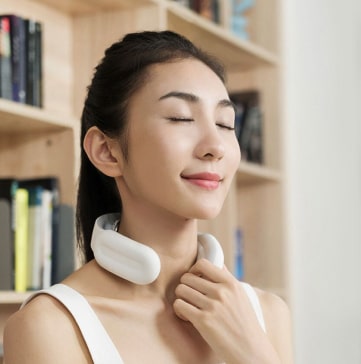 Soothing Mode
Great for neck injuries or a stiff neck.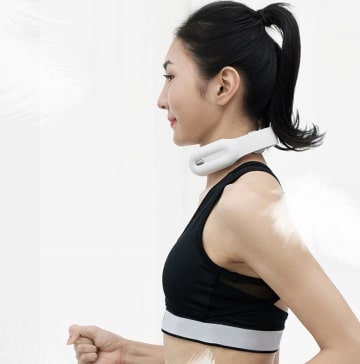 Vitality Mode
Suitable for cervical strains.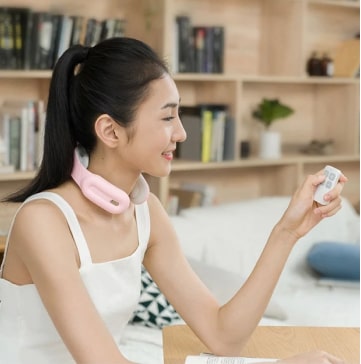 Automatic Mode
Relax with a combined technique for daily relief.
High design meets high performance
Our device's massage nodes are built from 304-stainless steel that feature 360-floating suspension for a flexible yet focused massage. The massager is designed with an ergonomic U-shape design (almost like headphones) and features soft silicone interior balloon padding for softness and support. Experience a sturdy massage gadget that won't shift or move like traditional devices that lack ergonomic detailing.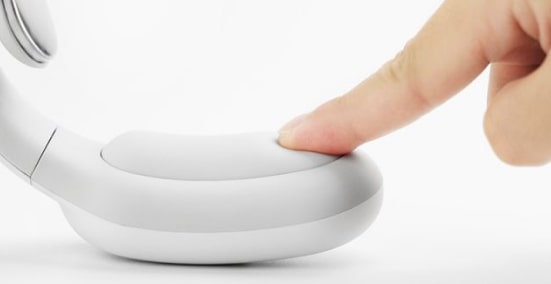 Built-in heat therapy
Extend your relief for sore and tired muscles with a heat function that warms up to 120°F in just three seconds. It's like having a hot towel around your neck to boost blood circulation.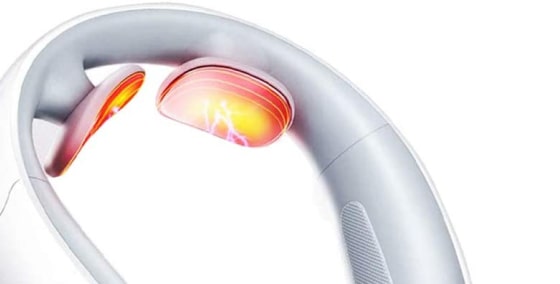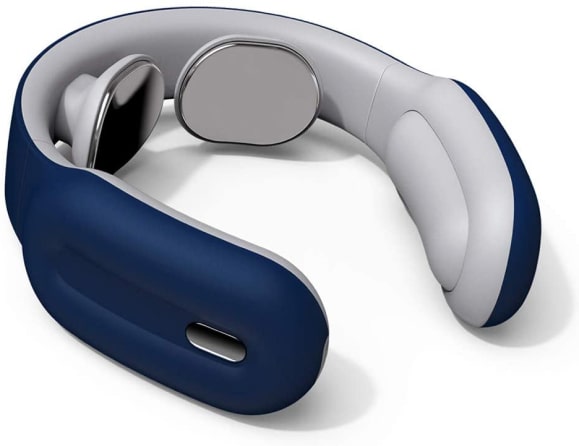 The pulse comes to life
The Intelligent Neck Massager uses low-frequency TENS pulse technology to simulate three massage settings. The device's stainless-steel nodes deliver targeted relief not found on other ball-utilizing neck massagers.
15 minutes a day
That's all it takes per session to feel lighter and less stiff in the neck. Relax on your mid-day break or lunch time for some convenient destressing.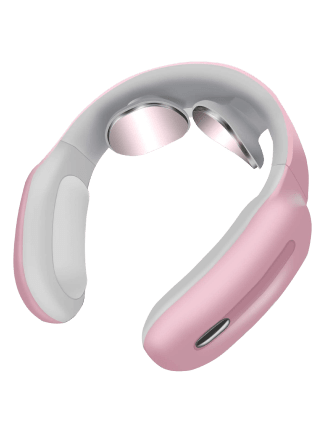 Relief in one click
Our massager features a one-click power-up operation on the headset for instant relief and relaxation wherever (and whenever) you need it. An included controller helps you switch between modes and settings.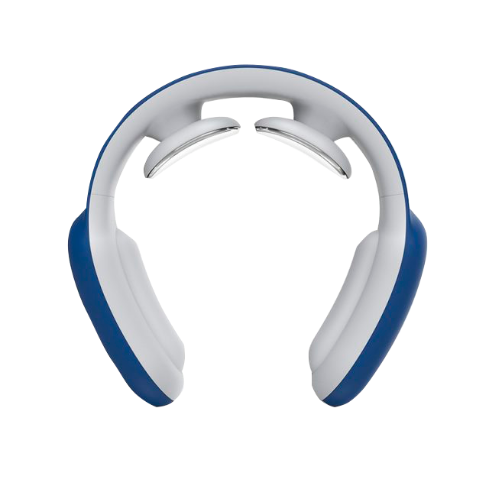 Charge via USB
A built-in 450 mAh battery fully charges in two hours for up to 30 days' worth of daily 15-minutes sessions. An included USB charging cord allows you to power up your device with anything, from a wall outlet charger to a portable battery bank (or even your laptop). It's convenient and easy.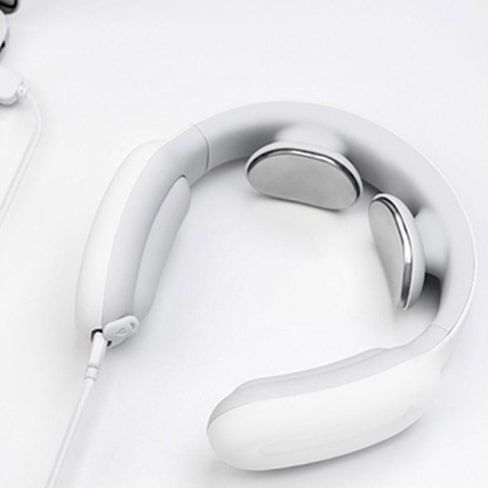 Peace of mind
Relax with complete ease. Our Intelligent Neck Massager measures 5.9 x 5.9 inches so you won't feel uncomfortable wearing it. It is designed with leak-proof technology so you won't burn with its heat setting, while an auto-shut off turns the device off immediately after a treatment interval is complete.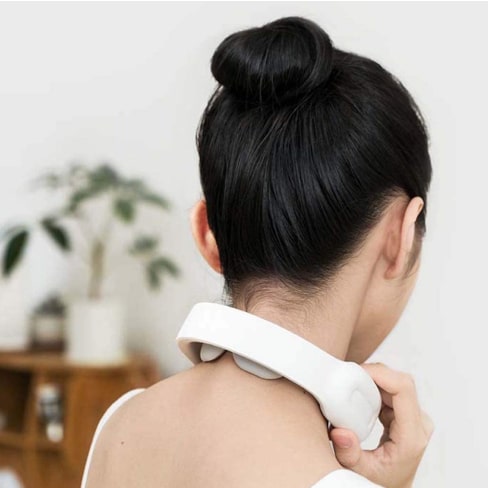 Caution to users
Everyone deserves massage relief, but this device isn't for everyone. It uses electrical-impulse therapy, which is not suitable for women who are pregnant, anyone in current use of a medical device, pacemaker, or individuals who have metal implants in their body. Please consult with a medical professional or doctor if you are unsure as to the safety or compatibility of this device with your current health conditions.
The massager is good! I liked it! immediately turned on a strong mode because such procedures did constantly in the hospital, After 15 min, the signal paged and turned off!!!! I liked everything very much. I recommend to buy a massager and store as it pleases both the goods and delivery. The remote is very convenient! Thank you so much!!!!

It's very nice packed and quality looks very good. I tried it. It works also good.

It's all working. the whole family likes it. Happy with the purchase. Thank you

Came very quickly, in two weeks. Everything works. Heats and massage current discharge. Well sits on the neck. Pleasant sensations, helps to relax the neck. Thank you!

Love everything about this product! Helps to relax my muscles in my neck and shoulders.

Saw on Instagram an add about this product, bought one, has been delivered faster than thought and it works great. Even my mother who has cervical pain it helped her to relieve her pain. Recommend store and product.

AMAZING! This neck massager is very good quality and does a great job relaxing the neck and shoulders. It warms up very quickly and is easy to control the strength of the pulses. I HIGHLY recommend the store who did a great job communicating and did a great job with the packaging. Try it out, it's definitely worth every penny :)

This little gadget took a little getting used to at first but after my second use, it felt wonderful. Fits comfortably around my neck and the heating function feels amazing. Simple operation and the instructions were easy to read. The beep sound is loud so I can be sure that I can hear the modes changing or the unit turning off. The auto shut off after 15 minutes was a nice touch as well. Small and low profile makes this easy to take with me when I am traveling.

I've had headaches and a tense neck for a long time so I want to try this neck massager. Looks like a lot of people are recommending it. After several uses, I think I did have a big relief and I'm sleeping better at nights. I like that it's portable so I can still walk around while using it and don't have to sit still at the same place near the power outlet. There are 3 different massage modes and 15 levels. I think level 3 is already strong enough for me. The remote control is separated from the massager, I know some of these massagers don't have a separate remote control, I'm not sure which one is better. I guess having a separate controller is more convenient because you can see what buttons you are pressing but there might be a risk of losing the controller because it's small. The heat mode is also amazing. I'm really glad that I've bought this.

I get a lot of sinus headache and tension in my neck. I use this upon waking and before bed. It has helped me out so much since receiving. Very happy with purchase.

The neck massager works great for my mom. My mom always have neck problem and she got pains all the time with her neck, so I decided to buy the neck massager as a gift for her. She loves the massager and she said it really release her pain after only one time use. There are 3 treatments in 15 minutes, but they are very effective and there is heat option. Also, my mom said she can control the strength of the pulses, so it wouldn't be too hard sometimes and it is very convenient too. Overall, the massager is worth of 5 stars

I used it immediately after I received it. I often cause headaches from the cervical spine. Its heating function is very comfortable. The micro current pulse mode has different gears. You can find a suitable one according to your needs. Recommend!

I was a little skeptical about buying it and if it would work but after using it, it is probably one of the best products for my neck I ever bought.

I buy this neck massager for myself because I often sit at front of computer to play video games and that make my neck always feel Street. This electric pulse neck massager helps to relax my neck muscle and reduce my neck pain. Right now, I used it every night to relax before to bad, and it works pretty well. There are 3 different modes and 15 levels of strength to choose from. It's very easy to use, and also come with heat function. It looks pretty, great quality,, and with affordable price. No complain.

For the price it's not bad. It has good power. And seems to do the job. The beeper when you change speeds is loud and annoying. Other than that seems to be ok.

I'm so glad I bought this neck massager! Since working from home, I constantly get neck pain (and honestly pain all over). I was looking for something lightweight and wireless so that I am not restricted from moving around. This was perfect! At first, I was a little intimidated by the electric therapy aspect of it but it turns out to be nothing but relaxing. I have even been able to sleep better the past two nights since I've used it! I think this would make a great gift as well, so this is definitely going on my list of possible gifts for family and friends!

Good product, everything is fine. I like the feeling when turn massager on, relaxing. Arrived in 10days that is super fast! Recommended!

The product looks exactely like the description and the pictures! Very nice soft touch. Works perfectly fine.

Fast delivery, great device, works well. Make sure you dampen you neck before using it for best results. Thank you

Seems to work great! The family likes it. Just hard to position with the muscles in your neck to your shoulder. Stays upward a bit and I wish it did not. The heat part is very nice. Relaxing!

When I bought it I was expecting one that massage your neck not impulses of electricity. But it helps

Great product. Everything works like in the description. I am so glad I ordered this! Really helps with my neck stiff neck and neck pain. Highly recommended!

Appears to be a quality product. It works but heating isn't quite good. Will add review on effectiveness after using it for some time.

Oh how we really love this neck massager! The whole family! Husband and I work a ton in front of the computer and our neck always gets so stiff and sore. We just love putting this massager on our neck while watching TV in the night. It did feel a little weird first time though. Just be careful not to put it on high first if you don't know how strong you can take because it may create involuntary muscle spasm while using it. It's such a weird feeling! Lol! Father had shoulder surgery and he loves it too. I'm thinking about getting one for him as Christmas gift.

I really like the look, it works good. The remote could be a little bit better quality.

I recently bought this Neck massager, and I really love it. A very good product offering excellent value for money. It has 3 massage modes-all of them work beautifully. It combines three types of relief: acupuncture, knocks, and massage. My favorite one is the automatic mode, and the massage mode worked the best for me. The fact that you can increase and decrease the vibration according to your liking is really cool. If you like a little heat with the vibration, it has a button to add that as well. Just the right neck massager for you when you want to relax after a hard day's work. It's comfortable and good looking.

Fast shipping and product is as advertised. Just like a tens unit but without the cords and sticky pads. Really helps my neck pain!

I am suffering from neck pain badly. I feel much better every time after I use the massager for 15 minutes. It's wireless and has a separate remote. It's very moveable and portable. The two connectors are full of elasticity. They are able to move down and extend out a little bit, so it fits my neck perfectly. It's really really comfortable and soft. It can warm up right around my neck area. The warming sensation is really nice. It delivers pretty decent pulsations. The battery life is really amazing. I recharge it about every 3 weeks. It is doing really great. It would be better if the remote has a screen and can show the current level and mode.

Great price massager! I use a computer a lot, so I have started using it on a computer sitting in a chair, which provides deep massage to my back and reduces tension. Any pulse massager will produce a slight pain at the beginning of use. The feeling of being charged varies from person to person but it is safe to use. After each massage, I feel very relaxed. The build quality is strong and the value for money surprised me. It will be a perfect gift for those who complain of neck soreness. All in all, an excellent product. Definitely recommend!

Good goods and appropriate store! Was shipped fast, good quality, looks as in the photo.

I was pleasantly surprised at how intense the massage was. Easily control the intensity levels with the remote.

Bought this for my sister whose job entails physical labor. Many nights she'd come home from work with sore neck and shoulders. She was skeptical anything would help and was excited to find this did. She's been a regular user (2-3 times at least per week) and is very pleased. Easy to use - the vibration and heat relax neck and shoulders enabling sleep. Would recommend this without hesitation.

This is so easy to use!!! I usually puts my muscle stimulation massager on when my muscles are sore and tense. It gets annoying with all the lines that are connected. Most of the time I fall asleep with it and they just get tangled. With this I don't need to worry about that. I can just put it on my neck any where any time and I won't have to worry about annoying lines or needing to bring the main machine. I can be mobile with it. It also heats up which feels wonderful!! I love it!

I was in a car accident at 57 years old and had accute whiplash. That was 5 months ago. I went through physical therapy but little help. This is amazing and feel so much better now after using this

My husband and I both use the device for our intermittent neck issues and it is extremely effective. I love that it is so compact and portable and holds the charge for longer than expected. The 15 minute sessions (3 treatment types) are very effective and the love the option to add heat and control the strength of the pulses using the convenient remote control. I really feel that it has helped reduce the number of times I have had to had to have chiropractic treatments. It helps me maintain a pain free lifestyle and for that I am extremely grateful.

Been working from home for several months due to COVID-19 and without proper seating setup as what I have at work, I started to have issue with my neck.. came across this when searching for gadget to relief neck pain. The item came partially charged and I was able to used it right away and liked it within first few minutes. :) this massager is very light weight and just comfortably sitting on my neck. As far as actual massage goes, it's great with 3 different modes and several intensity to choose from. Recommended

I though I received a broken product. However, I just misused it. First of all, I need to gently wet my neck area before putting on the massager. Then, push the start button. I feel comfortable to use this neck massager, and it feels like electricity flows through my neck, relaxing my neck muscles. This neck massager has a U-shaped design, which can fit almost everyone's neck. And come with a remote that can control 15 different power levels and 3 different massage models. Most important, it comes with a heating mode. I like it white color. I like it light. I like it comes with soft cushion. I like it easy to use. I like it can relief my neck pain. The overall quality is good. I really like it.

Constantly plagued by neck muscle pain. Hate to be tied to a heating pad and electric outlet. This is the best solution to comfort and maneuverability. Fifteen minutes of this therapy and my neck pain diminished to near zero and full mobility to turn my head was restored. Love this product - it was definitely worth the money. Highly recommend.

The appearance of massage instrument is delicate and compact, simple and easy to operate, it is very easy to get started, charging is also very fast, and there are a lot of gears, suitable for different types, specially bought for the wife, she likes it very much, its is used in the office at ordinary times, and it is alleviated to some extent after two times. Tell me about the feeling. It's a really good massager. It's comfortable after use and of good quality.

Nice portable tense machine, two factors kept this from a 5 start review. 1) it comes with a remote and without the remote the device no longer works. There are no buttons on the device itself other than the power button. 2) the pulsing settings are too simple and only allow you to change the intensity. If you could change the pulse pattern this device would be a lot better. I find my neck loosening up with one pattern only to feeling slight pain with the pattern change.

Purchased for a stiff neck awaiting medical review. Works well once the instructions are carefully understood. The heat feature is nice. The different modes are difficult to discern which once is operating but still the gadget is great!

Works but doesn't hold a charge very long.
Share