Inflatable Car Air Mattress
Regular price
$0.00 USD
Sale price
$55.49 USD
Unit price
per
Sale
Sold out
Luxe accommodations for on the go
No check-in required. Our Inflatable Car Air Mattress, crafted from PVC plastic and flocked cloth, is the solution to upgrade that backseat to a comfy bed space.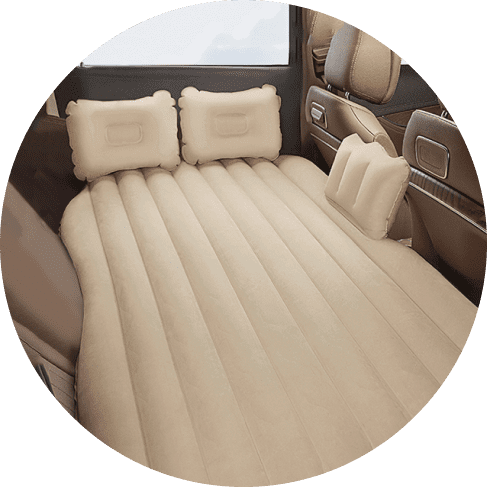 An all-inclusive solution
For in-vehicle resting quarters
Inflate and maintain with ease
Your purchase includes an air pump, pump nozzle, inflatable headrest, repair kit, and storage bag.
Fit for any trip
Whether it's an eight-hour family road trip or a week-long journey with best friends across multiple states, this mattress provides ample rest space.
No more sore necks or joints
Upgrade from napping or resting on hard, angular car seats and enjoy bed-like comfort with our Inflatable Car Air Mattress.
Fits most cars
Measuring 49.2" x 30" x 10.6" (L x W x H), our air mattress is suitable for most backseats of many sedans, SUVs, and mini vans. Please measure your backseat space beforehand to ensure a fit.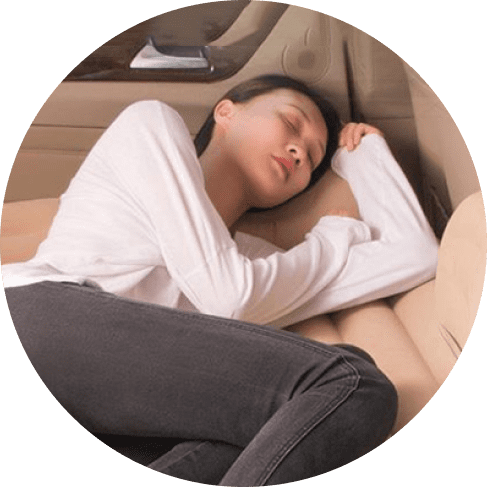 Neutral to fit any ride
The rich beige color of this Inflatable Car Air Mattress adds a like-a-hotel-bed touch to any vehicle interior, for inviting comfort.
Compact, fuss-free, smart
When deflated, this mattress folds compactly to the size of a laptop and fits into its own storage bag, for easy stow-away when not in use.
A smart on-the-road solution
(Everyone will appreciate the extra help)
Boost rider comfort on long journeys with this simple inflatable mattress (which comes with all the tools you need to blow up). Kids and adults alike will rest better.
I travel with my little son a lot, we usually had to stop in some motels, and usually it wasn't really good. We didn't have any choice even if the apartments were dirty or something. Now it's not a problem, we've tried it a couple of times, it's very comfortable. I'm not tall, so both of us have enough space. The material is durable and pleasant to touch.

I 've tried it and it's great, comfortable and practical. I had doubts about deflating because I thought it would take lots of time, but to my surprise, it deflated easily. I recommend it.

Very convenient if you travel with kids. They can rest there and sometimes we take it away from the cat and put on the ground, and there is no damage.

I liked the mattress very much. A little big for the rear seat Kia Rio. Despite this, it is comfortable and fits quite well. Inflates for 15 minutes with a pump.

It takes only a couple of minutes to inflate it fully. I didn't try to sleep on it yet, but it stays full in the car to at least 5-6 days. Nice thing for auto travel.

Nice mattress and pillows. Quality is good. It inflates and descends quickly. The Hyundai Tucson fits well. My daughter slept well, says she liked it.

Excellent mattress, everything is fine! Took to the sea, I slept there with a one-year-old child, very convenient to use, it is not sliding.

Good, comfortable mattress. The pump in the kit is good, with replaceable nozzles, inflated quickly and without problems!

I have problems with my spine and have to travel a lot by car, so this is my savior when I need to lay down and rest.

We travel with two little children. We aren't going to sleep on it, but kids like playing and laying there when we rest.

We travel with two little children. We aren't going to sleep on it, but kids like playing and laying there when we rest.

Fit perfectly on Mitsubishi Lancer X. The pump is included and working. I definitely recommend it!

Tested when traveling, holds two adults and one baby, although it's tight. It's for one person.

The quality is nice, I'm a big men, so it deflates a little bit, but it's ok, no complaints.

Sooo in a big shock)) finally found what I need so much in the car and for travel.

I slept on it the whole night and by the morning it started to deflate a little bit.

Good thing, children like it, 1000 ml. We use it on roads, and on the beach.

The pump works and inflates quickly, a very comfortable inflatable bed!

There is a little smell of rubber, but I think it will fade

Everything is good, the pump works well and fast.

I like it very much, everything is fine, very useful.

In Solaris fits very well.
Share