Hooked Camping Tent Light
Regular price
$16.99 USD
Sale price
$16.99 USD
Unit price
per
Sale
Sold out
When camping outside in the great wilderness, the sun really brings out the natural beauty of mountains, canyons, trees, and lush greenery. But when nighttime falls, the world falls into pitch blackness. For every overnight camping trip you embark on, make sure you are properly prepared with a high-performance light that's flexible for multi-use for any need or space. Our Hooked Camping Tent Light is designed to bring bright LED light wherever you need it.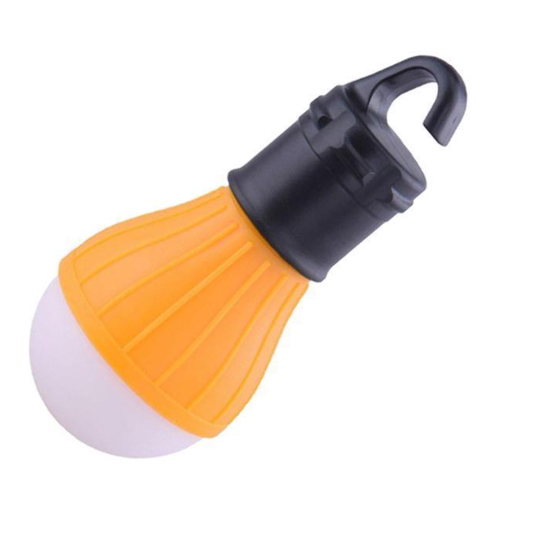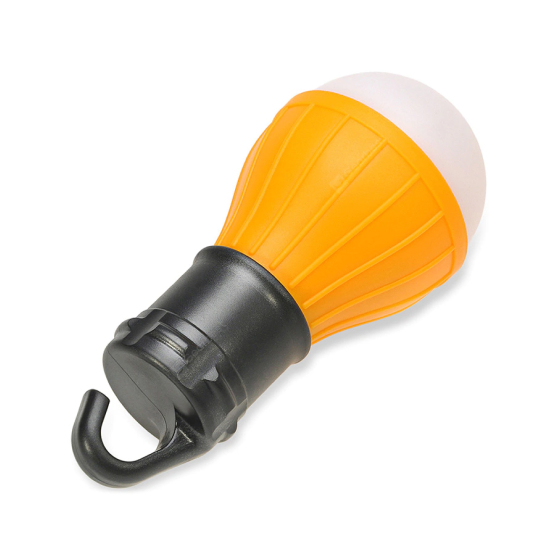 Shine on for nearly 100,000 hours
Some LED lights are too harsh with their brightness. Some are too heavy and bulky to carry around. Our little bulb is the perfect in-between: with soft-diffuse LED, you get a brightness that isn't blinding.
Three light modes in one bulb
A one-click button lets you cycle between high brightness, medium brightness, and a red SOS light mode. Discover ultra versatility -- from dinner to turn-down time or unexpected roadside emergencies, the power and function of our Hooked Camping Tent Light rises to the occasion.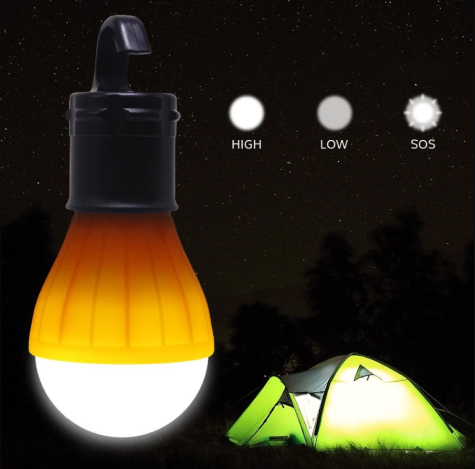 Cooking, sleeping, security
With an easy-hook design, secure our light to any tree, tent, wiring, rope, or personal belongings for light at night. Whether it's a canyon-side barbeque, cluster of tents at night by a mountain, or just a light to stay on during the night for visibility and safety, our Hooked Camping Tent Light makes it easy.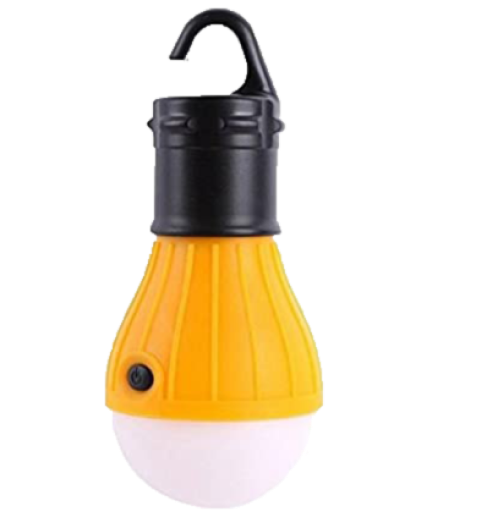 Just add batteries and go
Our light requires three AAA batteries (not included).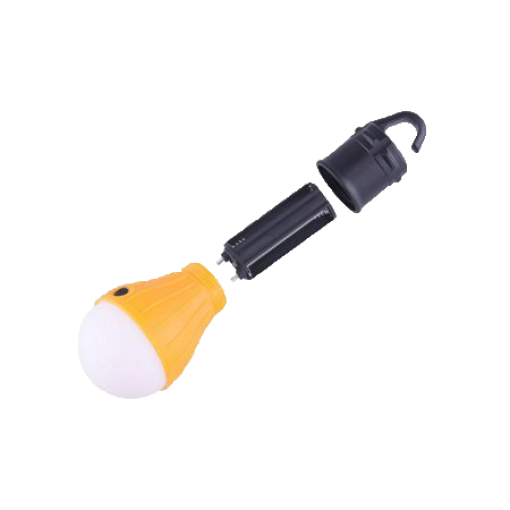 Built for the elements
Sudden downpour? Our light can hold up, thanks to a built-in rain-proof covering that shields the bulb. Minimal heat generation also means a longer battery life and improved fire safety.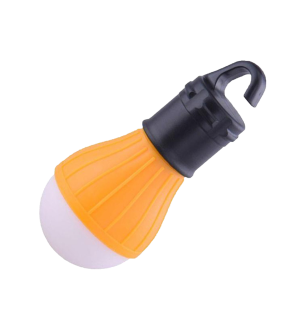 Works great! So I use it at base camp when I'm car camping, also good to take if you are fishing at night, I think some types of fish are attracted to the light. Use it in my bunk in the camper also. Haven't had it long enough to vouch for durability.

This is a great light to have around when camping. I do like to fact that it has rain-proof cover. Although we use it inside tents, it's always better to have extra protection in case of sudden weather change or any accidents. We have a bunkhouse MC camper with an add on room. Two of these will light the place up!

I like that I can keep one of these bulbs at home and not have to worry during power outages. With the current hurricane season in full swing, there is peace of mind in not having to think about cooking or restroom use for a few hours. I haven't had to use this yet but I tested it by interrupting the power supply from the breaker panel to ensure it works properly, and it does. One less think to think about during inclement weather.

I had seen similar bulbs advertised on some social media, not the same ones but similar. So I was looking for something less expensive than the exorbitant price I've seen on social media for these. I got a couple of them and they appear to work great! The power level is just as bright as normal bulbs. After having a recent power outage that lasted all day from a storm a few weeks back, I decided that it would be great to have some of these just in case. I would recommend them.

We love these! We are hanging them in closets, laundry room and bath rooms to save electricity and last night I actually looped one to my long necklace and walked around in our 3000 sq ft home not having to turn on the electricity once. Checking now to see how it recharges! Very light weight. Fun concept. But you do not need to wait until the electricity goes out to use them!!!

Lamp is super lightweight, the batteries last a long time and it kinda puts you in a relaxed mood

These are so useful, both within the tent and outside it. I've used it for travel in a hundred different ways; as a nightlight, as a lantern, and for a small party light. The hooks is a great design.

We used to set off these lights on our last camping trip. They are solidly built, work great, and last forever on a set of batteries.

Great little tent lights. Added nice mood lighting.

Easy to activate, just put the batteries in and press the switch. Works good for me, as I have moved in recently and still arranging power and lighting in garage and storage room... Kept in place in case of emergency and, hopefully, for camping once I'm done with settling in!

I didn't know these existed. I found out about them from a friend and immediately ordered them. A very good small lamp, sufficient lighting for a tent.

We love these (bought two) lamps when camping! They look great both in the tent as well as strung up in the top of the tent! Kiddos think they're pretty fun as well!

I bought these right before our week long camping trip. We hung them at the top of the tent and they were super bright. I only needed to use 1 to light the entire tent.

I got light for the camping trip over the week. The hook used to hang these lamp made it very easy to grab light from the top of the tent and take it with us to the light the way outside. One set of batteries lasted the whole week. This is an amazing product!

I love these lights!! I travel extensively and sleep in my van. These lights are PERFECT for reading at night, as night lights or as flashlights. I just spent 4 days on the road sleeping in my van at the grand Tetons, Yellowstone, Montana, Colorado, etc.... the batteries are still working and I'm still using these lights. They are PERFECT.

These portable camping lights are just what I was looking for! I bought these because we have rolling blackouts from now until who knows when and these are just very convenient. It was easy to put the batteries in and you can hang them up with the hook that is included or use them as a little flashlight in a drawer - which is what I'm doing from here on out. I am very pleased with this purchase

I have used these in tents and hanging under my rainfly over my hammock. I also used it recently just under the mosquito net in my hammock and love the light it produces on the low setting for just me in my hammock.

Went camping with them over the weekend. Slept in a tent so these were the only source of light I had and they were perfect. I hung up 2 of them and had them on the lower brightness and that was enough to light up the tent.

These are dope. Made my tent the place to be on the camping trip. They're pretty bright LED though which is great for reading and seeing in the woods.

The bulbs themselves are AWESOME. They're super light weight and they emit a ton of light.

These guys are so useful! I am so glad I bought them for our recent camping trip. So much easier to use them a bulky lanter. They are bright.

I hung these in our tent and shelter when at summer camp. All it took was a simple line across the shelter and tent to hold them and they didn't weigh it down. They are great tent lights and when easy to reach.

They worked awesome for the inside and outside of the tent. I used them during my last music festival.

These little lights are fantastic in our tent! Being able to hang them where we need light is so helpful. Having several settings for light strength makes them invaluable.

These little guys are perfect for our RV trips. They are versatile. We can hang them anywhere with the handy hook!

So far I love these lights, very very bright!

Bought these for my little nieces and nephews at a camp trip and it was surprisingly very bright light and it had different settings which was cool! It also helped us find a shoe we lost in the bushes at the campsite. It helped the children get through the night. One feature that is helpful is the hook so you could hang it anywhere. Battery life lasted all night long then needed to be replaced.

We recently experienced a power outage during a storm, and I definitely am glad we picked up these camping lights.

These were perfect for our camping trip. So convenient that they can hook on the inside of the tent, really helps to have a free hand. Highly recommend these lights.

Love these things. they are brighter than expected and have three different settings. perfect for hanging in an RV, tent, basement, cellar, you name it where ever you need a light.

These lights are fantastic! I wish I had bought a couple more sets, and I will buy more for our next camping trip. We had been using some battery operated lanterns but they were blinding. These lights emit a nice soft glow. We used them for 4 days and didn't have to change the batteries.

Handy for power outages! I thought they'd be a bit brighter, but they do the trick just fine. I'd have liked an option to shade the sides and direct the light a bit more as the glare of LED's hurts my eyes, but for someone without an eye condition probably wouldn't be bothered by the glare. The hooks are nice to hang them. In a power outage I can hook one on the shower curtain or a hanger in the closet and see.

Super bright and perfect for Camping! I use these every time I go camping. I just hook them to my tent roof and turn it on. Super easy to do.
Share