Electric Ear Nose Hair Trimmer
Regular price
$0.00 USD
Sale price
$19.99 USD
Unit price
per
Sale
Sold out
Next-gen trimming technology
Make sure you look your best, every day, with this stylish Electric Hair Trimmer. It is an amazing tool for removing hair in hard-to-get places, like the nose or ears, trimming your beard or eyebrows. Maneuver the non-toxic stainless-steel cone tip with confidence for a perfect trim. A high-quality versatile tool that will help you transform your grooming routine!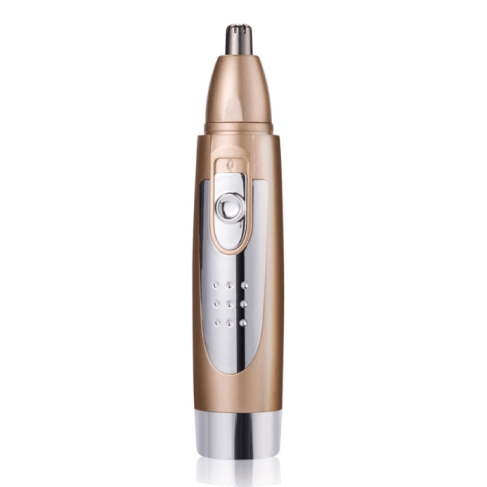 Electric Ear Nose Hair Trimmer details
100% safe
Optimized for nick-free trimming. No risk of electric shock or burning if used properly. Ergonomic non-slip handle for strong grip and unmatched control.
Easy to clean and carry around
Clean after every use. The detachable head is washable. Pocket-sized, perfect for travel. Comes with a paper case for convenient storage.
Safety guidelines
Keep away from the water. Use only high-quality AA batteries. Do not push on skin hard while trimming.
Specifications
Made of quality ABS and aluminium. One-year warranty. Size: 12,7*22 cm. Color: gold. Works with 1xAA battery.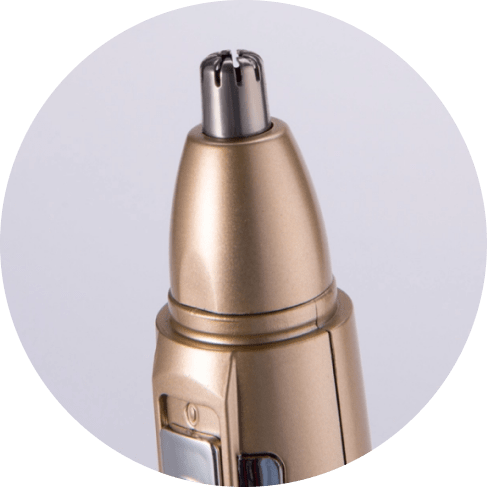 How to use
Turn the power button on and slowly insert the ergonomic cone tip into your nose or ear. Don't push the cone on your skin too hard. Allow our electric hair trimmer to trim hair for at least one minute, then detach the head and clean the device. Let the tip dry if washed with water. The final step: enjoy your new smooth look!
I have used several nose hair trimmers in the past and had a horrible experience. They normally pull at the nose hairs which causes pain and my eyes to water. I also had one that would smell like it was burning or causing my hair to burn as it was in use. Because of my poor experiences in the past I decided to revert to scissors for this job. Unfortunately that takes a lot of precision and I felt very uncomfortable with scissors up my nostrils. So I decided to give this trimmer a shot. And this product is great! It cuts through the hair quickly and with ease. There is no pulling, pain or bad smell generated from the use of the model. It feels nice and sturdy in your hand and can finish trimming the undesired hairs in an extremely quick time. I have had the product for about 2 months now and was able to really put it to the test a couple times.

All men should have this. Doesn't tickle, doesn't hurt, easy to use. An Essential Manscaping Tool. I see guys with hair coming out of their ears, nose, and long freaky eyebrow runaways and all I can think about while they're talking to me is why they don't get one of these and take care of those issues. Dude, do yourself a favor and clip that stuff. This product, in particular, is better than some of the other ones I've used in the past because the smooth round protector doesn't tickle or make me sneeze.

I had some long nasal hairs that were tickling and caused frequent itching which were nearly impossible to cut with scissors. I reluctantly purchased this trimmer and it easily trimmed those hairs. I was pleasantly surprised. It is important to be patient. Watch a couple of YouTube videos on "how to". Make sure to turn on the device BEFORE inserting into the nostril. Blades should be disassembled, rinsed separate from the motorized device, left out to air dry and then reassembled.

I am well pleased with this ear and nose hair trimmer. It takes awhile to get the hairs to slip into the tiny openings where they will be cut; and this is my only minor complaint. We are so used to instant everything in today's world, it revealed itself to my consciousness when I could not have instant trim/cut down to skin level. I'd heartily recommend this product. But I have no other trimmer/clipper/cutter to compare it to. I liked the reasonable price as well.

My eyebrows are bushy, like on some old men. If I let them grow wild, it can be embarrassing, so I use eyebrow trimmers. After the last one died, I decided on something that looked more durable. This trimmer was a great buy. It has a solid construction and is more versatile than my previous one. I can use it on my eyebrows or in my ears or nose.

I'm 40 years old and about 4 years ago, I began nose puberty. This thing is awesome and for as cheap as it is, there's just no reason to have the dreaded old man straggler hair creeping around. It's so cheap in fact, I couldn't believe just how effective it was/is. Everybody should have one of these once that part of life begins - you won't regret it!

Just received this unit. Very lightweight, easy to use. Does the job, though I wish the cutting head was a bit larger, to reach the ear and nose hair on the first pass. Still, a comfortable device to use, and far better than using scissors or pulling.

I bought this for someone that is new to nose trimming and was quite intimidated about sticking something up his nose. After staring at his gift for a few days, he gave it a try. He said it was very easy to use, and it didn't hurt one bit.

This is nice and it works well. I like the design, it keeps it's cap on securely. Which hasn't been the case with other models that I have owned. This one seems to vibrate less, and doesn't tickle my nose as much as some others.

I like the small design of the trimmer, but it just doesn't do a very good job of cutting. It doesn't trim very far, so I end up having to use it more frequently. I want a closer trim.

I have used this item several times and it just doesn't work as well as I hoped it would. It doesn't seem to get my nose hair without a lot of work.

I hate my extra hair, so this helps me. I've had other trimmers and they are harsh compared to this.

I wish the cutting part that you put in your nose and ear was longer so to get deeper service

Great personal grooming trimmer. Best I have ever owned - wife loves it also

It doesn't pull or tug on any hair. It's a perfectly painless experience. I love it!

I love this item. It's fairly quiet, does a good job and cleans up easily!

The Best Ear & Nose Hair Trimmer!
Share