Double-Sided Facial Cleansing Brush
Regular price
$0.00 USD
Sale price
$16.99 USD
Unit price
per
Sale
Sold out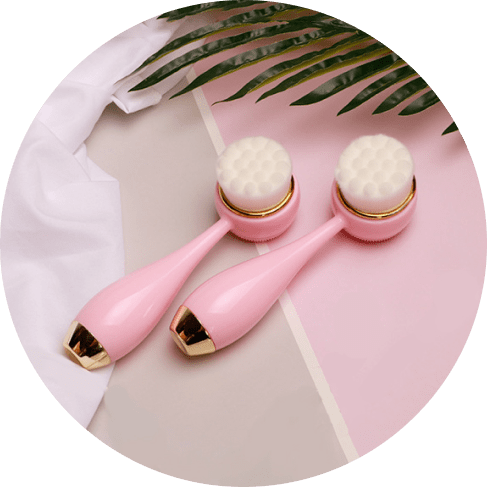 Step up your skincare game
Make your skin glow
Treat yourself to a perfect facial with the Double-Sided Facial Cleansing Brush! This brush is a great tool that will help you clean your skin properly and minimize the appearance of fine lines and wrinkles.
About the product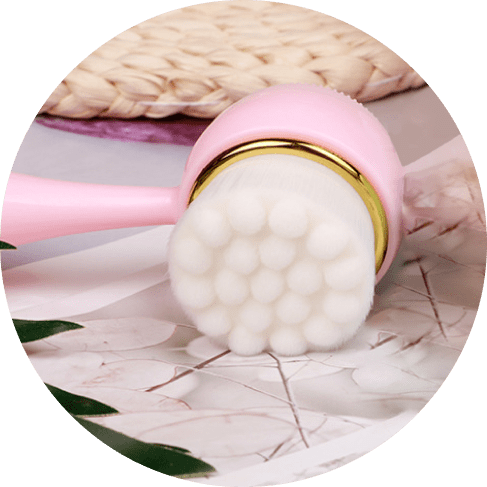 Perfect for sensitive skin
Don't worry about damaging your skin with this cute pink cleansing brush! Its bristles are super soft, and silicone bristles on the back of the brush are even softer, which allows you to clean your pores gently.
How to use
Apply your favorite cleanser to your face and neck. Dip the cleansing brush in water. Move it over your face in circular motions for a couple of minutes.
Cleaner, softer and fresher skin
Turn your bathroom into a luxurious spa with this wonderful Double-Sided Facial Cleansing Brush! This brush will gently and effectively clean your skin in a matter of minutes, remove all impurities, yet preserve skin elasticity and make it tighter-looking. Enjoy clean and glowing skin every day!
I was going to purchase a battery-operated face brush/scrubber but decided I can move a brush around my face just fine. I love the softness of the bristles and the concave design. The silicone bristles are stiff but not too stiff. I applied facial cleanser to my face first vs. on the brush. I didn't need nearly as much as I did when I washed my face with my hands. The brushes lathered up my product quite well. The base of the handle is just the right size to stand on its own to dry. It provides a very gentle cleansing.

I wash my face with this every night and I love it. I feel like it's cleaning my face way more than using my hands. I use the very soft white side first then scrub it with a soft pink side. It's not rough at all and feels really nice in my face. It wasn't expensive at all and has great quality. I'm very happy with it!!

This little brush is soooo soft... and the silicone pad took all that dead gunk off that washing alone just doesn't get... with no sore spots afterwards!!! My face was left soft, smooth and at 50 yrs young... my skin actually has a baby soft feel and glow!!!! WOW! I'm so glad I went with this lil brush!💞💯💋😉💁🏻‍♀️

The best facial brush I've purchased thus far! Very soft bristles but full enough to really give you a great cleaning. No weird smells and none of the bristles have fallen out and I've had it for about a month! Would recommend!

I bought this facial brush for my little brother. He has very sensitive skin. A lot of brushes would irritate his skin. This brush is well made and soft!

This brush is very soft even for the most sensitive skin. It's easy to use as it gently cleans your face, I highly recommend this brush.

Super soft! I like the rubber side more than the brush. My face feels much cleaner using this instead of my hands.

This is a great brush that can be used in order to get that built-up gunk and dirt that can build up across the day, as well as get that last remaining makeup that could be present. I have noticed that after using this, I have had tremendous success with keeping away acne as that is something that I would have constantly. I also can feel that it seems to get my skin cleaner. The only word of warning is that it is difficult and a little time-consuming in order to clean the brush after use adequately. I find myself having to scrub at it in order to get all the soap out of the bristles and that could be because of the bristles being pretty packed. Overall I do really like the product though!
Share