Diaper Changing Kit
Regular price
$0.00 USD
Sale price
$32.99 USD
Unit price
per
Sale
Sold out
Diaper Changing Kit
Compact and easy kit for moms on the go!
Let's face it, babies need to be changed at the most inconvenient of times! Lugging around a heavy, bulky diaper bag into the restroom is a pain. If you need something quick and easy to have on hand for a change without all the drama of a diaper bag, this Diaper Changing Kit is the perfect solution!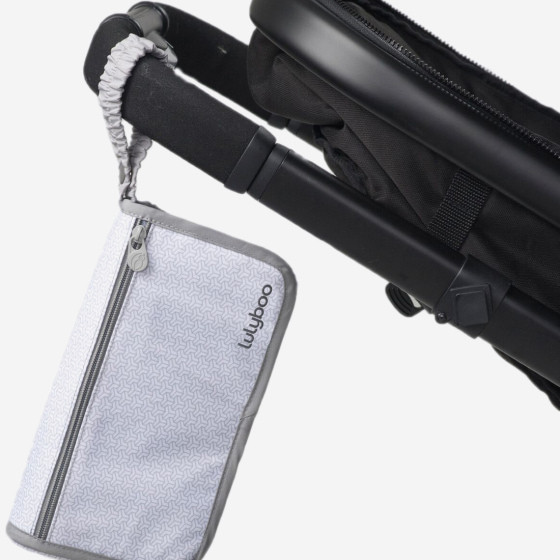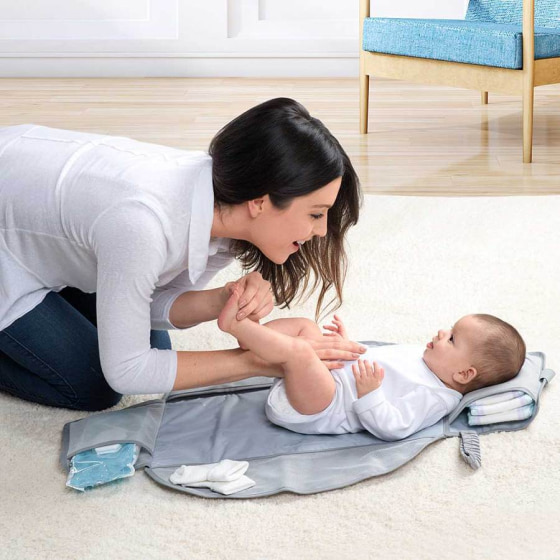 Be prepared anytime, anywhere
Diaper Changing Kit: features and details
Fits all the essentials
On the interior, our kit has four pockets of all different sizes that fit everything from wipes to diapers, and even extra clothes. On the exterior, the bag features a convenient outer storage pocket that is perfect for parent valuables like phone, keys, etc.
Comfortable for your baby
The unique and ultra-soft diaper pocket doubles as a head cushion to protect and comfort your baby's head during changes.
Easy to clean
Hygiene is important to the health of your newborn. The changing surface wipes clean, so you can change the baby with ease whenever necessary.
Collapsible design
When you're done changing diapers, this kit folds neatly into a stylish and modern clutch with an outer pocket, so you can carry your essentials without the bulk of a diaper bag. You can also strap it around your stroller handle to stay hands-free.
A great gift for new parents
If you've been searching around for the perfect baby shower gift for the new mom in your life, you've found it! Dimensions: 8.5" l x 5" w x 2" h. Weight: 2 lb.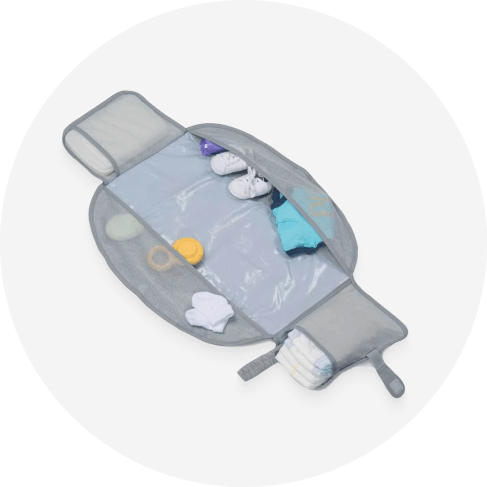 About Lulyboo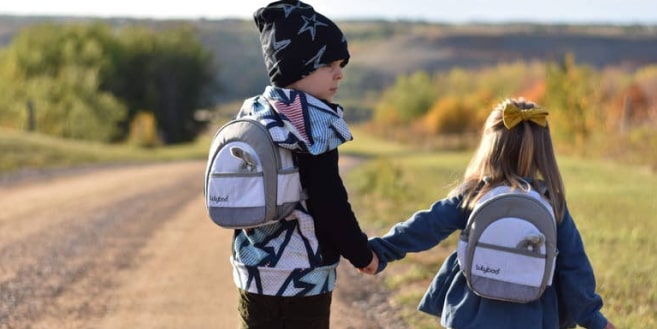 LulyBoo is the culmination of love and ingenuity. LulyBoo was created by Pazit Ben-Ezri, a mother of four looking to simplify her life and comfort her babies. Pazit's first lounge was made in her kitchen, mostly with household items. From these humble beginnings, grew what is now LulyBoo, and its wide array of stylish, high-quality lounges and other travel baby accessories. LulyBoo products wrap babies comfortably in love, while giving you the convenience you need for an active daily routine. These are products for the modern family. The LulyBoo line of signature products and accessories provides the ease of portability, without sacrificing your baby's comfort or safety. These versatile products are designed by a mom, so simplicity and functionality come first. Whether you're going to the park, the supermarket, or even to another country, Lulyboo creates a special place your baby can call home, wherever you take them.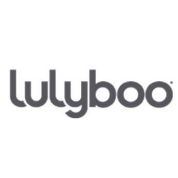 Designed In
Lake Forest, California
This has been a staple for me as a new mom. My baby is now 18 months, and I have used this diaper clutch since he was 4 or 5 months old. This is much better than bringing his diaper bag around, which I now only use for longer trips such as staying a weekend somewhere. I've had mine for a while now and it's starting to show signs of all the usage it's gotten, so I'm going to be repurchasing it because it definitely works for me.

I absolutely love this product! I registered for one with my first child and a second one for the next one! They are so handy, easily fit in any diaper bag or small backpack! (What I use for quick outings) I can fit a couple of each kid's diapers, a couple disposable changing table covers and a travel size pack of wipes. I also keep a few baggies in the side pockets for the really stinky diapers. I studied lots of these and this one covers the basics and that's what I was looking for all while being compact! I recommend this quick and easy changing kit for moms on the go!

Thin, Small, lightweight,Convenient but have everything you need! love it! Everything in one place! I especially love the diaper pocket which can be used as a pillow for babies when changing. And the storage space is enough for me even though I have twins, because I really don;t like to carry a huge diaper bag out! perfect for me. It's perfect for my newborns. I am quite happy with this product

I bought two of these for baby shower gifts. One of the gals thought she didn't need anything being this baby boy being her third, however, she wanted this!! It seems so basic and fundamental yet I had never seen these before!I have used it for almost two months now and it's still very cushioned. It's a great item! Highly recommended

I love this changing kit. Being able to put everything in one place is invaluable when it's time to change your child when you're out and about. What I also like is that the diaper section acts as kind of a pillow for your child when you lay them down.

With a little padding in the center will be better.

This product is perfect when you don't need your whole diaper bag. I keep it strapped to my stroller handle. One con is that the clear pockets on the side don't close shut so the stuff you put in them comes out easily.

Was on my cousin's baby shower list and she was so grateful to get this!! These are the perfect little helpers when changing babies on the go!

A must have if u are a parent!

I wanted a small changing pad I could put in my purse and this fit the bill. I keep about 3 diapers in it and wipes. It is thin and compact and easy to use.

I love this changing kit! It looked cute and handy for me so I gave it a try! and I LOVE IT! I have bought other brands and did not like them. I gave them to my friends and kept this one only.

I love knowing my granddaughter will have a clean spot to be changed when out & about. All the storage pockets are nice too.

This is great for my baby who is now 16 months. Much larger than the one that came with his diaper bag and comfortable on hard surfaces because the diaper storage serves as a pillow.

So handy. Fill, wrap and go...

Concept is okay but very small. I think it's meant for newborns -7 or 8 months old.. depending on height.Didn't cover all the area for public changing...

Adorable! Great packaging

I love everything about this changing kit, it's the perfect size, easy to clean, very well made, it has the perfect amount of storage space, and it's easy to travel with.

I love this! You store diapers up by the head so that the baby almost has a pillow. The wipes are stored down at the bottom where you need them to be. It also has pockets on the side for other storage.

I absolutely love this - it has been a life saver. It is easy to wipe clean - if it gets really dirty for some reason we just hose it down in the shower. It fits in a purse, is easy to transport. The only reason I'm docking a star is that if you put things in the long side pockets you can't really fold it tight enough for it to close.

I bought this product because I wanted something that would cover those public changing tables. It is EXACTLY what I needed for my granddaughter!!!

Purchased as a gift, they loved it

I have one myself and loved it so much that I had to buy one for my sister-in-law. This product is amazing. This one is durable, versatile and very chic as well. I highly recommend it to any new mom.

This is a perfect product and has all that you need for a newborn.

I love that this changing pad has sides that also fold out. It helps to keep the little one from touching the changing tables. The material is great and easy to clean. Great Changing Pad and would definitely recommend!

I'm using this changing pad everywhere. I love it because it creates a cushion for the head and it fits everything I need for quick change, even my car keys and cards. Recommend

Carry in the stroller - Has saved us many times! Great quality!

Everything in one place. Thin changing pad.

So useful especially while travelling or going to anyone's places. Super design.

Compact with lots of storage options

Lightweight, easy to unroll with one hand while holding the baby. Love it!

Soso.Being on the go with a baby isn't easy but this definitely helps

Fits perfectly inside my diaper bag!

Best thing ever made.Small and compact
Share