Cordless Compact Car Vacuum Cleaner
Regular price
$0.00 USD
Sale price
$69.99 USD
Unit price
per
Sale
Sold out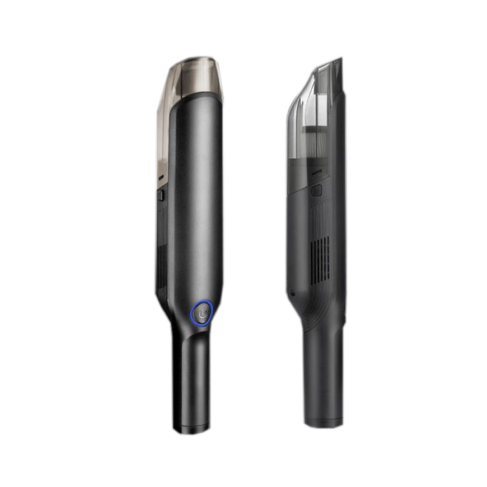 Experience 4000PA cyclonic suction in compact form
You don't need a standard household-sized vacuum cleaner to get your vehicle interior spic-span clean. And there's no reason to struggle with dragging such a big machine out to your car for detailing -- especially when we've got something that blends high performance with smaller size. Our Cordless Compact Car Vacuum Cleaner measures just 14.88 inches in length and weighs just 1.45 pounds for an easy-to-store cleaning powerhouse right in your car.
Big performance. Small size.
Built with a washable HEPA filter and 600ML large-capacity dust cup, cleanup of dust, crumbs, pet hair, and allergens is easy (and incredibly detailed) with our little cleaner device. Recognized as a leading filter that's often found in larger-sized vacuum devices, HEPA reduces the possibility of recycling debris back into the air as you vacuum, making it a standout feature on this otherwise small-sized vacuum. The filter is washable with water for reuse over and over.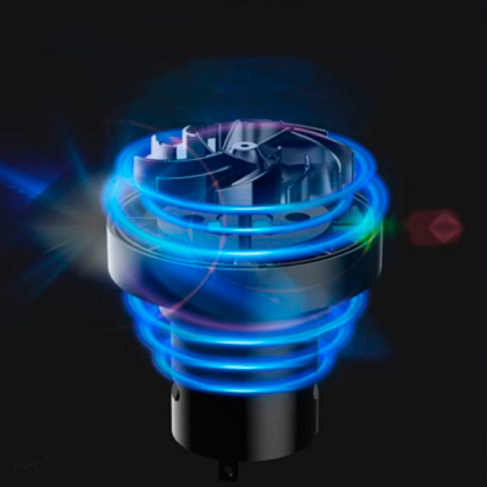 Go cordless (for convenience)
Our Cordless Compact Car Vacuum Cleaner comes in a completely wireless model for cordless use that's fuss-free and ergonomic. Our vacuum comes with a micro USB charging cable that plugs into ensures cord-free use while being fully charged.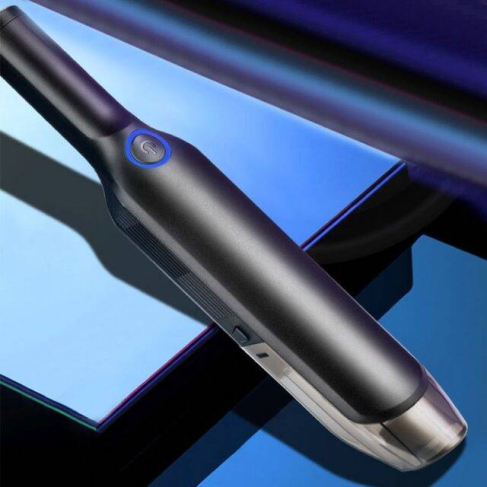 Premium power for incredible performance
Although compact in size, our compact vacuum device is designed with a 60W power turbine motor that provides stable, powerful 4000PA cyclonic suction for powerful cleaning and suction. Crumbs, dust, and dirt don't stand a chance with our ultra-cleaning power. On top of it all, this clever device is relatively low on noise, clocking in at 70-75dB (some car vacuum cleaners register at around 82dB). A built-in power-level indicator will use red and blue light to signal to you when the device is charging, low on battery, in use, or fully charged.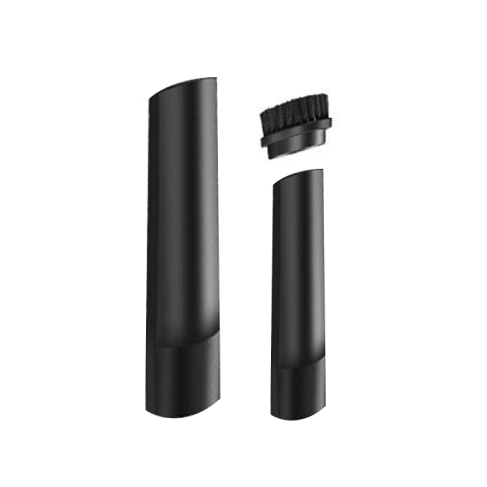 Accessories included
Your order comes with two handy attachments: a brush nozzle and a tip nozzle. Both help you reach deeper into crevices and cracks and textured surfaces (between seats or gear-shift knob and cup holders) for richer, better clean.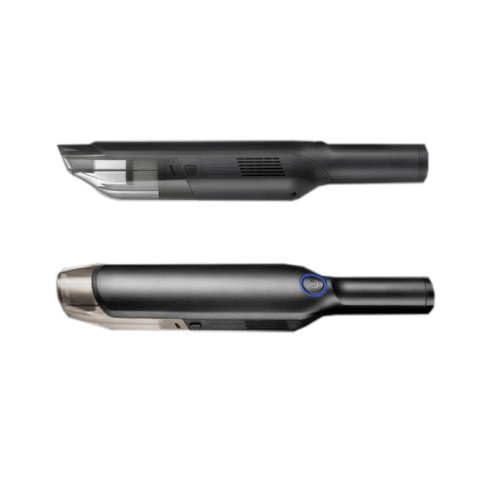 Power up in as little as four hours
Working on two 2000 mAh high-capacity lithium-ion batteries, the Cordless Compact Car Vacuum Cleaner reaches full power capacity within three to four hours.
Clean with 2 performance modes
Our vacuum has a standard mode which runs for 20 minutes and an enhanced mode, which runs for 15 minutes. Note that each full-charge allows for only one mode cycle of use.
Not just for the car
Just because it's called a car vacuum doesn't mean it's only for your vehicle. Take this vacuum into the house or office to maintain small-scale cleaning of sofas, seating spaces, or your work desk. Note the vacuum is not designed for heavy-duty cleaning like house- or office-wide carpeting and flooring.
I'm really glad I managed to get car vacuum cleaner online with such a prompt delivery and on such a low price

It does what it is meant to. I really only use it for cleaning up in my study so I don't have to carry the large vacuum upstairs for minor spot cleaning. Good enough suction (when using the attached brush) to pull up a fair amount of dog fur from the sofa chair.

Exactly what I was looking for to help me clean up the odd and end places in my home! Perfect for windowsills, crumbs, cabinets, staircase, desk, laundry room and more! Lightweight and easy to use....I wish the battery life was a bit longer, but it's not terrible. recharges with usb cable. Decent suction for what I use it for. Easy to clean too. super affordable. With all that said I highly recommend this product- Would be great in a car as well.

top quality, no drawbacks. clean all the dust and hairs in the car. and i have a lot of hair as my labrador constantly shedding))

I've wanted a small vacuum for the espresso making corner of my kitchen because I'm always getting beans and grounds everywhere and this rad, bad boy is the perfect solution. Slender, almost wand like- it's small and powerful, it's the practical choice for small jobs in tight spaces. I no longer chase beans or fight espresso dust, just a push of the button and the little tornado does the rest.

I didn't have high hopes but am pleasantly surprised. It isn't full size, and doesn't have industrial power. It won't pick up every last tiny speck. But it gets the job done, and for the price, size, and fact that you don't need to pay to use a car wash's vacuums or use an extension cord with an outlet, makes it a fantastic buy, especially if you eat in the car or have kids.

This is the best auto vacuum I have used. I have only had it a week but already it gets the things that other vacuums have not gotten for me. The fine dust, etc. that collects on the dash and console. This has an attachment that loosens it and then it sucks it away. It also gets the big stuff that other vacuums get, but I can haul out the house vacuum if I want that. The attachments here seem built and thought out for a car as does the design and shape of this machine.

Great unit! Smaller than I thought, but perfect for cleaning out our vehicles. We have a Dalmatian and she sheds really bad, but this thing is wonderful in getting all that out. The attachments are a bonus and extremely helpful when cleaning the hard to reach areas. I highly recommend.

Very cool little vacuum. I bought it because I have a tiny bathroom and wrestling a broom or full size vacuum in there has gotten tiresome. This little thing picks up hair etc and Is great for picking up dust bunnies throughout the house In between vacuum jobs.

Great little vacuum, perfect for the car, for quick and small vacuuming. I do wish it had some more power for its wattage/amperage -- it's weaker than I expected, but good enough and I expect should get the job done. I suppose I can't expect it to have the power of a full-sized vac. I'd recommend it to others as long as their expectations are reasonable.

We used this vacuum on our cars a couple weeks after it arrived. For some background I haven't thoroughly cleaned our car in quite some time and this vacuum did a great job on the interior! The suction is strong, very quick and easy to dump out the canister, and the cord reaches all throughout the vehicle. We are very pleased with this purchase. Thanks!

The suction isn't as strong as I'd hoped, but it gets the job done. It's lightweight and easy to empty. No issues. I just wish it was a little more powerful.

The length of the cord is not a problem as my car has 12 volt jacks in both the front and rear. It does a fantastic job in picking up big and small debris (lint, dust and hair) alike. Before getting this vacuum, I was considering a large one. After using the ThisWorkx vacuum, I was glad I didn't. I saved some money. The attachment can get into the tiny areas a bigger vacuum can't reach. Another big plus is that the noise level isn't too loud. Cleaning is easy and the filter can be rinsed with water if needed. I am very happy with my new car vac!

Does job.. pretty lightweight for quik use.. suction seemed pretty good .. all this after 1st usage.. really no disappointments.. plenty accessories plus multiple charging options.. best is cordless above all else..

Quality is good, gets the job done. Surprisingly love the light on this! Didn't expect it to be a useful feature, but it actually is great when vacuuming in darker areas (like under dash where gas and brake pedals are). Nozzle attachment works great. Easy to empty when done. Love that it comes with bag, keeping everything secured and together in one place! Plenty of room in bag to add a few smaller items if you'd like. I tucked in a small swiffer duster for quick dash dusting). Only con for me: I found the extension hose to be a bit too flimsy to get in to the hard to reach spots.

I would love to LOVE this product the way others have shared their reviews but to me it needs more suction power. The small attachments that it came with is pretty cool coz you have a lot of options to choose from based on how and what you need it for. But again, the suction power isn't strong enough. I would think this is good for quick clean up example if you have kids in the car that made a mess.

It does what it needs to do but could be much better. Suction is okay, nothing to rave about like some other reviews but it was enough to clean my car from dog hair, crumbs and dust pretty well. Wish it had a little more suction but seems like it has "just" enough to get the job done. I leave this in my car at all times just in case. There may be better options out there but I haven't tried any others to make a better recommendation.

I bought on sale, was delighted with the quality! EXCELLENT AUTO VACUUM! This is a terrific vacuum cleaner! Very easy to set up! This baby does the job! I drive for both ride-share companies and make it a point to keep my car spotless and this small but MIGHTY vacuum does the job! A clean car gets better tips!!!!

I'm glad to have such a great stuff in my car. Yes, it is not a powerful as my vacuum cleaner in the house, however, it cleaned out all the garbage, which I accumulated over the past autumn and winter in the car. At the end of October my husband and I went to the ocean and as we tried to be neat - the sand was still in the car. Finally, I got rid of it! Now my beauty again is clean, as on the first day, when I bought her))))

my dad like this car vacuum cleaner, bought for him as xmas gift!

Great little vacuum! I have used it twice so far and I am not disappointed. I got a follow up email a few days ago from the seller, the p.p.s stated to turn on the engine when using the vacuum. I found that out earlier as I had the stereo on in my truck while vacuuming and noticed the sound degrade from my speakers, I started the engine and all was good again. I cracked the brush accessory by accident trying to fit it over the longer adapter, but it seems to still work fine. The carrying case is very nice and everything fits in it.

I have been looking for a hand vacuum for months but reviews on a lot of products were hit or miss. I decided to take a chance on this one because I liked how compact it was and so far so good! It has great suction power, easy to clean, decent battery life. I mainly use it for vacuuming up dirt and dust around the house in hard to reach places. Highly recommend!

I don't understand the reviews stating it's lack of suction. Yes, it's not super powerful but it works! I don't know what people expect from a small car vacuum but it works great to pick up dirt and crumbs in a pinch. The accessories are useful and the extra filter is clutch.

Good quality vacuum cleaner, exactly as described, recommend this store. This Vacuum is a godsend! For anyone with kids, dogs, or maybe a clumsy husband... this is for you!

all as described. insanely satisfied with the quality of the vacuum. it cleans all the dust and bread crumps right away.

I got this early for a Christmas present and I was starting to worry over all the return it email I was receiving and the item was not even opened yet!!??? My wife was a little whinny about it at first till I demonstrated how it works and I like it even tho its her gift and after it demo-d it she was like oooh ah, and I'm like ok! But it is nice and I stated it's not the 5hp shop vac your used to using and it is better if you have a weak battery to have the car running. I read all the reviews on all of these products and I feel this is a very nice machine that I will be stealing from her to clean my diesel suv with dual batteries that everyone drops extra cheese and french fries between the seats at the drive-in!!

This little vacuum is the bomb! I just got a new car with black interior, so as you might imagine, I can see every little speck of dirt etc. Using this car vacuum, every speck quickly is taken care of. The cord is long enough to reach every part of my SUV, and the attachments are all useful for different areas of the car interior and floorboards. The filter is easy to remove and is replaceable with the free filter provided. There's also a little brush included to help dust any debris getting caught in the filter. You may also wash it by hand. The suction power of the vacuum is pretty strong and with the attachments, it makes the job even easier. I use the brush attachment to get my seats and areas with cat hair, and the hose type attachment for little cracks in the doors, console and between/under the seats. Using the vacuum without an attachment works well for my rubber floor mats as well as other areas. Finally, this vacuum, all the attachments, extra filter, filter brush and super long cord all fits neatly into the zippered canvas case. As a whole, this vacuum is something I love so much that I'll be ordering a few more to give as Christmas gifts this year.

Decided to buy this vacuum cleaner because we have a baby and we need to keep our surroundings clean. We were pleasantly surprised with the quick delivery, packaging and the bag that it came with making it very convenient to carry around and keep at one place. The vacuum itself is powerful, easily cleaned out the sand from the car seats, as well as the other dirt form the floor mat. The chord is long, so you don't have to worry about the back seats and trunk. Easy to clean, comes with an extension to get into narrow spots. We're satisfied!

car vacuum cleaner is worth its price. can recommend it to any car driver who wants to keep the car clean without hesitation

I was highly skeptical that this product would be great. + The unit itself is very easy to clean. - The suction power declines greatly when the vacuum is not even a quarter of the way full. + It's great for cleaning up sunflower seed shells, and other small wrappers. + The light on the vacuum is very helpful for seeing between seats and under them. Overall, buy it or at least something similar

I am contented. This was a striking obtainment with a wonderfully superior quality for such a tiny little money paid. It's totally what I was assuming it would be. I just received it a couple of hours ago and made use of it at once. As a result of the try-on, I am really thankful and would advise to anyone!

This is doubtless one of the best, if not the finest deals of thiskind I have ever had the privilege to use. I have the impression it is a good deal. It was received in advance of what was it was predicted and saved me a lot of hassle, since I needed it at an early date. I was pleasantly enthusiastic with the customer service. I item itself, have not spotted any criteria toblame. wholly recommend.

Omg! I found this on products you didnt know you needed- but you definitely do need this!!! So ligh weight and does an amazing job. The battery was done and needed recharging after doing each car but totally worth it!!! Love it!!! And I think some people might be getting these as hoilday gifts!!!

Thank You so much for this product. Good quality and good price. I recommend this Store :) This thing is awesome! I only a 2018 Dodge Durango that sadly does not have leather seats. I own three dogs and it is just a nightmare pulling out my extension cord to vacuum my truck. I can now just plug this little guy into my 12v car outlet and I'm good to go! The power in this vacuum is as good as it's going to get for a car vacuum so if you want extreme suction - buy a shop vac. Also the attachments are fantastic.

I wanted a vacuum that I could grab quickly and easily and spot clean multiple times a day a thick child's play mat (used for my young dog) and this is absolutely perfect. - It has enough power to pick-up every particle, but without being "gagged" in pulling up the whole pad or getting corners caught in the open end - as with a standard vacuum. It's quick and light and I feel like I've accomplished some satisfying cleaning even with a couple of minutes of use.

Love the vacuum. A few things to consider it is super easy to clean and it gets in small spaces normal vacuums at car wash places do not. The suction is great. I just got it so I can't speak on the battery life but it is rechargeable so it shouldn't be a problem. Love the size and sleek look. Fits perfectly in my car tool bag.

For a car vacuum, it works fine. Not nearly as much power as my home vacuum, but its a lot more convenient, efficient and does what it needs to do.

Great for quick clean up! Love the slim size compared to other hand vacs on market. Keep it on kitchen counter and use it often.

The suction power of this vacuum fell short of expectations. Even at full power, the suction power felt lacking and was even unable to suck up hairs from the chair. It's best for suctioning up dust bunnies and other small particles but not the greatest if you want a strong suction power. It is lightweight and portable which made it easy to use. It also took forever to charge the battery to full charge.

I love the idea of this little vacuum but it barely has enough power to get the beach sand in my SUV. Even hard plastic mats it has a tough time. Bummer because I love the size and being able to store with limited impact to space.

This vacuum is excellent to keep tucked in the trunk of my SUV. It works pretty well, but will not get small particles, such as saw dust out of carpet. I would not recommend this for deep cleaning, but it's perfect for light touch up cleaning or maintenance cleaning!

There are no excuses not to have a clean car now! This vacuum is quiet, so no loud vacuum all up in your ears, which is nice. It easily sucks up gravel, grass, dirt, debris. This is the first car vac I've had, so I have no comparisons, but I can say I wish I would have bought one of these sooner! I love it! Get ya one and don't look back!
Share