Car Wireless Charger Cup
Regular price
$0.00 USD
Sale price
$48.99 USD
Unit price
per
Sale
Sold out
Sleek + powered for on-the-go convenience
Create the ultimate charging station right inside your car. Our Car Wireless Charger Cup lets you charge your smartphone and AirPods by connecting the cup right to your car port.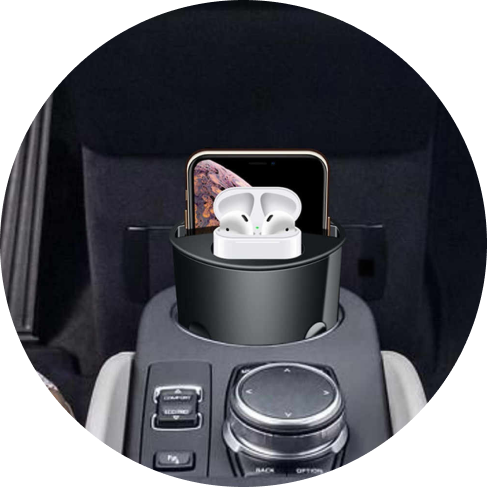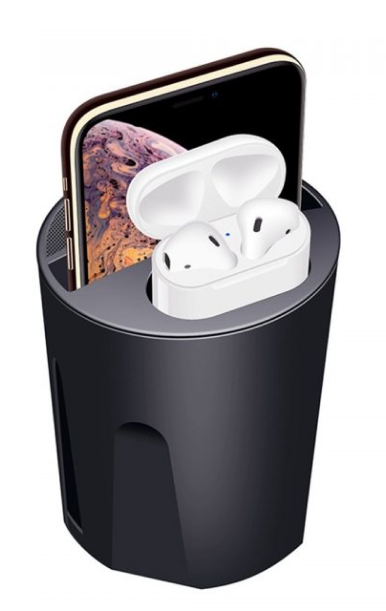 Insert to charge
With the cup powered up, all you have to do is stick your smartphone into the phone-charging slot to charge up. AirPods work the same way (just put the case into the charging port). Note that your smartphone must support wireless charging, or else it will not charge. For AirPods, both wireless and traditional models will charge due to the presence of a charger plug.
More help for more power
Not wireless? Don't worry. Our Car Wireless Charger Cup made of PC-ABS material features two USB ports so friends and family with non-wireless phones and devices can charge on the go as well. Note USB charging cables are not included.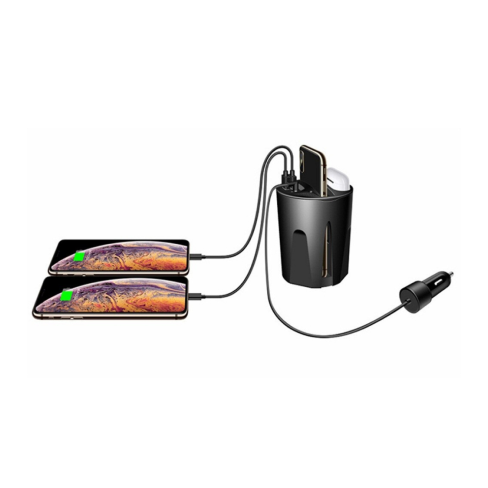 Fits just about any cup holder
Measuring 4.3 x 3.4 x 3.2in / 110 x 88 x 82mm (weight: 9.6 oz), our charger fits standard vehicle cup holders for a snug fit. Simply plug in the port adapter to power up the cup!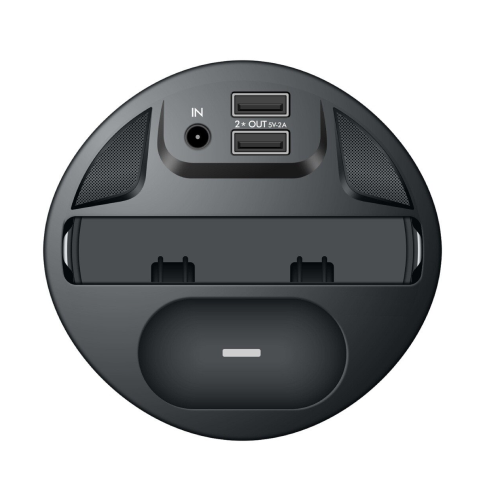 I received the order today. very fast shipment. I am very pleased with the item. Just what I was hoping for. The quality, fit, and appearance is Excellent! I will refer this to all my friends and family. I must say this is the first time I got what I really ordered. without having to settle with what I get. I am very picky with my F150 and am proud to add this to my ride. only thing is, can't see it when I close the lid. Thank You for the stress-free order.

Works perfectly. Fits perfectly in my 2018 Forester cup holder and charges my iPhone 8 in an otter box symmetry case just fine. My buddies caseless 8 plus fits too, but I don't think he would fit with any kind of case. This product is perfect for me as I have wireless CarPlay in my car. And this got rid of my last loose wire.

so this was a gift purchase for the wife and she loves it! The perfect solution for the charging situation. Fast charging and phone slip in and out with ease. She didn't want something stuck to the windshield and this worked perfectly.

It's pretty good. I like the fact that it is very sterydy when inserting my Pixel 3 XL. The inside has a moving clip that sort of feels like it locks in place when all the way down. It also fits a thin MOFI case I have on my phone. Just consider that it is that it's a bit tall in the cup holder. The placement of the power cable is conveniently located on the top. Absolutelyseems like a good product.

Works great, fits my cup holder perfectly. Only thing is my Galaxy S7 Edge in it's case the lock button can git pinned against the side. This doesn't happen with my wife's Pixel 3 with a case. So I believe when I move on to a phone that doesn't have a audio jack I will not have the problem. It doesn't cause me great problems as really it just can keep the screen on, but is a little annoying...

Works great! Charges super fast. I have a galaxy s9 with a case and it fits just fine.

This is a really nice wireless charger, that solves the problem of a vent or flat chargers that often are unsteady in a moving car, and can drop the phone when driving. The installation is simple, just plug it into your car's cigarette lighter socket, and place the device into a cup holder (an extension is supplied for cup holders like the one in my Volt). Then just place the phone in the slot on top. No fuss, and works like a charm. Plugging my phone in each time I wanted to charge it in the car wore down the cable, and I was constantly replacing cables. This cup holder model solved that problem. Also, my USB connections are usually connected to music flash drives, so being powered by the cigarette lighter socket frees up the USB sockets.

Actually bought this for my wife and she loves it, her phone case is just the right size to slide in without feeling jammed in and it is convenient to be able to charge the airpods at the same time. Would recommend to anyone looking for a cup shaped charger.

Good product! It charges with a case which is a PLUS. I have a Spygen Case on my Galaxy S9 and works perfectly. Really Thumbs Up. Keep developing good things... 👌👍

After trying several chargers that did not function correctly, and a good bit of reading, we found this charger that worked perfectly. Very secure where some of the others we tried would not secure the phone that well. So far very happy with this one. But I thought they would deliver it the same day

Works great, just have to give up a cup holder

waiting for my parcel to come, gotta check it myself

it's a really low priced charger, everything else in the store is also great

thanks a lot! excellent work

Very nice, good quality. Thank you very much!

nice quality but it might be cheaper

Probably the cheapest price

This things pretty cool!! Gonna buy more for gifts.

Fits my iPhone 11 (with case)

Wireless charging works perfectly. The design works perfectly. Also power my alexa auto with it (via usb charge cable). My only wish is that it did not have a proprietary cable connecting to the outlet, but not a big deal.

What a cool gadget to have in your car. Easy to install

It looks nice, it is easy to install and it works great in charging your phone.

Both shipment and quality are astonishing. Exactly what I've been looking for.

Currently went on a 22 hour drive to Mexico. This power inverter was a life saver, kept all 3 of kids tablets and eifes phone fully charged the entire drive. Which kept all 4 them busy making the drive very pleasant and not so boring. If your the type of family that likes to travel and needs more than one Car lighter to keep things powered! Than this inverter is for you! I will keep updating as we travelits a must have!

reviews show it's a lovely item totally worth its price. I can surely confirm :-)

absolutely true to the picture. my sibling is happier than ever :-)

Wireless Charger Cup arrived as was promised. quality worthy, much better than expected. Thanks

There are really friendly customer service. I had a lot of questions and it all was answered. I recommend buying here! Definitely!

bought by a friend's reccommendation, it's just like i expected!

I just got it! So gorgeous!

I was worried about safety of free delivery, but the charger cup arrived in really excellent condition and in time. Thanks a lot!

This has a really great aesthetic

This is exactly what I wanted. It charges my phone quickly which is needed as I am navigating all day long.

The quality of the product was good.The shipment was faster than I expected, I thought it would take about a month but it didn't.

Thank you very much, received intact! Everything is perfect, satisfied at 100%!

finally found what i've been looking for!

Such a low priced smart cup charger is truly a bargain. Thanks to the seller!

I wish the opening was a bit bigger, or add a red light, so you can see it in the dark. Otherwise, it's awesome!

it works perfectly but please make white or beige charger. The black one doesn't suit my car's interior

Bought this prior to driving from North Carolina to California. Does everything I need it to do. My only problem is that the plug will occasionally slide out enough from the car where I wont receive power in it and have to push it back in. Other than that, it is great.
Share