Car Wash Foam-Generating Tank
Regular price
$0.00 USD
Sale price
$26.99 USD
Unit price
per
Sale
Sold out
Streamline your at-home car wash
Tired of tediously soaping down your ride, then washing it all off with water? You can combine both steps into one now with the help of this Car Wash Foam-Generating Tank.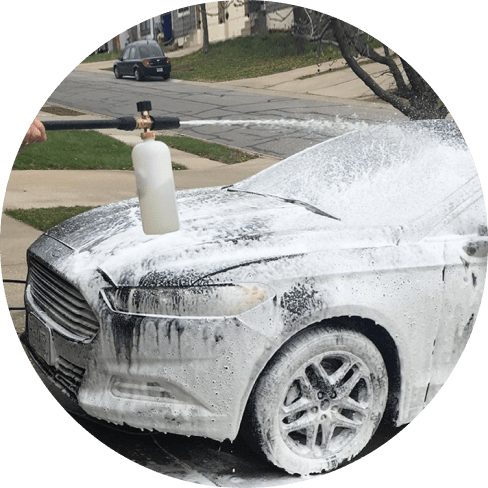 A cleaning must-have
For a fun time (and a quicker work time)
Soap it up
Just add some car-cleaning soap into this one-liter plastic bottle and mix with water for a ready-to-spray solution.
Attach to your standard hose
Our tank features a ¼" copper connector head that screws right onto your hose.
Spray and go
Once attached, you just need to run the water in your hose and twist the pressure knob atop the tank to release the soap solution.
Adjust your spray
From high velocity to a more gentle blast, use the front spray head on the tank to adjust your water strength.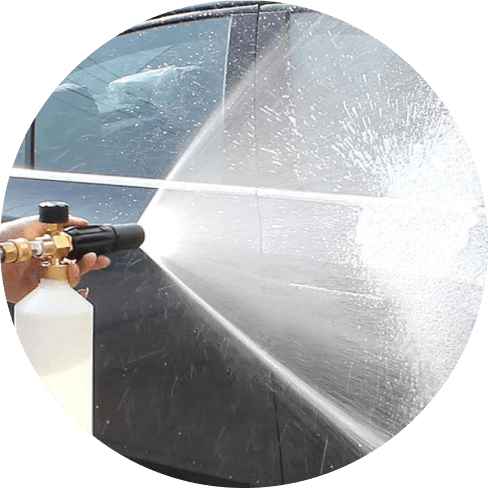 Clean up like a pro
You may not have a fancy drive-thru wash at home, but this 11.4" x 6.3" (L x W) tank can provide the soapy, one-wash-and-done convenience you're looking for.
Awesome! Used it once already, and it worked amazingly well. It takes just a little bit of adjusting to get the amount of foam and the spread right. There are 2 adjustments: the spread of the foam and the amount of water injection, this may trip some users up as the dial is + and -. You could think the plus is more foam but it's more water to get more foam turn it in the negative direction to reduce the water mixing in. One other thing is don't turn it all the way in one direction as it will not mix, the directions explain that if you turn it all the way back it off a little for the most foam. Overall this is an amazing value with the pressure washer end nozzles.

This thing is awesome! It covers my suburban with suds so well you can't see can't see any color beneath the soap suds in seconds. I've been putting whatever soap in it and it's been working with whatever. Lately, I've been using it to clean the siding on my house, it suds it up so fast with the nozzle set to full spread. If it broke tomorrow I'd buy another, it's already earned it's money in a half a dozen uses! I am using it with a 4K psi pressure washer, above it's rating, but it's been fine.

I use this one on my truck with the Armor All ceramic wash and it works great. Where I am I end up with a good bit of dust and dirt on my house exterior. Since our garage door and most of our trim is black it shows dirt pretty bad. I throw just a bit of dish soap in this one on the house and it works really well for occasional maintenance cleaning outside. Using it with a gas powered Simpson pressure washer. Works great and the bottle seems to be pretty thick and durable.

Works great with three different products I've tried... Griot's Foaming Surface Wash and MR. Pink Super Wash. 2-5oz of product is all you need depending on how much suds you want, topped off with warm water. Half full bottle will give you at least one good solid covering, full bottle will give you two washes. Do have some concerns about plastic bottle and brass connection over time, but it is what it is. Solid construction in the canon itself!! Can't beat the price or value!!!

Seems to be very good quality...heavy brass body...I've only used it once with watermelon snow foam. It produces nice, thick foam that lasts...easy to fill, adjust, and generally use...I was somewhat surprised how well it works...really glad I didn't spend a ton of money for the high priced "big name" units...

This tank is made from quality materials including machined brass and stainless, and should last a while. Generates plenty of foam from my Ryobi electric PW with Meguiar's or any good quality car wash when diluted about 1:10 in the container.

This is one of those rare cases where you don't get what you pay for...you get so much more! This is the first and only foam cannon I've purchased. This one works like a charm!

This thing works amazing, I use it with a 3400psi triplex Pump Pressure Washer with no issue at all, I get thick white foam that goes on and holds stuff to the car for several minutes.

First time ever using a foam cannon. I used it with a black max 1800 psi electric pressure washer and it worked wonders!

Took a couple of minutes to master but the results were awesome. Used an automotive wash and wax which foamed great and stayed well on the vertical surfaces and allowed great soak time. Used my wash brush sparingly for stubborn areas and sprayed off. Easy Peasy, turned a really long job into a relatively quick job!

Love this thing. Makes washing my car a lot quicker and efficient. You have to use a soap designed for a foam cannon like chemical guys honeydew foam and you'll be amazed. I've never used any other foam cannon but this works great for me. My only complaint is it will leak a little from the top just make sure to keep it upright. I use it with my electric pressure washer.

Very well built. Fit right on sunjoe spx3000. Used Meguiers ultimate to suds car. Only issue is the adjustment seems to be either full or none. Goes through a lot of soap. I might just need to figure the ratio for the mix of soap and water. Adding straight soap to the container works but uses alot. I diluted it some and it worked the same. I'm gonna try a 60/40 mix next to preserve soap.
Share