Car Seat Headrest Pillow
Regular price
$44.99 USD
Sale price
$44.99 USD
Unit price
per
Sale
Sold out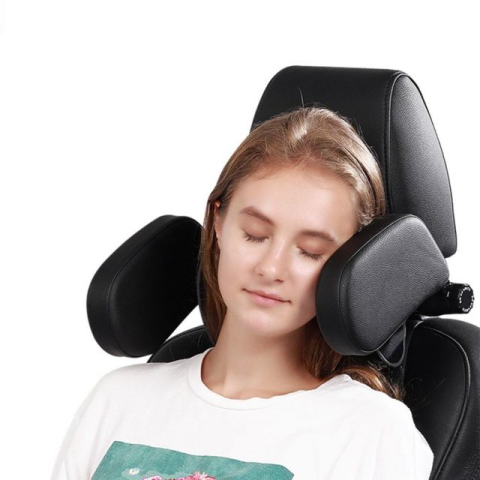 Stay in place while you catch Z's
Ever take a great nap in the car, but when you're at your destination, you wake up with a sore or stiff neck? Yeah, it sucks -- and commonly happens when you don't have proper neck support. Our Car Seat Headrest Pillow changes that, providing all-over support for a better nap session.
The difference between our headrest and those of competitors? We provide cushy side-support pillows that are designed vertically to catch your head if you lean too much to the left (or right) as you doze off. Soft yet thick memory foam helps hold your neck and held upright for a strain-free nap.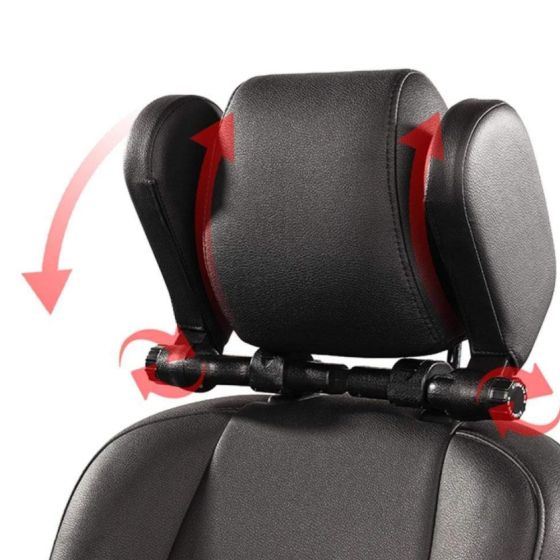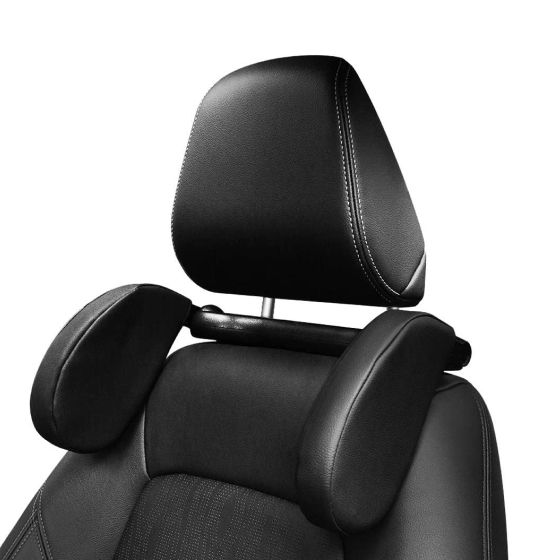 Works for just about every car
Black in color, our headrest blends in with a majority of vehicle interiors. And as long as your headrest poles are at a minimum of 3.75 inches apart, our headrest will fit just fine. Our headrest is made of sturdy ABS plastic with memory foam cushion.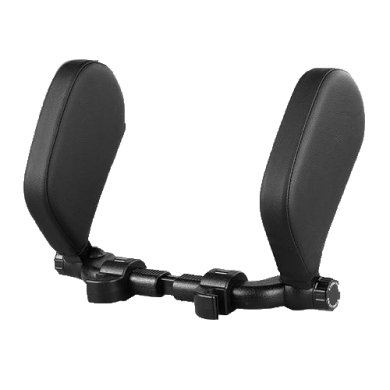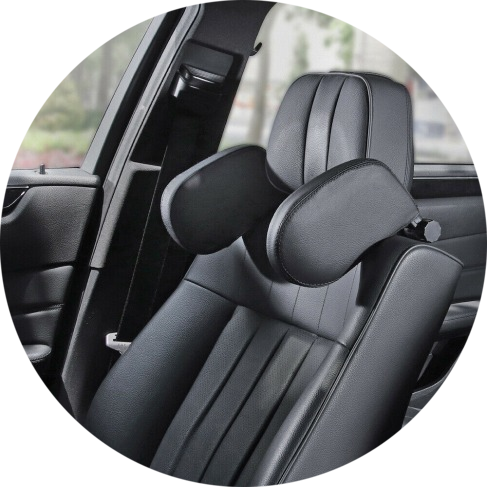 Incredibly adjustable
Telescopic support helps you find your perfect positioning, allowing you to angle up, lower, and rotate your side pillows up to 180 degrees to accommodate various heights. From child to adult, adjust the pillows of this headrest to meet any passenger height for luxe comfort and support.
Ready to add some cushy support to your passenger seat?
Step 1
Choose from one of our two provided pairs of rubber holders to find your headrest pole's best fit (you get 10-mm and 12-mm-size holders).
Install the left and right pillows onto the road. Tighten the screw caps on both ends.
Step 2
Connect the left- and right-side brackets together (to form one rod), and secure onto your rubber holders.
Check if the distance between both the attached brackets of the rod is within 1.18 in (3 cm). If it isn't, be sure to adjust the hooks of the pillows on both ends to create a more snug fit.
Sleep without fatigue
A lot of cases of neck strain and fatigue result from poor sleeping positions. It's even harder to maintain an ergonomic position when falling asleep on the road in a car seat. That's why our Car Seat Headrest Pillow provides the necessary support to keep your head and neck properly supported -- while also preventing you from knocking your head against the car door in turns and twists in the road.
I liked the fact that the beige color matched my car interior almost exactly! Installation was simple. Headrest sides have solid clicks when adjusting the positions. Construction and material look good. Wish I had this years ago! Will try to remember to update this review after a long road trip.

This thing is great!! I finally pulled the trigger and bought one for my 6 yr old and 10 yr old to use on a car trip we're taking this weekend. I have a Ford Explorer, 3 kids in the second row, 1 cart seat. My 6 yr old and 10 yr old are going to use this between them and then the carseat is on the other side to use as a headrest. They also have those neck pillows, but they don't like to use them for some reason. I'm so glad I finally got this. It looks really nice, very easy to move into any position and fits snug and tight on the headrest. My husband tried it out last night and approves as well.

I got this product for my 4 year old daughter on long rides, it worked perfectly no matter what side of the car she was on. Made me sad when I got a new vehicle and could no longer use it since the headrests in the rear were not adjustable, so now we just use it in grandmas car. Definitely recommend.

Great head restraint. Qualitatively made. It's good.

My 8 year old son outgrew his car seat. Yet, he kept falling asleep and tipping over. This product helped, and my son enjoys using it. I think the price is a bit steep, for the quality of materials used. However, it works well enough.

The product is good, delivery supersonic

Not yet put, but the look is very well done. Let's see how it will serve...

Everything is as in the description. Install conveniently and quickly, the fasteners are adjustable, the head is convenient. I didn't regret buying this model.

It's a good addition to the seat for a long ride. It's not the greatest, but it helps. If you put a small, soft, either pillow or blanket it's perfect.

I'm driving long distances to work recently. I bought them for my co-worker and installed it immediately. He was very satisfied so that he could take a nap on the way.

It fit my car which is Ford fusion very well.I travel alit I needed sometiing like this to sleep when I stop by at rest area while travelling with someone or alone..I loved it and hope works everybody

Use this with a little travel pillow and it's the best

Very often I travel long distances that range from 100 miles, so a good dream, and not to be tired, are very important to me! Previously, my neck always hurt from sleeping in the car or just from a long journey, and I was looking for exactly something like this product! It is very convenient and easy to use on the way, or when you stop to sleep or relax, while maintaining the position of your spine in a wretched position, you can no longer ache at all! I advise any driver to have this beautiful thing! Believe me - it will be needed!

It is a good support for my son's neck especially when he is sleeping in the car! It's adjustable and easy to remove!

I bought 2 of these, but not at the same time. Now my kids have something to rest their heads against instead of bouncing around during car rides.

Easy to setup and seems to be universal for all headrests. The clamps adjust. Padding is soft enough for 5+ hours of driving.

i have a 5yr old. who falls asleep as soon she get into car. this is very helpful / support for her neck. she is now comfortable sleeping in car.

Absolutely the perfect solution to the "sleep slump over" that most kids suffer from. Very well made and it does the trick!

Bought these for my boys before a long road trip. They worked well and kept their heads supported during their naps.

I bought this to try out with my wife. She easily falls asleep during trips. She found the headrest a nice alternative to a pillow stuffed between seat back and door. I own a Ram 3500. The headrest was a very tight fit due to the large headrest this attached to. If the cross piece was a 1/4" long, it would have been easier to attach. We managed and it works great for her. I would recommend this product and plan to purchase a second one.

I bought this headrest because we were going on a 4,000-mile road trip. My wife, son, and I took turns driving and sitting in the back seat to rest using the headrest. This item works great for adults but I am not sure how it would work with small children. The headrest also looks good and blends in with the interior of my truck. I definitely recommend this headrest if you are planning on driving long distances.

I like this product and that for my daughter.

Got these for long trips in the truck, since I do all the driving I have not used them for long periods of time but my wife loves them.

it installed in under 10 mins

Installation was very easy and it helps keep my boys head from hanging off to the side when he falls asleep. He says it's comfortable.
Share