Car Laptop Holder
Regular price
$28.99 USD
Sale price
$28.99 USD
Unit price
per
Sale
Sold out
Welcome to your new office
Can't escape the office (even on lunch)? Need to squeeze in some work -- or leisure -- while you wait for a friend? Our Car Laptop Holder makes it possible to set up your laptop on a sturdy surface, and not have to awkwardly balance it on your center console or lean across your passenger seat to use.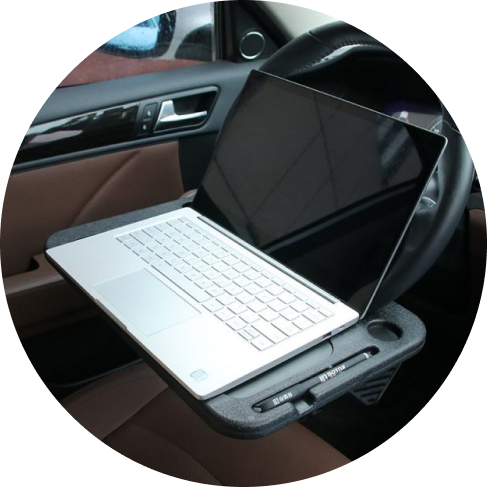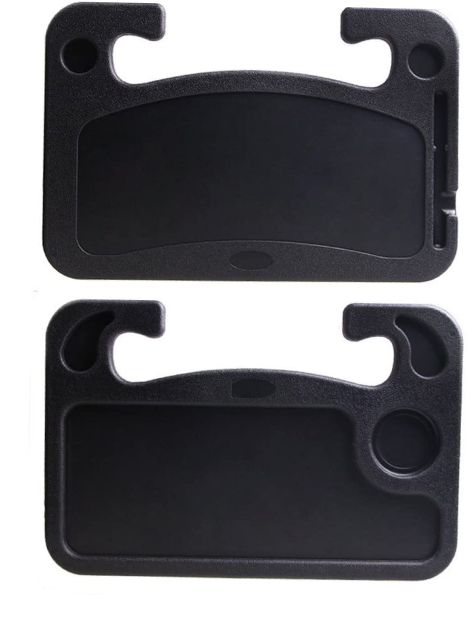 Just clip it to your steering wheel
Measuring 11 inches across the steering wheel hold, our tray snugly fits the steering wheel of most modern cars. No balancing on your knees or anything. Whether you're watching a movie to kill time or are finishing up a weekly report for work, our tray will support you until the end.
A work surface on one side
From laptop to tablet use, our tray works well for any device. Measuring 28 x 42 inches (L x W), you get a generous work surface. A pen hold slot is also engraved to hold writing instruments should you be drawing or writing by hand (the last thing you want is to drop your pen or pencil somewhere).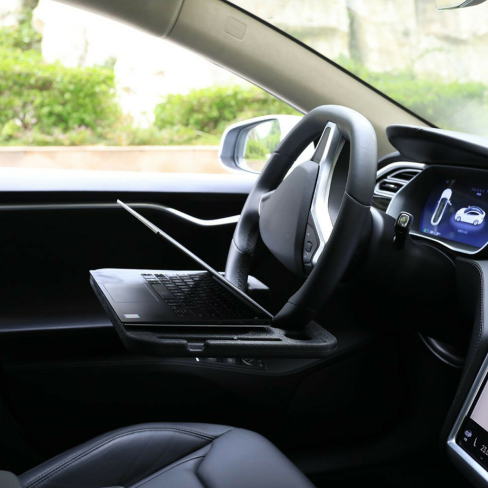 A meal tray on the other
Not working? Then it's probably meal time. Yeah, that's right -- flip this tray over and you get a full-on meal tray.Complete with a drink holder mold and place to hold your main meal, eat in peace wherever you are, whether on a solo road trip or long car drive somewhere. No more using napkins to create a makeshift eating space or dropping ketchup and fries all over your cup holder or center console.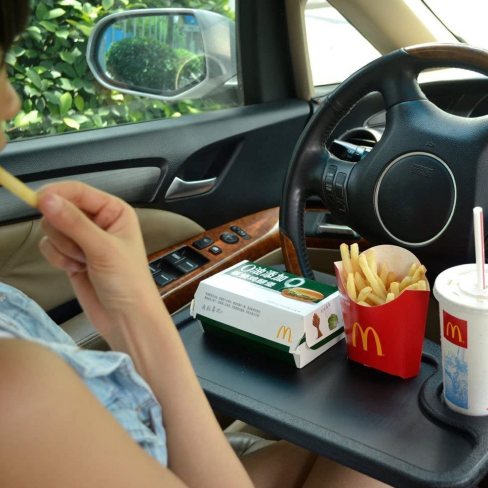 Stow away (and clean) effortlessly
After use, you can easily wipe this tray down when on the road with a disinfectant wipe or give it a deeper clean at home with liquid soap and water. For storage, this fits fine in the trunk (or backseat, depending on your car make and purpose).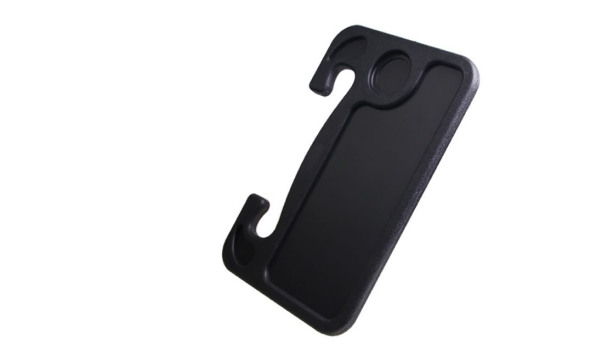 Built with detail
No slips or drops is the speciality of our built-to-help Car Laptop Holder. Other design features include:
100% ABS plastic construction for sturdiness and longevity
Raised front edges on tray to prevent droppage of items
Multiple engraved slots for items such as soda cans, cups, and pens
A non-slip surface throughout to hold devices in place without surface damage
Does very well for my needs. I like to work and eat out of my car. For reference, this is being used on a Subaru Legacy 2010 steering wheel. One thing I would highly advised is that this may not fit if you have a steering wheel cover. If your steering wheel cover is too thick, it may not attach to the steering wheel. I have a steering wheel cover, but it was barely thin enough for this desk to work.

You will enjoy your fast food to the maximum just moments after it arrives through the window - you will not regret it. I can't imagine any normal car has a steering wheel this wouldn't work on. Fit on our suv perfectly. Worth every penny.

It's a must if you are law enforcement. Wonder why my department didn't just add this to all of our units. Affordable and useful! Highly recommended.

I work out of my car, and needed a desk. I drive a 2015 VW Jetta, and this fits the steering wheel perfectly. Keep in mind, you have to rotate the steering wheel into it's "upside-down" position before then sliding the tray from below to hook onto the steering wheel. Most recently, I had to take my dog to the emergency vet for care, as her cancer came back, and because of COVID, I had to wait in my car. I had my iPad with me, and this tray, and I set it up, had my iPad on the tray, and was able to relax in the front seat (as best I could) while they ran some tests on my dog inside the hospital. I'm so glad I bought this. It'll be great for when I can go back to work on the road.

Since I am in university right now as a commuter, sometimes I spend a bit of time in my car as it is comfortable compared to uncomfortable desks/chairs at my campus. This table makes it easy to work inside the car for eating or working as it has two sides. 1 Side works as a lunch tray with a spot for a drink, other side is mainly flat for books or a computer.

This tray is very useful, and I'm glad I bought it! My new summer hobby is car-camping in a Toyota Prius while hiking through the beautiful forests of New York and Pennsylvania. When storms kept us cooped up in the car, I used this tray to turn the front seat into a dining area/office. It is perfectly sized to fit in the small space between the steering wheel and my body...no need to move the seat back. (Which would have been impossible due to the mattress in the back anyway.) The tray pops on and off easily regardless of steering wheel position (No need to turn the wheel upside down as mentioned with other kinds of cars.) It holds a meal or my cellphone/tablet/book securely without shifting or wiggling. When not in use, it tucks neatly between the seat and the center console. The tray is sturdy and seems like it will serve me well for many years. This is a simple thing, but it will really come in handy for anyone who spends a lot of time in their car!

and the steering wheel doesn't have to be turned upside down. This makes the occasional eating in the car much neater. This table, I got the large one, is sturdy and does require a seat adjustment. The flip side has a nice writing surface and a place to secure a pen or pencil. Happy with my purchase. Suggest using this with the engine off if you intend to set your soda on the tray. The combination of power steering and the weight of a full drink on the tray can result in a wet lap. Lol, it hasn't happened yet but I'm just putting it out there

This is a really cool little "desk top" for your vehicle! I have to order 2 more for family and friends who saw this in my truck and want one as well. My truck has been my "office" for many years now with the type of work I do and wow I wish I had found this year's ago! Now filling out paperwork is easy and neat when I'm done!!The cup holder is a little small, but the regular one in my truck is fine for that. Everything else about my new little "office desk" is absolutely fantastic and so very easy to attach to my steering wheel as well as stores neatly between the seat and armrest when I'm done. Can attach with one hand, which is great and remove also with one hand. Love that it is all a plastic type of surface as it makes cleaning easy to wipe down or even take inside to the kitchen sink. I haven't had any need to put in the actual dishwasher, but appears the be sturdy enough to handle it in need arises. Well made, durable and easy to care for.

I am a manager that finds himself in the field quite a bit. I ordered this on a whim, and have since ordered a few for fellow managers, as gifts. The desk has fit almost every vehicle I have tried it in, and is just the right size for an iPad Pro in a Belkin Keyboard case. I have managed a laptop a few times as well. Oh, and you can eat lunch off of it as well, if you'd like. Just remove before driving. You have been warned.

As an outside sales rep I sometimes feel like I live in my car. This dual purpose tray is a 'must have' if you need a well positioned mobile desk or a less awkward way to eat (and avoid wearing) your lunch. It's nice that both sides are functional... a food tray complete with cup holder on one side, and and a smooth flat writing surface on the other. You won't have to worry about getting grease or food residue on your paperwork! Also works well with small laptops or your iPad. Made of high-impact plastic, it won't melt or warp if you leave it sitting in your hot car... virtually indestructible. I can't imagine how I lived without one of these for so many years!

What I love about this is my laptop is now situated above my lap. It means I can actually get out out of my car if to grab something in the back without having to move everything to the passenger seat. I also love not having to deal with my laptop heating up in my lap.

Great for lunch breaks, watching videos on a phone or tablet while waiting, working on a lap top, camping, travel, etc... I keep mine stowed in the mesh panel behind the passenger seat. It fits perfect there, stays out of the way until I need it, and doesn't rattle while driving. Tip: it works better if your steering wheel is upside down (at least on my car). That way it doesn't mar the hard plastic middle piece of the steering wheel or accidentally honk the horn (yes, I did that, LOL). FYI, it will move left to right if the wheel turns, which I haven't seen as an issue, but I could picture someone grabbing the wheel and causing their tray of food to slide off. But the easy fix for that is "don't mess with your wheel", Duh, LOL. It won't hold a "heavy" load, not because it's flimsy (because the tray itself is very sturdy), but because of the mechanism by which it attaches and hangs from the wheel. It has no problem holding a 17" lap top, but you wouldn't want to rest your arms on it and bear down as you would if you planned to take a nap. I've also used it as a plain tray, in the back of the car or for camping when you need a flat surface to sit drinks. Fun hack: We used it at the pool. We cut up 4 pieces of pool noodle, made a slit down the side long ways, and put them around the outside of the tray. It floated and held our drinks. Like I said, great little gadget.

I love this tray! Where I work, days can get hectic to the point where I simply refuse to eat my lunch inside so I go to my car (mental breakaway). I have a sliding armrest/console but it got annoying trying to cut up my hibachi-style teriyaki chicken from Tokyo Grill on it. I did an internet search and found this! No regrets! Note: if you have a steering wheel cover on, this won't work. Bright side: it's easy to put on your steering wheel and yes you will doubt yourself and think you can't apply pressure or you'll drop your food and drink in your lap, lol. This tray is sturdy enough to cut up food on it! Now, I have to be honest, I only used the "cup holder/placement" feature once.......I prefer the security of my cup holders in my car ('17 Honda Civic). So where the cup I supposed to go, I put my phone there to watch YouTube while I eat my lunch (propped up by a popsocket). It works perfectly! Oh, and if you put this on your steering wheel and it's at an angle, just take it off and try again. It'll happen when you're trying to put it on in a rush or just aren't paying attention. :)

I would like the hooks to be somewhat rougher/more grip because my steering wheel is very smooth. It slides a little but not enough to come off, which is great.

I work 5 days a week in a COVID ICU and have been eating in my vehicle to reduce the risk of spread in the lunchroom or restaurants. Had been struggling with eating in comfort all these months until I stumbled upon an article about interesting gadgets on Amazon. Where have you been?! Slapped it on and immediately in love! No issues with having to turn my steering wheel around, no strong smell, fits my 2018 Jeep Grand Cherokee perfectly. Best COVID purchase ever to provide so much happiness with just a few dollars! Thank you!

Just the best. Savings for Car Laptop Holder are 100% worth it. The store is awesome

If you have a fatter steering wheel, or one that has a "peace" sign style, you will have to turn the wheel around to use this. Because my wheel is fatter, it doesn't have a super great connection with it, but does the job. I've eaten off it a few times, and I flip it over to the "desk side" to do paperwork. I travel a lot with my work and it comes in very handy to have a "desk" to write on, or lay my laptop on. If the grippers were any larger though, people with smaller steering wheels would have issues so I'm going to say it's great. Maybe they could sell two sizes, but then people would end up with the wrong one sooooooo.... I still like it :)

As I can judge from my own experience, the best laptop holders for any occasion online are sold in this very store. Great!

If you want more room for your belly, get a narrower table.

You cannot leave this on the steering wheel and drive.

Car Laptop Holder arrived as was promised. quality worthy, much better than expected. Thanks

It's a must if you are law enforcement. Wonder why my department didn't just add this to all of our units. Affordable and useful! Highly recommended.

I appreciate the store hard work and effort

Thanks! It's pretty good!

The option of free shipping is everything. Amazing customer service. Laptop Holder exactly as described.

I've purchased on sale and the quality is amazing

now i know where can i buy Car Laptop Holder for the best price and be sure in its quality. thanks to the store owner!

the quality is astounding

amazing quality, will be ordering more! Thank you!

Love using this. However, if you are like me and a small woman that has to be up close to the steering wheel - be prepared to have the tray at your breast.
Share