Bluetooth Portable Speaker
Regular price
$38.99 USD
Sale price
$38.99 USD
Unit price
per
Sale
Sold out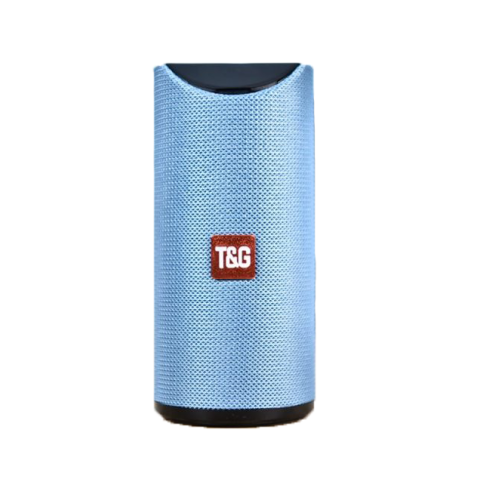 The music and
sound you love.
Everywhere you go.
Keep the party in motion. Stay in touch with the world. Our handy Bluetooth Portable Speaker helps you stay connected with friends and family through clear, crisp sound that connects to any Bluetooth-powered device.
Three hours of non-stop play
When fully-charged, get up to three hours of sound support, whether you're blasting your favorite tunes or connecting sound for a movie.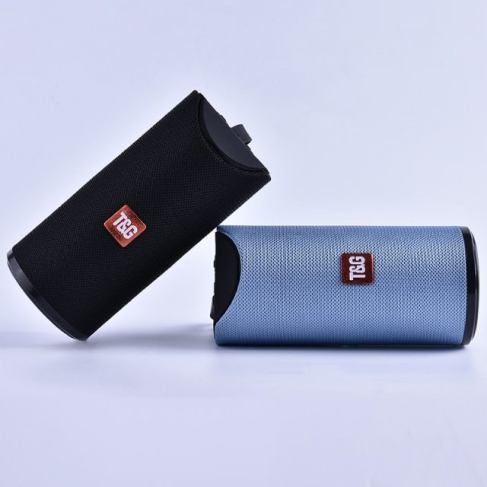 Flexible play for everyone
Memory card support, AUX playback, and more
Not using Bluetooth? Our Bluetooth Portable Speaker also supports micro SD cards and USBs, in addition to iPod and mp3 players supported by AUX cable. And when you're tired of your own music, switch to FM radio to let a station play its picks.
Waterproof for weatherproof fun
Whether you're outside on a cool, overcast day or lounging out by the pool, our speaker plays fine with water thanks to an IPX 6-class waterproof rating. Note this rating does not mean the speaker can be submerged in water; it just means it is protected from high-pressure streams of water from multiple angles.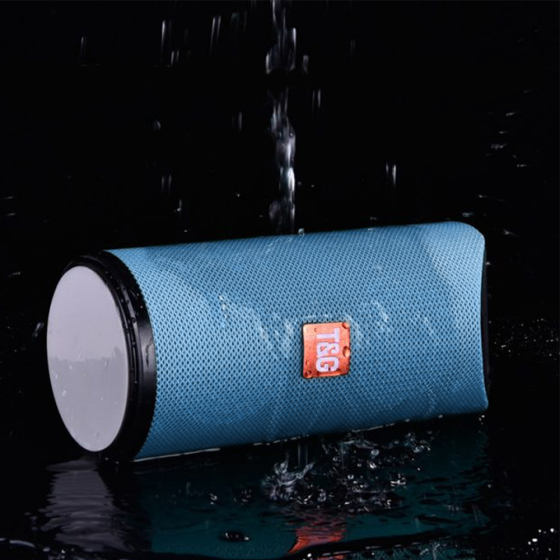 Charge via USB
The party (or movie) comes to life thanks to a built-in lithium battery, chargeable by USB cord anywhere. From your laptop to portable power bank to wall charger, power up wherever.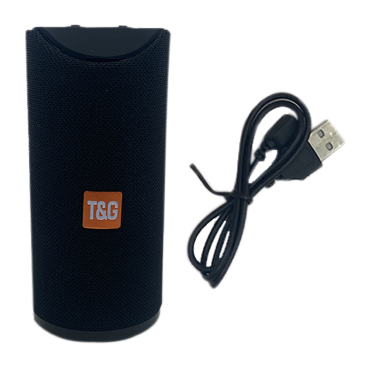 Sturdy mesh + silicone build
The exterior of the speaker is covered in cloth mesh that is wear- and water-resistant. A smooth plastic base adds support while the control pad is protected with smooth silicone.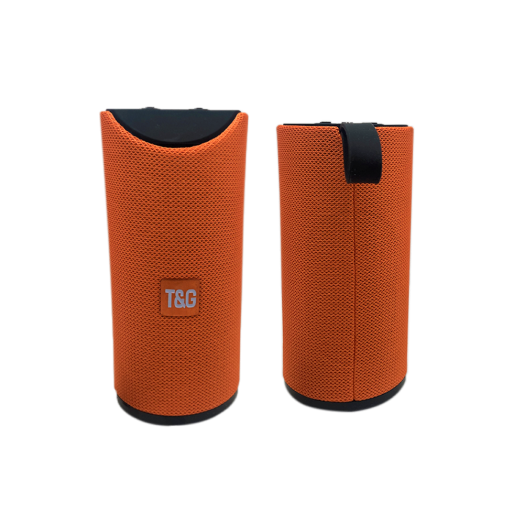 Plays all file types for your music
When you connect your music via memory card or music player, the player supports MP3, AV, APE, and FLAC file types.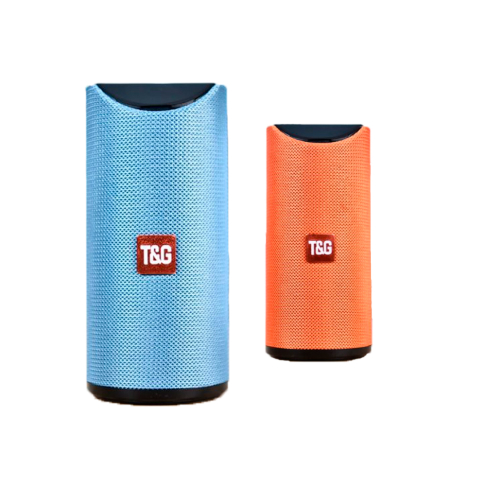 Sized for easy, on-the-go portability
Measuring just 6.3 x 3 x 3 inches (L x W x H) and weighing just 1.12 pounds, this Bluetooth Portable Speaker can go anywhere with you for burden-free use. Plus, a hook is built into the silicone keypad atop the speaker for greater carrying convenience (just clip onto your backpack or daytrip bag!).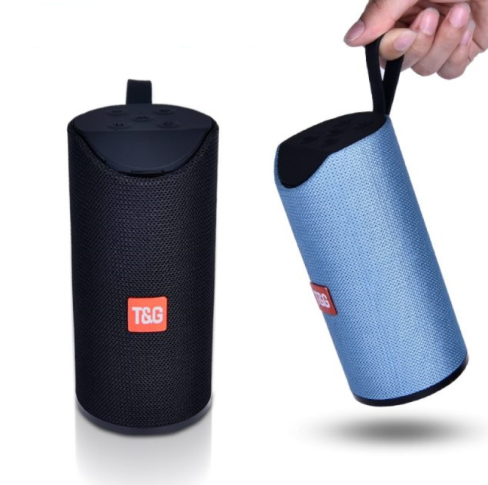 Everything you'll need
Our speaker comes with necessities to help you stay entertained conveniently. Each purchase includes:
One (1) USB charging cord
One (1) AUX cord
A user manual
For years, I would carry a large portable radio to the Volleyball Court on the beach. It was heavy and took up a lot of room. Last year, I switched to a small bluetooth speaker, but it didn't have the power I needed, and the battery crapped out after about two hours. THIS year, I bought this one, and had it cranked on high for over three hours. Great sound out of such a small package and it clips right to the bottom of the net or a beach umbrella. I couldn't be more pleased.

The column is excellent, it plays cleanly. For the cottage was taken to hang out.

Good speaker, play loud, with the phone paired quickly, communication does not lose

I did a lot of research before purchasing a new Bluetooth speaker, and based on reviews from multiple websites and YouTube videos, I landed on this one. I've only had it for a day, but so far I am impressed. The sound quality is clear and at full volume, it can be heard through the whole house. It gets LOUD. The bass is nice, especially for such a relatively small device. I will say, since the bass comes from both ends, you definitely get more coming through when you hang the speaker up or put it on its side. It has a nice weight to it, feels and looks very high quality. I also really wanted to find a speaker with responsive lights and this does not disappoint. So far, I'm really happy with my purchase! For the price, I couldn't be more pleased with the overall quality of this little device.

The column got it, it works. Expected a cleaner and louder sound, but for its price will go (for use by children and when going to nature).

I'm not impressed at all. Yes, they're small, cute, lightning up,but sound is poor,very poor. Im returning them.

These speakers are great! They're very cute and can be brought pretty much anywhere. The only recommendation I would make is to make the sound louder. The quality is great and the lights are very cute. I would definitely recommend these speakers.

I've been using the speaker for a few days now and it has been doing very well. So far I've only used it for audiobooks, so I can't speak to whether the lights enhance the experience (they do work though, changing as the reader speaks). Volume is good; I can listen to an audiobook without issue while showering (my water is very loud) and has had no issues from the humidity. I can't say much more about the water resistance as I haven't taken the opportunity to stress test it. I haven't had to charge it yet. My phone said it was about 60% charged when I first connected it, and it hasn't dropped much. I haven't been able to go more than 15-20 feet away without audio issues, though that could be due to the material my house is made of. There are a couple of wifi dead zones, which means the bluetooth might also be limited. So far, I'm pleased overall. Hopefully I won't need to update down the road with negative comments.

I really like this speaker because its sound is incredible. It alsp has a party light show that I really love it. You can see my video to see how it's cool!

I bought these because I thought the changing lights were cool. I was NOT expecting the sound quality that these little guys put out! I can't comment on battery quality because I haven't had to charge them yet! Granted, I don't use them every day, but I'm very impressed! It might be the acoustics in our home, but if I turn the volume up over half way on my phone? Nobody can hear what anyone else says if there's music being played! So, I maintain a lower volume setting and all is well! I don't think you'll be disappointed by these little guys! 👍😊👍

This speaker surprised me!! the battery life hasn't been put to the test yet but im confident that it will last. The sound is amazing!! I bought this to replace an old bluetooth speaker that was not doing so well after having it for a few yrs.. but i didnt expect this one to blow it out of the water. its a great product for the price and i highly recommend it. I've seen higher priced ones and i dont think they have the power this one has. so if you are looking for a new speaker this is the one.

A song played by Bluetooth speaker in dim light, you immersing yourself in intertexture of romanticism and yellowish light. What a transparent sound. I fancy it.

very good wireless speaker has a great duration in its battery which makes me listen to my favorite music for hours, also with a great range of its bluetooth and its led light accompanies this impressive device I get very well it has a great sound and a large volume

Sound is good, quick connect with a phone, no damages

This is the best bluetooth that I have owned in quite some time. I am very happy with the quality of sound. I have not tested the waterproof part yet but I have faith it will hold up. Battery life is good so far, loving the light show and I can't say enough about the sound quality. Happy customer!

So far its been a great bluetooth speaker. I think the look is better than the more expensive bluetooth speakers because of the color lights that this speaker has and the other ones don't. The color lights is half the reason why I purchased it. The other half reason is the price! So in comparison to quality the more expensive speakers probably win but maybe not if you compared to price.

The speaker is excellent, checked immediately everything you can, it ends with the phone. The sound is excellent, FM works, how to include looked at YouTube. On the phone. The call also answers. Advise.

I wanted some speakers for my wife and I bought these. They work well but are kind of tiney. My wife was a bit disappointed because she wanted Bose like I have. I got her the Bose and she is very happy. These are still good speakers. I will use them in my garage.

Awesome speaker to have around pretty much anywhere. Big & loud enough to have around a small to medium-size gathering as in bbq's, poolside, camping.....etc. definitely recommend this speaker.

Product work and sound great with my iphone . My only disappointment lies on the fact that they Cannot be use through the usb while charging on a pc only through aux. cannot charge while in aux. constant unplugging and plugging the provided usb cables. (that itself cause premature wear on any device) my pc also connects to not one of them on Bluetooth and once I follow the proper paring method ,provided in the box , it paired but still only one single speaker works. They also don't reconnect automatically and I have to remove the device and re pair it. Bit of a hassle. These speakers are more for mobile devices

I bought this speaker to have in my bathroom so I can listen to music, podcasts, and youtube videos while I take showers. It does the job perfectly. The sound is loud enough to fill the entire bathroom and the quality is surprisingly clear. It does not sound tinny and distorted even on the higher volumes.

This little box is full of vibe. While not the most powerful, the quality of sound is good and will be a perfect addition to the patio, on the golf cart, at the beach, or in the boat. It is so small that it would fit in a pocket or purse.

Sounds good and battery lasts long enough for me. Super portable, I can hook it to a belt loop and walk with it. Bass is acceptable considering it's low power consumption. Outdoors it's not great but inside it's great and a great shower speaker if you can find a place to hook it.

The speaker is excellent, came quickly and the main whole, 70 percent of the charge was, so tried at once. The radio does not play very much without a wire, but I connected and seems to have found a couple of stations, so great!! So far satisfied, thank the store for the fast shipment))

I went and compared 3 similar portable speakers with each other (same price of around $100 each): - Best quality sound of the 3 - Strongest/deepest bass (my table was shaking on max volume) - Very loud max volume

Wow. This speaker beyond exceeded my expectations, as far these reviews saying it has no bass, you guys must be hooked up to a different speaker cause this thing is BOOMING. As small as it is it gets plenty loud and the bass even has vibration to it, great product its just as good as my HK Onyx Mini if not better!

This speaker goes with me everywhere. It's small enough to fit in my purse or backpack. The sound is exceptionally good for how small it is. The blue tooth connectivity is flawless. I love using it all the time, everyday and everywhere. It's my new best little friend. And although I have three other blue tooth speakers It's just so portable.
Share