Bathtub Whale Toy
Regular price
$23.99 USD
Sale price
$23.99 USD
Unit price
per
Sale
Sold out
Bring the ocean to the tub
One of the largest creatures of the sea becomes bathtub-sized for your little one's enjoyment.  Spark imagination and wonder with this spray- and light-flashing wonder.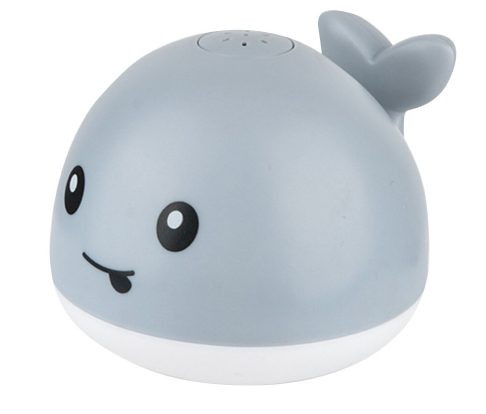 Lights of fun
A built-in light shines seven different colors to brighten up bathtime for your kid. The light automatically changes colors for a colorful time in the tub. You can even turn the lights off for a bathtime unlike any other (just be safe).
It's like a mini fountain
Built-in water-absorbing holes soak up water while two water sensors activate a fun stream of fountain-like water from the whale's nozzle on top.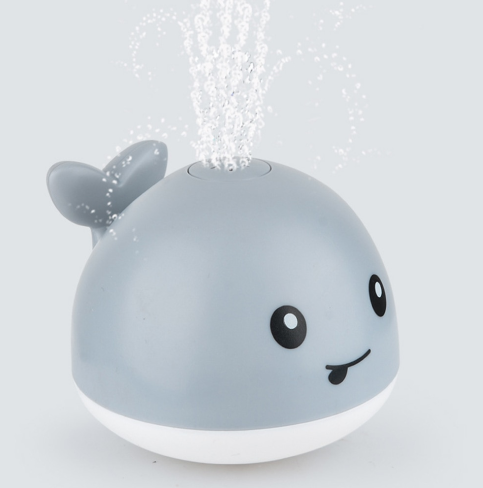 All you need are three AAA batteries to bring this spectacular whale to life (batteries not included). A seal ring prevents leakage into the battery compartment of the toy.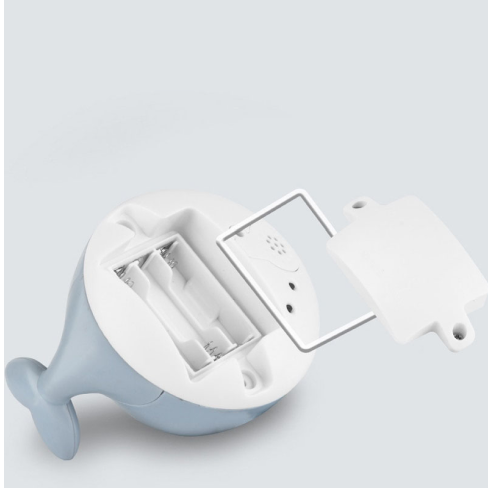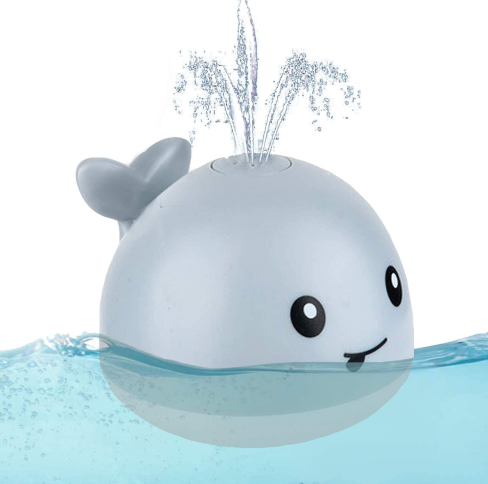 Automatic shut-off
No need to worry about draining battery life. The second you remove the whale from the water in the tub, the toy automatically turns off (thanks to the water sensors).
Works anywhere with water
Not using this whale for the tub? Buy a couple of 'em and throw them into the swimming pool or a large water fountain you have (after all, all you need is H2O to activate the toy). Works great for parties or outdoor celebrations.
Cute, works, made of plastic, takes 3 aaa batteries not included....

all peefect and fast shipment

removing the screws to add batteries is annoying.

Very good product. My son was happy in the bath. It turns on contact with water, with colors, and without sounds. And the water coming out is very soft. It only took 20 days to Chile

My five-month-old baby gets hypnotized. It's great. Two weeks to arrive in madrid.

It works and our daughter has really liked it. Just know that it changes colors super fast. It's not a slow shift like I expected, it's more like a dance club lighting system. She likes it. It stresses me out.

I bought this for my niece and she absolutely loves it. It is her new favorite bath toy. She loves it so much that others have bought it after seeing her play with it. It is fairly easy setup. You do need a screwdriver for the battery cover and it is recommended that you take the batteries out between uses. That whole mechanism is a bit inconvenient, but not overly so. It activates once the sensors hit water. She loves to take it in and out and watch the water come out and the lights turn on. It really is a great buy.

Oh yeah! This is adorable, and the kids LOVE it!! Yesterday, the girls (2 & 3 years old) decided that their cute little whale needed to play outside in the water side of the sand/water table. It wasn't the cleanest water, but it did great, and the girls were tickled with it! Seems pretty durable!!

It's cute. The spray is great

I bought this for my 1 year old grandson. He absolutely loves playing with it, it's especially funny when he tries to grab at the water sprinkling out of the top. When you turn off the lights, you can see the bath toys flashing in various colors

So adorable my 10 month old loves it we take it in our pool and he uses it in the bath

I absolutely love this toy for my daughter! It runs great and bounces off of things and doesn't get stuck and the water spout is amazing. Shoots nice and high which is a lot of fun. The music that plays in the Ufo base is a little loud and repetitive but luckily it's not unbearable. I'm going to try putting a flat cotton round over the speaker to try and absorb some of the sound so it's not quite as loud. All in all I think this is a great toy with dual function even though my 1 year old is a little afraid of how quickly it moves, but it does come with a guard for the wheels to keep it from going so we've been playing with it like that.

This is great for the pool or the bath. The buttons are a little hard to get to.

This toy surpassed all of my expectations. My toddler plays with it in the bathtub and outside in the pool. I have purchased more to give as gifts.

My toddler and 6 month old are obsessed with this! It quickly gets their attention,they lovesssss bath time!

This is so fun!! The water sprays significantly higher than anticipated,the kids squealing and laughing. I really love this toy because it has two options:it can be used indoors or outdoors

Have a lot of fun in the bath! My son really enjoys this toy it squirts water and lights up

It is a safe and durable material. It is made of high-quality ABS material and has super durability. The toddler toys with round edges can protect children's skin and stimulate the best knowledge of the new world when exploring the new world. The sprinkler bath toy! Free casting bath toys. The battery box is equipped with sealed silicone to prevent leakage. The child loves it!

It swims around and my kids love it. Perfect for young children. We plan to try it in the kiddy pool as well!

The toy is very good. It looks like a toy made of a good mold. It is very delicate. Since I bought the toy. the child's bath time has been longer.

Really like the quality of these toys! They are really neat in the bathtub. Wish they played music but all in all great product.

What a fun toy for toddlers.

I ordered these for my grandson when he was 1 year old. So surprise, the whale lights up , swings and sprays water. Super cute, love it.

my son liked the color and texture of the product. I'm planning to buy another one.

This is a great little whale! He swims around the tub while shooting some water. My one year old loves to catch it. Which so Surprised us!!!

My little baby really love this baby whale!

1 yr old daughter loves it.

So this is a gift for my 2 year old, she hasn't seen it set but I tested it out to make sure it was working properly and it is soo cute! I can't wait for her to open it and see what its it! The lights are pretty bright in the bathroom and ill definitely need to make sure the tubs not totally full or else it'll spray out cause it does go pretty high, but in a good way! Will definitely get another one for inside and one for outside pool play :)

Let me start by saying that I am absolutely in love with this little whale! I've even taken a bath with it by myself it's so darn cute! I bought this for my 18 month old son who just adores bath time, but always wants to keep the faucet running so he can play in the steady stream of water. Of course, that meant we had to periodically drain some water from the tub as is began to fill up too high, and the amount of water that was being wasted as a result was bumming me out! I thought this would be the perfect solution as he would still have a steady source of flowing water to play in and it wouldn't be wasting down the drain! This whale did exactly as advertised! We didn't have a problem with it not turning off when lifted from the water as other reviewers mentioned. The fountain of water peaks at about 7 inches which is the perfect height for him to play in, but not so high that it will come out the sides of the tub. After such a glowing review, I'm sure you're wondering why I only gave it 4 stars. Well, it turns out that my son is absolutely terrified of this whale! He's alright as long as we hold its tail so that it doesn't float around, but as soon as we let go and the whale starts moving around the tub he goes to screaming. I'm sure he'll warm up to it eventually as he does love playing in its fountain as long as we're holding it! I would absolutely 100% recommend this bath toy to anyone who asked!

Bought one for my backyard inflatable pool - if you're going to be stuck at home due to the pandemic- might as well be lighthearted! It's great , my own little fountain lol. It's so cute though , I immediately ordered one for my grandson !
Share