Baby Crib Backpack
Regular price
$86.99 USD
Sale price
$86.99 USD
Unit price
per
Sale
Sold out
One backpack. Two incredible uses.
Approved by on-the-go moms everywhere.
When it's time to get going, there's no room or minutes left for bulk and hassle. But when you're taking your baby along with you on the road, it's hard to skimp on essentials and gear for the trip or destination ahead. And when space and time are limited, you sometimes have to compromise on what to bring (and what to leave behind). With our Baby Crib Backpack, you won't have to anymore.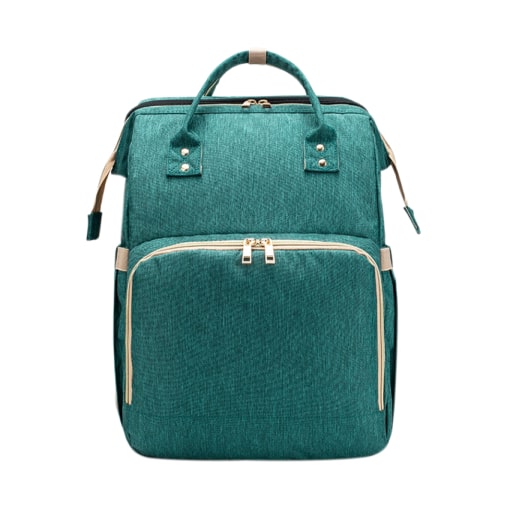 A three-in-one solution.
Save space. Save time.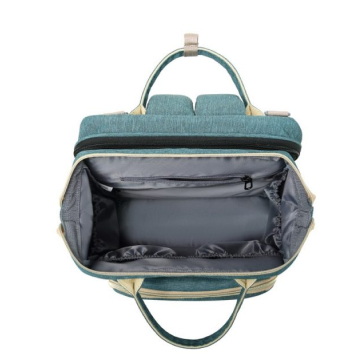 Diaper Bag
Store diapers, wipes, and more in the main pocket.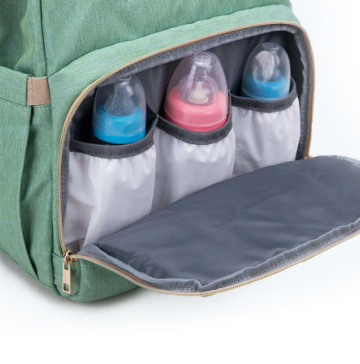 Bottle Bag
The front pocket features a thermal layer to keep bottles hot (or cold).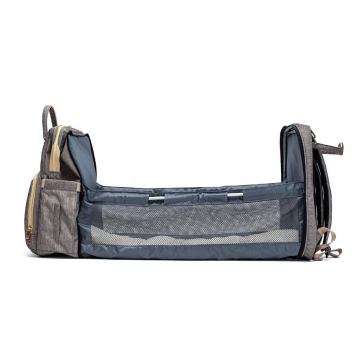 Baby Crib
No extra equipment required. Our backpack folds out completely as a sleeping space.
Quality + comfort you can rely on
It's all in the details
Three layers of loving support
Our backpack features a triple-layer build of cationic fabric, high-density composite fiber, and breathable cotton interior lining for durability and comfort. Our triple-layer construction is waterproof, sturdy, and easy to clean.
Experience the freedom to move
With a handy built-in lock handle and carrying buckle, go hands-free anytime you need. No stress, no burden.
Adjust, zip up, and be on your way
Traditional tension buckles help you find your perfect carrying position while smooth zippers help ensure everything is securely in place.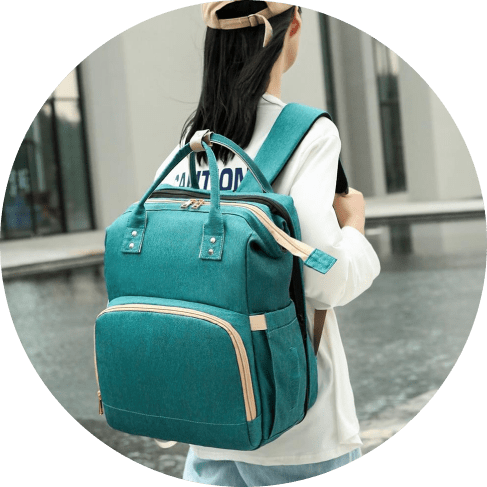 Less stress for mom
No more needing to bring a diaper bag, thermal bag for milk and bottles, and a separate crib for trips away from home. That's three loads of carrying (and a lot of space taken up in the car). Our Baby Crib Backpack is one multi-talented solution to carry all of that.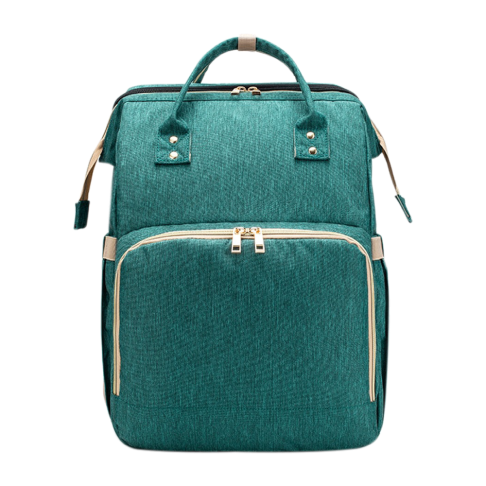 Compact and portable
Our backpack measures 11.8 x 28.7 in (30 x 73cm) and weighs 3.3 lbs (1.5 kg).
Sized for sound sleep
When opened to its crib setup, your baby has 27.5in x 8.6in (70cm x 22cm) of napping space.
What a unique multi functional travel bag which is a combined diaper bag backpack, bassinet, nappy bag, travel crib, portable baby changing station. With insulated 3 bottle pockets, 5 compartment inside and Concealed waterproof zip pockets at the back and inside, it's roomy enough to store all baby stuffs, included with removable changing pad/mattress. Thick, durable, machine washable material and foldable easily, this bag is an all in 1 small and light travel bag to accommodate baby needs and mom. It can be worn as shoulder bag, stylist backpack or hanging on a stroller, which makes travel more convenient and easier. I am sold with all the features this bag has and can't wait to use it for my upcoming baby!

This is a wonderful product! I bought it for my 6 month old son, and he absolute loves it! There are lots of pockets and areas for diapers, wipes, bottles, change of cloths. Good size, durable, super practical, and the changing station is going to be fantastic as we travel a lot. LOVE IT!!!

Got this Backpack a few weeks ago, and decided to share its benefits, if you still did not decide whether to buy it, you will definitely say yes after reading this) Pros of the backpack transformer: • portable changing station and foldable, perfect to use in hospital when my baby need to change diapers during this epidemic • waterproof and easy to clean • insulated pockets and multiple pockets • with carriage hanging stroller buckle cons... I don't see it!

Our baby loves this bassinet. Plenty of room inside the main bag and also plenty of pockets for extras on the sides. It is very useful for travelling and comfortable for the baby to sleep in. We love the design!

The best part of this bag is the sleeping feature. We use it everyday just at home. Can't wait to try it out when the world is safe again to be outside.

This would literally be the best baby travel bag in the world. The material is thick, completely nylon inside to wipe clean easily, and even has a bottle compartment that keeps bottles cold/hot. Lots of pockets and space. And the price is really great. I 100% recommend this bag to traveling parents!

I was looking for a mobile diaper changing station. This seems to be perfect. The bag itself is beautiful. The bassinet portion is super quick and easy to set up, as well as spacious. My sixteen month old can lay down in the bassinet.

The diaper bag is good for long trip or two babies. It can hold a lot. The strap is so soft and wide so moms won't be tired easily. I extremely like the pockets for bottles, no need to worry about the bag will get wet because of cold milk or drinks spill out. Like it!

I am so happy with this purchase. The diaper bag is durable, stylish, and lightweight. The material this bag is made from is great, it doesn't feel cheap at all. Highly recommend for anyone who'd looking for a great diaper bag with bed.

It seems pretty durable so far. Has great pockets. The reason for 4 stars and not 5 is because extending the changing pad/nap area is not something you can do while holding a baby. You need 2 hands.

Super light and easy to use, I used it for my 9 month old baby on a 15 hours flight ! Life saver she slept so good 😊 highly recommend

Absolutely buy this! Possibly THE best baby purchase I've ever done. I put my 2.5 month in there with the canopy and the toys and she stays entertained for a long time (she used to want mom only before), and then when I notice she's getting sleepy, I take the toys on the canopy off and she falls asleep BY HERSELF, which she never used to do before. We use it as a cosleeper which is great, and it's so lightweight that we bring it downstairs on the couch during the day. We haven't traveled yet, but needless to say, this bed is following us wherever we go because it's the best thing ever!

I like the 'to-go' feature and how it folds up and turns into a backpack, although I have never used it outside my home so I haven't needed to use that part of it yet. My son WILL sleep in his crib, however, he likes sleeping in my bed with his father and I much more. So I will just sit this in the bed next to us, and.... BAM! He is fast asleep in minutes!

We bought this for a last minute trip with our 4 mo old and loved it. As we had an empty seat between my husband and I, we were able to lay this out and have our baby sleep comfortably throughout the flight (except during take off and landing of course). (The bassinet seats on the flight were already booked so we knew we had to take something with us) Was great throughout the flight and in hotel too!

This filled a gap in my baby gear. Needed a flat portable surface to place my newborn when I was in the kitchen or living room or even on my bed (my movement would cause baby to roll all over). It's light so can carry baby & lift the bassinet with 1 finger of my free hand. Now baby can sleep wherever I am. Love that I can easily bring it to grandmas house too!

Nice traveling diaper bag but the zippers separate

This is one of the two things we can't live without if we want to have some decent amount of sleep during the night with our newborn.

Just got this for my newest granddaughter and we love it! It was super easy to set up and my daughter can move it from room to room. I am excited because she can also easily fold it up and bring it over to my house for naptime instead of setting up a pillow fort for her newborn.

I absolutely love this product for traveling! We took it all over Europe with us and it was perfect for co sleeping in hotels and also for poolside naps and anywhere else you can bring the babe with you :) very happy with my purchase !

We had to travel when our baby was born and I was concerned about finding something he could sleep in with us that was easy to pack. This was a godsend! Easy, light, packable.

I bring it everywhere! My baby sleeps in it, plays in it, and I change her diaper in it! The high walls create a perfect barrier from wind!

Love this! This is going to be perfect for our grandson. I bought it as a safety precaution when he visits. Instead of putting him on a regular bed and circling him with pillows we can just put this on the bed and put him securely inside.

The only reason I'm giving it 4 stars is because no instructions. It didn't take long to figure it out but instructions to ensure nothing Is accidentally broken or put in place wrong, would've been great

It is a nice bag, but I is so huge. I didn't expect it at all.

We've used this many times for a safe infant sleep station in our RV bed and also in a hotel or condo while on vacation. We position this between my husband and I on the bed and our son sleeps just fine.

Very portable and lightweight to take all around the house. I liked being able to bring it anywhere and having a fairly safe place to lay my newborn.

This was perfect for my grand daughter to sleep in at the beach. She would play with the balls until she'd fall asleep.

awesome for vacation or sitter with limited space!

Lots of space. Love the changing table/ bed. Does need much set up. Only problem i have is closings it. Need a faster/ easier way

This is perfect for my newborn baby and extremely useful. It is also very portable and lightweight to take baby in and out and travel too.

Easy to move since it's super light yet large and easy to clean since it is waterproof. Love this purchase!!

I can bring it anywhere and my baby feels like she's home, but I want more colors

I really wanted to keep this but my baby is long and 5 months old. We got this for traveling but he could not stretch his legs. It would have been perfect if we had bought this earlier on. I would definitely recommend to buy for newborn to 6 mo.

Very cute look. It is very comfortable item for me, because we often stays for night in grandma's house and baby can sleep next to me on bed.

I'm obsessed with this diaper bag! The color was exactly what I was looking for. I love how durable the fabric feels on the bag, especially the backpack straps. There's ton of storage inside and outside. My favorite part is the portable changing station, although it is hard to fold back up once opened. I do wish the straps to hang the bag on the stroller were longer and a stronger Velcro but overall I'm very happy with my purchase.

I like the idea of the pull out bassinet design. When I received the product I could not figure out how to pull it out all of the way. The zipper had to come completely off of the reach to fully pull out the bassinet which I think is a design flaw if you are on the go with a baby. I also found that folding it up was not as easy as it should be. I will be giving this a couple more tries to get the hang of the zip and fold up.

I gave it as a gift to a new Mom and she lives it - not having to take a million bags with her everywhere she goes. Bed, diapers, wipes, bottles, even a change of clothes can all fit in one bag...

Just got this for my newest granddaughter and we love it! It was super easy to set up and my daughter can move it from room to room. I am excited because she can also easily fold it up and bring it over to my house for naptime instead of setting up a pillow fort for her newborn.

I cannot possibly say enough about how amazing this little invention is. I am a new mom who is exclusively breastfeeding and this has made all the difference for me. We put it on the bed so it is easy to just pick baby up in the middle of the night for feedings. We also take it with us when we are visiting family. During the day we use it when we are chilling downstairs too. It is so lightweight and portable. This will definitely be my go to gift at babyshowers!!

I was looking for a comfortable and easy to carry bed style to travel with. I love that idea that she have the same place to sleep no matter where we go and the most important is that don't need to worry about here rolling off The bed. Definitely recommended the best solution I found for traveling with baby's!!

The bag is good quality I disliked the fact that the cushion tore up after I washed it

I bought this for my son and his wife for the new baby. They love it, they use it in the living room during the day, also they take it with them every place they go. It is great to have a bed for the little one anyplace they happen to be.

Took this on a trip when baby was 3 mo, worked great as a bed and then could carry it like a backpack down to the pool/beach to keep baby safe and comfy.

We used this while traveling internationally! It's super convenient, especially as it folds up so compact. Our baby slept in it in airport lounges and wherever we stayed. Since our baby doesn't sleep in her stroller, this was great for us.

Love this! This is going to be perfect for our grandson. I bought it as a safety precaution when he visits. Instead of putting him on a regular bed and circling him with pillows we can just put this on the bed and put him securely inside.
Share