6-in-1 Derma Roller
Regular price
$0.00 USD
Sale price
$26.99 USD
Unit price
per
Sale
Sold out
Pro skincare in your bathroom
This set is not a simple one. It can provide you with a skin treatment like the ones you can get in high-end salons. The derma rollers are used for many different things: anti-age treatment, correction of wrinkles, stretch marks, scars (acne scars as well), hair growth promotion, etc.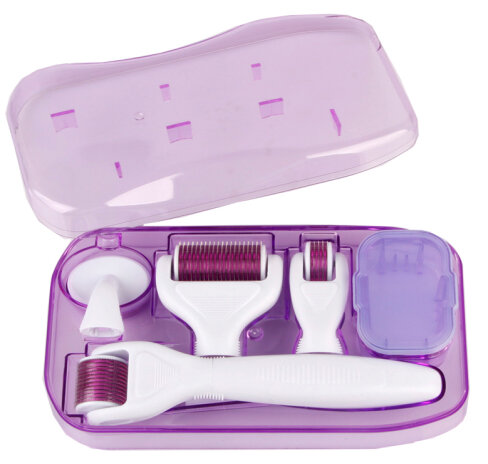 A new level of skincare routine
Getting fabulous and velvety skin has never been simpler
The set contains a handle, a container for disinfection, and a brush for washing the face. It has 4 different attachments that are suitable for different areas. 0.7'' for deep scars, 0.019'' for the eye area, 0.039'' for the face, 0.59'' for the body. They can help you with almost any problem!
Regular usage makes the skin smoother and silkier. The oval of the face gets tighter, contours of the face become even. Hair growth gets better when you use the roller on the scalp. Stretch marks get smaller and less noticeable. Magical, right?
How to use it in a proper way?
The attachments must be disinfected before each use. Clean your face, dry it, apply the product. Take the roller and start moving it on the skin (3-5 slides on 1 area are enough). Movements must be gentle. Calm the skin with a cream/mask. Disinfect the attachments and put them away.
Made from the best material
The needles are made from titanium – the material valued and used widely by medical personnel and piercers. It's the best for contact with the skin due to its qualities and is the least likely to cause any allergies or irritation.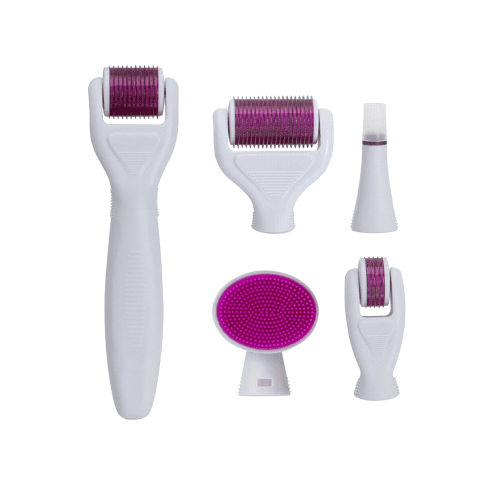 Elevated results and looks
The set can help you with many imperfections. For the best result don't use it more than 3 times a week (microtraumas that the roller causes need to heal). If you have sensitive skin 1 time should be enough. Replace the roller if you drop it or you feel the needles being dull. Normally 1 roller lasts for 10-12 sessions. Enjoy!
This is my first dermaroller and so far I am very pleased with it.

It's a nice product, so easy to use, and I actually had one before. However, this roller squeaks when I use it, but it's only used for about two minutes a day, you kinda deal with it.

Absolutely love this and the results are noticeable within 24 hours!

Amazing product, I couldn't have been more happy with the quality and results. I absolutely recommend it! So worth the money.

The needles actually are more painful than I anticipated.

Easy to use and felt like it was really working when I applied my lotion. Can't wait to see in a month what my face looks like.

I've been using derma rollers for sometime now and was so happy to find a compact all-inclusive pack like this. The quality is superior and has different heads for different body parts. The little box keeps it clean and hassle-free. I highly recommend it.

I love all the different sizes of this kit. There are so many areas on the face that need smaller heads, as well as larger areas that need larger heads. Also, I really like to use the silicone scrub head to clean my skin deeply before the procedure. I really love the way my skin glows afterwards! Definitely a good purchase to improve skin.

I've been researching micro needling kits for awhile after seeing all the great results others have experienced. Putting needles on my face was a little scary but I decided to give it a try. After just using the derma roller once I was very happy with the results the next morning, my face was very smooth and bright. I plan to use it once a week and hope to see more great results.
Share