360-Degree Rotating Baby Bowl
Regular price
$18.99 USD
Sale price
$18.99 USD
Unit price
per
Sale
Sold out
Finally, a mess-free meal time
No more fussing and splashing around from your little one when it's time to eat. Because no matter how your baby grabs or moves our 360-Degree Rotating Baby Bowl, food will stay in place -- so you won't have to clean up everywhere later!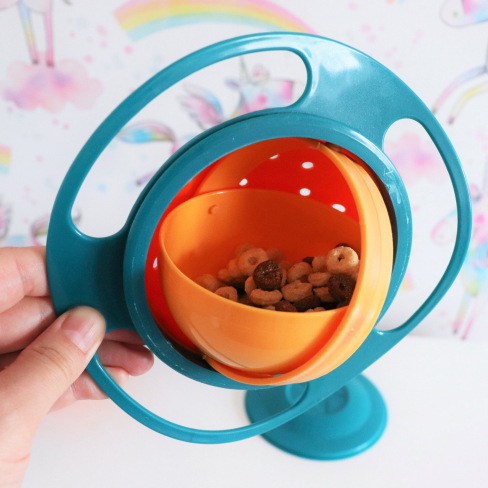 An interactive dining experience
Featuring an axis stand with a bowl that rotates in all directions, this dining table must-have can help make breakfast, lunch, dinner (or snacktime) entertaining. No flying airplane spoons or monkey faces required!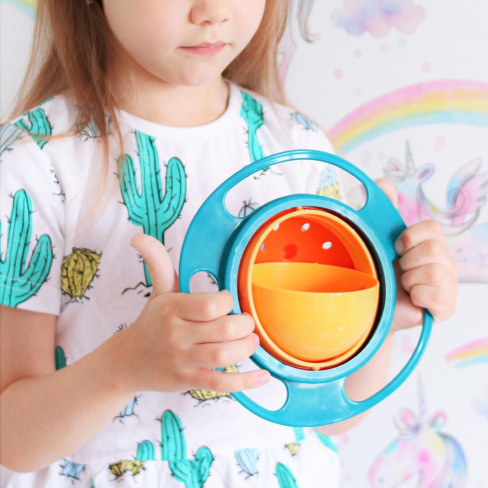 Convenient eating anywhere you want
Perfect for the outdoors like park picnics and beach days, or for at the table at home or at a restaurant, the 360-Degree Rotating Baby Bowl brings snack time or mealtime to your baby wherever he or she is. It's dishwasher-safe and cleans effortlessly after every use — making meal time and clean-up time faster, easier, and stress-free for parents and babysitters.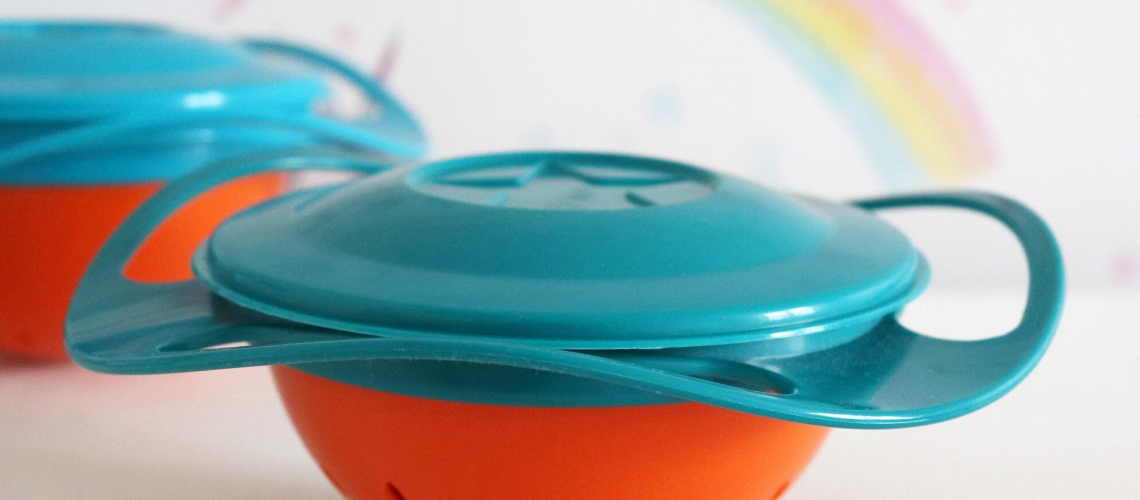 Holds up (and stays put)
Made of non-toxic plastic that is durable and shock-resistant, food won't fly all over the table even when the bowl is hit or whacked by fussy little ones.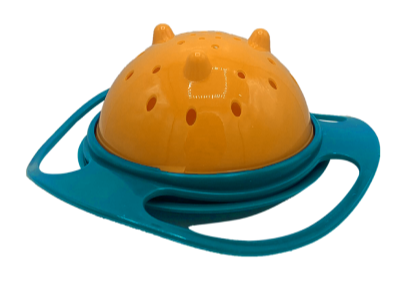 Less mess to stress
Thanks to its spill-proof design, you'll deal with minimal tabletop cleanup. The bowl and axis are also dishwasher-safe.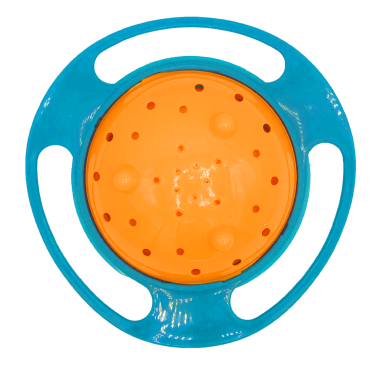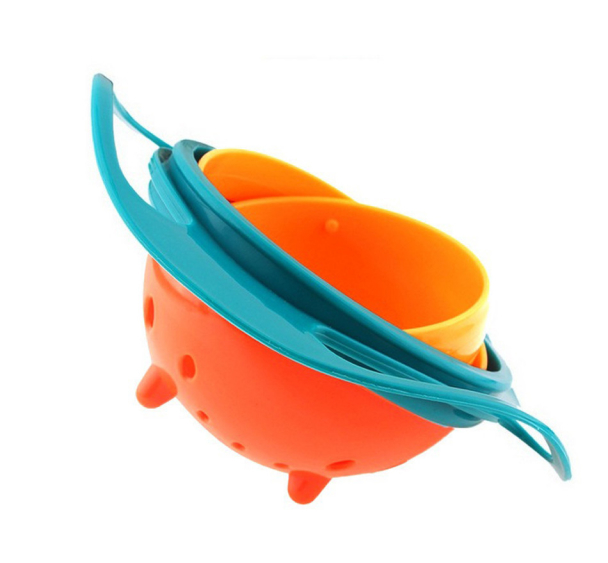 Sized for perfect portions
From cereal to blueberries and oatmeal and pasta, our bowl is sized perfectly for any food. Our bowl measures 3.5in by 3.5in (9cm by 9cm) for optimal baby-serving size.
Three fun colors
Choose from a green axis/orange bowl, blue axis/orange bowl, and pink axis/pink bowl. Our bright and alluring color choices add a pop of fun to the baby chair or dining table to attract your baby's attention.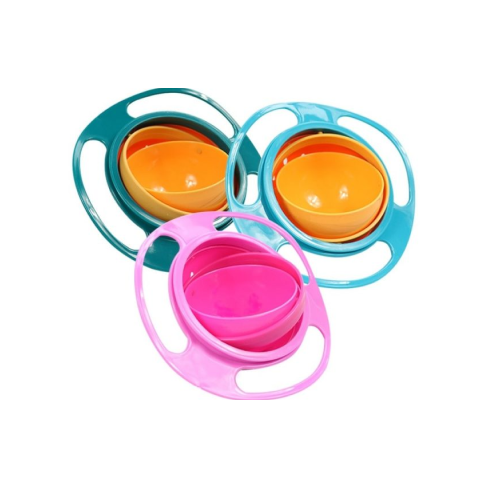 Bought this one mostly because it was on sale, but I'm glad I did. Very useful, especially with a little kicker in the table.

These bowls are amazing. Complete geniuses created these. My kids loved them so much that I bought 2 and sent them to my nephew as well.

It's so reasonably priced I couldn't resist! Bought for my sister's baby shower - this was not on the registry, but looks useful. So far, so good!

In a house with three babies, spills do still happen if the bowls are shaken or dropped, but at a much less amount. We are the happy customers!

My kid figured out how to mess with it but overall it's still less mess than just giving her a snack!

These bowls are great for my daughter's "dumping" stage - they truly will not let you dump out the contents! The only downside we've seen is if she decides to throw it and it hits something solid it doesn't always stay together but it still holds up far better than most spillable alternatives!

Delivered in good condition. Beautiful color!

It's the lowest price for I've ever seen. Thank you so much!

Saved me from so many spills with my toddler. And she's fascinated by it so she loves eating out of her special bowl.

Thank you, very quick shipping. my just perfect!!

Bowl is really good! very fast delivery! I really like it!

When I first bought a gyro bowl for my grand baby, my daughter kinda rolled her eyes like "here she goes again with 'another' gadget". She now has 2 children and says' "Mom, I don't know where I'd be without these bowls. They are the best invention ever!" I have to agree! I wish they made them for husbands, too!

This is the second spill proof bowl purchased because of its quality and usefulness. Perfect!

Exactly as pictured. Works great to keep food from spilling accidentally. My husband ordered to keep the goldfish crumbs down :) I like that they come with lids so can throw in your diaper bag. Not great for liquids, but for the crunchy snacks that go everywhere these are great. I've put them in the dishwasher (don't know if they are dishwasher safe) by holding the bowl with both index fingers inside, flipping, and putting against two different cup wires on the top rack (you have to hold the bowl upside down or it just covers itself up). Seem sturdy, so far no breakage by a very excitable toddler. I would buy again as a gift for a friend.

Absolutely love it! It is great for on the road, around, the house, or anywhere. Our 20month old takes it with her wherever she goes. On occasion, if it's too full, some of the contents will fall between the inner bowl and exterior causing it to lose its swing functionality…but it's easily fixed and doesn't happen often. We highly recommend it to all of our friends!

It's a good bowl to have for kids that like to eat and play. but my one year old is to smart for this bowl she found a way to hold the side and dump all her cereal out, we still use it,because she loves it

Nice bowl! Not suitable for the liquids, but works with dry snacks, even in the car.

Thank you! I ordered this bowl as a baby shower gift and was quite relieved with a neat package.

I bought as a present. Thanks for delivering in time.

Works surprisingly well! My grandson walks around holding his bowl with fish crackers and doesn't spill! brilliant! It would be a pain to wash with anything wet or sticky.

significantly better than a similar one i bought offline

Two girls and one very enthusiastic dog broke that bowl less than in a week, so I'd say it's not completely child-proof. Maybe for a family where kids aren't exist for the pure chaos it would work better.

Sometimes cereals get stuck between layers because there is a big gap, so it's no more rotating. Also strong enough toddler can just grab it and spill everything anyway.

Thanks for the free shipping! Overall I really satisfied with this bowl!

Everything is fine. Delivery was pretty fast. I would recommend this store.

My baby seemed to really enjoy this, however it didn't always hold his snacks in. I feel like it had to be full of hefty snacks in order to not spill - when I put light snacks in there they fell out

I bought two for my Son with Autism, who is almost 6 and he has not spilled a thing while using them. At times if I accidentally pour too much in the bowl, the snacks will get trapped underneath and it won't move but that's an easy fix. My two year old has tried it too and at times tries to figure out how he can spill it. I like how you can hold the handle completely sideways and it will not spill. Do know that if you shake it side to side with a dry snack, they do slide and the snack can come out that way but all around a great product. I recommend this item to every Mom!

is a great purchase. I'm glad I bought it here.

If held by handles it works as intended but my daughter still found a way to spill her snack!

Received within a couple of weeks, lovely bowl, works good enough.

It's a very good concept, and surprisingly it passed the reality check in our house with very excited toddler and husband both trying to spill everything as soon as I said it won't spill. So this bowl is up to the challenge!

My little one loves the freedom that this bowl gives them by not having to work around silicone flaps like the other spill proof snack containers have. They enjoy the mechanism of how it twists and turns and the 360 degrees handle is a bonus. This is very easy to wash, too. The bowl easily clicks out of the gyrating ring and I can put both pieces in the top shelf of my dish washer. Parents, please be aware that there is no truly "spill proof" snack container. Your toddlers will eventually learn to not spill their snacks and your sanity will return. My 15 month old already figured out how to hold the gyrating bowl still with their thumb while they turned the bowl upside down and dumped their goldfish on the ground. The product is not flawed, I just have a smart and crafty toddler who is determined to do something when they want to do it!! :)

ordered a new recently - i've bought it before already, but decided to get the extra one.

Thanks for the good work, bowl is super cute. I'll rate 5 stars.

Let's get real...these work great when used properly, but it doesn't do any magic. Does fix a lot of the spills though till my boy is feeling mischievous.

I think, the best feature is that you can actually enjoy it yourself - nothing like watching the baby trying to figure out how to get things to spill! Also buys some time for mommy to actually do something while my girl is busy with the gyro bowl.
Share