360º Triple Garage Light
Regular price
$32.99 USD
Sale price
$32.99 USD
Unit price
per
Sale
Sold out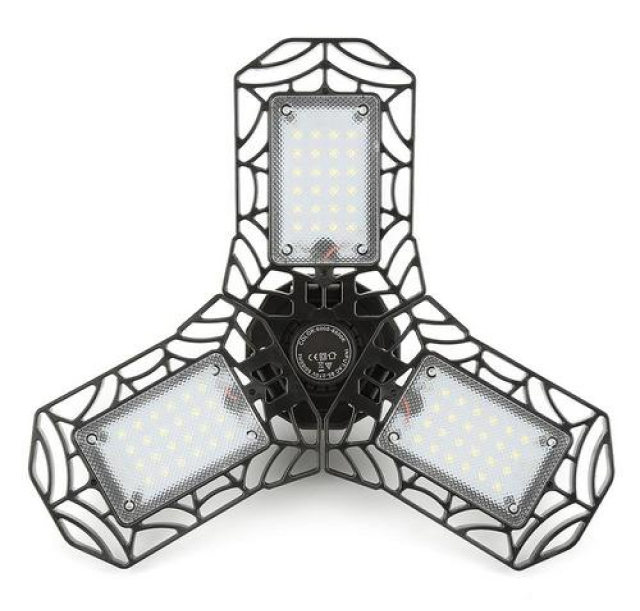 Introducing LED that lasts up to 50,000 hours
Say goodbye to danky garages and less-than-stellar work spaces: our 360º Triple Garage Light boasts three 90º-adjustable panels for evenly distributed light wherever you need it. Discover one clever lighting panel that's adjustable a full 360 degrees for 50,000 hours of brightness.
Better lighting from one bulb = less energy use
When one great lighting solution does it all, you won't need as many light bulbs to light up a room or space. Translation? Greater energy savings (and a lower electricity bill).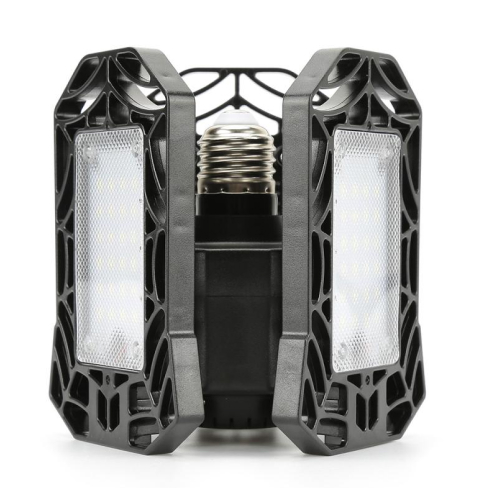 Turn down the heat
Remember how traditional light bulbs are always scorching hot? Our hollowed-out LED light panel design allows for greater heat dissipation. With greater cooling, your lights last longer. Remember though, that the lights will still radiate some heat, so be careful when touching.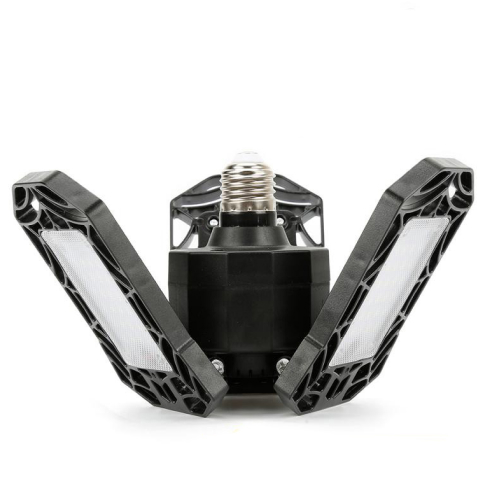 Installation is simple
Just two steps and you're set
Screw the light into the E26/E27 base of your installation site of choice. Do not overtighten to avoid damage.
Once the light powers up, adjust the lighting angle to your desired position by moving the LED head and panels. Exercise caution when installing, as the light panels can heat up; also, do not stare directly into the bright LED lights.
Shine bright anywhere
Three 3 x 2in diode panels shine 6000K (white light) for powerful illumination in any space. Made of plastic, our 40W Triple Garage Light makes a great choice for basements, garages, backyard sheds, parking garages, storage sheds, and so much more.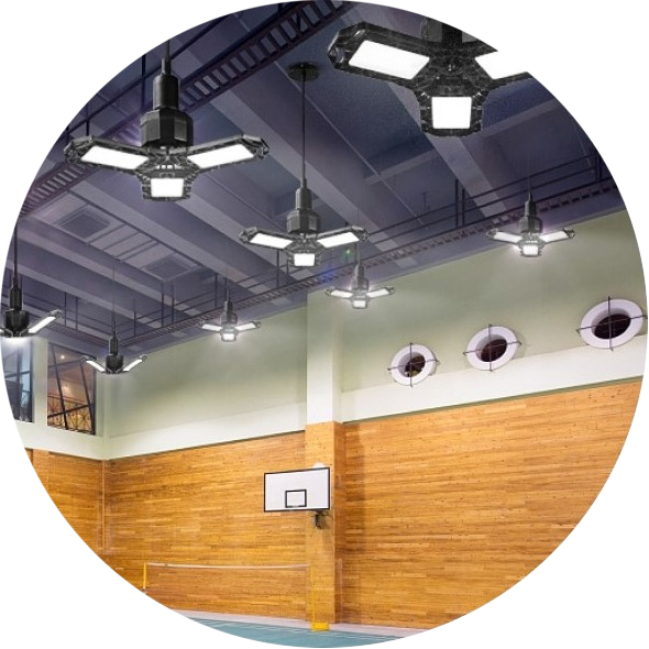 They're as advertised, super bright and adjustable. They are so bright in fact that you really don't want to look at them as it hurts the eyes. There is a warning about the brightness in the package. I really love them and plan on putting them in other locations that need more light. The are made of metal and not plastic which came as a shock to me so they will be very durable.

This is an amazing light. It brightens up my garage like if it was daylight. I bought this for the garage in my cottage, but decided to try it out at my condo. Since i didn't have a ceiling socket (only have a 3 foot neon), i tried putting it in place of the garage door opener bulb. I removed the bulb cover of the opener and screwed in the new light. The directionnal adjustable panels allow you to send the light where needed. This so bright that after it's on, turning the neon light on doesn't even make a difference. I'm going to have to leave this there and buy a second one for my cottage...

We love this light! It lights up our garage better than any of the other traditional bulbs and we tried several different kinds, soft, cool, daylight. They were brought but area that they actually light up is small. This light is adjustable so the range is better.

We have an older home with one sad little light bulb hanging in the garage. We used to find things in the garage by stumbling over them or feeling around in the general area where we saw them last. But we replaced the sad little light bulb with this light and at night our garage is lit up like daylight with the garage door is up. This is one gadget that works!

My husband ordered this for the garage and I was surprised when it came and was so small. But it is SO BRIGHT! Works great and he had working in a matter of a couple minutes.

These are the best! 60w are very bright so be careful shining in eyes. I bought a shop (drop) lamp and removed the lamp cover and added one of these. I can see better when I change my oil you light up underneath and set it on engine when adding oil it doesn't get hot so it is safe to do so.

Works great, very bright, awesome that you can make it directional. Hopefully it will last and make it worth the price

This product really lights up my garage but it is too bright to look directly at the light

These lights are bright! Perfect for my garage and lightened up the whole room compared to what it was. Only complaint was one of my first orders had one of the three LED panels that was DOA but the store was very quick to send a replacement. Very worth the buy and make working in garage so much easier to see.

This system is an excellent alternative to the conventional bulb and saved me significant cost as I had been considering installing additional lights and would have had to contract an electrician. With this system all I had to do was screw it in like a conventional bulb and now I have a nicely lighted garage

Super easy to install once the light bulb socket is in place. I replaced 3 4 foot fluorescent bulbs with this little unit. It puts out more light and a brighter white that the F bulbs. The 3 light panels can be tilted for ray direction. The only way to position the panels is to rotate the light, meaning it may not be secured tight in threads. I think that's okay. For the money it's a great light. I will probably replace my other fluorescent fixture in time.

Look I am Biased, I like Lights that Are Super Bright in My Garage. This Lights Up my Garage so that I can easily and comfortably have a Good view and actually work in my garage. Very Bright, did I say that already? Anyway, even better, its Very Adjustable. The three fins rotate and can be moved to face any direction so that the light is useful to You, because it's exactly where you want it. relatively heavy and good quality. If you care about your lighting, this is for you!

super bright, very easy to use. just screws into existing single socket, illuminates entire double car garage feel like the daytime. I'm very happy with the color of the light and the amount of light available at work bench level. I was hesitant to get 60w and was thinking of 100w. but 60w itself is super bright.

This garage light is awesome! It installs easily into an existing light fixture and is much brighter than any light I have had previously! The product feels well made and very durable. The three lights can be tilted up and down depending upon your needs. I'm considering getting another one for the other side of my garage.

My husband loves it so much he bought it twice! We have one in the pantry and one in the master closet. The light is so bright we get an angelic feel when it is on. The second purchase went in the garage and he is looking for the best place for the last fixture. Everyone should check this light out for their home.

My husband and I are pretty satisfied with this item. We use it in the garage and it does what it says it does.

These are awesome. Only need one in my garage and it is brighter than ever. Cant believe I waited 37 years to finally have light in my garage. Very fast delivery.

Nice light but I just can't stand that super bright daylight white, it hurts my eyes. Other than that it's great.

Received the light, put it in the socket like a light bulb. Was really surprised at the amount of light it puts out, yet it is not overwhelming. I like being able to adjust the paddles to get light where I want it. Works great over my computer desk as it does not reflect on the screen.

I hung them in my garage, the are so bright you can't look directly at them, but do light up the entire garage. I start to notice all the dirt on my car that I didn't notice before.

These lights are incredible. Was a little hesitant on the brightness but they brighten my garage like no other. They are easy to install and do a much better job then any normal light bulb. Highly recommend this product to anyone and everyone.

This LED garage light is AWESOME! All you need to do is to install it into a bulb socket (or whatever it's called). The lights are super bright and the angle is adjustable. I like that each of the three lights can be adjusted independent of each other, so if you have 3 different things at different heights/areas of a room that you'd like to light up, this light allows you to do so. The lights are super bright so I recommend not looking directly at the lights or else you'll get retina burn.. take my word for it! My family likes to go camping and we always go to campgrounds that's have electricity. We usually bring a lamp. I'm thinking I'll replace the lamp bulb with this LED light to illuminate our campgrounds very easily. Cannot wait!

Even in 40w works great! On the other hand attention to the areas of shadows of this type of lighting, personally I mix two fluorescent compact equivalent 100w for diffusion and two bulb led 40x for linstantaneite and clarity in garage/workshop 2.40 ceiling if it can help

I put the light in my garage and have been very happy with it. I've considered ordering more lights for outside the house.

Received my light yesterday and was happy that it worked since I recently had to mail back another light like this from a different company. I like being able to adjust the three lights up and down to direct the light flow. I have a one car garage so this light does the trick and makes the garage very bright! I hope that the light continues to work later down the road!

This light is very bright (as other reviewers have stated) and has very good coverage. I put these in my garage and am very pleased with them now. It did take a while to get used to how white the light is that these give off but now I don't even notice it. Great product!

Wow. Don't need to say more than that, but I will. Very bright light that changed my garage from a dingy place to a lite up place that I can actually work and hang out. Very happy with this light. The light is white, not the warm yellowish light. I like it that way in the garage—it's like florescent work lights. Overall great addition.

This is perfect for those dark places in your garage or basement. Light bulbs arent what they used to be and I needed so brightness in some areas. This works perfect and just screws into a light socket. Super easy to use and works great! Totally recommend!

Purchased it for a dark area that I was having trouble lighting in my garage. After installing a new light socket in the area, this went in just fine and with the ability to aim the individual wings, the dark corner by my air compressor is no more!

It's like night and day! It is super bright and makes it easy to direct light a over my garage.

The light brightens up my garage and makes it feel more like home. I wish I had bought more so that I can install them around the house; but I will soon! Definitely recommend getting this product; will change your life for the better.
Share