3-Way LED Emergency Tool
Regular price
$0.00 USD
Sale price
$27.99 USD
Unit price
per
Sale
Sold out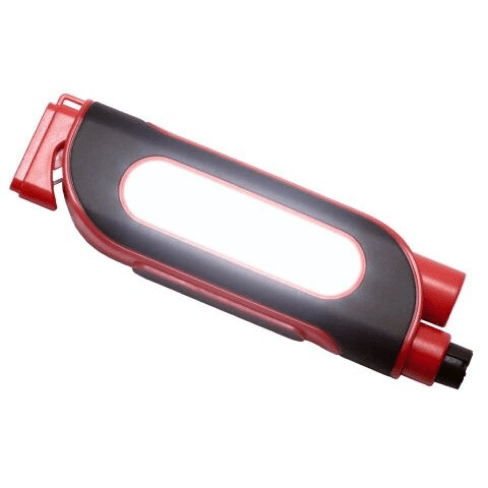 3-way LED emergency auto safety tool
There are lots of life scenarios we can't possibly predict. This is especially true for drivers since the road and the fellow road users tend to surprise them. That's why a professional driver must be prepared for any eventuality. With the 3-way LED emergency auto safety tool, you won't get in a pinch!
3-way LED emergency auto safety tool
Your must-have device wherever you go!
6-in-1 car safety tool
Auto escape tool with a glass window breaker, seat belt cutter, 200 lumen LED floodlight, 70 lumen LED flashlight, emergency flashing red SOS light and built-in strong magnet (red/black). Runs on 3 AAA batteries (included).
A reliable car gadget
Measuring 6.25"L x 1.875"W x 0.875"H and weighing 4.5 oz overall, this handy tool is perfect for your car or kitchen. The lights' run time is 2 hours for the flood light, 3 hours for the flash light, and 23 hours for the SOS light.
A must-have for every vehicle
This tool allows for an escape by breaking through a vehicle's window. The seat belt cutter and the window glass breaker are the two emergency car tools you should have in every vehicle.
Perfect for gifts and not only
Whether this is for your father, mother, husband, wife, son, daughter, boyfriend or girlfriend, the car escape rescue tool by Defiance Tools makes a thoughtful gift.
Be prepared for any outcome
We always hope we don't face any emergency situations. However, you should definitely be ready for any outcome. That's why the 3-way LED emergency auto safety tool is surely a must-have for every vehicle!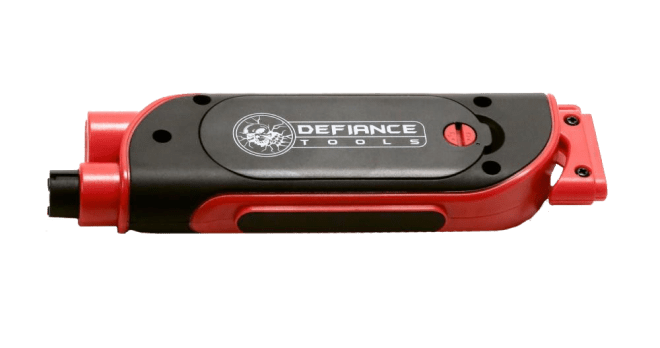 This is a hard thing to rate, unless you actually have to test it. It is lightweight, but I think it would do the job. The red color would make it easy to find if there's an emergency. Great tool but it would be a lot better if they provided a way to attach it somewhere within reach.

I watched a video about surviving an accident in a submerged vehicle, and it really shook me up. As soon as the video was over, I got online and ordered these. I gave them out to all of my friends and family. This is a great product! It's very sturdy, and it seems to be made very well. In my opinion, any amount spent on something that could potentially save a life is money well spent! While I hope that each person that received these will never be in a situation to have to use them.

When we figured out how to turn the light on, this LED auto tool did light up the area! Whooooo! It's bright, durable and now I always have it in my car! Thank you!!

Dynamic, useful tool! While it is intended to be an auto tool, there are so many places that the magnetic light could be used. Definitely with ordering two - one for the car and one for the garage

It looks sturdy and really does seem like you could break the window without the tool falling apart. I wish that it came with some Velcro to make it easy to attach in the door tray, as I imagine it will fly all around if there is an accident. Overall, though, a decent product that lives up to its claims.

It's a great peace of mind tool to have in your car. I have one in my truck and one in my wife's car. It's one of those things that you hope you never have to use, but you're glad you have it with you. We keep ours in the center console. That way, if the vehicle wrecks, the tool doesn't go flying through the car to where you can't find it. It is very compact and well made. This tool will surely do the job. I've gotten some of these as gifts for my family

What a great concept! We have these in the car and ready to use if needed. Living in an area that floods, I want to protect against getting caught in a flash flood and being stuck in our car. Don't ever say never! Unfortunately, it has happened in our area too many times. I wonder how it may have been different if they had one of these wonderful tools at their disposal. Also, having a seatbelt cutter in the car is always a plus in case of an accident. We have them in all of our cars!

I purchased this tool expecting that I would never need to use it. I was wrong. Shortly after purchasing my neighbor knocked on my door in a panic that her young daughter was being choked by the seatbelt in her car. The belt would not retract and kept tightening tighter as she moved. I used the tool to cut the seat belt to release her and it cut through the seatbelt with minimal pressure needing to be applied. I purchased additional tools and gave them to my children to place in their cars in case a similar incident should occur with our grandchildren or other emergencies. It truly is a life saving tool.

My husband is an auto damage insurance adjuster and wanted us to have these in the cars in case of an emergency. Getting stuck in your seatbelt after a car accident is a frightening prospect, and even worse, imagine being stuck inside if the car gets stuck in water.We received these and he immediately tested the cutter on the spent seat belts on a couple of wrecked cars, as well as testing the hammer on a piece of automobile glass. Both worked exactly as advertised. It's very easy to use. I think that everyone should have a thing like this tool in their cars. Highly recommend!

After being in a rollover accident and temporarily stuck in my seatbelt with one of the doors unable to open I decided that everyone of my friends and family members needed one of these. Seconds save lives, and let me tell you being upside down in a car with a seatbelt that is not releasing is not a fun experience. Throw on top of those doors that won't open and it quickly becomes a nightmare situation. These guys are sturdy, but small. Put one in every car you own so that if the unfortunate happens you are prepared. This is a no-brainer purchase. Don't even think of leaving this page without buying it, because you never know when you just might need it the most!
Share